"I'm Unplugging" Coolest Hammock Ever With Attached Accessory And Carry Bag
Coolest Hammock Ever With Attached Accessory Bag
We are so excited to launch our new hammock! In fact, we think it is the coolest hammock ever! It makes a great gift for the outdoor camping enthusiast! Psst we're compensated…see our disclosures.
---
Why do we think this "I'm Unplugging" Hammock With Attached Accessory And Carrying Bag is to coolest hammock ever? Because you never have to leave it to grab your book, drink, electronic device or sunglasses! Not only can you tuck your lightweight gear into the attached accessory bag this handy device also doubles as a carry bag! At the end of a relaxing weekend, just fold it up and pull the string for easy transportation and storage! Check out the video to see it in action!
&
---
Because we are campers we know exactly what was missing from all of the hammocks on the market we tested. We were never really happy with any of the ones we tried … So, we decided to design our own and we are happy that we are not the only people calling it THE COOLEST HAMMOCK EVER!
The "I'm Unplugging" Coolest Hammock Ever
The "I'm Unplugging" Coolest Hammock Ever
The "I'm Unplugging" Coolest Hammock Ever
&
Keep Your Drink And Magazine By Your Side With The Coolest Hammock Ever!
Our hammock has an exclusive attached accessory bag with multiple pockets which are great for easy access to your favorite magazine, drink, sunglasses and other lightweight items while relaxing and unplugging in this comfortable hammock.
Its uniquely designed accessory bag converts to a compact carrying case for easy transport.
We chose hip super-fun colors and a comfortable cotton canvas material.
Our hammock is great for camping, travel or other outdoor use…even works for lounging around in your own backyard!
Overall length measures 120 inches, bed length measures 84 inches by 52 inches wide. It supports up to 300 pounds and can be hung between two trees or used with a hammock stand.
THE COOLEST HAMMOCK EVER makes a great gift too!
The "I'm Unplugging" Coolest Hammock Ever
The "I'm Unplugging" Coolest Hammock Ever
The "I'm Unplugging" Coolest Hammock Ever
&
---
&
---
No time to look for recipes, create a menu and write a grocery list? No Problem! Get our 3-Day Dutch Oven Camp Menu Plan here!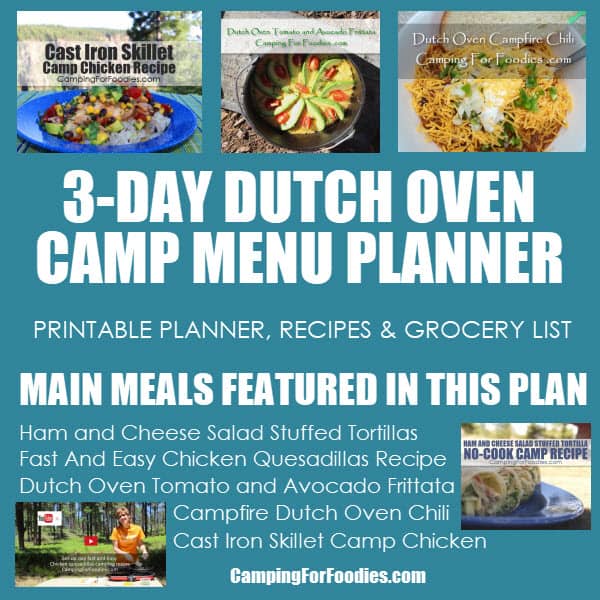 ---
Our Cool Camping Products Make Great Gifts!
Cutting Mat
Mat Set
Shaker Set
Hammock
&
---
If you need camping recipes and menu ideas, you can find them here at the Camping For Foodies Camping Recipes list.
Don't miss a thing…sign up for Camping For Foodies email updates!
Your purchase of our products will help support World Vision ® Building a better world for children.