Fun Camping Wrapping Paper And Creative Gift Wrap Ideas
Send your camping gifts over-the-top with these outrageously fun camping wrapping paper and creative gift wrap ideas! RV and tent campers will love their gifts packaged in cute camping-themed wrapping paper, bags, boxes and tags … but why stop there? Real camping gear and ornaments can be used to embellish presents and make "extra gifts" too!
Psst we're compensated…see our disclosures.
Camping Wrapping Paper And Outdoor Themed Designs
Who wouldn't love getting a camping gift wrapped in paper covered in s'mores?!? There are so many fun designs in paper, ribbons and gift tags that capture outdoor activities for adults and kids of all ages. Cute camping wrapping paper stands on its own but using a plain brown wrapping paper allows unique ribbons, gift tags and embellishments to really stand out.
Camping Wrapping Paper Rolls, 3 Designs
Christmas Vacation Jumbo Rolled Gift Wrap
RV Tent Camper Wrapping Paper
Camping Gift Wrap Paper Folded Flat Sheets
Explorer Outdoor Adventure Enthusiast Wrapping Paper Sheets
Reversible Campers Folded Wrapping Paper Sheets & Three Sticker Tags
Brown Kraft Wrapping Paper
Wired Ribbon Happy Campers
Camping S'Mores & Cocoa Grosgrain Ribbon
Camouflage Prints Ribbon
Burlap Fabric Ribbon
Raffia Ribbon
---
Gift Bags, Boxes And Stickers Are Wrap-Free Options
Decorative gift bags and boxes allow you to avoid the whole wrapping process! Camping-themed stickers turn an ordinary gift bag into a camping-themed bag as fast as you can peel and stick! If the gift is small enough, camping and outdoor-themed party favor bags and boxes are fun "wrappers" to give gifts. Also, if you are shipping your gift, you can use decorative camping duct tape to celebrate the occasion!
Personalized Camping Party Favor Bags
Camo Gift Bag With Tissue Paper
Let's Go Camping Party Favor Boxes
Christmas Shirt Gift Boxes
Christmas Kraft Shirt Boxes
Camping 3D Stickers
S'Mores Stickers
Camper Van Travel Explore Camping Stickers
Happy Camper Duct Tape
---
Use Real Camping Gear To Embellish Gifts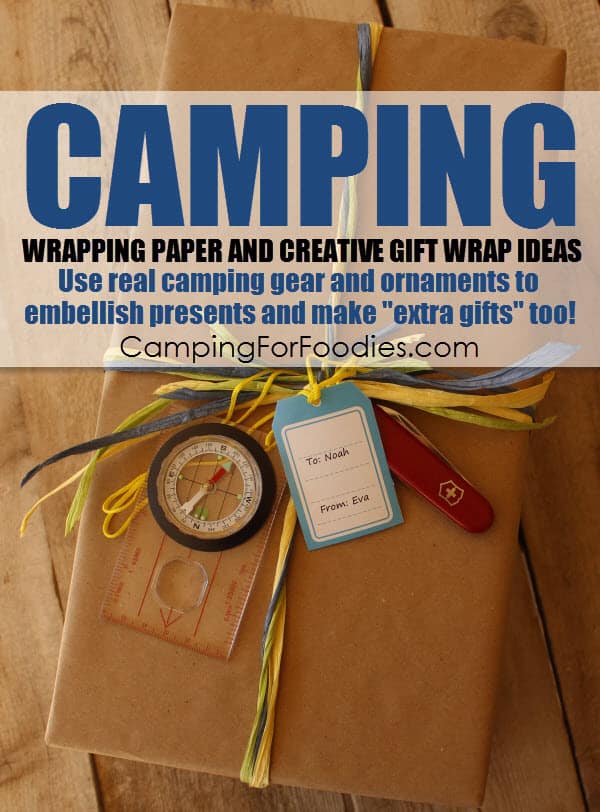 Real camping gear and camping-themed Christmas ornaments give a hint to the type of gift in the box and it is a little "extra" present for your camping friends and family. Consider using gear that is small and lightweight to use as an embellishment. Many Christmas ornaments can be personalized so you don't even have to add a gift tag!
Swiss Army Classic SD Pocket Knife
This Victorinox Swiss Army Classic SD Pocket Knife has 7 functions including 1¼-inch blade, nail file, screwdriver, scissors, key ring, tweezers, and toothpick. It makes a totally cute gift topper that is also a functional camping gift!
Victorinox Swiss Army Classic SD Pocket Knife
---
Map Compass
This Ultimate Survival Technologies Deluxe Map Compass makes a fun camping gift topper! It is a real working deluxe map compass with a liquid-filled compass and swivel bezel. It also has multiple measurement scales for precise route planning.
Ultimate Survival Technologies Deluxe Map Compass
---
Paracord Bracelet Survival Gear Kit
A Paracord Bracelet Survival Gear Kit makes a substantial gift embellishment! This 5-IN-1 survival tool includes a compass, flint fire starter, fire scrapper inside the buckle, emergency knife and emergency whistle. They come in tons of fun colors too!
Paracord Bracelet Survival Gear Kit
---
Personalized Christmas Ornaments
A personalized Christmas ornament is the bomb! It makes a cute package embellishment, the ornament is a gift in itself and it does the work of a gift name tag too! This Personalized Camping Family Christmas Ornament is available in different "family sizes" from 2 to 5!
Personalized Camping Family Christmas Tree Ornament
---
Gift Ideas For Campers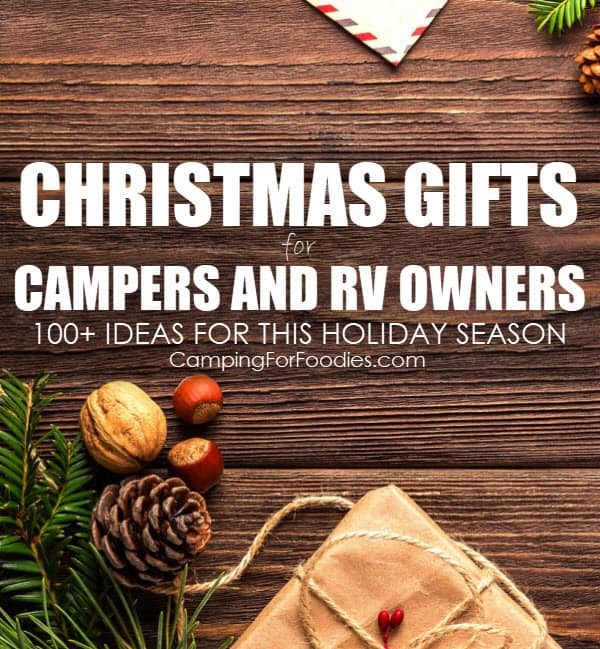 Looking for really cool camping gift ideas? We have tons of them in our Christmas Gifts For Campers And RV Owners: 100+ Ideas For This Holiday Season post which is updated daily with the most popular gifts during the holiday season! Best of all, these awesome gift ideas start under $5 bucks (and they are not junk)!!!