Jalapeno Pineapple Mango Salsa camp recipe by Camping For Foodies
What do you do when you just can't make up your mind…do you want sweet or salty or spicy? YIKES…decisions, decisions. Sometimes I just don't want to make a decision…especially when camping. After all, isn't relief from stress (including decision making) one of the biggest bonuses about camping? Have no fear, here's a good answer: Have It All! Psst we're compensated…see our disclosures.
Funny Apron
Cutting Mat
Mat Set
Shaker Set
Fun Hammock
&
I love side dishes that offer a complexity of flavors all wrapped up into one easy and fast recipe. And, an extra bonus to this Jalapeno Pineapple Mango Salsa camp recipe is that the ingredients don't need to be refrigerated which saves on the limited cold-storage space we all know is so valuable on camping trips. Just leave the fruit whole until you are ready to eat (this also works as a make-ahead that holds well in the cooler—if you have enough space there—until you're ready to eat.) Here's how you make it, serves about 4.
Jalapeno Pineapple Mango Salsa camp recipe by Camping For Foodies
Toss the ingredients together and enjoy:
1 pineapple-cubed, bite sized
1 mango-cubed, bite sized
1 large jalapeno pepper-diced (small bites are good here, especially if you get an extra hot pepper. My camping crew usually consists of 'hotter the better types' so we like our peppers a littler chunkier than the average camper.)
1 lime-zest and juice
1/8 t salt
No time to look for recipes, create a menu and write a grocery list? No Problem! Get our 3-Day Dutch Oven Camp Menu Plan here!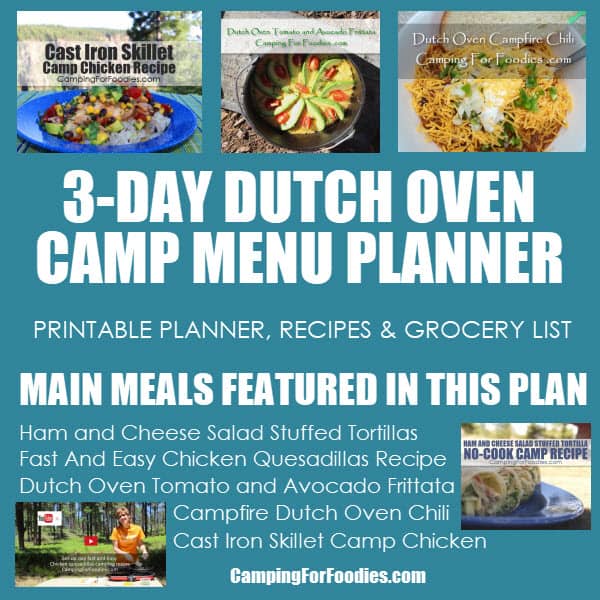 If you need camping recipes and menu ideas, you can find them here at the Camping For Foodies Camping Recipes list.
Don't miss a thing…sign up for Camping For Foodies email updates!
Your purchase of our products will help support World Vision ® Building a better world for children.