Portable Bluetooth Speaker Reviews: Big Sound, Small Budget
Portable Bluetooth Speaker Reviews: Big Sound, Small Budget
Whether you are going to your favorite campsite in the wilderness or partying on the beach, you want your favorite tunes to sound awesome. We have checked out three different sized units for our portable Bluetooth speaker reviews and found you don't have to sacrifice sound quality when you are hanging out in the great outdoors. To make it even better, these portable wireless speaker reviews focused on affordable models to make sure you are getting BIG SOUND on a SMALL BUDGET just in time for the camping and beach season that is right around the corner! (Updated December 2018.) Psst we're compensated…see our disclosures.
---
---
Review Of: Ion Audio iPA77 Tailgater Portable Bluetooth Speaker PA System with Microphone, AM/FM Radio, and USB Charge Port
---
Sound Quality And Size
Ion Audio iPA77 Tailgater Portable Bluetooth Speaker PA System with Microphone,
The Tailgater portable Bluetooth speaker is probably our favorite and most versatile speaker in our lineup of portable Bluetooth speaker reviews. Not only is it a Bluetooth speaker, but, it is also a PA System with Microphone, AM/FM Radio, and USB Charge Port! It's definitely heavier than the other speakers at around 17 pounds and takes up more space than the other two units at around 9 x 12 x 13 inches … but this thing is awesome! This Tailgater Bluetooth speaker system has 50 watts of dynamic power with a wide-range 6.5 inch speaker and a separate tweeter for high quality sound. The Tailgater is easy to carry with indented handles on the sides of its very durable case which also has reinforced corners and rugged construction.
&
&nbsp
---
The Tailgater is powered with a high capacity sealed lead acid battery which has been rated at 50 hours. In testing, it has provided us up to 15 hours of active playtime at higher than moderate volume levels … plus … charging a few of our other devices … yes, that's right … this is not a typo … up to FIFTEEN HOURS OF PLAYTIME AND CHARGING OTHER DEVICES through its USB charging port and we still had over half battery life remaining on the battery level indicator! You can charge other cool stuff like these Cork Shaped USB Powered Rechargable LED Battery lights for bottles with the Tailgater! We love that no passcode is necessary for pairing the Tailgater with your 3.0 Bluetooth device. It is fully charged in four to five hours with its provided AC power cord that plugs directly into a wall outlet; this works fine when you are in civilization but is an issue when in the wilderness camping or at the beach without wall outlets.
&
---
BESTEK 300W Dual 110V AC Outlets Power Inverter DC 12V to
If we need to charge the Tailgater battery when we are in an area without wall outlets, we use our inverter which plugs into our car or RV cigarette lighter socket. This BESTEK 300W Dual 110V AC Outlets Power Inverter DC 12V to 110V AC Car Adapter has two AC plugs as well as two USB ports so you can charge multiple items at the same time. A word of caution: It is not likely you would drain your vehicle battery to the point that it won't start, but just in case, be sure to run your vehicle from time-to-time to recharge its battery if you are using the inverter extensively. It would be a bummer to be stranded out in the wilderness with a dead vehicle battery no matter how good your tunes sound!
&
---
Delivery Of Music
There are three ways to get your music to play through the Tailgater portable Bluetooth speaker:
Digitally tuned AM/FM radio
Stereo 3.5mm male-to-male audio cable
Bluetooth
The built-in digitally tuned AM/FM radio has a telescoping antenna for better reception. The cable required to connect your music storage device to this speaker's 3.5mm male-to-male aux in jack is included with this unit. We can't come up with too many bad things to say about the Tailgater except that it does not have an SD card slot to play MP3 music.
---
Extras
Ion Audio iPA77 Tailgater Portable Bluetooth Speaker PA System with Microphone,
When using the Tailgater as a PA system, you'll appreciate the 90 inch cord on the high quality microphone which has a convenient on/off switch. This unit also has a separate mic volume control knob which allows you to adjust the microphone input in contrast with the music volume if you choose to talk over or sing along with the music karaoke style. This is kinda cool unless you become "That Guy" at the campsite next door … be careful with this feature … you don't want to end up infamously on YouTube!
&
&nbsp
---
If you are playing your music via Bluetooth or the cable, the Tailgater will mute the music when your phone rings but it won't double as a speaker phone. We already mentioned the Tailgater's ability to charge your other electronic devices via the built-in USB charge port … We totally love this feature!
---
If you want to be prepared for just about anything, the Duracell Powerpack Pro 1300 has a little of everything including a built-in inverter with dual AC wall outlets, dual USB charging ports, built-in air compressor for filling tires and it even has built-in jumper cables to help jump start a car. You'll be able to recharge your portable Bluetooth speakers with this thing and just about anything else! The Duracell Powerpack is a great all-around backup power device.
&
---
With all the talk about solar charging devices, you might want to check out more Solar Products For Camping!
&
---
No time to look for recipes, create a menu and write a grocery list? No Problem! Get our 3-Day Dutch Oven Camp Menu Plan here!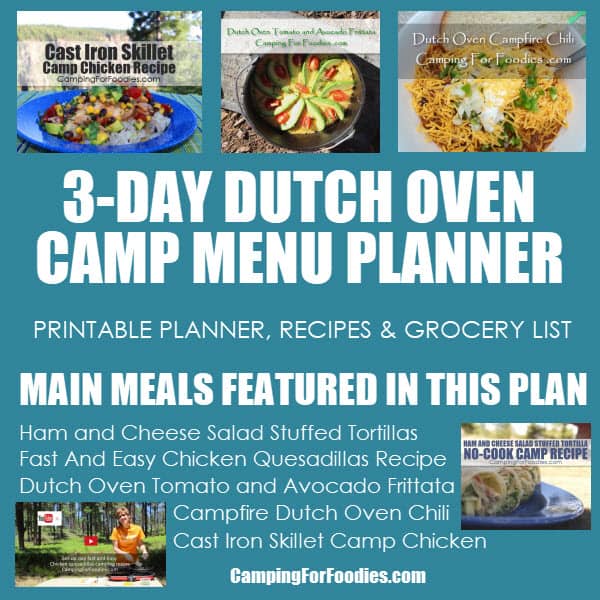 ---
Our Cool Camping Products Make Great Gifts!
Tote
Cutting Mat
Mat Set
Shaker Set
Apron
Hammock
Women's Tee
&
---
If you need camping recipes and menu ideas, you can find them here at the Camping For Foodies Camping Recipes list.
Don't miss a thing…sign up for Camping For Foodies email updates!
Your purchase of our products will help support World Vision ® Building a better world for children.