Tangy Coleslaw Camp Recipe
Tangy Coleslaw Recipe
Tossing a bit of cabbage with a prepared dressing is the easiest side dish you could imagine for your next camping trip. Making a fresh dressing is almost as easy, lots healthier and way tastier than using a store-bought dressing. I like to mix this tangy coleslaw recipe at home and toss with veggies at the campsite. The sugar makes this dressing slightly sweet while the horseradish gives it a surprising tangy punch. It is a great flavor to combine with a sweeter main dish like BBQ ribs because it provides a nice balance of flavors. Oh the tang of horseradish … there is nothing quite like it. Here's how you make it, serves about 6. Psst we're compensated…see our disclosures.
---
Camping Camp Adventure Plastic Tablecover – 54
Set a fun tone for your camp meals with this Camping Adventure Plastic Tablecover! It cleans up easily and is the perfect whimsical backdrop for this Tangy Coleslaw Recipe or any other camp menu item you create out in the wilderness!
&
&nbsp
Make this tangy coleslaw recipe by combining these ingredients and refrigerate till ready to use:
1 cup mayonnaise
1 ½ teaspoons white vinegar
1 ½ teaspoons dried dill weed
2 tablespoons prepared horseradish
4 tablespoons white sugar
Rubbermaid Easy Find Lid Food Storage Container, BPA-Free Plastic, 42-Piece set
Making this Tangy Coleslaw Recipe Slaw Dressing at home is easy, just transport to the campsite in a food storage container with a tight fitting lid and then toss with shredded cabbage at the campsite a few hours before your meal. Having various sizes of food containers in a set helps to eliminate excess bulk while packing because you can use the perfect size of container for the quantity of food you are transporting. I also love the "nesting" capacity of these containers for bringing the empties back home.
&
&nbsp
Camp Cooking Tip: I like to make my tangy coleslaw recipe at home, then just toss with the shredded cabbage at the campsite a few hours before the meal.
Igloo Ice Cube Roller Cooler (60-Quart, Ocean Blue)
We love using our Ice Cube Roller Cooler to transport cold food items to our campsite! It has a push button locking telescopic reinforced tow handle and durable wheels so you can easily move a heavy cooler. We also love the side scoop handles for getting a good grip when lifting the cooler. Once at the campsite, we use ours as a "side table with drink holders" set between our camp chairs. It's perfect for keeping this Tangy Coleslaw Recipe cold along with your favorite sodas and brews!
&
&nbsp
Toss:
16 oz package pre-shredded coleslaw mix (if you would rather shred it yourself, it's about a 1.5 pound head of cabbage)
Chill, top and serve:
Let the flavors combine for a few hours in the RV refrigerator or camp cooler then top and serve.
Fresh cracked black pepper – to taste
1 – 2 tablespoons chopped fresh chives
Coleman 12-Piece Enamel Dinnerware Set
Nothing says "Camp Meal" like a blue speckled classic enamelware camping plate! These things are so durable, they are even dishwasher safe! (Not that anyone ever uses a dishwasher when camping but it's nice to know you could if you wanted to!) This camping plate is the picture-perfect vessel to enjoy this Tangy Coleslaw Recipe and hearty sandwich for dinner!
&
&nbsp
This salad pairs well with some of my favorite sandwich recipes:
Let's hear it for the Shrimp Po Boys!
Blue Cheese and Bacon Stuffed Burgers
Turkey Panini with Avocado Mayo
Ham and Cheese Salad Stuffed Tortillas
No time to look for recipes, create a menu and write a grocery list? No Problem! Get our 3-Day Dutch Oven Camp Menu Plan here!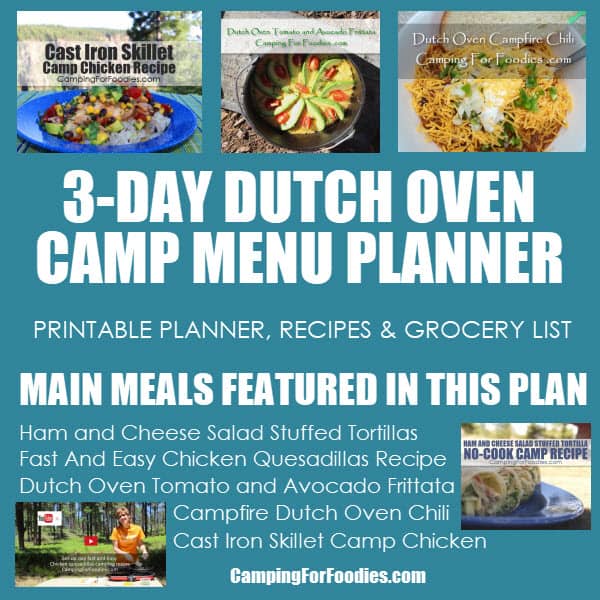 If you need camping recipes and menu ideas, you can find them here at the Camping For Foodies Camping Recipes list.
Don't miss a thing…sign up for Camping For Foodies email updates!
Your purchase of our products will help support World Vision ® Building a better world for children.