Turkey Burgers with Feta Cheese and Kalamata Olives camp recipe
Quit making beef burgers already…try ground turkey instead. It's so easy to stick to the routine by always making the traditional hamburger using ground beef; although they are good, it is fun to mix it up once in a while with a different kind of protein for your burger. In fact, why stop there? Changing the type of cheese and bun you use can completely revitalize your burger experience and it is sooooooooooo easy to do. In 3 simple steps you can totally change the flavor and texture of your 'burgers for dinner' on your camp menu. Psst we're compensated…see our disclosures.
---
Turkey Burgers with Feta Cheese and Kalamata Olives camp recipe
Mix up the combo by changing:
Meat
Cheese
Bun
I made a Greek-inspired burger for one of my episodes on a recent airing of the Great Food Good Neighbors (GFGN) TV show. This four ingredient burger couldn't be easier or faster and it is jam-packed with flavor from the briny olives and the pungent cheese. The texture of the pita bun is a refreshing change from a regular hamburger bun too.
Here's how you make it, Serves 4
Mix the ingredients and form patties
1 pound ground turkey
1 cup crumbled feta cheese
½ cup Kalamata olives, pitted and sliced
2 teaspoons dried oregano
Salt and fresh cracked pepper to taste
Grill them
Heat grill to medium high heat
Cook 10-12 minutes flipping once during cooking
Camp cooking tip: Ground turkey is a lean meat which is a healthier alternative but can also mean dry burgers…so, make sure to cook thoroughly without overcooking. Your cooking time will vary depending on how thick you make the patties and the outside cooking conditions.
Build the burger
4 burger-sized split pitas (you can use regular buns too)
Top with
Sliced tomatoes
Leaf lettuce
---
No time to look for recipes, create a menu and write a grocery list? No Problem! Get our 3-Day Dutch Oven Camp Menu Plan here!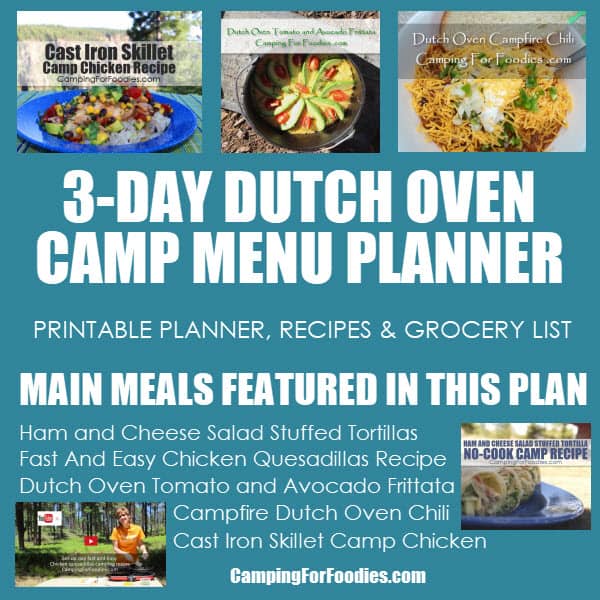 ---
We filmed this episode at a campsite in the Cave Creek Regional Park.
How to get there:

If you need camping recipes and menu ideas, you can find them here at the Camping For Foodies Camping Recipes list.
Don't miss a thing…sign up for Camping For Foodies email updates!
Your purchase of our products will help support World Vision ® Building a better world for children.
Watch the entire Great Food Good Neighbors (GFGN) TV show here: