French Toast With A Cranberry Orange Pecan Syrup Camp Recipe
One of my favorite flavor combinations is orange and cranberry … it is fresh, fragrant, sweet and slightly tart. One problem with using fresh cranberries is their seasonality so in order to quench the craving year-round, I use dried cranberries in my French Toast With A Cranberry Orange Pecan Syrup Camp Recipe. It's the perfect camp breakfast, IMHO. 🙂 Here's how you make it, serves 4.
Psst we're compensated…see our disclosures.
---
French Toast With A Cranberry Orange Pecan Syrup Camp Recipe
Toast the nuts
In a small dry (no oil necessary) saucepan, toast nuts over medium heat, then remove from heat, add remaining ingredients to build the syrup
Camp cooking tip: Don't burn the nuts! Toasting nuts brings out the flavors but they can burn quickly. Use your nose to test for doneness. When the aroma from the pan smells like nuts, they are done … NOW. Get them off the heat because they can go from done to burnt faster than Superman leaps over tall buildings.
Make the syrup
In the saucepan, add these ingredients to the toasted nuts and return to medium heat, stirring till sugar is dissolved and syrup is combined:
2 tablespoons butter, melted
3/4 cup brown sugar
1 orange, zest and juice of it. Make sure you only zest the outer skin of the orange because the white part is bitter and yucky 😉
1/2 cup dried cranberries
Remove from heat to thicken a bit while you make the French toast.
Combine the egg mixture
In a flat-bottomed bowl or pan, combine these ingredients:
4 eggs
1 teaspoon cinnamon
1/2 teaspoon nutmeg
1 tablespoon milk
Make the French toast
Heat the griddle to medium high heat and brush with light coating of vegetable oil
About 1 tablespoon vegetable oil
4 slices Texas toast style bread (if you are using regular sandwich loaf thickness, do 8 slices)
Dip the bread into the egg mixture and place on griddle. Cook on one side till done and flip to cook other side.
Serve it
Spoon the syrup over the French toast and enjoy!
If you like this recipe, you'll also like this Campfire French Toast that is also made with Texas toast. It tastes AMAZING because you cook egg-dipped bread slices in butter on a cast iron griddle right over your campfire. The buttery taste and slightly crispy texture are topped off with fresh strawberries and real maple syrup.
---
Camp cooking tip: Get crazy with flavor by adding small but unusual camp cooking tools to your kitchen set. The zest and juice of citrus adds a punch of flavor and aroma that is incomparable. Citrus squeezers and zesters are small, lightweight and easy to add to your camp kitchen utensil set. I call them my magic wands for creating flavor explosions!
&
---
Camp Cooking Tip: You can place your griddle directly over a campfire or use a Propane Folding Stove that is easy to transport in a Folding Stove Carry Case. If you are cooking with small propane cylinders, they can be refilled using a Propane Bottle Refill Adapter. We have an awesome post to show you How To Refill 1 lb Propane Cylinders, Tanks And "Disposable" Small Camping Propane Bottles with step by step instructions and photos too!
&
Coleman Folding Stove Carry Case
Coleman Folding Stove
Disposable Bottle Refill Adapter
&
&
---
No time to look for recipes, create a menu and write a grocery list? No Problem! Get our 3-Day Dutch Oven Camp Menu Plan here!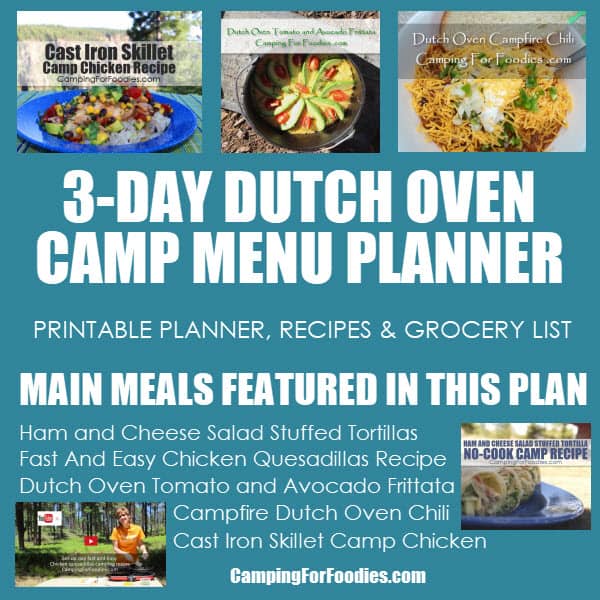 My first camp trip started in a business suit and ended with me cooking a campfire breakfast in my pajamas!
As seasoned campers, my sister and brother-in-law noticed I was becoming more stressed by a hectic city life and invited me camping so I could rest and unwind. They thought I lost it when I arrived at the campsite in my high heels and office attire and quickly rushed me into the tent for a change of clothes. They decided I just "didn't get it" when rest and relaxation was on the agenda. Truth be told, I was late leaving work and was nervous about driving to a campsite I had never been to before so I didn't want to waste a minute of daylight as I was traveling alone to a place in the wilderness. They were happy to proclaim me "A Natural" by the end of the weekend when I was blissfully creating a yummy breakfast over the campfire in my PJs.
The progression of a foodie camper
Since that first trip, I have created tons of camp menus including breakfast items cooked over coals, on grills, with stovetops, in Dutch ovens and in RV ovens.
The TV Episode
I did this recipe on an episode of Great Food Good Neighbors TV Show. You can see it here!

We filmed this episode at a campsite in the Cave Creek Regional Park.
How to get there:

If you need camping recipes and menu ideas, you can find them here at the Camping For Foodies Camping Recipes list.
Don't miss a thing…sign up for Camping For Foodies email updates!
Your purchase of our products will help support World Vision ® Building a better world for children.
I made this recipe on a recent episode of Great Food Good Neighbors (GFGN) TV show. Watch the entire show here: