Campfire French Toast: Make It Golden & Crispy With A Cast Iron Griddle
This is one of our favorite camping breakfast ideas because it's scrumptious, sweet and simple.
The amazing flavor and texture of this golden and crispy Campfire French Toast is easy to achieve with a cast iron griddle and a campfire. Top it with fresh strawberries and real maple syrup for a breakfast that is certain to make a regular appearance on your camp trip meal plans.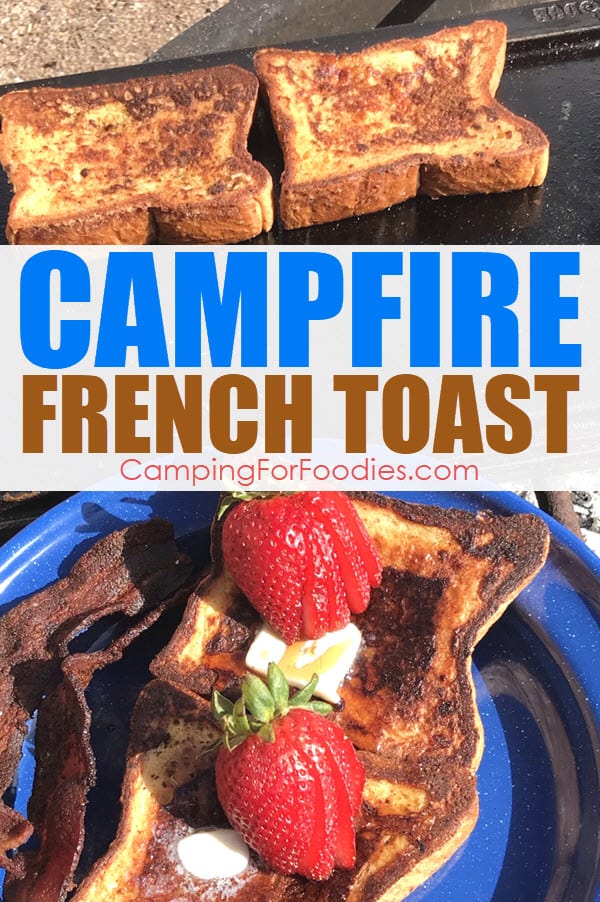 Psst we're compensated…see our disclosures.
Best Bread For French Toast
One of the French toast secrets to making a delicious breakfast that gets 5-star reviews is to use the right bread. If you use plain sandwich bread, the French toast eggs will dominate the thin slices turning them more into soggy and tough egg-bread rather than golden and crispy toast slices. That's why we like to use thick pieces of Texas toast.
If you can't find Texas toast in your supermarket, you can buy a whole loaf of bread and cut it into thick slices. If you have to use regular sandwich slices, you don't want to use fresh bread … just don't use it right away … deliberately use stale bread so it stands-up to the egg mixture and has the ability to toast-up rather than turn into soggy toast.
---
Uses For Remaining Bread
I totally recommend using Texas-style toast for this delicious French toast … but … what are you going to do with the rest of the loaf? One of my family's favorite things is this Dutch Oven Campfire Spinach Dip. It's an oooey, gooey and cheesey campfire dip recipe that can be served with crackers or bread.
This Dutch Oven Stuffing is another great option to use extra bread. It has a classic holiday flavor profile with sage and sausage being the highlights.
Methods Of Cooking Camp French Toast
If you are making this as one of our campfire recipes, you'll need to get your fire going in order to cook over the indirect heat of hot coals (not flames) … you can also use charcoal briquettes.
Camp Cooking Tip: Check your camping gear box for all necessary supplies. Anytime you are handling hot cast iron cooking equipment over a campfire, it is best to wear heat-resistant gloves to protect your hands and arms from the heat … especially when placing the cast iron on the campfire grate and leveling it for cooking.
932°F Heat Resistant Leather Long Sleeve Insulated Grill Gloves
If you don't want to cook with a campfire, you can also make this as one of our camp stove recipes or use an RV stove. You just want to make sure you are cooking on a level surface.
Camp Cooking Tip: If you are using a cast iron griddle on a camp stove, it is best to use a 3-burner stove so you have even heat distribution on the griddle. If you only have a two-burner stove, you may have to move the bread slices around the hotter/cooler spots on the griddle for even toasting.
---
Why Use A Griddle Over A Campfire?
Why do I like a cast iron griddle when I am making easy camping meals for our entire family? A reversible cast iron grill/griddle provides a large flat surface for cooking. The butter gets evenly distributed and the hot cast iron cooks the French toast creating a beautiful golden brown color that has a fantastic buttery-crispy taste and texture.
Lodge Pre-Seasoned Cast Iron Reversible Grill-Griddle
Camp Cooking Tip: When using a griddle over a campfire, be sure the griddle is level. Evenly distribute the campfire coals under the griddle … you don't want hot or cold spots as you toast the bread.
Alternatively you can use tinfoil packets to cook this French toast over a campfire. You just dip the bread into the egg mixture and wrap the pieces in their own foil packs. This method does not create the amazing texture that a griddle does but it is so much fun for the kids. It is a wonderful way to make happy camping trip memories with campfire cooking experiences. Just remember, the hot steam will burn when opening the packet so adult supervision is vital.
---
Steps To Make This Camping French Toast Recipe
Step 1. Prepare the heat source. You will be toasting the egg-dipped slices of bread on a cast iron griddle or hot skillet over medium heat. So, get your campfire ready … or, if you prefer … get your camping stove or RV stove ready for cooking on a level surface.
Camp Cooking Tip: Make sure your pan is level so the melted butter is distributed evenly across the pan rather than puddling in one corner of it.
Step 2. Prepare the egg and milk mixture. Get a shallow bowl and beat together the eggs, milk, sugar, cinnamon, vanilla extract and salt.
Step 3. Melt the butter. This recipe calls for 2 tablespoons of butter. You'll melt 1 tablespoon on the griddle for cooking the toast.
Step 4. Dip bread slices and cook. You will place each slice of Texas toast in the egg mixture, turning to coat both sides. Let the excess egg mixture drip off before you place it on the griddle for cooking.
Step 5. Flip and cook till golden brown. Once the cast iron French toast is golden on one side, flip it to cook the other side until it is golden brown (about 6 minutes total).
Camp Cooking Tip: If the pieces of bread don't all fit on your griddle or skillet at the same time, work in batches, as the toast is done cooking remove it and cover with pieces of foil or foil pie pans to keep warm if everyone wants to eat together.
Step 6. Prepare toppings and serve. While the camp French toast is cooking, you'll want to wash strawberries and prepare them for serving. Instead of just using sliced strawberries, I like to keep the green leaves on the top and just slice the berries from the bottom leaving the crown intact … about 3 or 4 slices … then fan the berries for a prettier presentation. You'll top this crowd pleaser with the remaining butter, strawberries and maple syrup.
Camp Cooking Tip For Serving Larger Groups: As written, this is one of my favorite camping meals for two. If you need to scale it up to feed larger crowds, it is easy to do. You may want a large liquid pan for the egg mixture if you are using an entire loaf of bread. You may also want to use diced strawberries for the topping with the syrup because they are easier to prep than slicing and fanning the berries.
---
What To Serve With French Toast
There are so many variations for serving camp fire French toast. If strawberries are not in season, try some other fresh fruits that are in their prime.
In addition to the berries on the top of the bread, I like serving a cup of the berries on the side of the bread for campers who like a lot of fruit. You can also top this delicious camping recipe with nuts like sliced almonds, walnuts or pecans.
Anytime I serve a sweet and easy camping breakfast, I like to serve a salty meat on the side like pepper bacon or savory breakfast sausage links.
---
Recipes Similar To Camping French Toast
A French toast casserole is a great way to feed an entire family. This Campfire Dutch Oven French Toast recipe uses bread cubes. The toast cooks in a 350 F degree oven for approximately 40-50 minutes. It is served with one of my favorite toppings, a simple powdered sugar glaze.
This Orange Pecan French Toast is another amazing breakfast made with Texas toast. The homemade syrup is what makes this recipe so special. It uses butter, brown sugar, dried cranberries, orange zest and juice to make an almost-gourmet topping.
Print This Campfire French Toast Recipe
Yield: 2 Servings
Campfire French Toast Recipe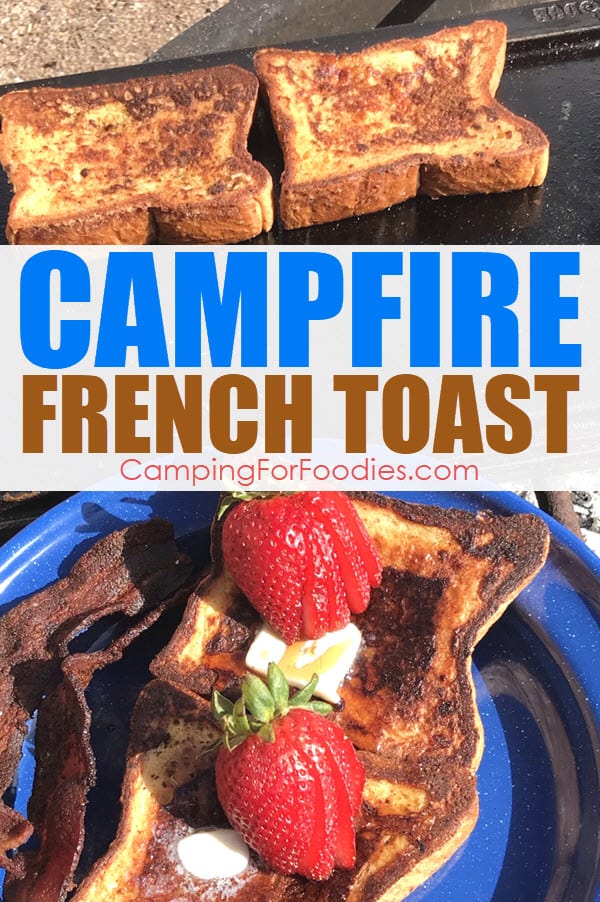 Camping For Foodies Breakfast Camping Recipes: Campfire French Toast Recipe
Ingredients
4 slices Texas toast (or other, thick-cut bread)
2 eggs
1/2 cup milk
1 teaspoon cinnamon
1/2 teaspoon vanilla extract
Pinch of salt
2 tablespoons butter, or as needed, divided
4 fresh strawberries
1/4 cup real maple syrup
Instructions
NOTE: This recipe serves 2, scale-up as necessary to feed more campers.
Prepare your campfire for cooking over medium heat. If you prefer to use your camp stove or RV stove, prepare the equipment for cooking on a level surface.
In a shallow bowl, beat the eggs until they are thoroughly combined. Add the milk, sugar, cinnamon, vanilla extract and salt, mixing to combine.
Melt half the butter on a cast iron griddle or skillet over medium heat.
Place the bread slices in the egg mixture and soak, turning to coat, until the bread is completely saturated. Let the excess drip off before placing it on the cast iron griddle.
Working in batches, if necessary, cook the egg-dipped bread in the hot butter until it is golden brown, about 3 minutes per side. Camp Cooking Tip: Depending on the size of your griddle or skillet, you should be able to cook 6-8 slices of bread at the same time. If you have to work in batches (and if everyone wants to eat at the same time) set aside the finished pieces and cover with a top piece of foil to keep the French toast warm while you cook the remaining bread slices.
Once the toast is golden brown on one side (about 3 minutes), flip and cook the other side until it is golden brown (about 3 more minutes). Remove from griddle and serve hot topped with remaining butter, fresh berries and syrup.

Recommended Products
As an Amazon Associate and member of other affiliate programs, I earn from qualifying purchases.
Nutrition Information:
Yield:
2
Serving Size:
1
Amount Per Serving:
Calories:

572
Total Fat:

29g
Saturated Fat:

13g
Trans Fat:

1g
Unsaturated Fat:

14g
Cholesterol:

221mg
Sodium:

646mg
Carbohydrates:

64g
Fiber:

3g
Sugar:

29g
Protein:

15g
---
More Camp Meal Ideas
If you want more unique recipes that are perfect for your next camp trip, we've got tons of them!
If you're looking for awesome ideas for yummy camping food, you're in the right place!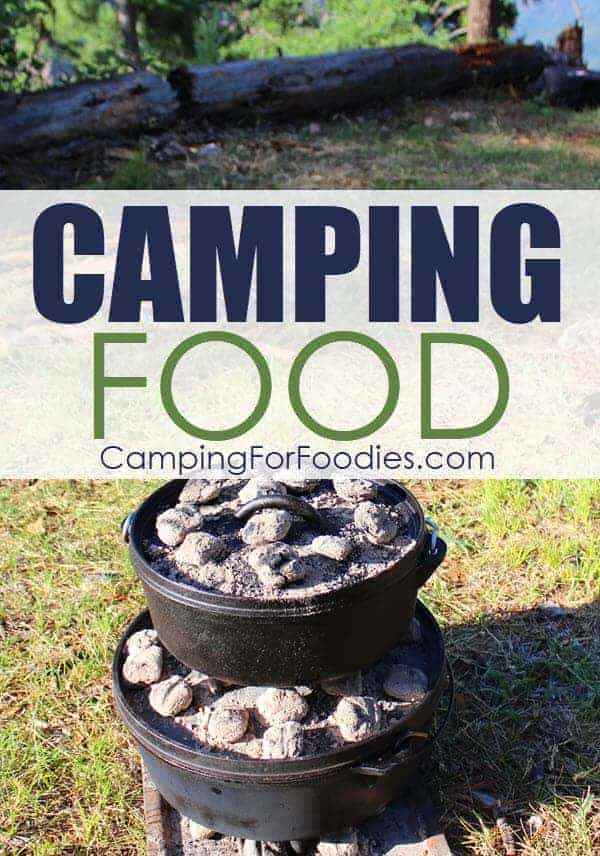 Here's our entire camping recipes list.
Get FREE camping tips and recipes emailed to you!
Our Camping Products Make Great Gifts!
Flexible Cutting Mat
Cutting Mat Set
Stainless Steel Cocktail Shaker Set
Hammock With Attached Accessory Bag