Join Us for a Fun Hike Event on National Trails Day
CVL Hike Club and Camping For Foodies Team Up for National Trails Day Event
Hiking the Horton Creek Trail, photo contest, trivia contest, cooking demonstration and awesome prizes – that's what I'll be doing on June 6 as I celebrate National Trails Day with the CVL Hike Club! And…YOU'RE INVITED! Psst we're compensated…see our disclosures.
---
Top 3 Picks This Week!
Coffee Mug
Lounge Pants
Cutting Mat
&
The Hike
The Horton Creek Trail hike has an elevation gain of 1,100 feet over the course of 4 miles to the turnaround point. The total hike is 8 miles roundtrip. If you have never been there, take a peek with this video: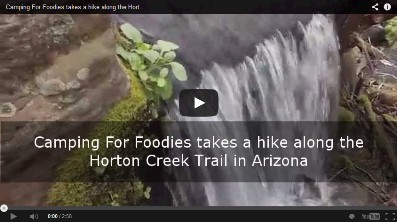 The Photo Contest
Bring your camera along so you can take pictures throughout the day! We'll have a photo contest which will be judged by the group and the winners will be submitted to the next Arizona Highways magazine photo contest. We'll be capturing photos for the following categories:
Horton Creek – the water
Horton Creek – the critters
Horton Creek – the hikers
Horton Creek – the vegetation
Horton Creek – the trail
The Trivia Contest
Who doesn't love a good trivia contest?!? We're naming the contest "Outdoor Oddities" which will feature questions and fun facts about National Trails Day, Arizona's extensive outdoor offerings and camp cooking. Winners will receive prizes from the Camping For Foodies product line which includes hammocks, cocktail shaker gift sets and t-shirts!
Let's Eat!
For the lunch, hikers can bring their own food or partake in a meal prepared by club members featuring a Camping For Foodies created menu. I'll also be sharing tips for easy and delicious camp meals.
Who Is Going?
The CVL Hike Club is hosting the hike being led by Kathleen Fitzpatrick who serves on the board of directors of the American Hiking Society and is a CVL Hike Club member. I'll be a special guest and will co-lead the festivities. The event is free and open to the public; for those who partake in the meal prepared by the club members, the club will be collecting donations on a cost-recovery basis.
P.S. Check out this story from Arizona Highways about Kathleen, how she started the CVL Hike Club and more!
The Details
When: The event is June 6, 2015 from 7 a.m. – 3 p.m.
Where: Participants will meet at 7 a.m. to caravan in their own personal vehicles from Starbucks located at 16815 E Shea Blvd #106A.

Alternatively, participants can meet at the Horton Creek trailhead at 9 a.m. located: From Payson take 260 East for 16 miles to FR289 which is Tonto Creek Road. Turn left on to FR289 and follow a mile to the Upper Tonto Creek campgrounds. Hiker parking is before the campgrounds (left) across a bridge in a small lot. A composite toilet is available.

How: RSVP is required to Kathleen Fitzpatrick at [email protected] or 602-828-3723 http://www.nationaltrailsday.org/events/cvl-hike-club-horton-creek-trail/
Check out this video: Liz Thomas American Hiking Society's National Trails Day
What do you think?
What do you think? Leave me a comment…I'd love to hear from you!
I love sharing my recipes and tips for enjoying the great outdoors while camping, RV adventuring and relaxing in your own backyard. I'd love to hear what you think and if you'd like to share some of your secrets, I'd love to hear them too! Please leave a comment below and let's chat.
If you need camping recipes and menu ideas, you can find them here at the Camping For Foodies Camping Recipes list.
Don't miss a thing…sign up for Camping For Foodies email updates!
Your purchase of our products will help support World Vision ® Building a better world for children.