Genius RV Awning Tie Down Hack How To DIY VIDEO
Genius RV Awning Tie Down Hack How To DIY VIDEO
By Pete | My Husband's Corner
We hate the noise made by a retractable RV awning when it's flapping in the wind! When we bought our latest RV, we were on our first trip when we realized our old RV awning tiedown strap was not long enough for our new awning! So, I had to figure out how to tie down an awning with the supplies I had in my tool box! Turns out … this DIY hack works better than our old traditional awning strap kit! I created this VIDEO to show you how to tie down your RV patio awning with my DIY hack! Psst we're compensated…see our disclosures.
---
RV Awning Tie Down Hack
---
You'll need these 5 simple supplies to do this DIY RV awning tiedown hack. You can get any one or all 5 of these RV Awning Tie Down Hack Supplies right here!
 Stakes
 Rope
 Large CamRings
 Carabiners
 Bungees
&
---
8 Steps: How To Tie Down Your RV Awning
---
Step 1:
Hammer the Stake into the ground directly under the outside corner of your RV awning … just like I did in my video.
&
---
Step 2:
Tighten the tension of the awning rafter arm.
---
Step 3:
Hang the Bungee over the corner of the awning structure … just like I did in the picture below.
&
---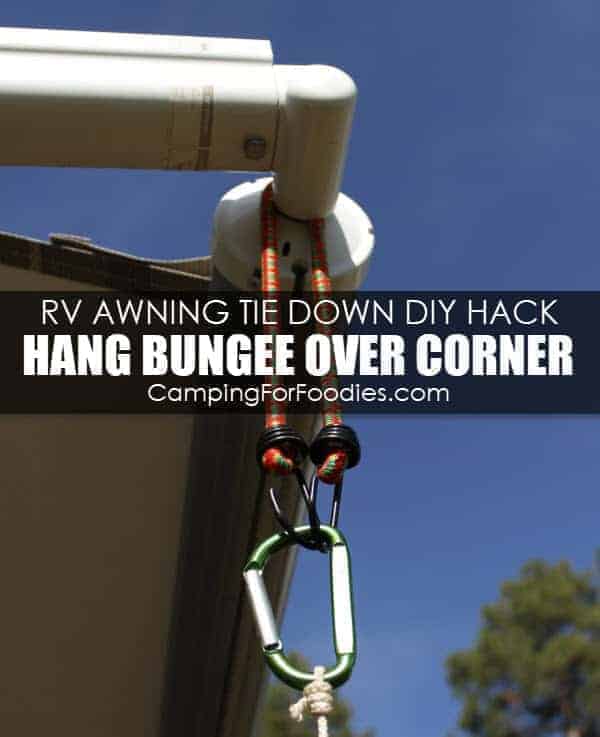 ---
Step 4:
Cut the 1/8-Inch Nylon Rope to the appropriate size (our awning required about 10 feet). Then tie one end of the rope to the carabiner clip. Now take the other end of the rope and run it through the two holes in the large camring and then tie a knot at the end. NOTE: If you tie the knot in the end of the rope before you string it through the large camring, you won't get it through the camring holes. 😤 Follow the sequence as I describe it here to avoid frustration. 🤜🤛 *fistbump*
&
---
Step 5:
Hang the Carabiner Clip from the bungee hooks and just let the rope hang down toward the stake.
&
---
Step 6:
Run the knotted end of the rope through the stake. NOTE: The knot (you did this in step 4) eventually holds the rope in place in the camring notch … just like you see in the step 7 picture.
---
Large CamRing Tent Cord Tensioner
Step 7:
Run the rope through the notch in the Large CamRing Tent Cord Tensioner. Check out our photo below for a close-up view. You'll also find a diagram on the product package. IMPORTANT: Make sure you get the LARGE CamRing size because the small size does not have the notch needed to secure the rope for this project!
&
---
---
Step 8:
With a slight amount of pressure, pull down on the carabiner clip to tighten bungee while adjusting the large camring (up or down) to remove slack from the cord.
---
Repeat steps on the other end of the awning.
---
BAM … You're Done!
Now that your RV awning tie down project is complete, you have it protected from the wind and you won't have to listen to that annoying noise that can drive a sane man crazy! That is how to keep your RV awning from flapping in the wind AND avoid marriage counseling at the same time! Ha! Now kick back and camp! 😎
---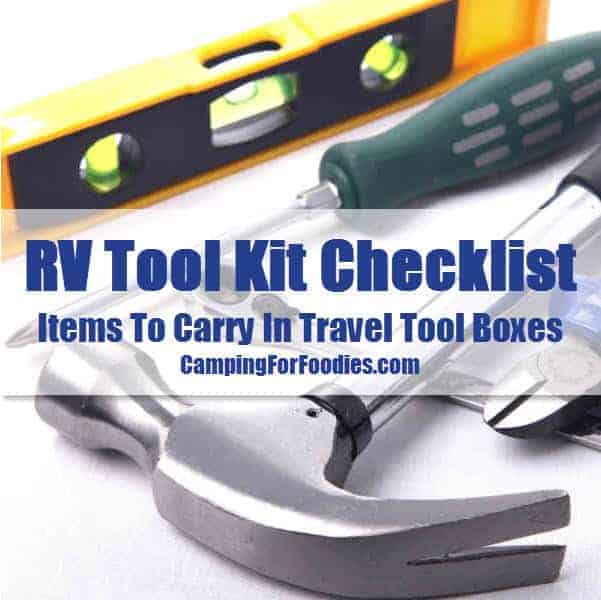 I carry lots of miscellaneous items in my tool box so I am ready for any surprise I may encounter on our camping trips. We created a really cool RV Tool Kit Checklist you can download for free so go grab a copy for yourself. You can thank me later! 😀
&
---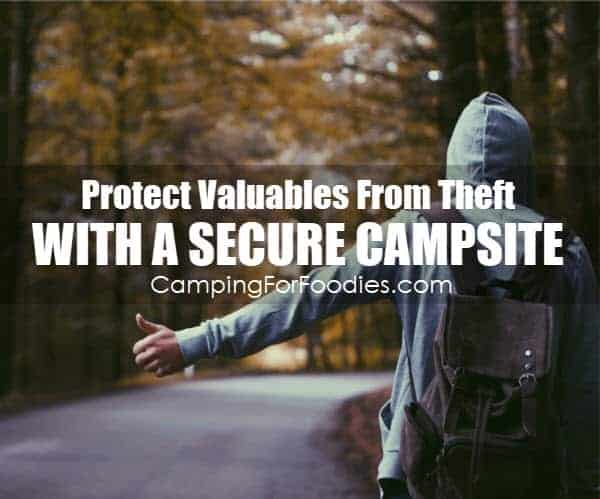 Need ideas on keeping your stuff secure when hanging out in the wilderness? You gotta see this post: A Secure Campsite Protects Valuables From Theft! I never go camping without my locking cables and coupler locks.
&
---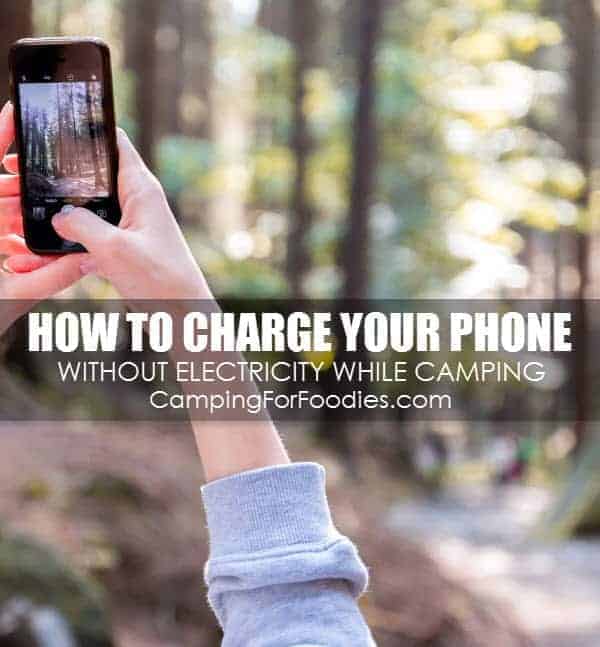 If you are one of those campers who can't live without your phone while you are out in the wilderness, you need to check out our How To Charge Your Phone Without Electricity While Camping post!
&
---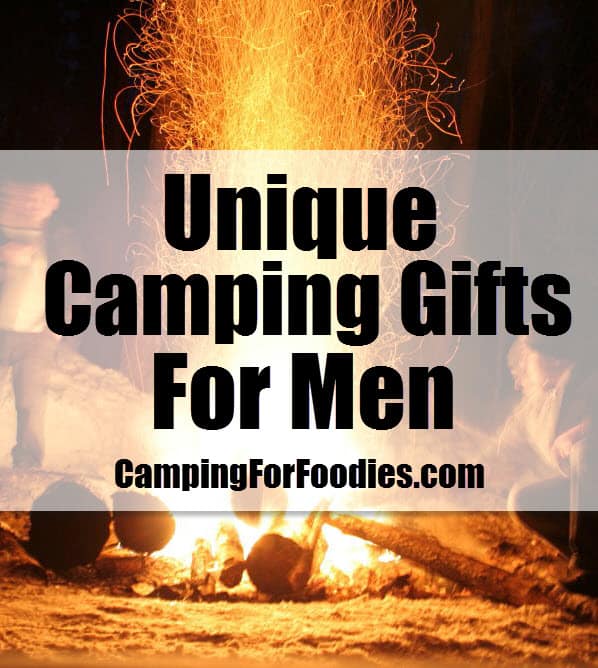 For guys tired of getting lame camping gifts, here's a list of Unique Camping Gifts For Men you can forward to every person who might be planning on buying something for you! Ha!
&
---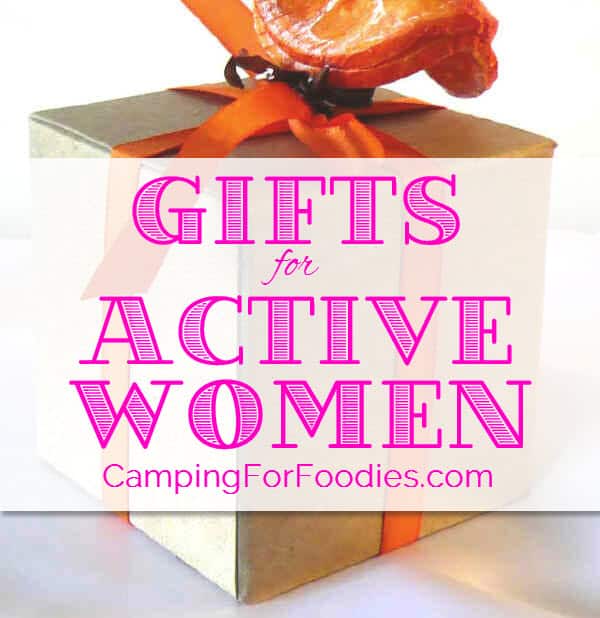 Need to get a gift for a women who likes to camp, hike or fish but don't know what to get her? Our Gifts For Active Women post is your answer!
&
---
No time to look for recipes, create a menu and write a grocery list? No Problem! Get our 3-Day Dutch Oven Camp Menu Plan here!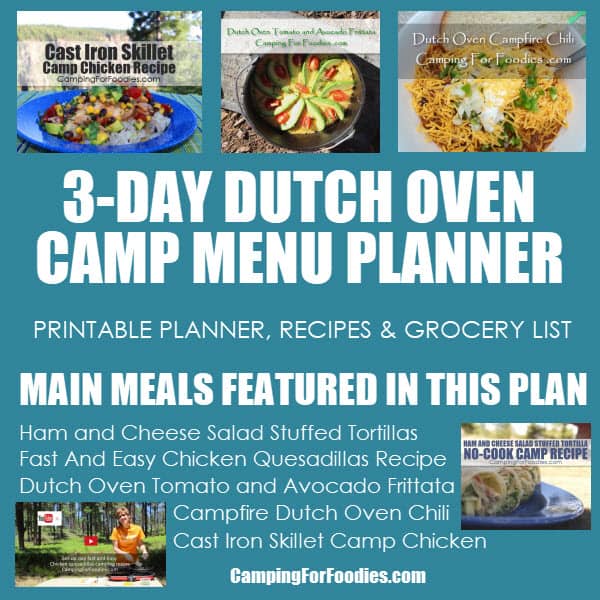 ---
Our Cool Camping Products Make Great Gifts!
Tote
Cutting Mat
Mat Set
Shaker Set
Apron
Hammock
Women's Tee
&
---
If you need camping recipes and menu ideas, you can find them here at the Camping For Foodies Camping Recipes list.
Don't miss a thing…sign up for Camping For Foodies email updates!
Your purchase of our products will help support World Vision ® Building a better world for children.