RVing Tips For Beginners: Enjoying The Maiden Journey
Many RVers start as tent campers and graduate to RVs. An experienced camper can easily transition from a tent to an RV with a few simple tips.  Don't worry … If you are heading directly to the RV driver's seat … we can help you too! Psst we're compensated…see our disclosures.
---
RVing Tips For Beginners To Instantly Turn Pro
Use our 9 simple tips to RV like a pro on your first trip! Let's do this!
---
1. Take a practice RV drive
Driving a big vehicle might be intimidating but getting comfortable as a driver (and passenger) is important. Don't forget that you will probably be "taller" and "wider" than you are used to, so practice driving in some wide open spaces and watch for height clearances at underpasses, bridges, low-hanging branches and anything else above your path of travel. It is a great idea to take some driving courses to help you drive like a boss before you actually hit the road. Just like driving any new-to-you vehicle, you want to know your RV … it's a bummer when the sun begins to set and you realize it's too dark inside the vehicle to see where the switch is for the headlights! And, don't forget to secure your personal items so they don't shift while driving.
---
Basic RV tools we like:
Toothbrush holders keep your toothbrushes clean and secure during travel.
Cupboard Bars are spring-loaded and keep kitchen dishes, cookware and other items in cabinets from shifting during travel.
Fridge Braces attach to refrigerator wire shelves to keep food items from sliding and avoid spilling during movement.
Camco 57203 Pop-A-Toothbrush
Camco 44063 Cupboard Bars
Camco 44033 Fridge Brace, 2 pack
&
---
All of the details associated with being new to RV camping can be overwhelming. Remember that RVing is fun, so make sure to plan for a little R&R! This "I'm Unplugging" Hammock With Attached Accessory And Carrying Bag is perfect for those quiet times when you need a little peace and quiet during your RV adventures. The attached accessory bag allows you to stay reclined as you reach for your book, drink and sunglasses that are conveniently tucked into the attached bag within arm's reach! When you are done using it, just fold it up and pull the string for easy transportation and storage! Check out the video to see it in action!
&
---
---
2. Bring Tools and Spare Parts
Don't try to become a moving auto parts store! That being said, you do want to carry basic tools and spare parts. Many times RVers are getting away from the craziness of city life and escaping for some R & R in quieter places. Remember, the further away from services, the more self-reliant you want to be. It's a balance and each trip will have unique circumstances … plan wisely.
---
Basic RV tools we like:
T-handle style lug wrenches gives you better leverage (if you have a pull-type RV, make sure your wrench accommodates both sizes of lug nuts on your tow vehicle and trailer).
Heavy gauge jumper cables are the best because they carry more amps which in-turn starts the vehicle quicker than lower gauge cables.
Digital tire gauges are optimal because they quickly and most accurately read your tire pressure. Keeping your tires at the recommended pressure will ensure you get the most life out of your tires and provide the highest level of safety.
Powerbuilt 940558 14″ Universal Lug Wrench
Cartman Booster Cable 4 Gauge x 20Ft in Carry Bag UL Listed (4AWG x 20Ft)
TEKTON 5941 Digital Tire Gauge, 100 PSI
&
---
P.S. I need to update this post because as Rick mentioned in the comments … you need to watch your gas gauge too! His tow vehicle fuel consumption reduces to 7 mpg when pulling his RV.  Your fuel burn will vary depending on the terrain too so be particularly aware of your fuel stop options in the mountains with uphill grades.  Thanks for the reminder Rick!!!
---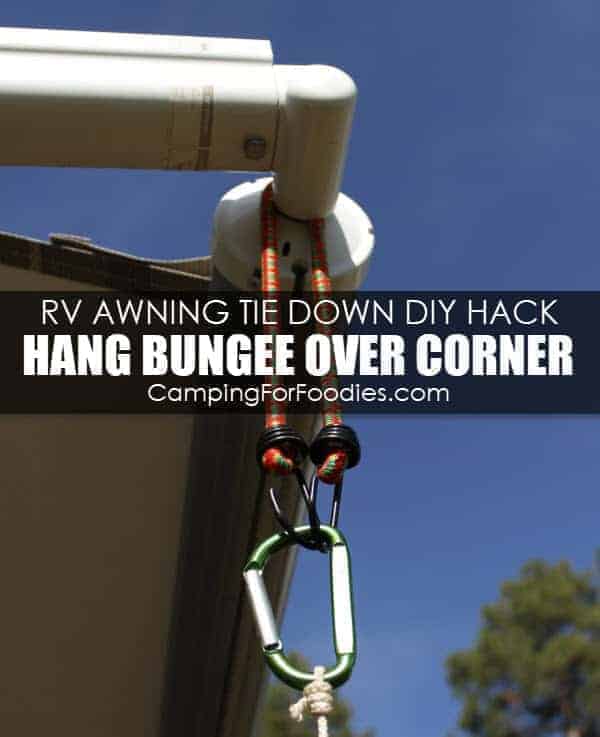 Eventually you will get to the point that you feel very comfortable with RVing and you'll begin to create little hacks and shortcuts to fit the needs of your family and the style of camping you enjoy. My husband came up with a way to keep our RV patio awning from flapping in the wind and making that annoying noise! Check out his Genius RV Awning Tie Down Hack How To DIY VIDEO!
&
---
P.S. I need to update this post because Alisha provided a great tip in the comments … "We learned to always check the weather before bed and let the awning in as necessary. It's no fun waking to the awning about to blow off and running out in pj's and no glasses and in the rain with your husband to let the awning in! 😆" Thanks for the tip Alisha!!!
&
---
Eventually you will want a few more tools in your collection. We have an awesome FREE RV Tool Kit Checklist that you can print!
&
---
Not only will you want to use a checklist for your tool box, you will also want to use one for stocking your interior items and regular gear. Get your FREE printable copy of the Camping For Foodies Ultimate RV and Tent Camping Checklist and More!
&
---
3. Dry run in your driveway
---
Test your process, packing and patience … fail at home! If you forget to pack the coffee pot, you want to find out early! Seriously, could anyone go a day without a good cup of coffee? The answer is "NO" in my family. If you pack and test your processes and equipment while camping out in your driveway, you won't have far to go to remedy any failures. Once you are comfortable that your RV is properly packed and operating, you can take your first road trip with the confidence of a pro! And, don't forget to secure your RV from rolling while parked and level it.
---
Basic RV tools we like:
T Levels allow you to easily check that your RV is level from side to side as well as front to back. You want to make sure you are level before setting up for proper shower drainage and personal comfort.
Leveling Blocks allow you to level your RV even if the ground you are parked on is not completely level. Stack the number of blocks needed to level the vehicle, then carefully drive your RV on top of them to level it. The interlocking blocks can be used under tires, trailer tongues and swing arm supports. We use ours often when boondocking (aka remote camping or dispersed camping) in areas like National Forests. Leveling blocks can be used as a solid surface over a soft surface to avoid sinking into the ground. 

These are not designed for heavy big rig use; more sophisticated RVs have built-in leveling capabilities. Always know your equipment and any limitations associated with it.

Wheel Chocks will keep your RV from rolling while you are parked. After you have leveled your RV … chock it! This is especially important if you are parked on some sort of incline. If you have a tow-type RV, make sure you chock the RV BEFORE you unhook it from the tow vehicle.
You'll find practical gift ideas like these and other totally crazy unique alternatives in our Gift Ideas RV Owners Will Be Crazy About post!
Camco 25543 T Level
Camco 44505 Leveling Blocks, 10-Pack
Camco 44414 Wheel Chock, 2-Pack
&
---
---
4. RV size – Don't clutter your space
RVs come in all sizes … from cute little teardrop trailers to diesel pusher motorhomes that are bigger than the typical New York City apartment! You might have the urge to over-pack your RV just because you have new storage spaces to fill. DON'T DO IT! Resist the temptation and only pack what you need and keep it organized because clutter builds fast in small spaces and you can avoid that problem with proper planning and organization tools.
---
Basic RV tools we like:
Adjustable kitchen drawer dividers allow you to easily keep your utensils organized. The ability to change the size of the space inside of the organizer is key to containing your specific gear.
Over door organizer with pockets creates storage that is easily accessible and still neat and tidy. We use these over our RV bathroom door as well as cabinet doors.
Under bed organizers make use of space that is out of sight. Some RVs have storage space under the beds and almost all have storage space under the couch and kitchen bench seats too; this type of organizer is ideal for all of those areas.
OXO Good Grips Adjustable Drawer Organizer
Over Door Storage Hanging Organizer
SimpleHouseware Organizer Drawer Divider 4 Set
&
---
---
5. Go waterless
RV Packing Tip: Water is HEAVY, avoid transporting it as much as possible! If your destination has water available, don't travel with full tanks. If your camp spot has full hookups, you will have water easily available as soon as you connect to your hookups. In other instances you may have to fill your fresh water tank at the fill-up station usually located at the campground entrance and then drive to your actual camp spot. The same goes for your gray and black water tanks; empty those tanks before you start driving so you don't carry unnecessary weight.
---
Basic RV tools we like:
Water Wye Valves are great at camp spots with water hookups. They allow you to split the water source to feed your RV water system while also having a supply outside.
Water Pressure Regulators protect your RV water hose, pump and internal lines from high and inconsistent water pressure levels. Some campgrounds and RV parks have high plumbing pressure and you don't want to damage your RV plumbing as a result.
Water Filters allow you to filter out contaminants and reduce bad taste, odors, sediments, bacteria, chlorine and more.
Camco 20123 Brass Water Wye Valve
Camco 40055 Brass Water Pressure Regulator – Lead Free
Camco 40631 EVO Premium Water Filter
&
---
6. Watch your load limits
---
It can be easy to overlook your weight if RVing is new to you. Your vehicle has published load limits, know what they are and don't exceed them … It's a safety thing! You can easily check the weight of your vehicle on a truck scale at a truck stop. One of the main weights you need to be aware of is your Available Payload Capacity and depending on the type of RV you have, you may also have a Towing Capacity if you are pulling your RV with a tow vehicle. Check your manuals on all your limits to operate safely and legally.
---
Garmin RV 760LMT Portable GPS Navigator

The Garmin RV 760LMT Portable GPS Navigator is a popular gadget for RV driving with specialized routing based on customized information regarding your height, weight, width and length restrictions. It provides you with cautions and advisories regarding risk of grounding, lateral winds, narrow roads, sharp curves, steep hills, state borders and more. It also provides RV-specific services like repair shops, truck stops and a nationwide comprehensive list of repair and tow facilities. You don't have to worry about changing information because it includes free lifetime map and traffic updates too!
&
---
---
7. Reserve your spot and plan for tank dumps
Know if your RV spot has full hookups or if you have to fill fresh water and empty your holding tanks at a remote station. Be sure to have necessary equipment for dumping your waste tanks and for the love of all mankind … don't forget the dump gloves!
---
Basic RV tools we like:
Disposable Dump Gloves are great because touching dump fixtures with your bare hands is just not cool! One-time use gloves that come in mountable dispensers are our favorites.
Sewer Hose Supports are great to keep sewer hoses in place especially when you have to maneuver around obstacles.
Sewer Hose Extensions come in handy when your normal hose won't reach the sewer outlet from where you are parked.
Camco RV Disposable Dump Gloves – 50 Pairs
Camco 20′ Sidewinder Plastic Sewer Hose Support
Lippert 20′ Extension RV Sewer Hose System
---
Some campgrounds and RV parks are booked months or even years in advance so reserve your campsite before you travel. Depending on the size of your RV, you may be limited to specific spots at some destinations. Many of the National and State Parks were designed years ago and are unable to accommodate the larger RVs on the market today. The larger your RV, the more limited your options, so … reserve early to ensure you have a spot to call "home" upon your arrival.
In the busy season it can be super difficult to get a spot in popular places like Yosemite National Park. They even tell you to make sure your clock is properly set so you can call for a reservation as soon as they open the process for the season! Seriously, I can't make this stuff up! From the Yosemite National Park Website Campground Reservations Page:
Be aware that nearly all reservations for the months of May through September and for some other weekends are filled the first day they become available, usually within seconds or minutes after 7 am! For your best chance of getting a reservation, be sure your clock is set accurately and start the first few steps of the reservation process at www.recreation.gov before 7 am Pacific time.
---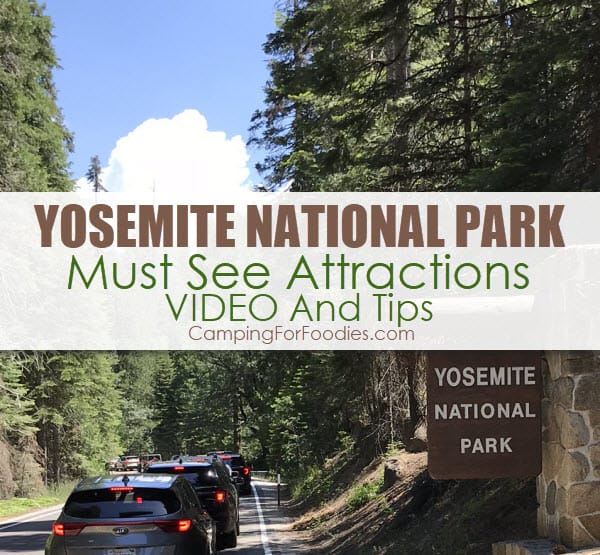 No matter what the Yosemite website says … Don't let that discourage you from trying to get a camping reservation there … because … it is seriously one of the most majestic places on the planet! See our highlight video in our Yosemite National Park Must See Attractions VIDEO And Tips post! Oh, and whatever you do … don't forget to pack your camera!!! 😉
&
---
---
8. Don't get locked out and prepare for after-dark setup
Some campgrounds are open 24/7, others have quiet hours and actually lock the gates during those hours each night.  Know the gate hours or you may need another tip sheet: RVing Tips For Beginners: How To Legally Camp In A Wal-Mart Parking Lot … and then, we won't be able to help you. But, there is such a thing as a Walmart store directory … Hopefully you won't need it! Try to arrive early enough to setup in daylight … but, be prepared if you have to setup in the dark.
---
Basic RV tools we like:
LED Headlamp is not the most fashionable piece of equipment but if you ever tried to setup an RV in the dark you know you will wear whatever gear you need to in order to see what you are doing … no matter how ridiculous it makes you look! These are great for providing a very focused light.
LED Camping Lantern is great for lighting up an overall area and can be easily hung from hooks and tree branches etc.
Directory Of U.S. Walmart Stores what can we say, other than … just in case!
LED Headlamp
LED Camping Lantern
Directory Of US Walmart Stores
&
---
9. Leave the dispersed camping for another day
---
We absolutely LOVE dispersed camping but I would not recommend it with a new-to-you RV. It's a good idea to get a few "full hookup" trips under your belt before you wander off into the wilderness.
BUT … When you are ready to go
dispersed camping (or boondocking, or remote camping … or whatever you like to call it) we can help you with some tips for that too! Check our our VIDEO and Dispersed Camping Tips post!
&
---
People who are new to the RV experience can benefit from others; we like to share our expertise as much as possible! So, we think you'll agree with our recommendation to be prepared with the right tools in your travel toolbox. Here you go, get tons of information and your copy of our FREE printable RV Tool Kit Checklist!
Want to RV camp in the winter? Don't go before you get our Winter RV Camping Tips!
---
Need Camp Cooking Tips And Recipes? Check Out These Posts!
&
---
No time to look for recipes, create a menu and write a grocery list? No Problem! Get our 3-Day Dutch Oven Camp Menu Plan here!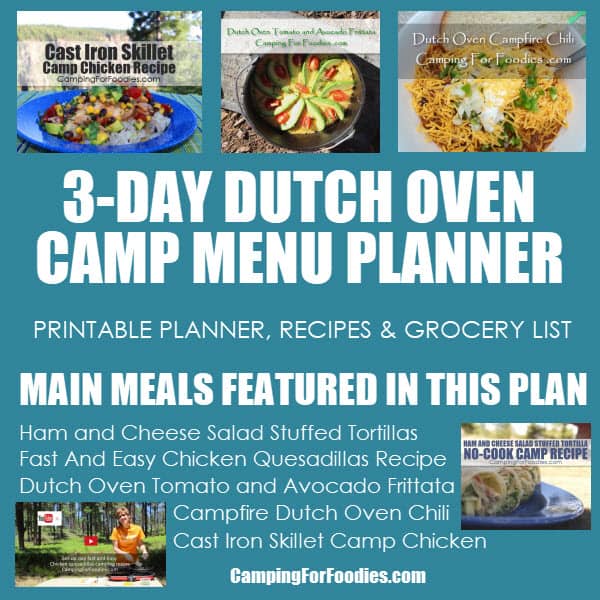 ---
Our Cool Camping Products Make Great Gifts!
Tote
Cutting Mat
Mat Set
Shaker Set
Apron
Hammock
Women's Tee
&
---
If you need camping recipes and menu ideas, you can find them here at the Camping For Foodies Camping Recipes list.
Don't miss a thing…sign up for Camping For Foodies email updates!
Your purchase of our products will help support World Vision ® Building a better world for children.