RVing Tips For Beginners: Enjoying The Maiden Journey
Every newbie needs these RV tips and hacks before they hit the road!
Camping for beginners comes with a pretty steep learning curve … but, many RVers start as tent campers and graduate to RVs.
An experienced camper can easily transition from a tent to a recreational vehicle with a few simple RV camping tips for beginners.
Don't worry … If you are heading directly to the RV driver's seat … we can help you too!
Psst we're compensated…see our disclosures.
RV Tips: Camping For Beginners
We have shared the best camping gear to help new RVers get on the road safely.
---
What are your best tips for newbies going camping in an RV?
Beginner RV campers don't know what they don't know!
Start by using our RV camping checklist to pack everything you'll need and follow our simple RV tips and tricks from the experts.
You'll feel confident on your first trip!
Take A Practice RV Drive
Bring Tools And Spare Parts
Dry Run Camping In Your Driveway
RV Packing Tips Beginners Need To Embrace
Travel Without Water In Your RV
Prepare For Different Electrical Outlets
Watch Your RV Load Limits
Plan For Tank Dumps
Reserve Your Camping Spot
Don't Get Locked Out Of The Campground
Prepare For After-Dark Setup
---
11 Simple RV Tips And Tricks For Your First Camping Trip!
1. Take A Practice RV Drive
How to drive an RV … or any big vehicle … can be nerve-wracking for families who are new to rving.
Getting comfortable as a driver is important … AND … so is being calm as passengers!
A white-knuckle backseat driver can be dangerous when cruising on the road … especially if the driver becomes distracted.
If you are traveling with kids and pets, they also need to be educated on RV travel tips beginners need to know so the driver is able to fully focus on one thing … driving!
Driving is one of the biggest challenges for ladies so we've created an entire list of RV tips 101 for women traveling solo that addresses their most common fears and how to overcome them.
One of the most commonly forgotten RV driving tips is that you will probably be "taller" and "wider" than you are used to, so practice driving in some wide open spaces and watch for height clearances under bridges, underpasses, low-hanging branches and anything else ABOVE your path of travel.
We have an entire post dedicated to RV travel tips for RV safe routes!
It is a great idea to take some driving courses to help you drive like a boss before you actually hit the road.
Just like driving any new-to-you vehicle, you want to know your RV (if you have a drive-type) or your tow vehicle (if you have one of those travel trailers that is a tow-type RV) … it's a bummer when the sun begins to set and you realize it's too dark inside the vehicle to see where the switch is for the headlights!
And, don't forget to secure your personal items so they don't shift while driving.
---
Basic RV tools we like:
Toothbrush Holders keep your toothbrushes clean and secure during travel.
Cupboard And Refrigerator Bars are spring-loaded and keep kitchen dishes, cookware and other items from shifting during travel. These are some of our favorites, but you should check out all of our must-have RV kitchen accessories.
Fridge Braces attach to refrigerator wire shelves to keep food items from sliding and avoid spilling during movement.
Pop-A-Toothbrush
Refrigerator Bar
RV Fridge Brace
---
2. Bring Tools And Spare Parts
Don't try to become a moving auto parts store!
That being said, you do want to carry basic tools and spare parts.
Many times RV beginners are getting away from the craziness of city life and escaping for some R & R in quieter places.
Remember, the further away from services, the more self-reliant you want to be.
It's a balance and each RV trip will have unique circumstances … plan wisely.
---
Basic RV tools we like:
T-handle style lug wrenches gives you better leverage (if you have a pull-type RV, make sure your wrench accommodates both sizes of lug nuts on your tow vehicle and trailer).
Heavy gauge jumper cables are the best because they carry more amps which in-turn starts the vehicle quicker than lower gauge cables.
Digital tire gauges are optimal because they quickly and most accurately read your tire pressure. Keeping your tires at the recommended pressure will ensure you get the most life out of your tires and provide the highest level of safety.
Universal Lug Wrench
Booster Cable 4 Gauge
Digital Tire Gauge
---
P.S. I need to update this post because as Rick mentioned in the comments … you need to watch your gas gauge too!
His tow vehicle fuel consumption reduces to 7 mpg when pulling his RV.
Your fuel burn will vary depending on the terrain too so be particularly aware of your fuel stop options in the mountains with uphill grades.
Thanks for the reminder Rick!!!
---
We recommend RV basics 101 tools … but … eventually you will want a few more tools in your collection.
My husband created an awesome first time RV owner checklist that is specifically for tools we use when we travel.
You can print it and keep it inside your home on wheels!
You will love this FREE RV Tool Kit Checklist as you expand your tool collection to fit your individual rig and style of RV camping.
---
Eventually you will get to the point that you feel very comfortable with RVing and you'll begin to create little RV camping hacks to fit the needs of your family and the style of camping you enjoy.
My husband came up with a way to keep our RV patio awning from flapping in the wind and making that annoying noise!
Check out his Genius RV Awning Tie Down Hack How To DIY VIDEO!
P.S. I need to update this post because Alisha provided a great tip in the comments …
"We learned to always check the weather before bed and let the awning in as necessary. It's no fun waking to the awning about to blow off and running out in pj's and no glasses and in the rain with your husband to let the awning in!"
Thanks for the tip Alisha!!!
---
Not only will you want to use a checklist for your tool box, you will also want to use an RV camping checklist for stocking your interior items and regular gear.
Get your FREE printable copy of the Camping For Foodies Ultimate RV and Tent Camping Checklist and More!
---
3. Dry Run Camping In Your Driveway
It may seem contradictory but one of my favorite camping tips for beginners is to stay put!
Test your process, packing and patience … fail at home!
If you forget to pack the coffee pot, you want to find out early!
Seriously, could anyone go a day without a good cup of coffee? The answer is "NO" in my family.
This is one of my best RV tips and tricks … you are going to PRETEND like you are Free Camping in the middle of a desolate National Forest but you are really going to be in your driveway!
Use our tips on how to plan a camping trip for this exercise.
If you pack and test your processes and equipment while camping in your driveway, you won't have far to go to remedy any failures.
Each time you need to go into the house or garage to get something … you have "failed" at packing or prepping something and can easily identify the adjustments you need to make before a real trip.
Once you are comfortable that your RV is properly packed and operating, you can take your first road trip with the confidence of a pro … first to a campground or RV park … and eventually boondocking at a free campsite where the views go on for miles and your money stays in your wallet!
Also, don't forget to secure your RV from rolling while parked and level it.
"Practice camping" is really important for limited mobility camping. For people with physical body limitations, testing your body is just as important as testing your process, packing and patience.
---
Basic RV tools we like:
T Levels allow you to easily check that your RV is level from side to side as well as front to back. You want to make sure you are level before setting up for proper shower drainage and personal comfort.
Leveling Blocks allow you to level your RV even if the ground you are parked on is not completely level. Stack the number of blocks needed to level the vehicle, then carefully drive your RV on top of them to level it. The interlocking blocks can be used under tires, trailer tongues and swing arm supports. We use ours often when boondocking (aka remote camping or dispersed camping) in areas like National Forests. Leveling blocks can be used as a solid surface over a soft surface to avoid sinking into the ground. These are not designed for heavy big rig use; more sophisticated RVs have built-in leveling capabilities. Always know your equipment and any limitations associated with it.
Wheel Chocks will keep your RV from rolling while you are parked. After you have leveled your RV … chock it! This is especially important if you are parked on some sort of incline. If you have a tow-type RV, make sure you chock the RV BEFORE you unhook it from the tow vehicle.
RV T-Level
Leveling Blocks
RV Wheel Chocks
---
T-levels and wheel chocks make great practical gifts for first time RV owners.
You'll find ideas like these and other totally crazy unique alternatives in our Gift Ideas RV Owners Will Be Crazy About post!
---
4. RV Packing Tips Beginners Need To Embrace
RVs come in all sizes … from cute little teardrop trailers to diesel pusher motorhomes that are bigger than the typical New York City apartment!
You might have the urge to over-pack your first RV just because you have new storage spaces to fill and cool gadgets you think you need.
DON'T DO IT!
This is key: How to RV without feeling like you outgrew your rig on your first roadtrip … resist the temptation to buy every RV accessory at first.
Start with a minimal camping list and only pack what you need and keep it organized because clutter builds fast in small spaces … you can avoid that problem with proper planning and organization tools.
Then, as you advance beyond the RV basics beginners stages of camping, you can add the RV accessories you decide are useful to your style of camping … AND … are worth the "expense" to store them in the limited space you have in your RV.
This is really important if you decide to go full time in your home on wheels!
We have a post that dives deeper into the subject concerning RV packing tips for beginners to help you know how, where and what to pack for traveling safely in your new rig!
---
Basic RV tools we like:
Adjustable kitchen drawer dividers allow you to easily keep your utensils organized. The ability to change the size of the space inside of the organizer is key to containing your specific gear.
Over door organizer with pockets creates storage that is easily accessible and still neat and tidy. We use these over our RV bathroom door as well as cabinet doors.
Under bed organizers make use of space that is out of sight. Some RVs have storage space under the beds and almost all have storage space under the couch and kitchen bench seats too; this type of organizer is ideal for all of those areas.
Expandable Utensil Organizer
Over The Door Organizer
Organizer Drawer
---
Organizing small spaces seems to be some of the biggest challenges for RVing beginners … but it does not have to be!
Check out my Camping Storage Ideas post with 15+ ideas to keep your camper organized!
---
---
5. Travel Without Water In Your RV
RV packing tips beginners may not consider but need to: try not to "pack" water.
We think about packing food, drinks, clothing and camping gear … but … we don't really think about packing water.
Here's what you need to know: Water is HEAVY and you should avoid transporting it as much as possible!
If your destination has water available, don't travel with full tanks but you may decide to travel with a small amount of water for those "just in case" situations.
If your camp spot has full hookups, you will have water easily available as soon as you connect to your hookups.
In other instances you may have to fill your fresh water tank at the fill-up station … usually located at the campground entrance … and then drive to your actual camp spot.
We have an entire post dedicated to answering how to refill fresh water tank during camping trips. We discuss 4 different methods and have step-by-step instructions for each of them.
One word of caution: before you hit the road, make a quick call to your destination campground and verify there are no unexpected issues with the water at the facility (like the dreaded water main break that happens once every 20 years or so)
The same goes for your gray water and black waste tanks … empty those tanks before you start driving so you don't carry unnecessary weight.
Your wallet will thank you for it because the heavier you are … the worse your gas mileage becomes.
In addition to improving your gas mileage, you can use GasBuddy to find the best deal on fuel along your travel route.
We think it is one of the best camping apps and we use it on every trip!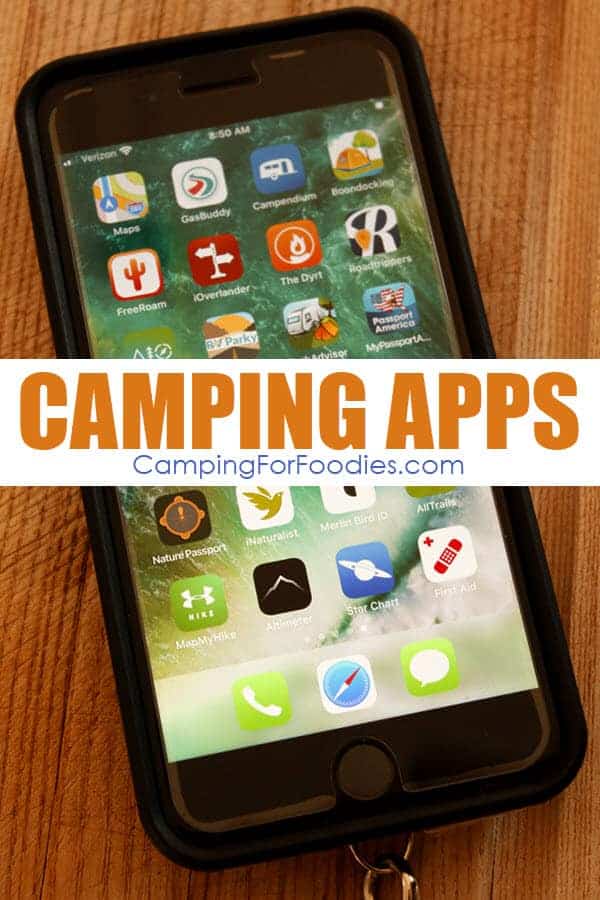 Once you learn the ropes and feel comfortable RVing with full hookups, you may want to try your hand at dispersed camping aka boondocking, but make sure you are prepared to be fully self-contained.
You can learn more about dispersed camping in our Boondocking: How And Where To Go Dispersed Camping post.
---
Basic RV tools we like:
Water Wye Valves are great at camp spots with water hookups. They allow you to split the water source to feed your RV water system while also having a supply outside.
Water Pressure Regulators protect your RV water hose, pump and internal lines from high and inconsistent water pressure levels. Some campgrounds and RV parks have high plumbing pressure and you don't want to damage your RV plumbing as a result.
Water Filters allow you to filter out contaminants and reduce bad taste, odors, sediments, bacteria, chlorine and more.
Water Wye Valve
Inline Water Pressure Regulator
RV Water Filter
---
6. Prepare For Different Electrical Outlets
When it comes to RV electrical hookups, there is no "real" standard at campgrounds and RV parks. You should call ahead when making your reservations to inquire about the type of electrical receptacle installed at your camp spot.
The three levels of power are 110 volt/15 amp, 30 amp and 50 amp … which would make you think there are only 3 possible plug types … BUT … that is NOT the case.
Really small trailers have a 110 volt/15 amp plug
Small to mid-sized RVs have a 30 amp plug (this is most common)
Most large RVs have a 50 amp plug.
RV plugs are always female … campground receptacles are always male.
You will need several different adapters to ensure that you are able to connect to electrical power wherever you go.
Make sure you have the proper plug or adapters for the receptacle at your specific camp spot, here are some examples…
---
Basic RV tools we like:
RV Power Cord Adapter 30 Amp Male to 15 Amp Female
RV Power Cord Adapter 15 Amp Male to 30 Amp Female
RV Power Cord Adapter 50 Amp Male to 30 Amp Female
RV Power Cord Adapter 30 Amp Male to 50 Amp Female
---
If you are camping in a location without power, you have two options to provide electricity to your RV.
You can either use a generator or you can operate off of your RV batteries.
If you operate using your RV batteries, you will need to keep them charged with solar panels.
Check out our Portable Solar Panels For RV Camping VIDEO post for more information.
Alternatively, you can use a generator if your camp spot does not have power hookups available … you can get more information in our Best Quiet Generators For Camping post.
---
In addition to electricity, many RV appliances and gear use gas fuel sources.
You should be familiar with the amazing uses of camping propane and make sure you have an ample supply.
If you are out on the road and run low on it, we have tips for finding propane refill near me no matter where you are camping!
If you are in an area with Costco stores, you may want to fill your tanks there because their prices are very competitive but not all stores have the service. Check out Costco Propane Refill: How To Use The Costco Propane Service for more details.
---
7. Watch Your RV Load Limits
It can be easy to overlook your weight if you are a first time RV owner. Your vehicle has published load limits … know what they are and don't exceed them … It's a camping safety thing!
You can easily check the weight of your vehicle on a truck scale at a truck stop.
One of the main weights you need to be aware of is your Available Payload Capacity and depending on the type of RV you have, you may also have a Towing Capacity if you are pulling your RV with a tow vehicle.
Check your manuals on all your limits to operate safely and legally.
---
The Garmin RV Portable GPS Navigator is a popular gadget for RV driving with specialized routing based on customized information regarding your height, weight, width and length restrictions.
It provides you with cautions and advisories regarding risk of grounding, lateral winds, narrow roads, sharp curves, steep hills, state borders and more.
It also provides RV-specific services like repair shops, truck stops and a nationwide comprehensive list of repair and tow facilities.
You don't have to worry about changing information because it includes free lifetime map and traffic updates too!
If you have an electronic-gadget loving guy who is one of those RV newbies on your gift list, these things make great camping gifts for him!
---
8. Plan For Tank Dumps
Know if your RV spot has full hookups or if you have to fill fresh water and empty your holding tanks at a remote station.
Be sure to have necessary equipment for dumping your waste tanks and for the love of all mankind … don't forget the dump gloves!
This is one of the "most appreciated" tips for new RV owners … but … if you happen to forget the gloves … gallon size freezer bags make less-than-desirable substitutes.
You don't want to end up like the Cousin Eddie RV in Christmas Vacation … if you know what I mean!
---
Basic RV tools we like:
Disposable Dump Gloves are great because touching dump fixtures with your bare hands is just not cool! One-time use gloves that come in mountable dispensers are our favorites.
Sewer Hose Supports are great to keep sewer hoses in place especially when you have to maneuver around obstacles.
Sewer Hose Extensions come in handy when your normal hose won't reach the sewer outlet from where you are parked.
RV Disposable Sanitation Gloves
RV Sewer Hose Support
Extended RV Sewer Hose System
---
Learn step-by-step how to hook up RV water, electric and waste when full hookups are available at your campsite!
---
9. Reserve Your Camping Spot
Make your campground reservations as far in advance of your trip as possible. Get all details at the time you are making the reservation.
Minimally, you'll want to ask about:
What is the check-in time?
What is the check-out time?
Does this campground have quiet hours? If so, what are the times?
What is the availability and location of water, power and dump facilities? Does your campsite have full hookups or will you need to move your RV to a fill/dump station?
Are generators allowed?
Are there vehicle dimension limits?
Where are the trash receptacles?
Where are the campground bathroom/shower facilities?
Are pets allowed?
Are supplies available nearby? (food/drinks, gasoline/diesel fuel, firewood etc.)
Is there a campground map?
Are printable campground rules available?
Are there any area or road closures due to weather, wildlife, hazards etc?
Any other question you have regarding your RV camping trip.
We have a FREE printable camping trip planner template that walks you through the planning process and keeps you organized for your RV road trips!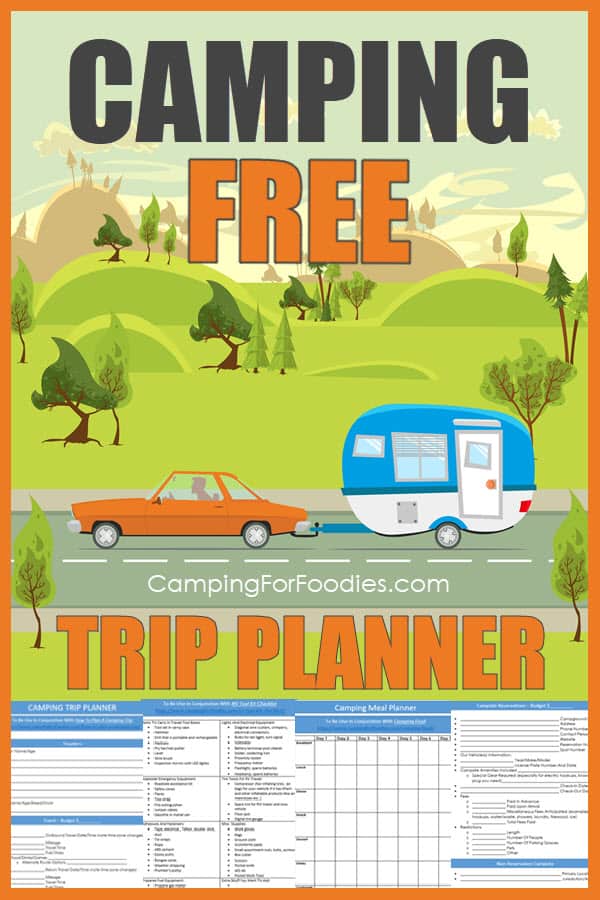 Keep a copy of your campground reservation and any related documentation inside your vehicle.
You can just use the Glove Box Organizer Auto Document Case that you probably already use to hold your vehicle insurance and registration or you can create a specific trip folder using See-Through Document Folders which is my personal preference because I like to keep my menu planner and recipes in there too!
I'm guessing you are not surprised by that … LOL
Glove Box Organizer Auto Document Case
See-Through Document Folder
---
Some campgrounds and RV parks are booked months or even years in advance so reserve your campsite before you travel.
Depending on the size of your RV, you may be limited to specific spots at some destinations.
Many of the National and State Parks were designed years ago and are unable to accommodate the larger RVs on the market today.
The larger your RV, the more limited your options, so … reserve early to ensure you have a spot to call "home" upon your arrival.
In the busy season it can be super difficult to get a spot in popular places like Yosemite National Park. They even tell you to make sure your clock is properly set so you can call for a reservation as soon as they open the process for the season! Seriously, I can't make this stuff up!
From the Yosemite National Park Website Campground Reservations Page:
Be aware that nearly all reservations for the months of May through September and for some other weekends are filled the first day they become available, usually within seconds or minutes after 7 am! For your best chance of getting a reservation, be sure your clock is set accurately and start the first few steps of the reservation process at www.recreation.gov before 7 am Pacific time.
---
No matter what the Yosemite website says … Don't let that discourage you from trying to get a camping reservation there … because … it is seriously one of the most majestic places on the planet!
See our highlight video in our Yosemite National Park Must See Attractions VIDEO And Tips post!
Oh, and whatever you do … don't forget to pack your camera!!!
---
10. Don't Get Locked Out Of The Campground
Trip planning and arrival timing RV camping tips for beginners are sooooooo important!
Some campgrounds are open 24/7, others have quiet hours and actually lock the gates during those hours each night.
Know the gate hours or you may need another tip sheet: RVing Tips For Beginners: How To Legally Camp In A Wal-Mart Parking Lot … and then, we won't be able to help you.
But, there is such a thing as a Walmart store directory … Hopefully you won't need it!
---
Basic RV tools we like:
Directory Of U.S. Walmart Stores that includes overnight parking information. What can we say, other than … just in case!
Walmart Locator, Fourth Edition: Directory of Stores in the United States
---
11. Prepare For After-Dark Setup
Caution: setting up in the dark is challenging … even for people who have been RV camping for years!
Try to arrive early enough to setup in daylight … but, be prepared if you have to setup in the dark.
We have an entire post dedicated to camping lights so be sure to take a look at that for lighting your campsite area outside your RV as well as lights inside … P.S. Don't miss the part about swapping your RV's energy-sucking bulbs to efficient LEDs!
---
Basic RV tools we like:
LED Headlamp is not the most fashionable piece of equipment but if you ever tried to setup an RV in the dark you know you will wear whatever gear you need to in order to see what you are doing … no matter how ridiculous it makes you look! These are great for providing a very focused light.
LED Camping Lantern is great for lighting up an overall area and can be easily hung from hooks and tree branches etc.
Rechargeable Camping Work Lights are some of the best lights to flood a larger area around your campsite. These have super bright LED work lights and operate off of built-in rechargeable lithium batteries.
Super Bright LED Headlamp
LED Camping Lantern Flashlight
Rechargeable Camping Lights
---
You also want to do as much set-up as possible before you leave your driveway … like make your beds … and don't forget RV mattresses are usually not full residential sizes so be sure to get the right sheets!
The most common size is a short queen that requires an RV Mattress Short Queen Sheet Set but it is really easy for RV beginners to make the mistake of not knowing the actual size of their mattress.
The wrong sheets can make for an uncomfortable sleepless night.
RV Short Queen Sheet Set 400 Thread Count Egyptian Cotton Made for RV, Camper & Motorhomes Cool and Breathable 4 PCs Sheet Set
---
If you end up arriving to your campsite after the sun goes down (don't worry, this is one of those RV tips every beginner forgets to plan for at least once LOL), you will be REALLY HAPPY if your RV battery system is in top shape.
You may need to turn on every internal and external light in your camper in order to set up in the dark.
So, make sure you check out our How To Choose, Use And Maintain The Best RV Battery post.
---
RV Tips For More Advanced Campers
Leave The Dispersed Camping For Another Day
We absolutely LOVE dispersed camping but I would NOT recommend it with a new-to-you RV.
It's a good idea to get a few "full hookup" trips under your belt before you wander off into the wilderness.
BUT … When you are ready to go dispersed camping (or boondocking, or remote camping … or whatever you like to call it) we can help you with some tips for that too!
Check our our VIDEO and Dispersed Camping Tips post!
---
We do NOT recommend winter RVing for beginners.
There are so many extra things to consider when it comes to RV camping tips and tricks to keep your pipes from freezing, safely travel on roads that may be packed with snow or ice and more.
But, when you feel like you have the RV tips for newbies mastered and you want to expand to camping during seasons of more challenging weather … check out our Winter RV Camping Tips post for helpful information.
---
RVing For Dummies
The RV for dummies books are popular for beginners and are filled with RV camping ideas and vacationing tips.
RV Vacations For Dummies
Idiot's Guides RVing
The Complete Idiot's Guide To RVing
---
When I wrote this post, I assumed you are renting or already own an RV … but, if you are researching tips for RV beginners in anticipation of buying an RV, you should check out our 5 tips to help you through the decision making process of purchasing an RV.
---
If you're looking for awesome ideas for yummy camping food, you're in the right place!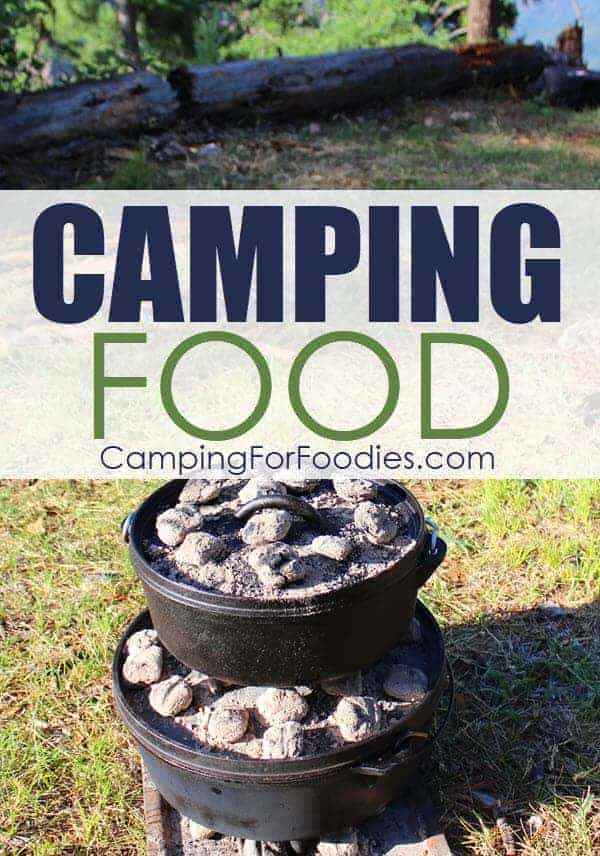 Here's our entire camping recipes list.
Get FREE camping tips and recipes emailed to you!
Our Camping Products Make Great Gifts!
Flexible Cutting Mat
Cutting Mat Set
Stainless Steel Cocktail Shaker Set
Hammock With Attached Accessory Bag