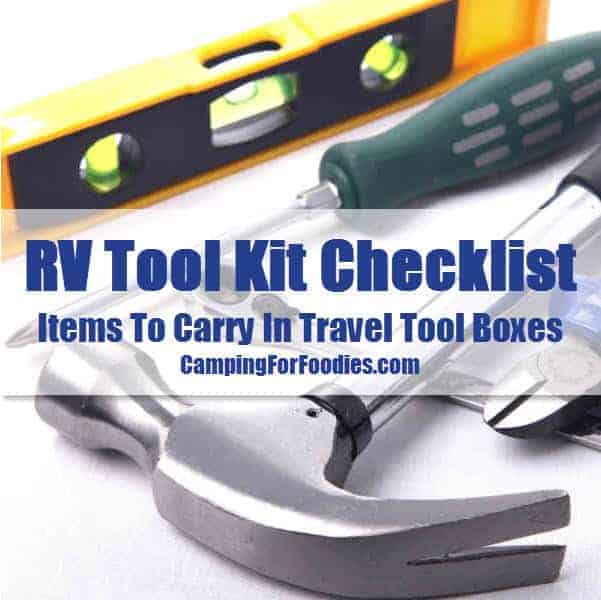 RV Tool Kit Checklist
When you're on the go with moving parts, you'll need a tool once in a while. We've been camping for years … as tent campers we needed certain tools; when we transitioned to RV camping we needed different types of tools. That's why we created this RV tool kit checklist to ensure our travel tool boxes are suitably stocked. You'll find a FREE printable version of our RV Tool Kit Checklist at the bottom of this post. Psst we're compensated…see our disclosures.
---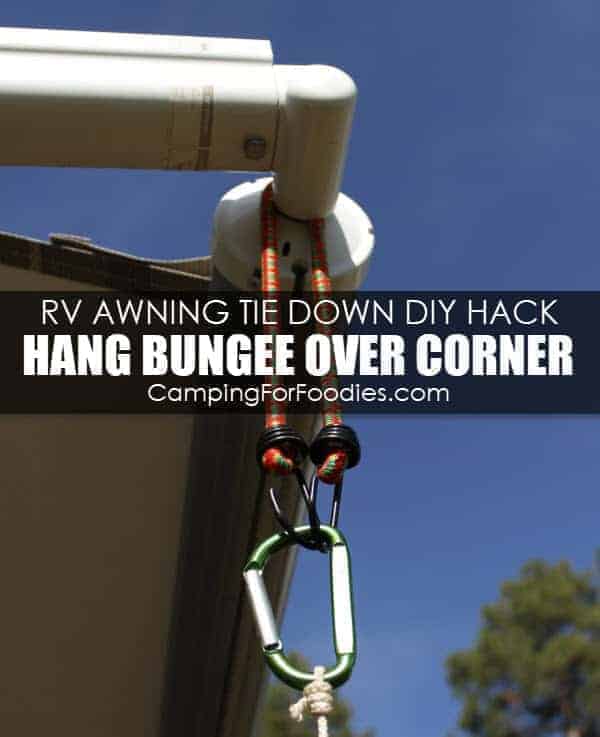 One of the best things about having a fully stocked RV Tool Kit is being able to handle those "unexpected" events at the campsite … Like when our old RV awning tiedown strap kit did not fit the awning on our new-to-us RV and we didn't realize it until we were out on our first trip! Check out "My Husband's Corner" post Genius RV Awning Tie Down Hack How To DIY VIDEO to get all of the detailed instructions for this project … and you can get the 5 Simple Supplies needed for this project here. You can print our FREE RV Tool Kit Checklist at the bottom of this post. 😎
&
---
This is our comprehensive list but every RV and camping trip is unique so add and subtract from our list to meet your specific travel needs.
Items To Carry In Travel Tool Boxes
&
---
 Performance Tool W1801 Mechanic's Tool Set, 123-Piece
Whether your tow vehicle and RV has SAE or Metric sizes, make sure your RV tool set is compatible with your equipment. Remember, a Chevy or Ford is not necessarily SAE so be sure you know your actual needs. This is an auto and RV tool set that can be used for basic repairs and maintenance. We like using a basic tool kit in an easy-to-carry case that keeps things organized in a limited amount of space.
&nbsp
&
---
Using an Inspection mirror with LED lights is the only way to easily see out-of-the-way inspection points. This telescoping mirror extends up to 24 inches and the 360 degree flexible goosehead makes it easy to inspect leaks, breaks or locate lost tools in dimly lit areas with its two bright white LED lights.
Inspection Mirror
LED Lighted
Telescoping Up To 24 Inches
&
---
&
---
Tire Tools For Travel Tool Boxes
---
&
---
 TEKTON 5941 Digital Tire Gauge, 100 PSI
A digital tire gauge quickly provides accurate tire pressure readings which is important for the highest level of safety and gas mileage while traveling. If you operate at the manufacturer's recommended pressure level, you should maximize the life of your tires.
&nbsp
&
---
 Powerzone 380044 3 Ton Aluminum and Steel Garage Jack
Even though a floor jack is heavier and more cumbersome than a typical scissor jack, we think it is worth the weight to carry because it is more stable, easier to use and generally has capacity to handle heavier weights. We have used ours on our RV as well as our tow vehicle. It is especially helpful when changing a tire on the side of a busy highway; the floor jack makes for a stable, safer and faster event.
&nbsp
&
---
---
Roadside Emergency Equipment For Travel Tool Boxes
---
&
---
 Top Gear Premium Roadside Assistance Kit (66-piece)
When you are in a roadside emergency situation you don't want to be digging through your storage bins for your emergency equipment. It is really helpful to have a roadside assistance kit with the basic things you need after you have safely pulled off the side of the road. We like kits because they have the things you need all in one place and are packed for efficiency requiring minimal storage space. Easy access to things like battery booster cables, warning triangle, reflective safety vest, hand squeeze flashlight, lightsticks, a mini first aid kit, various types of fasteners etc. are important to have readily available in the event of a roadside emergency.
&nbsp
&
---
---
Lights And Electrical Equipment For Travel Tool Boxes
---
---
 Etekcity MSR-R500 Digital Multimeter, Amp / Ohm / Volt Meter, Multi Tester w/ Diode and Continuity Test
A voltmeter is an inexpensive yet very valuable item to have in your RV toolbox. A voltmeter allows you to test the condition of your RV batteries before and during your camping trip. Knowing the remaining charge on your batteries is important; you don't want to be surprised when your lights go out as a result of your batteries going dead. A voltmeter can also be used to check the shore power (also known as RV electric hookups and RV power outlet box) at your campsite destination for proper polarity and volts. If the voltage being supplied is inadequate to meet your AC electrical needs, you could inadvertently drain your RV batteries. Voltmeters are also able to troubleshoot power problems in your RV, check integrity of its fuses and the continuity within the RV's electrical system.
&nbsp
&
---
---
Propane Fuel Equipment For Travel Tool Boxes
---
&
---
 Onlyfire Universal Propane Tank Refill Adapter- 100% Solid Brass Regulator Valve Accessory for all 1 LB Tank Small Cylinders
Even though most RVs have amazing kitchens, we still prefer to cook our camp meals outdoors over a campfire, in Dutch ovens or on our portable camping stove. One drawback with using portable camping stoves is the need for small propane cylinders which can run out of fuel before the weekend is over if you are using it enough. That problem is eliminated by using a propane tank refill adapter which easily transfers propane from your large RV propane tank to your small propane cylinders used with your camping stove. We also love the eco-friendliness of reusing and refilling the small cylinder rather than disposing of empty cylinders after a single use. We find the propane tank refill adapter easy to use; be sure to follow the manufactures instructions for safe operation.
&nbsp
&
---
 Mag-Torch MT 450 Garden Torch, Silver
My husband's ultimate favorite tool in our RV tool kit is what he calls "The He-Man Boy Scout Fire Starter Stick". This thing is awesome! Why would you ever use kindling to start the campfire on those cool mornings when you have one of these? When you hear this thing fire up you know the campfire will be roaring in short order and the camp coffee will be percolating soon after. This torch uses a typical screw-on portable camping stove cylinder and has a self-lighting igniter. You will love it!
&nbsp
---
---
Adhesives And Fasteners For Travel Tool Boxes
---
&
---
 Master Lock 3023AT Assorted Bungee Cords, 24-Pack
As you know bungee cords have thousands of uses, especially this pack with assorted types and sizes. We use bungee cords lots of ways when camping, here are a few of our favorites: securing lightweight items in the bed of our truck so they don't blow out while towing our RV down the highway, keeping tarps secured while protecting our campfire wood from getting wet in a breezy and wet rainstorm and they make great make-shift clotheslines so you can dry your wet clothes before packing them for the trip home.
&nbsp
&
---
 Oatey Plumber's Putty – 31166
You might be surprised plumber's putty made our RV tool kit checklist, but we included it because we found it useful a few times out in the wilderness as a temporary fix to a problem. On one camping trip we encountered a rainstorm and had a ceiling vent begin leaking. Plumber's putty saved the day and kept us dry for the duration of our camping trip. It proved to be a great temporary fix until we could properly repair the leak once we returned home.
&nbsp
---
Misc. Supplies For Travel Tool Boxes
---
&
---
 Stanley 84-519K 12-in-1 Multi Tool
This Stanley 12 In One Multi Tool is an item that fits in your pocket and fills all the squares for tasks requiring a small tool. Whether it's around the campsite or in the RV, someone always needs it. It does it all. My husband had one and found that everyone was always borrowing it. He was tired of trying to figure out who had it during the times he needed it, so he bought one of his own and keeps it in his pocket so he does not have to share it. It's a great little tool!
&nbsp
---
&nbsp
---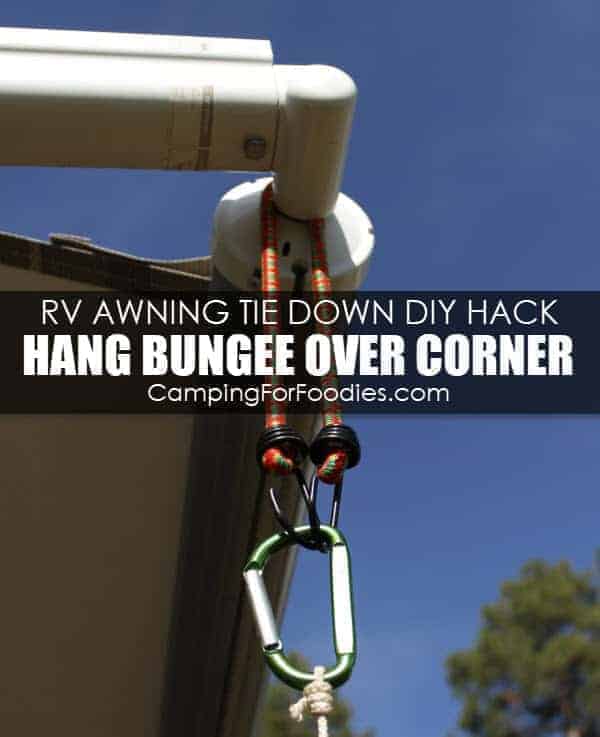 One of our favorite hacks that came from having a fully stocked RV tool box is our awning tiedown project. You have to check out our Genius RV Awning Tie Down Hack How To DIY VIDEO post that has simple step-by-step instructions in addition to the video!
&
---
Get More RV Tool Kit Checklist Tips In These Related Posts!
---
Just starting in your RV experiences? Check out our RVing Tips For Beginners: Enjoying The Maiden Journey post for tips on driving, organizing, trip planning and more!
&
---
You will need to stock your RV Tool Kit with a few extra items if you are planning on camping in harsh winter conditions. So, if you are thinking of doing some RV camping in the winter, don't hit the road until you check out our Winter RV Camping Tips!
&
---
Tools for an RVer's tool box can make really awesome and practical gifts! Sometimes you want to get a little more creative and fun when it comes to gift-giving. Our Gift Ideas RV Owners Will Be Crazy About post has tons of gifts ideas that are totally unique and loved by RV owners!
&
---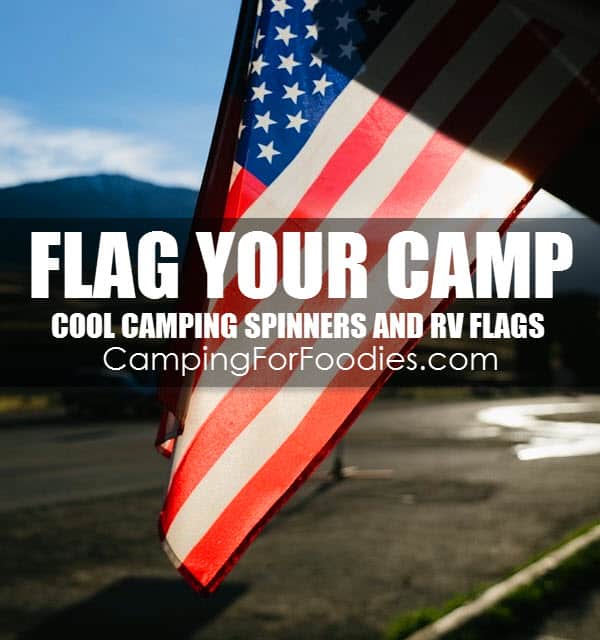 You may need to use a small tool from your RV Tool Kit if you are planning to raise a flag at your campsite (depending on the type of flag you are raising, of course). Flying an American flag is super popular but so are personalized flags and fun spinners. Check out our Flag Your Camp With Cool Camping Spinners post for a little inspiration on how you can express yourself through a campsite flag!
&
---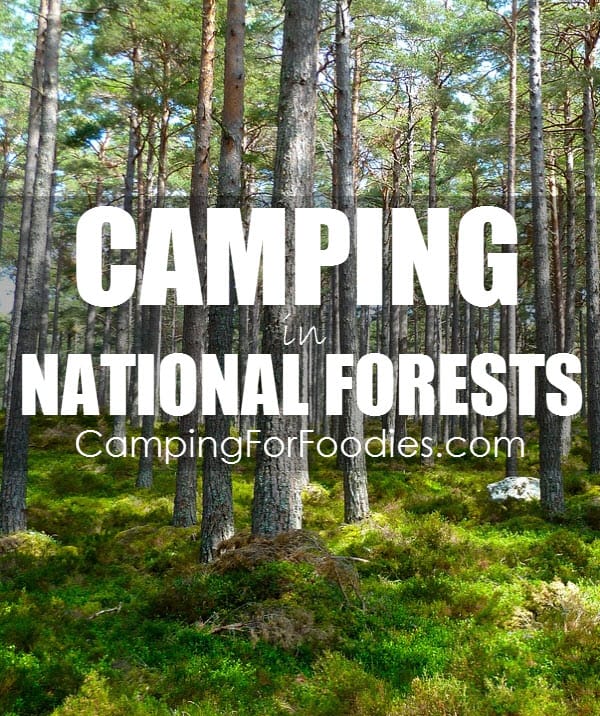 If you have been following our blog for any length of time, you know our favorite form of camping is going dispersed "boondocking" in National Forests. When we do, we require a few extra tools in our RV Tool Kit because we don't have water, power or sewer hookups. Check out our Camping In National Forests post to get some helpful tips!
&
---
If you are remote camping and using a generator for your power source, you will need to add some specific tools to your RV Tool Kit. Check out our Best Quiet Generators For Camping post for help to determine your power and equipment needs with our handy calculator!
&
---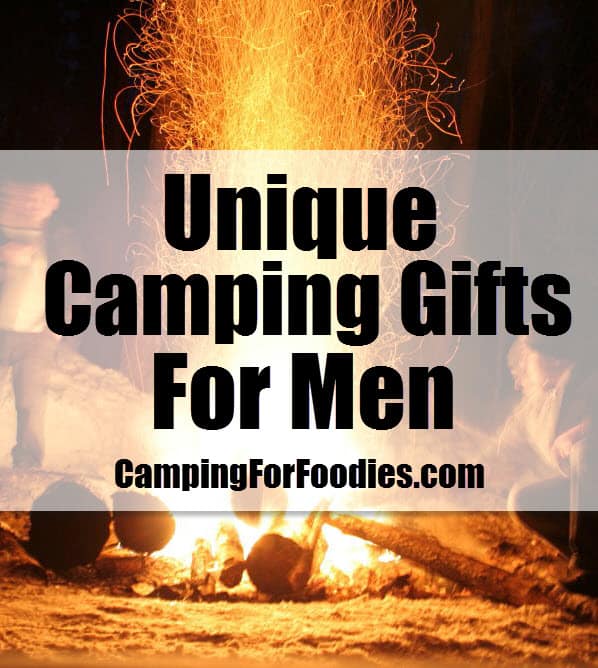 Guys love tools and they make great gifts too, but if you need something that is a little more fun, check out our Unique Camping Gifts For Men post. 😎
&
---
No time to look for recipes, create a menu and write a grocery list? No Problem! Get our 3-Day Dutch Oven Camp Menu Plan here!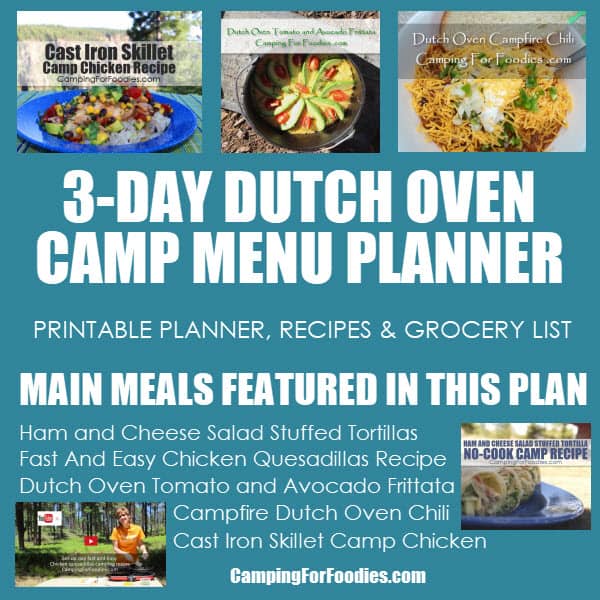 ---
Our Cool Camping Products Make Great Gifts!
Tote
Cutting Mat
Mat Set
Shaker Set
Apron
Hammock
Women's Tee
&
---
If you need camping recipes and menu ideas, you can find them here at the Camping For Foodies Camping Recipes list.
Don't miss a thing…sign up for Camping For Foodies email updates!
Your purchase of our products will help support World Vision ® Building a better world for children.