Simple DIY Modifications For A Weber Smokey Joe Smoker Conversion
A Smokey Joe Grill is a popular piece of camp kitchen equipment because it is small, portable and cooks beautifully. We regularly use ours for grilling but when we wanted to do some smoked meats or roasting at the campsite, we needed to make some modifications to cook with it like a smoker. My brilliant husband did a DIY Weber Smokey Joe Smoker Conversion! Here's how he did it! Psst we're compensated…see our disclosures.
Weber Smokey Joe Smoker Conversion Simple DIY Modifications
How We Converted Our Weber Smokey Joe Into A Smoker In 4 Simple Steps
Step 1: Roll A Piece Of Stainless Steel
Step 2: Add A Handle
Step 3: Add A Thermometer
Step 4: Add A Cooking Grate

Start With A Weber Smokey Joe Portable Grill
Weber Smokey Joe 14-Inch Portable Grill
The standard 14-Inch Portable Weber Smokey Joe Grill is the basis for this project. My husband didn't modify the Smokey Joe itself but he did add his brilliant contraption to fit between the lid and kettle drum parts of the grill. If you are using an older Smokey Joe, make sure the legs are sturdy enough to handle the modifications. Weber products are stellar, so … unless you really abused your grill, it should be good to go.
&
---
Step 1: Roll A Piece Of Stainless Steel
The main body of the modifications was made with a piece of Stainless Steel that was approximately 50×12-inches. The thickness of the stainless steel is not super important … but, do consider these factors: The thicker the steel the more it tends to resist curling making it more difficult to roll into the proper diameter to fit the Smokey Joe. On the other hand, the thicker the steel, the more evenly it will hold cooking temperature. In the end, you really only need it to be strong enough to support the lid which is very lightweight so don't fret about this too much. 😉 After he rolled the steel to fit inside the kettle and lid (there will be overlap creating a seam), my husband drilled holes and fastened the steel together using nuts and bolts.
&
---
Step 2: Add A Handle
There are tons of ways to add a handle … but, we happened to have an extra handle from an old Chimney Charcoal Starter, so my husband recycled it for our Weber Smokey Joe Smoker Conversion. I like that he used this handle because it creates a safe distance from the stainless steel, has a wooden handle that remains relatively cool to the touch and it has a heat guard already built in! Did I mention that my husband is a genius? And, he loves my cooking too!!! 😊
&
---
Step 3: Add A Thermometer
Next, he drilled a hole in the stainless steel and attached a Smoker Temperature Gauge Thermometer. Being able to maintain a constant cooking temperature is not important when grilling but it is extremely important when roasting and smoking. When you turn your grill into a smoker, it is best to use a gauge with the optimal smoke temperature range clearly indicated.
&
---
Step 4: Add A Cooking Grate
---
After your Weber Smokey Joe Smoker Conversion is completed, the original cooking grate will be used to hold your water pan and smoking wood chips so you need to add an additional Cooking Grate to hold your food. In order to support the cooking grate, my husband drilled 3 holes in the stainless steel and then screwed in nuts and bolts to act as a base to hold the cooking grate. He drilled these holes about halfway up the side of the stainless steel and spaced them evenly apart. Make sure the holes are symmetrical so the cooking grate sits level and not at a slant.
&
---
Your Weber Smokey Joe Smoker Conversion Is Done!
Now it's time to cook! Don't forget the Smoker Box and Wood Chips (our favorite is Mesquite) when smoking with your converted grill. These modifications are a little pricey and take some work … but, it is worth it to be able to roast and smoke meats on a Weber Smokey Joe we already owned. If you don't want to spend the time and money doing these Simple DIY Modifications For A Weber Smokey Joe Smoker Conversion, you can always just get a Weber Smokey Mountain Cooker Charcoal Smoker which has added features that are really great. P.S. This is how we made our Turkey for our Traditional Thanksgiving Dinner At The Campsite!
&
Stainless Steel Smoker Box
Mesquite Wood Chips
&
---
Smokey Mountain Cooker Charcoal Smoker
The Smokey Mountain Cooker Charcoal Smoker has a built-in lid thermometer, a porcelain-enameled water pan, an aluminum fuel door, and a porcelain-enameled charcoal chamber. You can actually get these in different sizes too. The smallest size is the same size as the 14-inch Smokey Joe (most popular for camping) but it also comes in 18-inch and 22-inch models.
&
---
Check Out These Posts For More Helpful Tips Before You Go On Your Next Camping Trip…
Is your camping trip taking you somewhere buggy? No worries! Check out our How To Keep Bugs Away While Camping post. You'll be laughing at those critters!
&
---
Keep your family safe and your camping trips full of fun and smiles! Our Camping Safety Tips For Families post has great info to help your entire camping clan stay safe and sound!
&
---
Are you a newbie tent camper? Check out our Camping Gear List For First Time Campers post for helpful tips and a FREE checklist!
&
---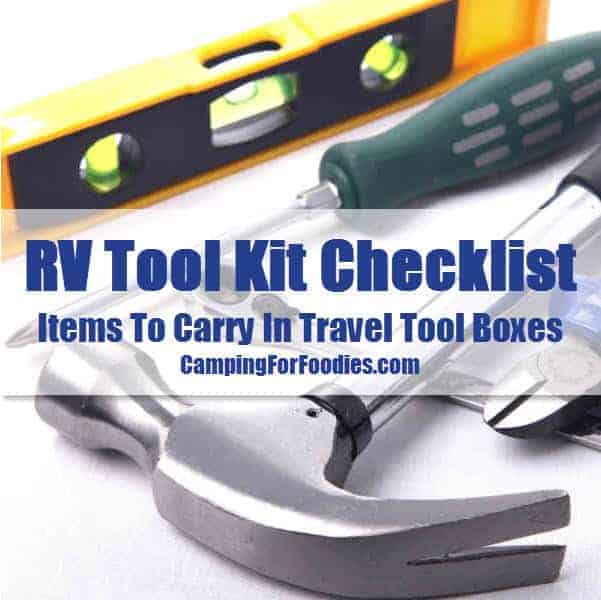 Before heading out on your RV camping road trip, make sure you have the proper tools. We have a FREE printable tool kit checklist in our RV Tool Kit Checklist post!
&
---
If you are new to RV camping, make sure you check out our RVing Tips For Beginners: Enjoying The Maiden Journey post which has a FREE printable packing checklist!
&
---
RV camping is filled with totally awesome people. On the rare occasion you find a bad apple, you want to be prepared. Check out our A Secure Campsite Protects Valuables From Theft post for easy tips to stay secure!
&
---
No time to look for recipes, create a menu and write a grocery list? No Problem! Get our 3-Day Dutch Oven Camp Menu Plan here!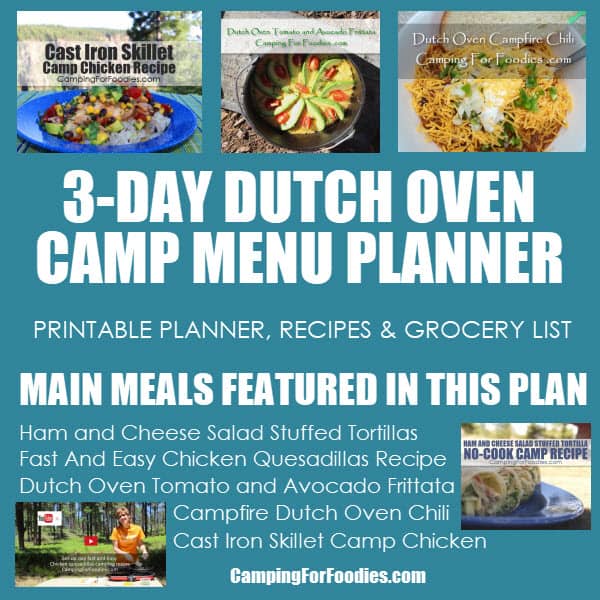 Get More Camp Menu Ideas From Our Camping Recipes List!
Don't miss a thing…sign up for Camping For Foodies email updates!
Your purchase of our products will help support World Vision ® Building a better world for children.