Thanks to Kristen Keogh and Ty Brennan of Fox 10 Phoenix KSAZ-TV for talking camping with us!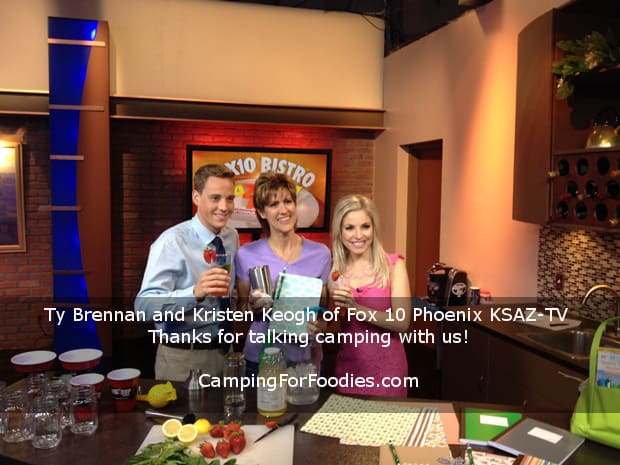 Thanks Fox 10 For Talking Camping!
Shaking cocktails and talking camping is always fun but it was off-the-charts this morning with Kristen Keogh and Ty Brennan of Fox 10 Phoenix KSAZ-TV! This time I was doing the instructing as Ty did the shaking of the world-famous, no-longer-secret Kona Grill Strawberry Basil Lemonade recipe. I learned the secret from Kona's totally cool mixologist, Dustin…watch my lesson and get the recipe here! Psst we're compensated…see our disclosures.
---
Top 3 Picks This Week!
Coffee Mug
Lounge Pants
Cutting Mat
&
After the segment, I shared the secret recipe again at Cabela's at the Diamonds In the Rough event.
Thanks to everyone for a fantastic day! Let's do it all again…soon!
What do you think? Leave me a comment…I'd love to hear from you!
I love sharing my recipes and tips for enjoying the great outdoors while camping, RV adventuring and relaxing in your own backyard. I'd love to hear what you think and if you'd like to share some of your secrets, I'd love to hear them too! Please leave a comment below and let's chat.
If you need camping recipes and menu ideas, you can find them here at the Camping For Foodies Camping Recipes list.
Don't miss a thing…sign up for Camping For Foodies email updates!
Your purchase of our products will help support World Vision ® Building a better world for children.