Kona Grill's Secret Strawberry Basil Lemonade Recipe
Kona Grill's Secret Strawberry Basil Lemonade Recipe
It's horrifyingly hot this summer in Phoenix … well, that is true of every summer in Phoenix 🤣! But, no need to sweat the number on the thermometer when you can cool off with a refreshing drink! We got the kid-friendly, super-secret Strawberry Basil Lemonade cocktail recipe from the Kona Grill! I had a blast mixing cocktails with Dustin who is also a fellow camper and hiker! Check out his camping and cocktail mixing tips in the video! Psst we're compensated…see our disclosures.
---
Drumroll Please: Kona Grill's Strawberry Basil Lemonade Recipe
Pour lemonade and simple syrup into a tall glass.
2 oz lemonade
1 ¼ oz simple syrup
Muddle the lemon juice, strawberry slices and basil leaves in a cocktail shaker.
1 ¼ oz fresh lemon juice
3-5 strawberry slices (1/4" thick)
5 medium size basil leaves
Add ice to glass then pour contents of glass into shaker. Cap and shake 10 times.
Pour back into glass and fill with Sprite.
Garnish and enjoy!
If desired, garnish with lemon wedge and strawberry.
Adult version
If you want to make this drink with alcohol, you can add 1 ¼ oz of your favorite rum or vodka for an amazing cocktail.
I had a blast mixing cocktails with Dustin who is also a fellow camper and hiker! Don't miss his camping and cocktail mixing tips in the video. 😎
---
If you are making the Kona Grill's Strawberry Basil Lemonade Recipe at the campsite, why not do it in style with a camping themed cocktail shaker? We love our stainless steel martini shaker for all kinds of drinks and with a message: "Camp, Hike, Cook, Drink, Eat, Repeat" it sure does put us in the mood to camp on! The shaker and muddler really are my favorite outdoor bar accessories!
&
---
Consider your options.  This Bamboo Bash Cooler Glass Set is certainly a nice tall glass but it is actually a glass material. So, if you don't mind camping with breakables, this fits the bill for this Strawberry Basil Lemonade Recipe.
&
---
Break-Resistant Plastic Tumbler Set
If you prefer to camp with non-breakable materials, you may want to use a Break-Resistant Plastic Tumbler as an option for this Strawberry Basil Lemonade Recipe. Whichever option you choose, I recommend that it is clear because this drink is way to pretty not to see!
&
---
Dustin's Camping/Hiking Tip
---
Not only did Dustin spill the beans on the secret Kona Grill Strawberry Basil Lemonade Recipe, he shared a camping-hiking tip too. He learned this tip the hard way. On his trip to the Grand Canyon, Dustin only took one pair of shoes which he didn't wear before his adventure. The soles fell off! He had to borrow another pair from a Boy Scout group that was in the area. Lucky for Dustin … the Boy Scouts are ALWAYS prepared! The moral of the story: You never go hiking with brand new shoes and only one pair! I recommend buying a good quality set of hiking boots too!
&
---
Dustin's favorite place to go?
Dustin loves Havasupai Falls (Havasu Falls)—Grand Canyon. It's great because it has natural waterfalls, camping areas and hotels; he also enjoyed the 8-mile scenic hike. Dustin did admit that "roughin' it" around the Grand Canyon happens on a "7 Wonder of the World type of level" which isn't really all that rough but it sure is stunning!
---
Never been to the Grand Canyon? Check out our The Grand Canyon – There's No Better Place To Get Edgy post for more info. 😎
&
---
Thinking about visiting the Grand Canyon or another one of our awesome National Parks but not looking forward to the sea of people? Check out our post: 12 Tips To Avoid Crowds In National Parks So You Don't Go Crazy!
&
---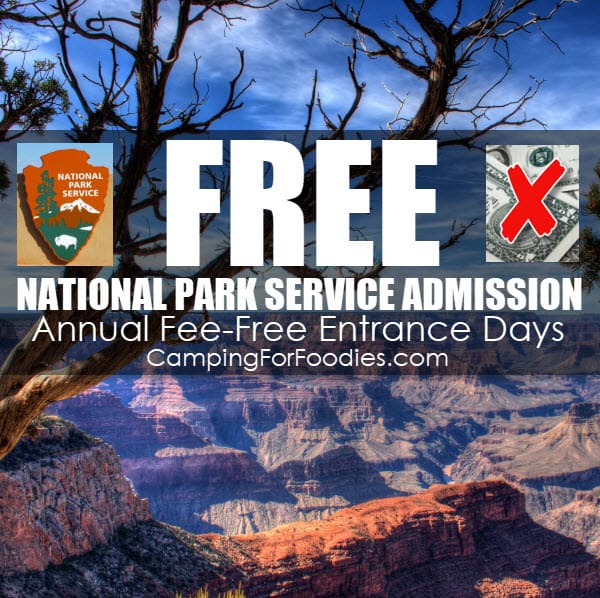 Did you know you can visit National Parks for FREE? There are various dates throughout the year when you can keep your money in your pocket as you pass by the entrance gate! Check out our FREE Admission To National Parks Occurs Annually On Fee-Free Entrance Days post.
&
---
Thanks to Kona Grill and Dustin!
We had a great time learning the super-secret recipe for Kona Grill's Strawberry Basil Lemonade cocktail. We know campers around the globe will be happy we are sharing it with them so they can elevate their camping cocktail hour with this refreshing recipe. Thank you for hosting us!
---
If you want to see Dustin and get a few more of his camping tips, you will find him at the Kona Grill in North Phoenix at the super cool and fun High Street.
Here's how you get there:
---
No time to look for recipes, create a menu and write a grocery list? No Problem! Get our 3-Day Dutch Oven Camp Menu Plan here!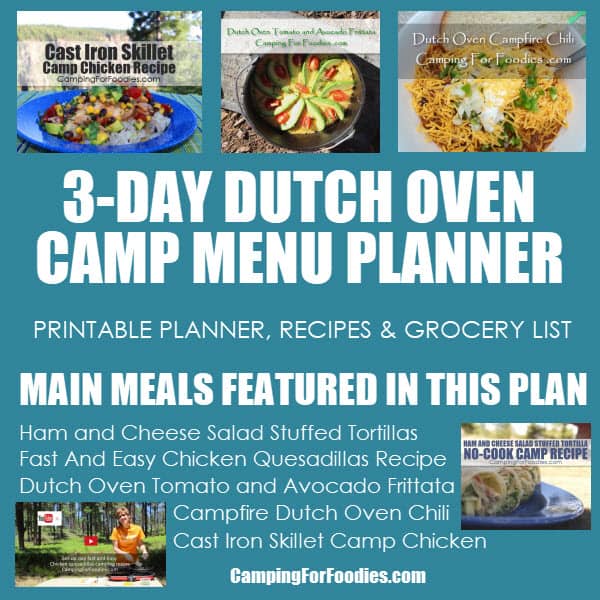 ---
Our Cool Camping Products Make Great Gifts!
Tote
Cutting Mat
Mat Set
Shaker Set
Apron
Hammock
Women's Tee
&
---
If you need camping recipes and menu ideas, you can find them here at the Camping For Foodies Camping Recipes list.
Don't miss a thing…sign up for Camping For Foodies email updates!
Your purchase of our products will help support World Vision ® Building a better world for children.