Turkey Panini with Avocado Mayo camp recipe
Why make plain boring lunchmeat sandwiches when you can make café-style panini sandwiches during your next camping adventure? On a recent episode of Great Food Good Neighbors TV show, I made this recipe in record time (and in record wind conditions at the campsite but I don't think anyone noticed until my basil leaves starting looking like mini UFOs floating around!) Real campers don't let a little wind deter the fun…So the show went on! This fussy-kid tested (and approved) camp meal is really easy to make; here's the recipe… Psst we're compensated…see our disclosures.
Funny Apron
Cutting Mat
Mat Set
Shaker Set
Fun Hammock
&
Turkey Panini with Avocado Mayo camp recipe
Serves 4
For the avocado mayo
Mix it (then refrigerate until ready to use)
1 avocado, mashed
½ c mayonnaise
Preheat the panini sandwich press
Camp cooking tip: Without an electric panini press, just use a cast iron panini pan or grill pan as the bottom of the press and use another cast iron pan for the "weighted lid" to press the sandwich while toasting it.
Make the sandwiches
Split the ciabatta rolls, brush the outside tops and bottoms with olive oil. Place bottom of roll on to the pan and build the sandwich and finish with top roll. Place the weighted item on the top and gently press to evenly distribute the weight over the sandwich (I use a bacon press…watch my video to see how easy it is!)
4 ciabatta rolls-split horizontally
2 T olive oil should be enough to cover all 4 rolls
Layer the sandwich ingredients (divide equally between the 4 sandwiches)
Mayo mixture-spread on roll
½ lb deli turkey breast (this is not a "big meat" sandwich but if you prefer a meatier sandwich, add more)
4 slices provolone cheese
4 roasted red peppers-sliced in to strips
16 large fresh basil leaves-about 4 leaves per sandwich should cover the sandwich
Camp cooking tip: Start an assembly line so everybody can build their own if you have a large crowd to feed.
Cook till toasted
Make sure you flip the sandwich so both sides get nice and toasty. It's the crunchy texture that makes a panini sandwich so fun and satisfying.
No time to look for recipes, create a menu and write a grocery list? No Problem! Get our 3-Day Dutch Oven Camp Menu Plan here!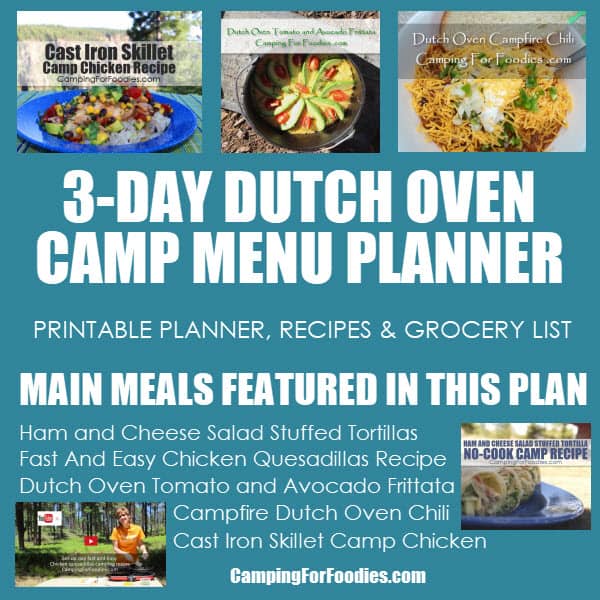 We filmed this episode at a campsite in the Usery Mountain Regional Park.
How to get there
If you need camping recipes and menu ideas, you can find them here at the Camping For Foodies Camping Recipes list.
Don't miss a thing…sign up for Camping For Foodies email updates!
Your purchase of our products will help support World Vision ® Building a better world for children.
Watch the entire Great Food Good Neighbors (GFGN) TV show here: