Bacon Basil Tomato Ciabatta Sandwich Recipe: Easy BBT Sandwich
This Bacon Basil Tomato Ciabatta Sandwich Recipe takes an ordinary BLT sandwich to new heights by replacing lettuce with basil that is mixed with the mayo. You're gonna love this BBT recipe when you want to make easy camping meals!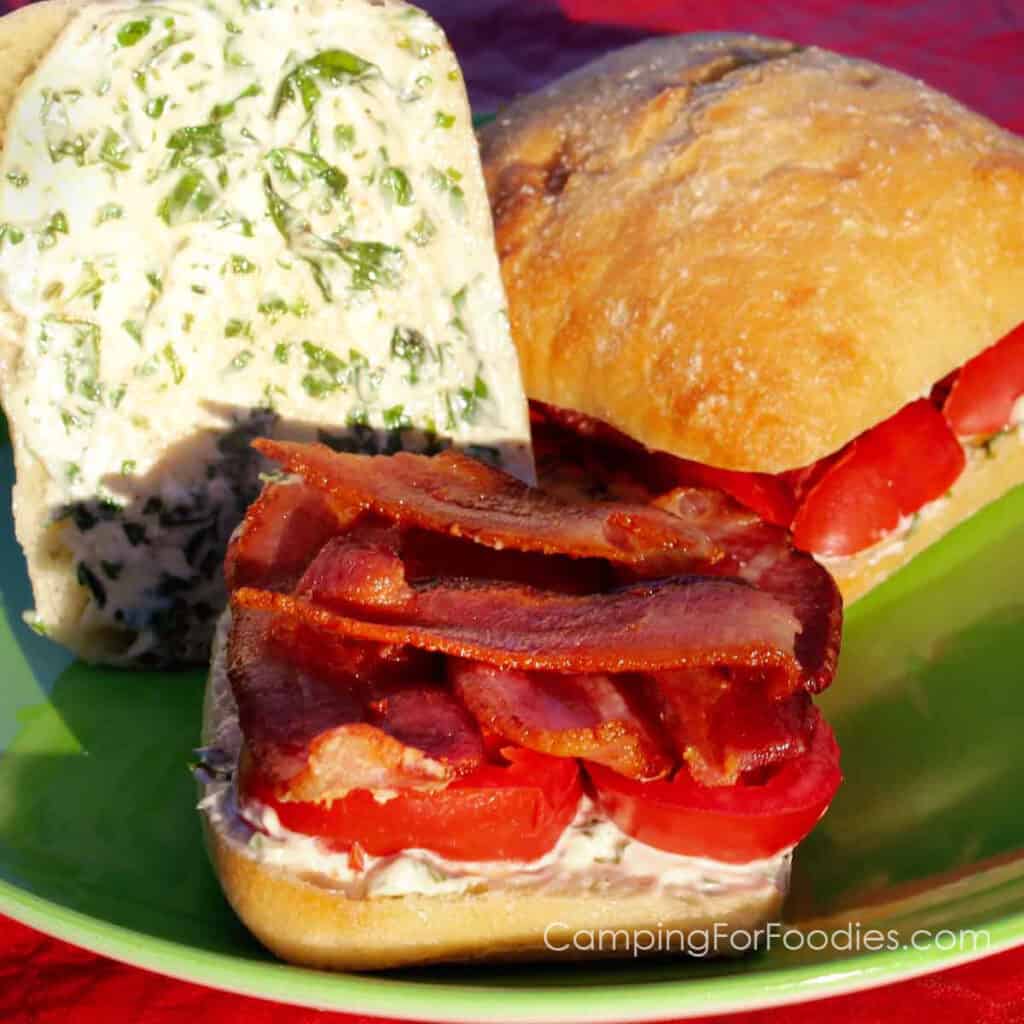 Psst we're compensated…see our disclosures.
Recipe Prep
With so few ingredients, there is minimal prep work for these sandwiches. You'll slice the tomatoes and the ciabatta bread rolls. If you can't find rolls, you can just buy an entire ciabatta loaf and slice into individual pieces, about 4-inch squares work best. You'll also chop some fresh basil to make the mayo.
---
Prepare In Advance
When I'm making easy camping lunches that use cooked bacon, I just make extra slices in the morning when I'm preparing breakfast, then refrigerate them until I'm ready to use them in other recipes.
Camp Cooking Tip: My husband loves bacon so I have to make sure he knows the leftovers are for a recipe and not a late morning snack. You may want to put a small label on the container that indicates "For Recipe", writing on a piece of tape is how I usually do it.
---
Cooking Methods & Equipment
The only thing you're cooking in this recipe is the bacon. I find it easiest to prepare as camp stove recipes using a cast iron or non-stick skillet.
If you want to make this as one of our easy campfire recipes, you can cook the bacon in a cast iron skillet or on a cast iron griddle.
---
Recipe Steps
Step 1. Prepare your ingredients, heat source and equipment as directed.
Camp Cooking Tip: Chop the basil leaves just before you are ready to build the sandwiches. The prep is fast and the leaves stay a nice bright green color while they remain whole.
Step 2. Cook the bacon. Fry the bacon over medium-high heat and remove it from the pan to drain on paper towels.
Step 3. Mix the mayo. Combine the mayonnaise, chopped basil, hot pepper sauce, salt and pepper in a small bowl.
Step 4. Butter the ciabatta with basil mayo mixture. Evenly spread the bottom and top half of bread slices with the mayonnaise mixture.
Step 5. Layer sandwiches. Start with the bottom half of bread rolls, and layer the tomato slices, bacon slices and finish with the upper ciabatta on top of the sandwiches. Serve immediately.
---
What To Serve With This Recipe
A simple arugula salad tossed in a prepared dressing is a quick and easy way to add a fresh green veggie to delicious sandwiches. If you want to get a bit more extravagant, try some of these yummy camping salads.
If you want to carry the flavor of bacon into your camping side dishes, we have several options.
This Potato Salad With Bacon And Chives tastes better if the flavors marry a few days so I like to make it at home and store it in my RV refrigerator or cooler until I'm ready to serve it.
The texture, taste and crunch in this Broccoli Sunshine Salad is amazing. The combination of bacon, broccoli, red onion, raisins and sunflower seeds tossed in a simple homemade dressing makes a great side for sandwiches and grilled meats.
---
Scaling Servings
Sandwiches are great camping meals for two. This recipe serves 4 but is easily scaled back for camping couples.
You can make big batches of basil mayo and get an assembly line going to build the sandwiches when you want to prepare easy camping meals for large groups.
---
Similar Recipes
Hearty sandwiches are great camping dinner recipes when you want simple yet substantial meals.
Italian sandwiches typically feature a salad dressing, ours combines olive oil, Balsamic vinegar, garlic, salt and pepper that compliments the prosciutto, fresh mozzarella cheese, tomatoes and basil leaves in this Prosciutto Mozzarella Sandwich. It is one of my favorite no cook camping meals.
This simple Chuckwagon Sandwich Recipe combines salami, bologna, ham, American cheese and swiss cheese to make a quick sammy that is warmed over a campfire or in a microwave.
Pressing and grilling ciabatta rolls takes regular sandwiches to the next level. This Turkey Avocado Panini combines turkey deli meat with provolone cheese, roasted red peppers, fresh basil, avocado and mayonnaise to make an almost-gourmet meal.
Watch our VIDEO to see how easy this yummy Bacon Wrapped Grilled Cheese is to make!
Looking for a more traditional sandwich that uses lettuce rather than basil? Try these awesome BLT Camping Wraps. The bacon, lettuce and tomatoes are tossed like a salad then served in a wrap.
---
Print This Recipe
Bacon Basil Tomato Ciabatta Sandwich Recipe
Camping For Foodies Dinner Camping Recipes: This Bacon Basil Tomato Ciabatta Sandwich Recipe takes an ordinary BLT sandwich to new heights by replacing lettuce with basil that is mixed with the mayo.
Ingredients
12

slices

thick bacon

1/2

cup

mayonnaise

4

tablespoons

fresh basil leaves

finely chopped

Hot pepper sauce

to taste (usually a few drops)

Salt and black pepper

to taste

4

ciabatta bread rolls

sliced horizontally

4

Roma tomatoes

sliced about 1/4 inch thick slices
Instructions
Using a large skillet or griddle, fry the bacon slices over medium-high heat until they are fully cooked and slightly crisp. Then, remove from pan and drain on paper towels.

In a small bowl, mix the mayonnaise, basil, hot pepper sauce, salt and pepper.

Evenly divide the mayo mixture and spread it on the cut sides of the ciabatta rolls.

Evenly divide the remaining ingredients and layer the sandwiches beginning with the bottom half of bread rolls, tomato slices, bacon slices and finish with top half of rolls. Serve immediately.
Nutrition
Serving:
1
g
Calories:
781
kcal
Carbohydrates:
30
g
Protein:
19
g
Fat:
64
g
Saturated Fat:
18
g
Polyunsaturated Fat:
20
g
Monounsaturated Fat:
24
g
Trans Fat:
1
g
Cholesterol:
83
mg
Sodium:
1170
mg
Potassium:
372
mg
Fiber:
1
g
Sugar:
2
g
Vitamin A:
680
IU
Vitamin C:
9
mg
Calcium:
17
mg
Iron:
1
mg
---
More Yummy Meal Ideas
Enjoy unique meals for all of your trips.
If you're looking for awesome ideas for yummy camping food, you're in the right place!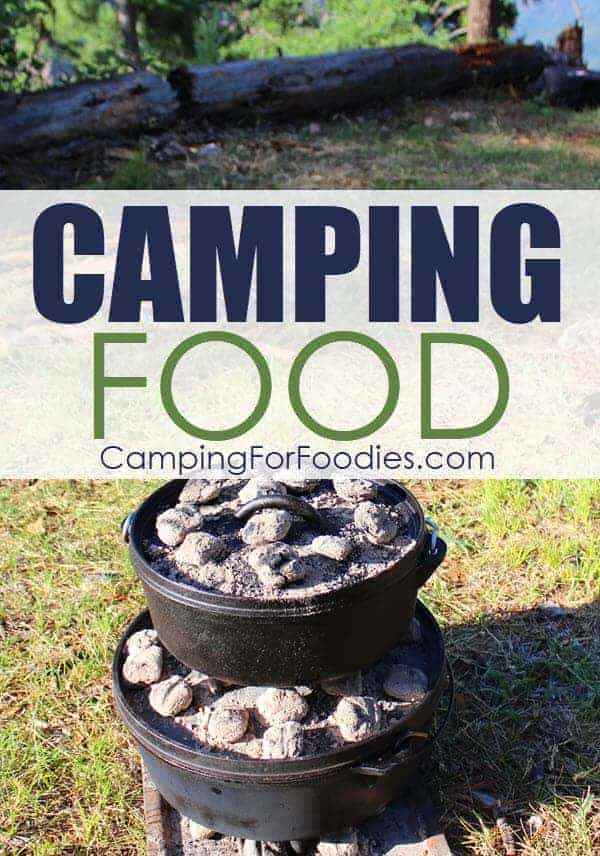 Here's our entire camping recipes list.
Get FREE camping tips and recipes emailed to you!
Our Camping Products Make Great Gifts!
Flexible Cutting Mat
Cutting Mat Set
Stainless Steel Cocktail Shaker Set