White Mountain Arizona Camping: Best RV Parks & Campgrounds
There are so many places to go camping in Arizona, it truly is a state for year-round outdoor activities. With summit elevations towering over 11,000 feet above sea level, it is no wonder that White Mountain Arizona camping is so popular with tent and RV campers who want to escape blistering summer temperatures in lower altitudes.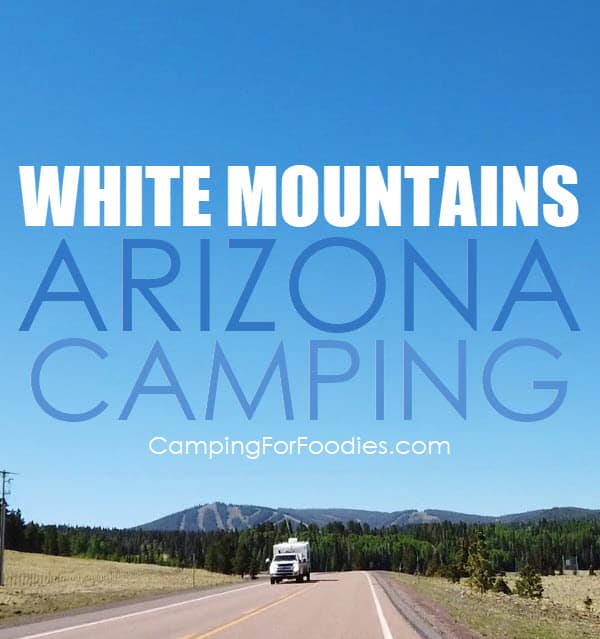 Psst we're compensated…see our disclosures.
Location Of The White Mountains Of Eastern Arizona
The White Mountains of Arizona are also referred to as the Colorado Plateau in Arizona's High Country. The mountainous region starts at a place called the Mogollon Rim and extents over northeast Arizona, eastern Utah, northwestern New Mexico and southwestern Colorado.
Arizona Road & Recreation Atlas
This part of Arizona is filled with recreational opportunities on Federal Land, State Land, Indian Reservation Tribal Land and privately owned property.
---
Long-Term & Short Term Camping Options
Although camping opportunities are plentiful, this region of the Grand Canyon state is extremely popular during the summer months. Short- and long-term camping prospects can be hard to find without some advanced planning, so we'll be discussing a variety of choices.
---
Big Lake Recreation Area
Directions: From Pinetop, Arizona, travel east on Highway 260 for approximately 25 miles, then turn south onto Highway 273. Travel southbound on Highway 273 for approximately 19 miles to Forest Road 8115 (Big Lake Entrance). Turn right and follow the signs to your desired location within the recreation area.
Here's a link to a Google Map.
Closest Town: Springerville, Arizona
Apache-Sitgreaves National Forests, Springerville Ranger District: (928) 333-6200, TTY: (928) 333-5397. Big Lake Recreation Area Website.
Elevation: Approximately 9,000 feet MSL
Located within the Apache-Sitgreaves National Forest, the 450-acre big lake rec area has the most camping options available in one location. There are 3 combination tent and RV campgrounds … 2 more options are tent-only campgrounds.
There is a 14-day limit on camping. You can make camping reservations at Recreation.gov. There are also sites that are set aside for first-come, first serve camping. If you are not familiar, we've got a great post that answers the question: What are "walk-up only campsites"?
Big Lake is known for its trout fishing, with rainbow, cutthroat, brook and Apache trout being the most sought-after species. It is one of Arizona's top fishing lakes.
The landscape is filled with Ponderosa Pine, Douglas Fir, Spruce and Aspen trees as well as sprawling high elevation meadows.
In addition to fishing, other popular activities include hiking, mountain biking, bird watching and wildlife viewing.
The campground areas average around 9,100 feet elevation so take precautions until you get acclimated so you don't have health problems … especially during strenuous activities.
Bears frequent the area so you need to obey all food storage rules and regulations. The camp hosts have more details.
Be prepared for afternoon thunderstorms and cool nighttime temperatures when visiting in the summer.
A small store nearby sells gas, food, boat rentals and firewood.
---
Big Lake's 5 Campgrounds
There are 5 main campgrounds that exist in the Big Lake complex in addition to opportunities for dispersed camping. Only one campground offers full hookups but there is a dump station that is conveniently located near the main entrance for the campgrounds that don't have sewer hookups in them.
Expect to pay a fee when camping here during the high season beginning Mid-May through September. There is No Fee camping after mid-October when snowfall can be substantial and overnight temperatures are typically below freezing.
---
1. Rainbow Campground: RV & Tent Camping
The facility features six paved-road loops with a total of 165 camp sites. Four double sites are available that can accommodate up to 16 people each. These are popular with larger families and groups. Two single unit accessible sites are also available. There are campground hosts.
Some sites can accommodate motorhomes up to 32 feet.
Sites have fire rings, grills and picnic tables.
Water, sewer and electric hookups are not available at this campground.
Restrooms and fresh water spigots are available at several locations at this campground.
The dump station is located near the Big Lake entrance.
This campground is not located on Big Lake but is within walking, bicycling and driving distance.
Reservations for Rainbow Campground can be made online.
---
2. Apache Trout Campground: RV & Tent Camping
Apache Trout is the only campground within the Big Lake Recreation Area that offers full hookups and 50 amp power. Flush toilets and shower facilities offer additional convenience.
The Apache Trout facility has 124 camp sites and 24 accessible sites. There are 22 double sites. One group camping site that can accommodate 50 people, another that can accommodate 100 people.
There are 41 electrical full hook up sites and 81 non-electrical sites.
Some sites can accommodate motorhomes up to 82 feet.
Some sites can accommodate trailers up to 20 feet wide and 82 feet long.
This campground is not located on Big Lake but it is a short walk to reach it.
All reservations must be made at least four days ahead of arrival. You can try for a walk-up site with no advanced notice. For the group sites, reservations can be made up to 12 months in advance. For standard sites, reservations can be made up to 6 months in advance.
Reservations for Apache Trout Campground can be made online.
---
3. Grayling Campground: RV & Tent Camping
Some sites at Grayling Campground have a view of the lake, though none are directly on the waterfront.
This small campground only has one loop that contains all 23 campsites.
There is no water, sewer or electric available at this campsite but there is a dump station with potable water approximately one mile away near the Big Lake entrance.
Some sites can accommodate motorhomes up to 22 feet.
Sites have fire rings, grills and picnic tables.
A store is also nearby with gas, food, boat rentals and firewood for sale.
Reservations for Grayling Campground can be made online.
---
4. Brookchar Campground: Tent Camping
Brookchar Campground is on the banks of Big Lake and is the nearest campground to the water.
No RVs are allowed, this is a small 12 campsite tent-only, walk-in facility. So if you are willing to carry all of your gear to one of these walk-to campsites, this is a great option to really experience the lake.
Sites have campfire rings.
There are restrooms right at the campground but showers are approximately 1 mile away.
A store is also nearby with gas, food, boat rentals and firewood for sale.
Reservations for Brookchar Campground can be made online.
---
5. Cutthroat Campground: Tent Camping
Cutthroat Campground sits on the shoreline of Big Lake with some sites directly on the waterfront.
No RVs are allowed, this is a small 18 campsite tent-only campground, most sites are walk-in and offer no parking directly at the campsite.
This campground offers basic amenities including restrooms, picnic tables and drinking water.
A store is also nearby with gas, food, boat rentals and firewood for sale.
Reservations for Cutthroat Campground can be made online.
---
Surrounding Area Experiences & Nearby Lakes
The Big Lake Recreation Area has lots to offer but if you are willing to travel a short distance you can experience other interesting places in the vicinity.
Mount Baldy
One of the premier hiking spots in the area is the Mount Baldy Wilderness area with an impressive 11,409 foot summit. Remember, when you are in a protected wilderness area you can't use motorized vehicles, mountain bicycles or power equipment at all. You can reach the East Baldy Trail #95 from two different trailheads that are located along Arizona Highway 273.
The main one is on the north side of the East Fork of the Little Colorado. The lesser used trailhead is located at Gabaldon Campground. CAUTION: If you are hiking in the area, be prepared for fast-changing weather … hail and snow are possible even as late as June.
---
Sunrise Ski Park
The White Mountain Apache Tribe owns and operates the Sunrise Park Resort which is a popular place for snow skiing and other winter activities but it is also a great place to visit in the summer to experience the breathtaking mountain scenery through a scenic ski lift ride or the mountain bike trails. You'll find the Sunrise Ski Park on AZ State Hwy 260 between Pinetop/Lakeside and the Big Lake Recreation Area.
---
Various Fishing Lakes
Fishing is so popular in the area … most people are familiar with Big Lake. If you'd like a change of scenery, try these other local lakes while you're in the area:
Crescent Lake
Lee Valley Lake
East and West Forks of the Black River
Becker Lake
The Becker Lake Wildlife Area is managed by Arizona's Game & Fish Department. This lake is about 28 miles northeast of Big Lake just past the town of Eager off of HWY 60. There is no camping here but there is A LOT of fishing going on. It's the perfect place to get serious about dropping a line in the water … it is categorized as a blue ribbon Rainbow Trout lake. The trout is catch-and-release only.
Once a year the lake is stocked with sub-catchable Rainbow Trout and Tiger Trout. You'll also find a few wild Brown Trout that entered from the Little Colorado River. Non-native Largemouth Bass, Channel Catfish, and Green Sunfish were illegally introduced into the lake.
Fishermen are not allowed to use live bait … they are only permitted to use artificial flies and lures with single point barbless hooks. Boats and float tubes are recommended for the best results in this lake which is open for fishing throughout the year.
---
Fool Hollow Lake Recreation Area
Directions: From Show Low, Arizona at the intersection of Arizona HWY 260 (South Clark Rd) & Deuce of Clubs Ave, travel northwest for approximately 2 miles, turn east onto W Old Linden Rd., in about .6 miles turn north onto Fools Hollow Rd and continue straight to the Fool Hollow Lake Recreation Area entrance.
Here's a link to a Google Map.
Closest Town: Show Low, Arizona
Fool Hollow Lake Recreation Area, Arizona State Park, 1500 N. Fool Hollow Lake, Show Low, AZ 85901, (928) 537-3680. Fool Hollow Lake Recreation Area Website.
Elevation: Approximately 6,300 feet MSL
In the region of White Mountains lakes, one of the most popular recreational areas with a more moderate temperature range is within the Arizona State Parks system. Fool Hollow Lake sits at a cool 6,300 feet in elevation which is not high enough for extreme weather conditions yet a nice respite from the heat of lower deserts.
This area of the White Mountains region of Arizona is a bit more on the urban side with easy access to the small town of Show Low.
In addition to the water-based recreational activities at the lake, if you want to take a short drive, you'll find 9 nearby golf courses, quaint restaurants, city parks and picnic areas that are bustling during the summer holidays of Memorial Day, Fourth of July and Labor Day. The small-town parades, celebratory fireworks displays and art and craft shows are charming.
While at the lake, visitors can enjoy small motorized boats with maximum 10 H.P. gasoline engines while fishing for bass, trout, pike and walleye. There are tons of non-motorized watercraft activities to enjoy too like canoeing and kayaking. And, don't forget to bring your bathing suit for a quick dip in the cool water.
There are several options for camping at Fool Hollow Lake. You can make reservations over the phone by calling 1-877-MY PARKS (697-2757) or online. In the summer, reservations are booked months, if not a year in advance. So, reserve early or keep trying for a cancellation.
Fool Hollow State Park Camping Options
Non-hook-up (Tent Only) Sites
31 sites
Concrete pads, fire ring and picnic table, restrooms and showers.
Electric RV sites
92 sites
30 Amp service (some 50 Amp available).
Can accommodate up to 40-foot rigs.
Water available at all sites.
Mallard and Redhead Loops also have sewer available.
---
Hon-Dah RV Park
Directions: From Pinetop, Arizona the Hon-Dah RV park and casino are located at the intersection of HWY 260 and State Route 73.
Here's a link to a Google Map.
Closest Town: Pinetop, Arizona
Hon-Dah Casino & Resort, 777 Highway 260, Pinetop, AZ 85935 800-WAY-UP-HI 928-369-7400. Hon-Dah RV Park Website.
Elevation: Approximately 7,200 feet MSL
The Hon-Dah Casino & RV Resort is owned and operated by the White Mountain Apache Tribe and is conveniently located just outside the boundary where the Apache Reservation Tribal Land meets with the town of Pinetop-Lakeside, Arizona.
This is a really popular, long-term RV park that brings in seasonal visitors from the Phoenix and Tucson areas. People who stay normally park for an entire stretch of the year because this part of Arizona is a great place to escape the sweltering heat of the valleys.
This is more of an RV living experience than it is an RV camping experience. The facility offers daily, weekly and monthly rates. It also offers off-season storage of RVs so the owners can just leave their rigs parked there for the whole year.
Water, TV, electric and sewer hook-ups are available at the RV sites. The casino, showroom, restaurant, gas station and convenience store are located within an easy walk, just across the SR 73.
Call 800-WAY-UP-HI 928-369-7400 for detailed information and to make reservations.
---
Hawley Lake Recreation Area
Directions: From Pinetop, Arizona travel southeast on HWY 260 for about 17 miles and turn south on AZ 473, follow the road through the curves and in about 10 miles, you'll arrive at Hawley Lake.
Here's a link to a Google Map.
Closest Town: Pinetop, Arizona
White Mountain Apache Tribe Game And Fish, (928) 338-4385 and Fort Apache Reservation Hawley Lake Store, (928) 335-7511. White Mountain Apache Tribe Recreation Website.
Elevation: Approximately 8,200 feet MSL
If you prefer natural beauty and plenty of open space on the Fort Apache Reservation, you should consider going to Hawley Lake. Take your time as you travel the 10 mile meandering road that leads to this wonderful wilderness area … it is filled with spectacular forest scenery packed with spruce, pine and aspen trees.
This place has the best of both worlds … you can enjoy short-term camp trips but you also have the option of getting monthly permits. The campsites are first-come, first-served. You need the same permit to camp in designated areas as well as primitive areas.
To avoid continual problems, the Tribe is very good about reminding visitors that primitive camping areas are not serviced … there are no toilet or garbage facilities. All campers are required to pack in/pack out all camping and fishing refuse and debris … including trash and human waste.
You can get more information on different White Mountain Apache Tribe camping and recreational permits for Hawley Lake as well as these popular remote and secluded primitive camping areas including:
Black And Salt River (the entire stretch from the eastern boundary of the Reservation to the western boundary. Special Use Permit Required.), Bonito Prairie Stock Tanks, Big Bonito Creek (1/4 mile downstream of route Y55 to the Black River confluence. Special Use Permit Required.)
---
Horse-Friendly U.S. Forest Service Primitive Camping Areas
The Apache-Sitgreaves National Forests have campgrounds that are equipped with corals and troughs. These are usually primitive sites that have no water or restroom facilities. You may find a vault toilet but most horseback riding campers often have living quarters within their horse trailers and don't need much in the way of campground amenities.
You can find more information on some of the popular horse camping spots in Apache-Sitgreaves including:
Blue Range Primitive Area – Alpine District Parcel
Fr 9350 Campground
Willow Springs Loop Trail
Ghost Of The Coyote Trailhead
Juniper Ridge Trail #640
Los Caballos Trail #638
Los Caballos Trailhead
Springerville Ranger District
Gabaldon Horse Camp
---
Wildlife In Arizona's White Mountains
The wildlife is abundant so make sure you follow these safety tips while camping in bear country.
If you enjoy watching hummers, you'll find tons of them here in the summertime. The Arizona Game and Fish Department puts on the High Country Hummingbird Festival in the Sipe White Mountain Wildlife Area in Eager, Arizona which is a fun and educational event.

We love the little critters and share our tips on how to attract hummingbirds to your campsite which includes a VIDEO that you need to turn up the VOLUME so you can HEAR the BIRDS!
Elk, deer and a diverse community of smaller mammals, birds and reptiles are also common to the area. The abundant lakes are filled with a wide range of fish including the endangered Apache Trout.
---
FREE Printable Camping Trip Planner
Make your next trip stress-free with a little pre-planning. Get your copy of our FREE printable camping trip planner template!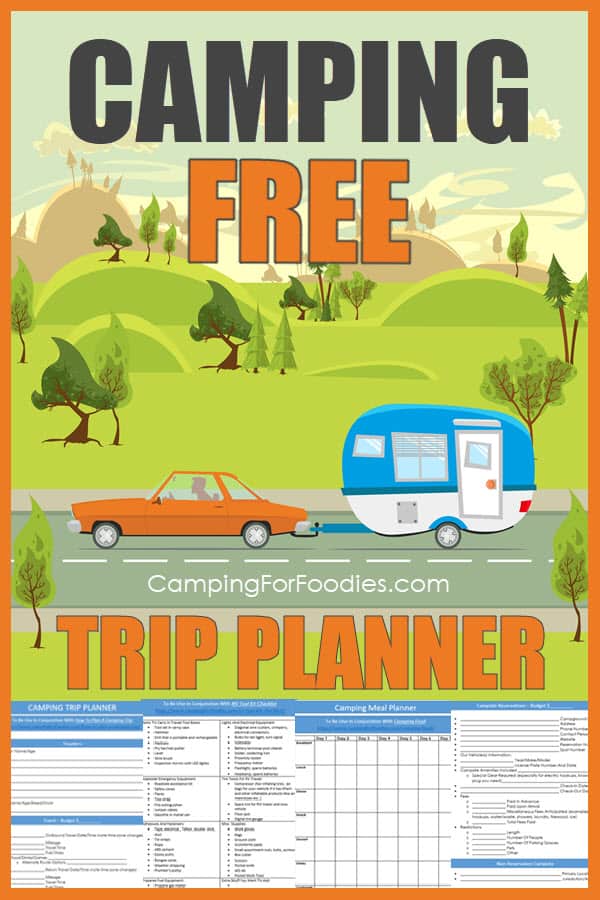 ---
Food For Your Camp Trip In The White Mountains
If your camp trip takes you to the White Mountains in cooler weather, try some of our awesome winter camping recipes but we also have wonderful recipes for every meal and every season too.