What Are Walk-Up Only Campsites: 7 Tips For Getting The Best Ones
Everyone needs camping tips when they can't find a place to camp! If you have ever seen a sign for them and wondered, what are "walk-up only campsites", you may have just stumbled upon a gold mine because first come first serve camping has huge advantages during the peak season when campsites at popular campgrounds are fully booked.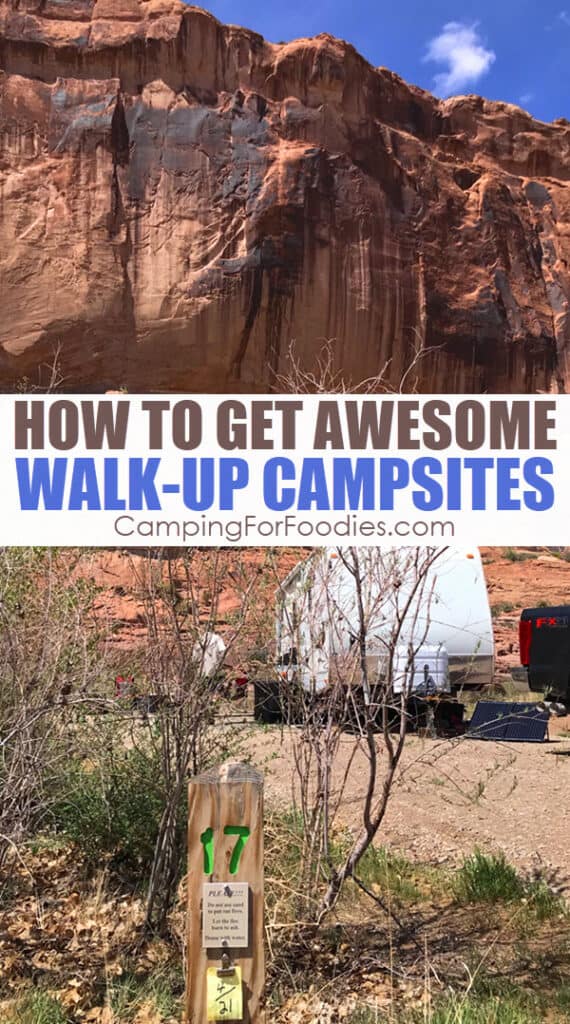 Psst we're compensated…see our disclosures.
Walk-UP Sites vs Walk-IN Campsites
First, let's talk about a gigantic point of confusion between walk-UP campsites and walk-IN campsites. Some campgrounds have both, like the Cutthroat Campground in the Big Lake Recreation Area you'll find when in the White Mountain Arizona camping area.
Walk-up campsites are sites that can NOT be reserved in advance. They are made available on a first come, first-served basis. In other words, it is no reservation camping.
Think of it like the difference between fast food restaurants vs fancy sit-down restaurants. You just walk up to the counter at a fast food restaurant and get food. But, you need a reservation to get a meal at a busy sit-down restaurant. If you just show up to a reservations-required restaurant, you won't be able to get a seat because all of the tables are reserved for other people who booked in advance.
Walk-IN Campsites
Walk-In campsites are tent camping sites that are a short distance from a parking lot, campers need to carry their camping gear to those pedestrian-only accessible sites.
Some walk-in campsites require a reservation while others may not.
Walk-UP Campsites
You may find walk-up camping sites in campgrounds that set aside a number of sites that are available without reservations or you may find entire walk-up campgrounds where every single site is a first come, first served site.
Walkup camping prices vary. Some are just as expensive as reserved spots and others are free, depending on where you find them.
CAUTION: Because there is no guarantee you will find a walk-up spot available, you always need to have a backup plan.
---
What Is Walk Up Camping Etiquette?
When you are looking for last minute campsites, it is best to check in with the park office or campground host after you read the posted rules for the campground.
If you find an available site on the day of arrival, you can set up and stay as many consecutive nights as the rules allow (14 nights is a common limit). Just make sure you are complying with the posted rules so you don't run into trouble maintaining your site for the entire duration of your camping trip.
---
What Does Walk Up Mean For Camping: The Pros And Cons
When you are camping without reservations, there are big benefits but there are also enormous challenges.
Benefits Of Non-Reservable Campsites
You can go last minute camping any time the urge hits you. This is great for outdoor enthusiasts that enjoy a sense of adventure.
You don't have to deal with online reservations or call centers.
You have flexibility during your camp adventures, you can arrive or depart with timing that is best for you. This was a big benefit on our last-minute Canyon de Chelly camping adventure to the Navajo Nation in northeast Arizona.
There is no reservation fee so you won't lose money if you change your plans.
There are no minimum stay requirements. This is contrary to reserved campsites especially during busy summer holiday weekends like Memorial Day, July Fourth and the Labor Day weekend.
Challenges With Walk-Up Spots
Sites fill up quickly during the summer season and on busy weekends. During the peak camping seasons, there are more people looking for first come first serve campsites so the competition to find sites is intense.
If you are traveling with friends who also need a spot, you may only find single sites on your arrival date requiring you to split up or continue looking for several spots that are together in the same general area but may be at a different campground.
If you are a "planner", it can be very stressful to travel without solid plans and concrete camping reservations. If the thought of spontaneity turns your stomach, you may want to stick with reserving in advance or waiting for cancellation reservations to open so you can reserve a spot at the last minute.
Maneuvering in unfamiliar areas can get tricky if you have large vehicles including RVs and ATV trailers.
Popular camping destinations with walk up sites can become highly trafficked as new campers arrive driving through the area looking for availability of open spots as people depart.
You may have to drive to many walk up campgrounds before you find an available spot. It is important to have a back-up plan if you are unable to secure a first come first serve site.
---
Walkup Camping Sites For RVs
RVers, you should do a bit more research on your intended walk-up camp destination.
Know about the road conditions leading to your desired campsite as well as the space limitations of maneuvering to and from the spots, You don't want to get into a space you can't get out of when it is time to leave!
Some walk-up campsites are designated as "tent only" sites while others are available to tents and RVs. The bigger your rig, the less options you have in the number of sites that will accommodate you. The competition for larger walk-up sites is higher than it is for smaller ones so bring your patience as you search for a spot.
---
Types Of Campsites At First Come First Serve Destinations
You'll usually find individual sites and group campsites in locations with walk-up camping. Group sites are only available for larger groups, the specific number of campers that qualifies as a group is different at each campground.
The type of campsite you find will vary depending on your destination. Sites range from more primitive sites in national forests, Bureau of Land Management land and natural areas to more developed sites at local parks, local campgrounds, state park campgrounds and within the National Park Service lands.
At the average walk-up basic campsite you can usually find:
picnic table
vault toilets
fire pit or fire ring
trash containers
At walk-up campsites with more amenities you can usually find the above plus:
potable water
shower facilities
flush toilets
dump station
At the most elaborate walk-up campsites you can usually find the above plus a few extra comfort items like:
electrical hookups
water hookups
waste hookups
visitor center
camp store offering the comforts of home like groceries, alcoholic beverages, ice, sunblock, bug spray, clothing etc.
I like having a good paper map of the public lands and facilities in the area where we are camping.
Arizona Road & Recreation Atlas
---
How To Occupy And Pay For No Reservation Camping Sites With Fee Boxes
Each agency manages their self-pay places to camp without reservations differently so check the specifics of each spot you are trying to get, but, generally the scenario goes like this:
You drive through the camping area looking for a vacant spot with an expired permit stub on the camp site post. Campers are encouraged to leave something at their campsite to show it is occupied if they leave for daytime excursions.
When you identify a vacant spot you want to use, occupy the spot and return to the fee box with the appropriate payment, place it in a fee payment envelope with the requested information and drop it in the secure fee box.

Most sites have a time limit for payment to be submitted, usually about 1/2 hour from the time you occupy the site.

Return to your campsite and finish your setup.

One of our secrets to finding a great spot: If we're already camping at a different nearby location, we carry a few camp chairs and a small tent in our truck as we scout different campgrounds for walk-up sites. When we find a good one that is available, we drop the chairs and tent to save our spot for a few hours until we can return with all of our other gear. Then, we go back to our original location, pack up our full set-up, move it to our newly found walk-up site and set everything up there.
WARNING: You can NOT pay for a site in advance. You must wait for the site to be vacated before you occupy and pay for it. So, if you ask a camper when they are leaving … and they say "tomorrow morning" … you can't pay for that spot today (you'd actually be reserving the site in advance). You need to be the first camper to show up before that current camper leaves and immediately occupy the spot upon their exit … and … promptly pay for the spot. If you pay for the spot a day in advance and the next day another camper gets there before you do and they occupy the spot upon the current campers exit … you would forfeit the money you placed in the fee box and would also have no rights to that site.
---
Typical Information Required For Walk-Up Camp Spots
In the United States, the authorities managing the last minute camping spots usually want you to provide the following information:
Vehicle license state and number
Home zip code
Number of people in your group
Arrival date
Departure date
Date camping permit was purchased
Amount paid/enclosed in the fee envelope
Campsite number you paid for and are occupying
Pass number if using a discount pass (usually something like a Golden Age Passport, Access Passport, Interagency Senior Pass or Interagency Access Pass Number)
---
7 Tips For Getting A Walk-Up Campsite
1. Research last minute camping sites before you leave home.
It is important to know how many options you have and where the campgrounds are located. Planning a route between different non-reservation sites is important … especially during busy times of the year.
2. Ignore "Campground Full" signs.
During peak seasons, the campground host may not be able to keep up with the movement of departing campers so it is a great idea to drive through an area taking note of campers who look like they are packing up to leave.
3. Be aware of check-out times.
Most campers don't wait till the last minute to depart so you'll want to start looking for spots early in the morning as people begin to depart. Knowing what time the campers must be gone to adhere to the posted check out times is an important consideration for you.
4. Investigate primitive camping recreation areas surrounding popular national parks.
You can find great tent spots in some of America's National Parks but many of the campgrounds were built years ago when RVs were very small. If you can't fit your rig in a space inside the park you are visiting, consider boondocking in a spot with easy access for bigger rigs that is convenient to the park. That's what we did on our Joshua Tree National Park camping experience. We actually had a reservation for one night, then, hoped we could get into a walk-up site the next day. It didn't happen, so, we went to a BLM dispersed camping area just outside the park's south entrance.
Campendium, Boondocking and iOverlander are some of the best camping apps to find great places for remote camping experiences. Just be aware that if you are traveling while looking for "places to camp without reservation near me", you will need decent internet coverage for these apps to work.
5. Bring cash.
Some locations will take credit cards or checks (really, who writes checks anymore, LOL) but that is no guarantee. It is always a good idea to have enough cash to cover your campsites even if you ultimately use an alternative payment form.
6. Identify the best time of year to visit.
The busy season is usually effective May through August but that is not always the case. In hot climates early spring and late fall may be the busiest times for camping. Research the seasonality of popular parks and other popular places like historic sites, national monuments and popular areas with special events like the Albuquerque International Balloon Fiesta and activities like mountain biking, 4-wheeling and ATV riding in Moab. The busier it is, the more challenging it will be to find any spot, let alone the perfect spot!
7. Get the latest information before you go.
Do a final check for campsite notices, road closures, alerts and any other additional information before you travel to your intended campsites. It is really helpful to have phone numbers for local authorities and it is always a good idea to talk to park staff members who are working to get current information whenever possible.
---
Last Minute Site Reservations
If you are not a risk-taker and flying by the seat of your pants makes you really nervous, you may want to avoid walk-up camp sites and opt for last minute camping reservations instead.
A good choice for you may be to try to get a cancellation by using a reservation center like the…
National Park Reservation System
---
You never really know what the conditions of any campsite are until you arrive. If you are prepared for dry camping, you know you'll be able to handle just about any scenario you may encounter.
---
FREE Camping Trip Planner
Make your next trip stress-free with a little pre-planning. Get your copy of our FREE printable camping trip planner template!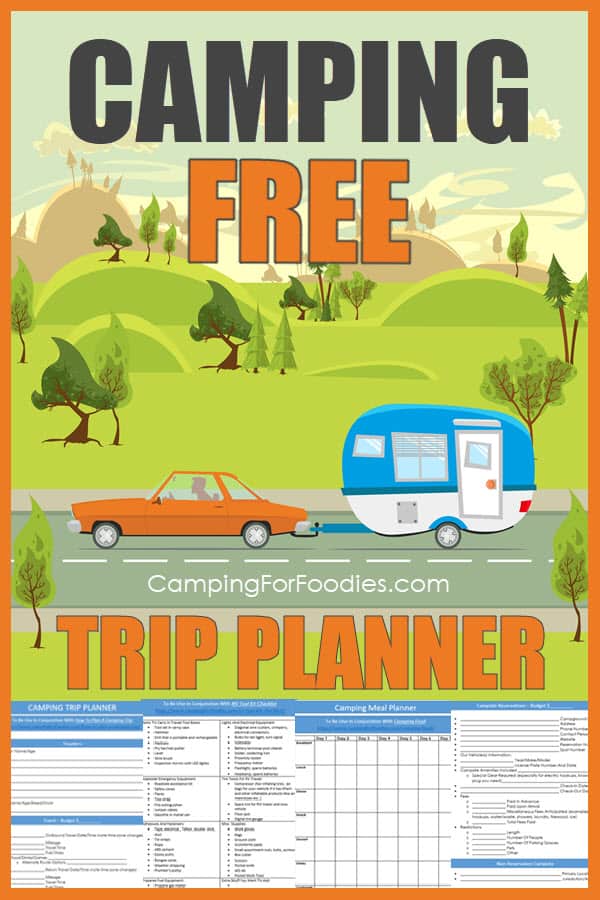 Meal Planning For Walk-Up Camp Locations
Eating out and picking up groceries in remote areas becomes a real hassle so be sure you have your meals planned for your trip.