Easy Campfire Donuts Dutch Oven Camping Recipe
This is one of my easiest Dutch oven camping recipes because it only uses 3 ingredients! This Campfire Donuts Dutch Oven Camping Recipe is ready in minutes and makes a sweet treat for breakfast or dessert.
Psst we're compensated…see our disclosures.
How To Make Campfire Donuts
What makes this recipe so easy and fast? They are canned biscuit campfire donuts so you are not making the dough from scratch.
Step 1. Start your campfire. Get out your camping fire starters to get your fire going. You want your fire to burn down to a nice bed of hot coals you can cook over.
Step 2. Prepare the dough. Open your canned biscuit dough and separate the biscuits, laying them out on a cutting surface. Using a sharp knife, cut a round circle from the center of the biscuit and remove the "dough holes" creating a doughnut shape. Set the dough holes aside.
Camp Cooking Tip: If you are making camping meals for two, you can use some of the biscuits to make these donuts and bake the other biscuits according to the package directions … then, top with jam or sausage gravy for breakfast on another day of your trip!
If you decide you actually want to make a simple dough, try these Dutch oven biscuits that are baked until they are flaky and golden brown.
Step 3. Heat the oil. Pour oil into a cast iron Dutch oven and very carefully place it on a grate over the hot coals.
Texsport Heavy Duty Camp Extra Large Grill Grate
Camp Cooking Tip: Use a campfire grate for cooking rather than a tripod anytime you are cooking campfire recipes with oil because it is much more stable.
CAUTION: Oil is flammable! Keep the campfire flames low and a fair distance from the oil. Use the heat of coals (not the flames of fire) to cook with oil. You can also make these donuts as camp stove recipes if you are more comfortable cooking over propane.
Step 4. Check the oil temperature. Is it a hot tub or a warm bath? You can tell when the oil is hot enough for frying by placing a small piece of dough into the oil, if it bubbles … just like a hot tub … it is ready.
If the dough just sits in the oil without bubbling … like a warm bath … it is not hot enough so don't add the donuts because they will just soak up the grease.
Step 5. Fry the doughnuts. Use long tongs to place dough into hot oil for cooking being careful to avoid splashing the oil on yourself or into the campfire. When the bottom is golden brown, use long tongs to flip the donuts to cook on the other side … this will only take a few minutes per side.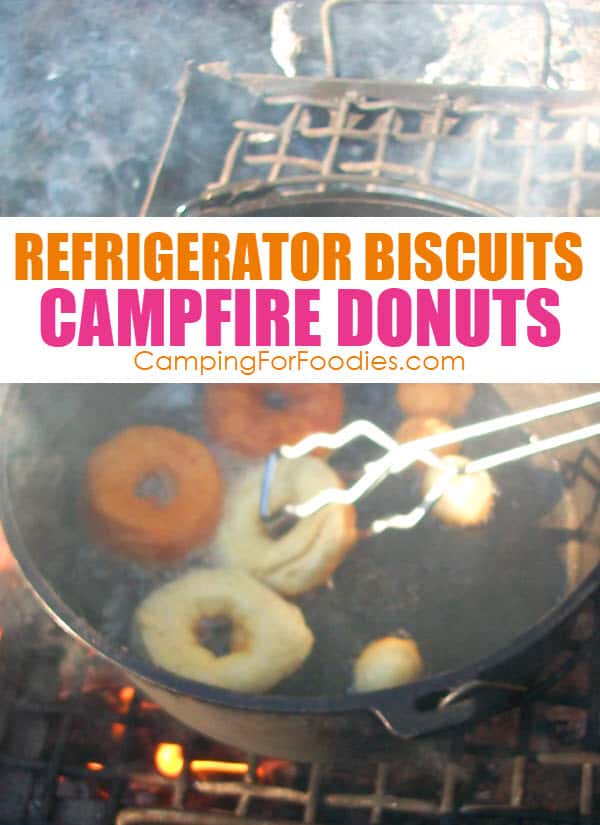 Rosewood Extra Long 22″ Locking Tongs
Step 6. Drain, then sugar the donuts. Remove the donuts from the oil and place on a paper towel-lined plate to remove excess grease. Roll donuts in powdered sugar and shake off excess.
Step 7. Make the doughnut holes. Repeat the same process with the "dough holes" that you set aside earlier.
Step 8. Serve warm. Enjoy these campfire doughnuts while they are still warm with a cup of coffee as one of your fun camping breakfast ideas or as one of our super fast and simple camping dessert recipes.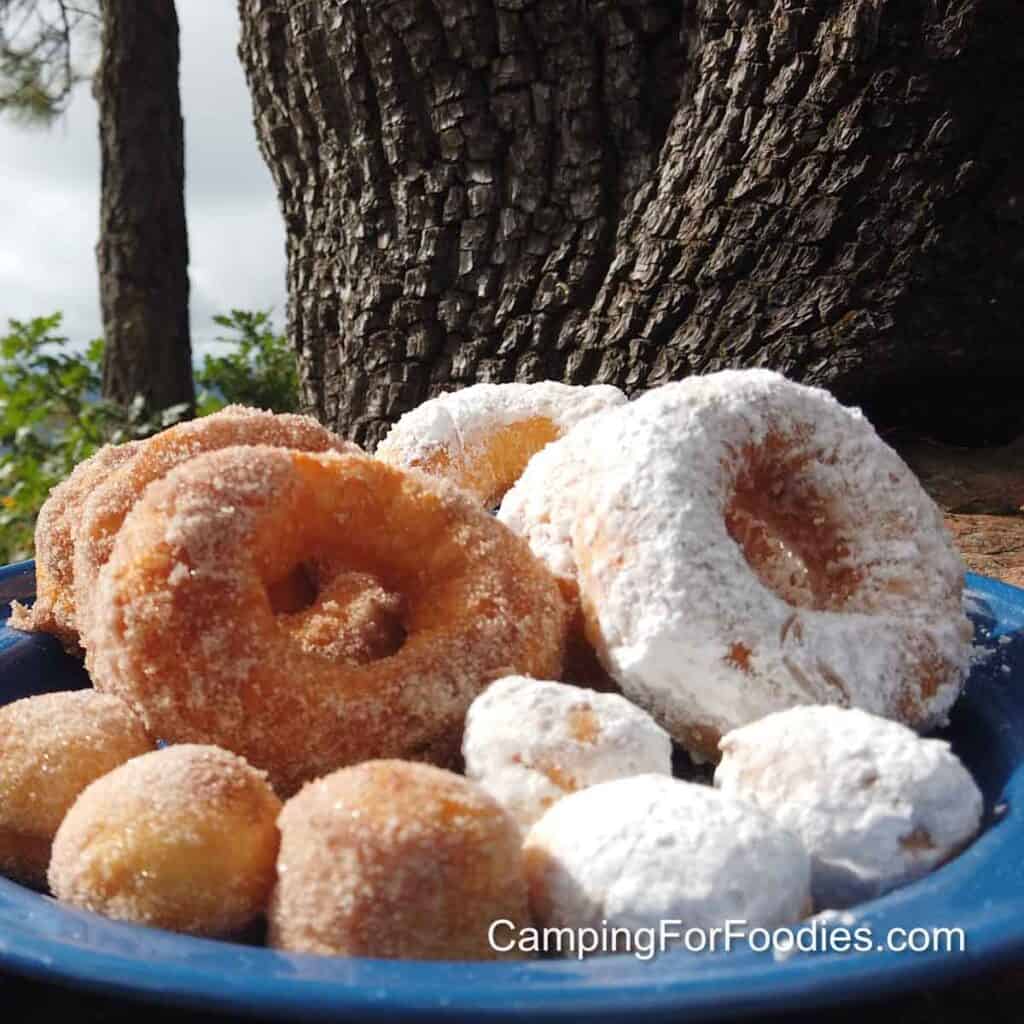 ---
Similar Recipes
This Dutch Oven Monkey Bread recipe also uses refrigerated biscuit dough as a base. You'll add a cinnamon sugar mixture and nuts to make a yummy sweet pull apart bread that is topped with a simple powdered sugar glaze.
You only need 2 minutes to prep this Dutch Oven Apple Dump Cake that requires almost no effort. Just "dump and bake" simple ingredients to make this sweet, gooey mess of a dessert.
We enjoy this Dutch Oven Coffee Cake with a hot cup of coffee in the morning. You'll start with a boxed cake mix then jazz it up with cinnamon and pecans. The addition of eggs and sour cream make it a moist cake.
This easy homemade Sweet Cream Pancakes recipe makes the best fluffy, restaurant-quality pancakes. The simple cooking tips will help you make the perfect breakfast every time.
When it comes to breakfast, my favorite camping recipes are the ones that let the entire family eat at the same time. This Dutch Oven French Toast is a casserole that is baked. Serve an icy cup milk or hot cup of coffee on the side for a perfect meal.
This Dutch Oven Chicken Pot Pie is made simple for the campsite by using refrigerated biscuit dough to make a top crust.
Get your FREE printable camping trip & menu planner before you create your next meal plan!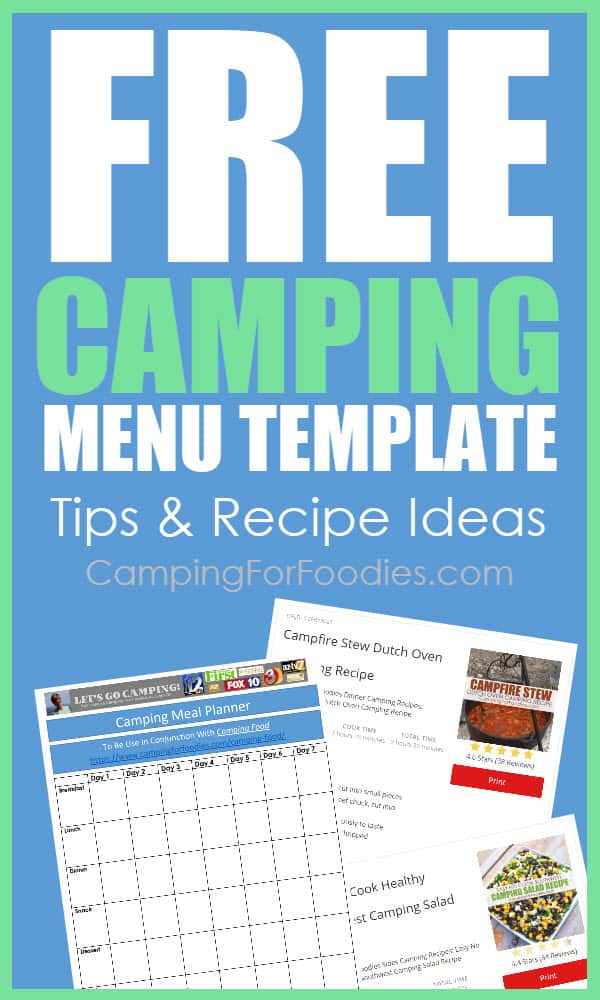 ---
Print This Recipe
Campfire Donuts Dutch Oven Camping Recipe
Camping For Foodies Breakfast Camping Recipes: Campfire Donuts Dutch Oven Camping Recipe
Ingredients
1

(16 oz)

can refrigerated biscuits

(Jumbo buttermilk biscuit dough works best.)

2

cups

vegetable oil

2

cups

confectioners' sugar

(For a cinnamon sugar variation, mix 1 cup sugar with 2 tablespoons cinnamon.)
Instructions
Start your campfire early enough to cook over hot coals (not flames).

Place sugar in a bowl and set aside.

Remove pre-sliced biscuit dough from the tube and place on a flat surface.

Use a small shot glass or a sharp knife to cut round dough circles from the middle of each dough circle to form a shape like traditional donuts. Remove the donut holes from the inside of the donut biscuits.

Pour oil into a large cast-iron skillet, Dutch oven or some type of cast iron pan that is deep enough to hold hot oil without splashing into the fire. Place carefully on a campfire grate over hot coals. CAUTION: Oil is flammable! Keep the campfire flames low and a fair distance from the oil.

When the oil is up to temperature, carefully place dough into the hot oil. Fry until dough reaches a nice golden brown color, then, flip to cook the second side. It will take a few minutes per side. (see * Note)

Remove each cooked donut to a paper towel-lined plate to let excess oil run off and briefly drain donuts and holes. (see ** Note)

Roll donuts in powdered sugar, shake off excess and serve warm.

Repeat the same process with the "dough holes".
Notes
*NOTE: Little bubbles should form when the dough is placed in the oil. If bubbles don't form, the oil is not hot enough. Remove the dough from the oil and continue heating the oil until it is hot enough to fry the dough. If you try to fry this campfire donuts recipe in oil that is not up to temperature, the dough will soak up the grease and become soggy rather than creating a nice crispy texture.
**NOTE: You want the donuts to maintain a little excess grease because the oil on the warm donut helps the sugar adhere to the cooked dough.
Here are a few more useful links:
Dutch Oven Temperature Chart
https://www.campingforfoodies.com/dutch-oven-temperature-chart/
Camping For Foodies Recipes List
https://www.campingforfoodies.com/camping-recipes-list/
Our Products
https://www.campingforfoodies.com/shop/
Nutrition Information
Serving:
1
g
Calories:
789
kcal
Carbohydrates:
53
g
Protein:
4
g
Fat:
64
g
Saturated Fat:
7
g
Polyunsaturated Fat:
54
g
Trans Fat:
1
g
Cholesterol:
2
mg
Sodium:
329
mg
Fiber:
1
g
Sugar:
28
g
---
More Recipes To Try
After you enjoy these campfire donuts, you might want to try a few more of our fun and tasty ideas on your next trip!