Campfire Roast Beef: One Pot Dutch Oven Meal
You gotta love Dutch oven camping recipes that make one pot dinner meals! This easy, super tender Campfire Roast Beef has a Mexican flavor profile that is perfect for meat and potato lovers!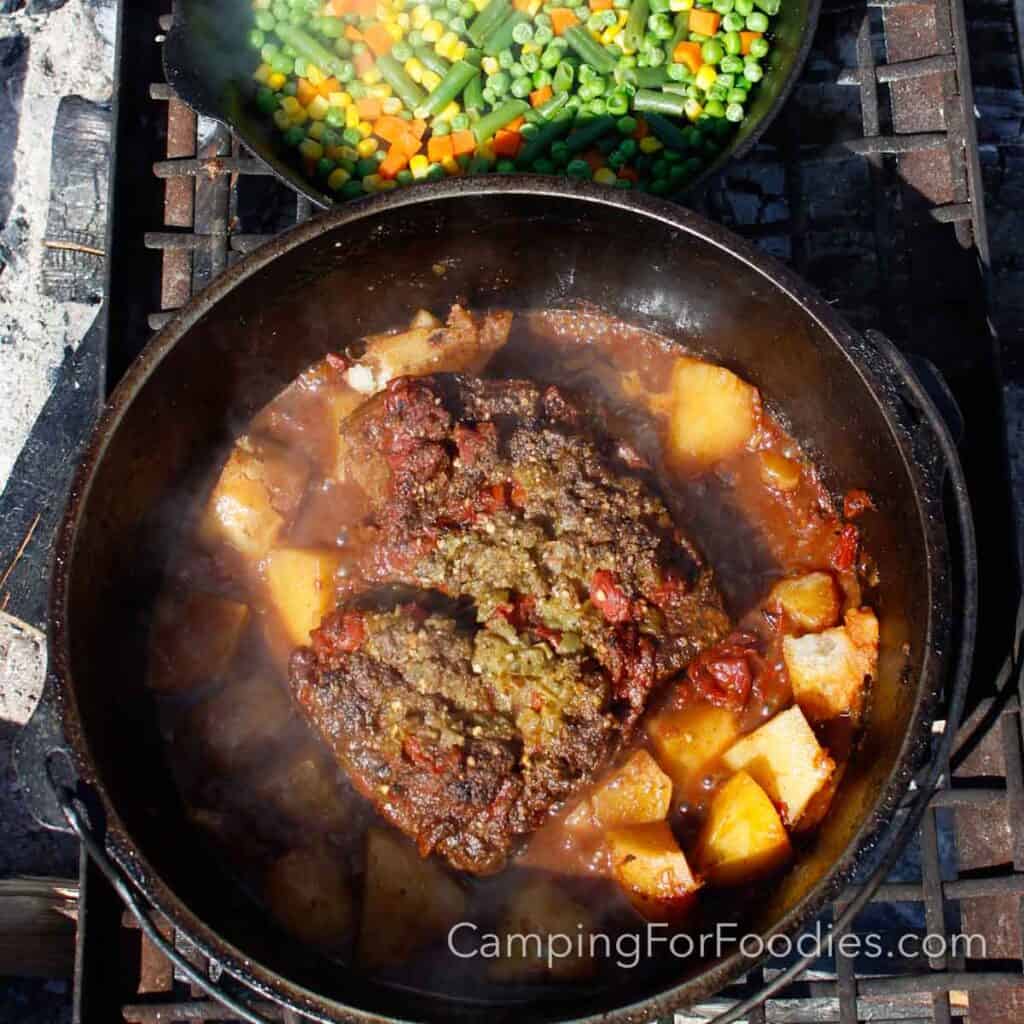 Psst we're compensated…see our disclosures.
Prep Work
I've made this beef roast really simple by using canned ingredients with tons of flavor so the prep work is really easy. You won't be chopping onion or garlic cloves because those flavors are in the Mexican spice mixture you'll add. So, you'll start cooking immediately and while the roast is cooking, you'll peel and cut the potatoes to add later in the cooking process.
---
Cooking Methods & Equipment
To make this as one of our easy campfire recipes: For traditional outdoor cooking, you'll need a 12-Inch, 6 Quart Cast Iron Dutch Oven using campfire coals or charcoal briquettes as your heat source.
To make this as one of our camp stove recipes: Use a 12-inch Dutch oven with a propane camp stove, you'll be using bottom-only heat so there is no need to use a Dutch oven dome. Camp Cooking Tip: If you are camping during a time of open flame fire restrictions, you can often just use a camp stove. It is easier to control the heat when you have a knob! Just make sure you have enough propane to cook for at least 2 hours.
To make this in an RV kitchen: You can use any type of cooking pot with a tight-fitting lid on your stovetop (or just use aluminum foil to cover a large pot that doesn't have a lid).
---
How To Make Camp Oven Roast Beef
This is one of our favorite winter camping recipes because it is cooked over a campfire and makes a really hearty meat and potatoes comfort food meal.
Step 1. Get your campfire started. Get your camping fire starters ready to light your fire for cooking.
Camp Cooking Tip: You will be cooking this roast beef for about 2 hours over your campfire so make sure you have your fire ring separated.
When you are cooking campfire meals that require an extended time period for cooking split your campfire ring.
Reserve one side for cooking with campfire coals.
Reserve the other side for burning wood that is producing your upcoming coals.
You'll want to make sure you have an ample supply of coals as needed throughout the cooking process.
Step 2. Season the meat. The roast beef needs to be liberally seasoned on all sides with salt and pepper.
Step 3. Prepare cast iron Dutch oven for cooking. You will be searing the meat with high heat so you'll want to get your 12 inch cast iron Dutch oven preheated.
Step 4. Brown the meat. Place the vegetable oil in the pre-heated Dutch oven.
The oil will quickly get hot, as soon as it does, add the roast beef to the pot.
You will be searing the beef on all sides … as soon as one side is seared, turn it to sear the next side.
Repeat the process until every side (including the ends) are seared to a nice golden brown color.
Camp Cooking Tip: Don't try to turn the meat before it is fully seared. If you try to turn it and the roast is sticking to the pan … it is NOT READY to turn. When it "releases" from the pan, it is time to flip it to the next side.
Step 5. Reduce heat to medium and add the simmering ingredients. The thing that makes this campfire roast beef so tender is that it simmers for a long time.
The thing that makes it one of our easy camping meals is the fact that there are not many ingredients and most of them are canned!
You'll need to reduce the heat to medium and add the beef broth, fire roasted tomatoes, diced green chile peppers and Mexican seasoning blend.
Step 6. Cover and simmer. Now it is time to simmer this beef roast for 1 1/2 hours.
You will be covering the Dutch oven for the simmering process so you will need to lift the lid periodically to make sure the pot is evenly simmering.
DON'T allow the beef roast to get to a boil because it needs to cook low and slow to achieve a fork-tender consistency.
Step 7. While the roast is cooking, peel and cut the potatoes. Place them around the pot surrounding the roast and continue cooking until they are tender.
Step 8. Serve and enjoy. Remove the Dutch oven from your campfire and serve.
---
Similar Meals
You can get creative while still keeping your camping dinner recipes easy!
These Dutch Oven Beef Sandwiches are so simple to make! You need 3 basic ingredients and you'll be cooking this amazing dinner! The beef roast is fork-tender after cooking … low and slow … with the juice and mild peppers. Shred the meat and pile it high on a hoagie roll for the perfect summertime meal.
Looking for a hearty stew? You've gotta try this one! The tomato-based sauce is the perfect backdrop for the beef, carrots and potatoes in this super-popular Campfire Stew!
This Kettle Beef is comfort food made with simple ingredients. The fork-tender beef and simple homemade gravy are fantastic. When served over mashed potatoes, you'll satisfy all your "comfort food" lovers. If you want more one pot camping meals, we've got tons of them!
For breakfast, lunch and dinner ideas with a Mexican flavor profile, try these delicious Dutch oven Mexican recipes.
---
Substitutions
I'm using a beef chuck roast here but if you don't have that cut of meat you can also use:
tri-tip roast
top round roast
bottom round roast, also called a rump roast
Just make sure whatever cut of beef you use, the roast is about a 3 lb cut of meat.
If you can't find Mexican seasoning blend, you can use a combination of spices like smoked paprika, chili powder, onion powder, garlic powder, ground cumin, ground black pepper and cayenne pepper.
---
Pairings
This is an entire meat and potatoes meal in one single pot. I like to add some green veggies on the side, either a simple baby spinach side salad or frozen mixed veggies heated and tossed in a little butter. We also like serving this meal with a slice of bread, this Dutch oven bread requires no yeast!
Get your FREE printable camping trip & menu planner before you create your next meal plan!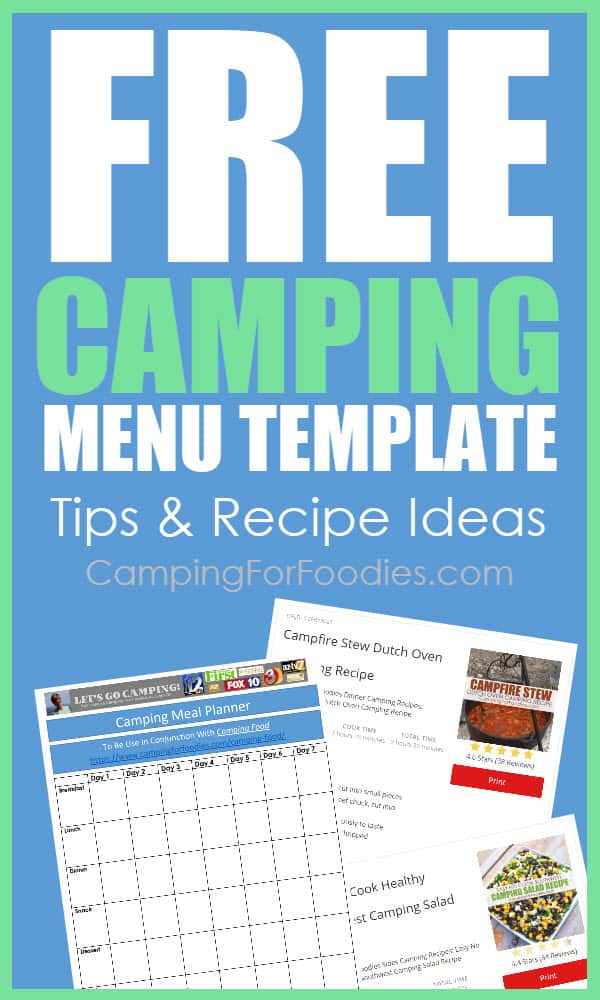 ---
Print This Recipe
Campfire Roast Beef
Camping For Foodies Dinner Camping Recipes: This campfire pot roast is quick to prep and slow to cook making a fork-tender meal.
Ingredients
2

tablespoons

vegetable oil

3

pound

beef chuck roast

Salt and black pepper

to season

1

(14 oz) can

beef broth

1

(14 oz) can

fire roasted diced tomatoes

undrained

1

(4 oz) can

diced green chile peppers

undrained

2

tablespoons

Mexican seasoning blend

2

large

potatoes

peeled and cut into 1 inch cubes
Optional For Serving
1

small bunch fresh parsley

chopped (optional)
Instructions
Prepare the campfire for cooking over high then medium heat.

Season the beef chuck roast with salt and pepper.

Preheat 12 inch cast iron Dutch oven for searing the meat with high heat.

Place vegetable oil in the pre-heated oven and wait for the oil to get hot (this will not take long.)

Brown roast on all sides in Dutch oven over high heat. Don't forget to brown the ends too. The meat is seared and ready to flip when it releases from the Dutch oven … if it is sticking, it is not ready to flip.

Reduce heat to medium and add the beef broth, fire roasted tomatoes, diced green chile peppers and Mexican seasoning blend.

Cover and slow simmer for 1 1/2 hours.

While the roast is cooking, peel and cut the potatoes and add them to the pot around the outside of the beef roast.

Continue to simmer covered until meat and potatoes are fully cooked through, approximately 30 – 45 minutes longer.

Serve with fresh parsley, optional.

Nutrition Information
Serving:
1
g
Calories:
556
kcal
Carbohydrates:
25
g
Protein:
46
g
Fat:
31
g
Saturated Fat:
12
g
Polyunsaturated Fat:
5
g
Monounsaturated Fat:
14
g
Trans Fat:
2
g
Cholesterol:
156
mg
Sodium:
194
mg
Potassium:
1334
mg
Fiber:
5
g
Sugar:
1
g
Vitamin A:
131
IU
Vitamin C:
25
mg
Calcium:
132
mg
Iron:
8
mg
---
More Camping Meal Ideas
You can have simple but totally delicious feasts for every meal on your next trip! Get creative with your menu by trying something new!