Hobo Eggs: A Ridiculously Simple & Surprisingly Delicious Breakfast
Need great options for quick and easy camping breakfast ideas? These Hobo Eggs taste amazing because it is not just the classic egg and buttered toast combination … it is more like the flavor and texture of a buttery grilled cheese and fried egg (without the cheese). With only 3 basic ingredients, this recipe just might become one of your favorite breakfasts to serve on your camp menus.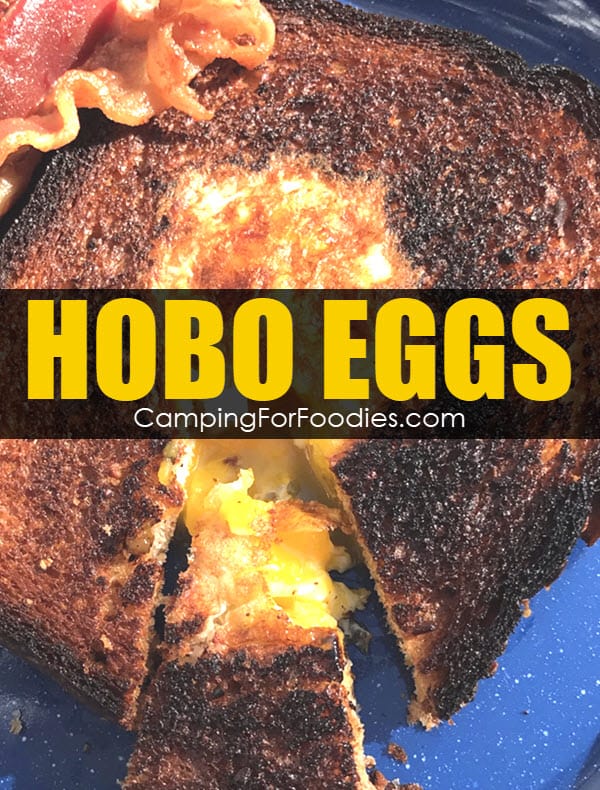 Psst we're compensated…see our disclosures.
What Are Hobo Eggs?
With such a strange name you might think hobo eggs are some sort of extravagant meal made with a concoction of many ingredients … not so … this kind of breakfast is as simple as it gets. You just fry an egg in buttered toast! That's what makes this great breakfast recipe one of the best easy camping meals you can make in the morning.
---
Different Names For Hobo Eggs
This simple breakfast dish is prepared by buttering a piece of bread, cutting a hole in the center, placing it in a frying pan and cracking an egg into the hole in the bread so it all cooks together. Typically, the round piece of bread is cooked in the pan along with the hobo.
If you are hearing about this recipe for the first time, you may think it is some sort of popular culture thing … but … this modest meal is as old as the hills. It has been part of civilizations across the world for many generations. That's probably why it goes by so many cute names, like…
Baby In A Buggy
Birdie In A Basket
Bird's Nest
Bullseye Eggs
Egg In A Basket
Egg In A Frame
Egg In A Hole
Egg In A Nest
Gashouse Eggs
Hobo Eggs (our personal favorite)
Hobos
Hole In One
Holy Eggs
One Eyed Egyptians
One-Eyed Jack
One-Eyed Pete
Ox Eye Eggs
Sunshine Toast
The One-Eyed Jack
The Popeye
Toad In A Hole
And sooooooooooo many more!
---
Prep To Make This Recipe
The simplicity of this breakfast is one thing that makes it so great for camping.
There is nothing to chop, peel or clean for this meal. Just gather your ingredients and cooking equipment and you're ready to begin. The uncomplicated nature of hobo eggs makes them the perfect choice when you are preparing camping meals for two.
---
Methods Of Cooking Hobos For Breakfast
If you're looking for super easy breakfasts you can stop searching right now. This simple dish is easy to make and fun to eat.
We cook ours as one of our camp stove recipes in a skillet so you'll need to set up on a level surface (or the egg will run out of the hole in the bread.)
If you have a campfire going, you can cook this hot breakfast as one of our easy campfire recipes using a pie iron which is a great way to have youngsters make their own breakfast.
Campfire Pie Iron Sandwich Cooker
---
Steps To Make Egg In A Hole
Step 1. Cut a hole in the bread slice. You'll want about a 3-inch diameter hole in the center of the slice. Just use a knife to cut the hole … it doesn't need to be perfectly round but if you do want it to be an exact circle, you can use a cookie cutter, biscuit cutter or drinking glass rim to cut out the shape.
Step 2. Melt butter in pan. Some recipe variations call for olive oil but I don't recommend that … it is the butter that makes this recipe taste so good. You are going to get your pan (large skillet or pie iron) heated over a medium heat.
Step 3. Lightly toast the bread. Place the bread in the melted butter and flip it so the bread is lightly toasted on both sides.
Camp Cooking Tip: I like melting butter in a pan then dropping bread slices in the butter to toast them. It is so much easier than buttering the bread first (especially if your butter is hard) and then cutting a hole in bread that is buttered on both sides … that gets very messy.
Step 4. Crack egg into hole. You are using whole eggs that cook just enough to have a runny center so be sure to crack eggs gently so you don't break the yolks. Then, carefully pour them into the hole inside the bread.
Step 5. Season and cook. Sprinkle with salt and pepper. Cook till the egg is slightly firm, about 3 minutes, and flip to cook the egg white on the second side. This recipe is supposed to have a runny fried egg but if you like your eggs a little less runny, just cook them a little longer.
Step 6. Serve hot and enjoy.
---
What To Serve On The Side
Some cultures like serving scrapple on the side, we like bacon or sausage links. If you really want to take this dish to the next level try serving some candied bacon, country ham and hash browns with it too.
---
Recipes Similar To Egg In A Basket
These Camping Breakfast Sandwiches are super simple with a camping hack to make the egg the perfect size and shape to fit on an English muffin. Add some bacon and cheese for a quick and yummy meal. We have tons of camping sandwich ideas you should try.
5 minutes of prep and about 17 minutes of cooking time is all you need to get this Camping Breakfast Skillet recipe on your table!
One of the best things about making Muffin Tin Campfire Eggs is letting each camper pick their own ingredients for their meal. Just set up an ingredient bar filled with meat, cheese and veggie options to make endless egg breakfast combinations.
You only need a few ingredients to make these Baked Eggs In Avocado Cups in your camp Dutch oven. The smooth and creamy avocado is the perfect vessel for making this fun breakfast.
If you're looking for a filling and satisfying morning meal, try this Cowboy Breakfast Skillet that cooks the eggs in a bed of potatoes and sausage all in one pan. You can even make them sunny side up and scrambled at the same time!
Get your FREE printable camping trip & menu planner before you create your next meal plan!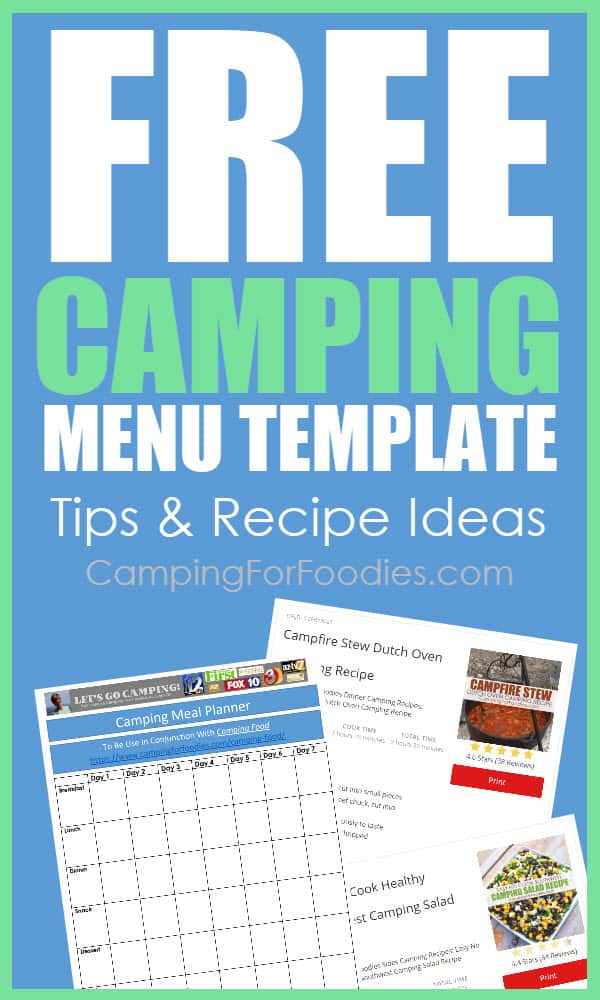 ---
Print This Recipe
Hobo Eggs Camping Recipe
Camping For Foodies Breakfast Camping Recipes: Hobo Eggs Camping Recipe
Ingredients
1

tablespoon

butter

1

slice

of bread

1

egg

Salt and pepper

to taste
Instructions
Use a knife to cut a round hole in the center of a slice of bread, about 3 inches in diameter. If you want to get really fancy, you can use the rim of a glass or cookie cutter to make a perfect shape.

Melt the butter in a non-stick skillet over medium heat. You can use a Teflon type of pan or a cast iron pan that has a good non-stick surface built up from being well seasoned. For an alternative cooking method, substitute a pie iron for the skillet and cook over a campfire.

Place the bread in the melted butter and let it lightly brown on each side, about 1-2 minutes per side. You can also do the same with the cut-out piece and use it for dipping … or … you can just feed it to the birds at your campsite.

Gently crack the egg and carefully pour it into the hole in the bread.

Season the egg with salt and pepper and let it cook until the egg begins to get slightly firm, about 3 minutes.

At this point the egg is almost done, but, you need to flip it over to cook the egg white. For the classic Hobo Egg, you are looking for the egg white to be fully cooked and the yolk to be runny. But, if you like your eggs firmer, just let it cook a little longer.

Serve hot and enjoy.
Nutrition Information
Serving:
1
g
Calories:
240
kcal
Carbohydrates:
13
g
Protein:
9
g
Fat:
17
g
Saturated Fat:
9
g
Polyunsaturated Fat:
7
g
Cholesterol:
217
mg
Sodium:
580
mg
Fiber:
1
g
Sugar:
2
g
---
More Hobo Meals
When you are craving good old-fashioned American comfort food, try this giant ground beef patty that is topped with onions, potatoes, cream of mushroom soup, cheese and French fried onions. Bake till brown and bubbly in your camp Dutch oven.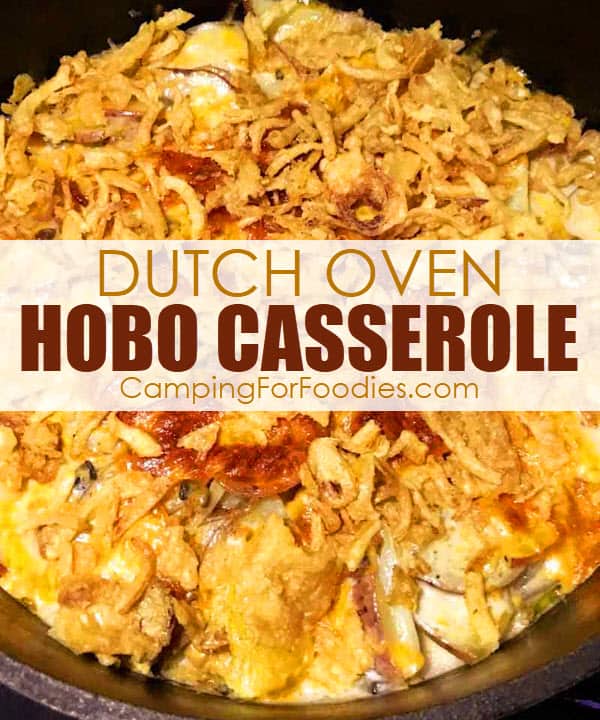 Set up an ingredient bar and let each camper build their own stew packet that is cooked over hot campfire coals.
---
More Yummy Camping Meal Ideas
Start your camp days with amazing breakfast recipes but don't stop there … try new and interesting ideas for every meal of your trip!