Camping Breakfast Sandwiches
Camping Breakfast Sandwiches
Fast, easy and savory Camping Breakfast Sandwiches are the perfect handheld meal to start your fun-filled outdoor day! The secret to making the egg flawlessly fit the shape of the English muffin is cooking it in a canning jar ring! Psst we're compensated…see our disclosures.
Cook Eggs In Canning Jar Ring For Camping Breakfast Sandwiches
Camp Cooking Tip: If you cook the egg inside a Canning Jar Ring Band it will be the perfect size and shape to fit the English muffin for these Camping Breakfast Sandwiches. Just spray a non-stick skillet and the canning jar ring band with cooking spray, then crack the egg and gently add it to the skillet … then top with salt and pepper.
Camping Breakfast Sandwiches (ingredients to make 1 serving, multiply as necessary)
Toast The Muffin
Fry The Egg
When the egg is set, gently remove the ring by lifting it with tongs or a fork (set it aside for the next sandwich). Then, flip the egg and cook to desired doneness. I like my eggs over-easy but my husband hates runny yolks so I cook his a little longer to the over-hard stage. He is really picky about this and even though I think an overcooked egg is totally gross, it is really easy to cook his camping breakfast sandwiches! When I think it's done, just let it keep cooking … LOL!
1 Egg
Salt and pepper to taste
Non-stick cooking spray
Fry The Bacon
Build The Sandwich
1 slice sharp cheddar cheese
Even though we usually camp in our RV with an awesome kitchen, I like cooking these Camping Breakfast Sandwiches outside on my propane camp stove. It makes for easier clean-up and the biggest reason we go camping is to be outside experiencing nature … that includes making our meals! Check out our How To Refill 1 lb Propane Cylinders, Tanks And "Disposable" Small Camping Propane Bottles post!
Coleman Eventemp 3 Burner Stove
Coleman Stove Carry Case
Disposable Bottle Refill Adapter
&
Even though handheld Camping Breakfast Sandwiches allow you to eat on the run, you may want to sit down and relish in a relaxing morning around your campsite. If that's the case, don't forget a good cup of camp coffee and secure your tablecloth in case it gets windy.
Coghlans Vinyl Tablecloth
Coleman Tablecloth Clamps
Camping Tableware Set
&
No time to look for recipes, create a menu and write a grocery list? No Problem! Get our 3-Day Dutch Oven Camp Menu Plan here!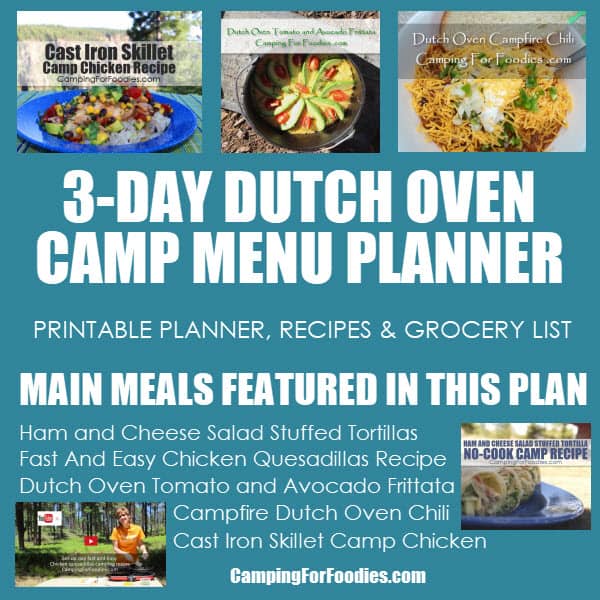 We've got great camp cooking tips in these other posts:
 Funny Apron
 Cutting Mat
 Mat Set
 Shaker Set
 Fun Hammock
&
If you need camping recipes and menu ideas, you can find them here at the Camping For Foodies Camping Recipes list.
Don't miss a thing…sign up for Camping For Foodies email updates!
Your purchase of our products will help support World Vision ® Building a better world for children.