One-Pot Pork Chops With Vinegar Peppers And Potatoes Recipe
This one-pot Pork Chops With Vinegar Peppers And Potatoes Recipe is a classic Italian cooking comfort food. The simple pan-fried pork chops are one of my favorite Dutch oven camping recipes that can be made on a stove top or over a campfire.
Psst we're compensated…see our disclosures.
How I've Made It Simple For Camping
I can't take you to Calabria (located in the "toe" of Italy's boot-shaped peninsula) but these Calabrian pork chops are the next best thing! This classic Italian food recipe usually requires multiple dishes and more labor than most camp cooks are willing to undertake.
The chops are typically dredged in flour then pan fried in a large skillet.
The potatoes are usually par-boiled in another pot.
The veggies are cooked in yet another sauté pan.
That's too many dishes for the average camper.
The vinegar peppers are often homemade.
My recipe will satisfy your taste buds with tons of flavor and super tender pork chops and golden potatoes that are cooked together in a single piece of equipment. You can use a camp Dutch oven or a skillet with a tight-fitting lid.
I use store-bought jarred peppers but if you want to use a homemade version, you can always create your own cherry vinegar peppers recipe.
A basic recipe requires you to toss together a few ingredients like some cloves of garlic, white wine vinegar, red wine vinegar, white balsamic vinegar, fresh rosemary, oregano or cilantro, sea salt, sugar and cherry peppers. Use hot or sweet peppers depending on how spicy you want your vinegar pepper mixture. Here's a basic recipe for pickled cherry peppers.
---
Recipe Prep
When you are preparing one pot camping meals, prep all of your ingredients before you get into the full swing of the cooking process. Prepare the potatoes, bell pepper, onion, cherry peppers and garlic, as directed.
---
Cooking Methods & Equipment
I prefer making this as one of our camp stove recipes because it's easier to manage this particular cooking process with an easy-to-regulate flame.
You can prepare this as one of our campfire recipes. Just get enough hardwood burning to develop a nice bed of hot coals that will last for approximately 1 hour of cooking time.
---
Recipe Steps
Step 1. Prepare your ingredients, heat source and equipment as directed.
You'll need to slice some potatoes, bell pepper, onion, cherry peppers and mince some garlic.
Step 2. Cook the potatoes. In a single layer, place the potatoes in the pot, cut side down in some of the hot oil. Then, season with salt and pepper. When tender, remove from pan and transfer them to a plate, set aside and cover to keep warm.
Camp Cooking Tip: Make sure potatoes are tender before removing from the pan otherwise you'll have to extend the cooking time to get them tender which will result in a dry, rather than juicy pork chop.
Step 3. Cook the pork chops. Use a paper towel to pat the chops dry then season with salt and pepper. Increase the heat, place remainder of the oil in the pan and sear chops on all sides until they are a nice golden brown color. Remove them from the pan, place over potatoes and cover to keep warm.
Step 4. Cook veggies. Cook the onion and bell pepper slices until they're softened. Then, add the cherry peppers and garlic, stirring and cooking till fragrant.
Step 5. Add liquid. Pour the vinegar brine into the pot, stirring to combine.
Step 6. Finish cooking chops and serve. Place chops and potatoes back into pan and cover. Cook to desired doneness (145 degrees F for rare, 170 degrees F for well done). Serve with pan sauce and top with fresh basil leaves, if desired.
---
What To Serve With This Recipe
Some recipes use white wine to deglaze the pan but I'd rather keep the alcohol out of the food and serve a nice chilled glass of dry white wine on the side for those who drink it.
This meal pairs well with a simple side salad or a steamed green veggie, like green beans or broccoli.
Get your FREE printable camping trip & menu planner before you create your next meal plan!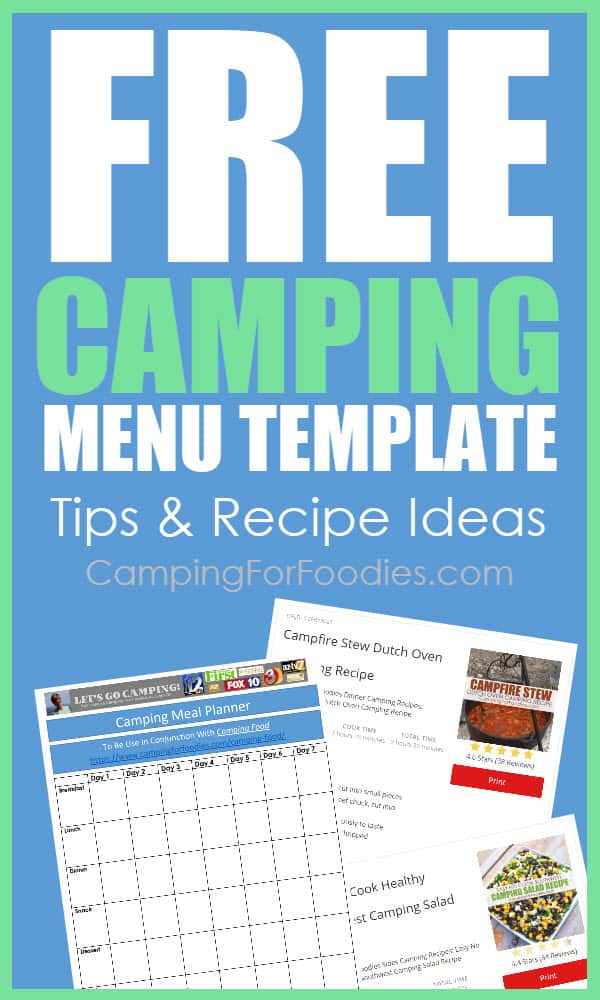 ---
Scaling Servings
Browning the pork chops and the potatoes is an important part of this recipe so you shouldn't crowd the pan. If you need to feed more people, you'll need to make additional servings in a really large skillet or just do additional servings in an entirely separate large frying pan.
This is an easy recipe to scale down when preparing camping meals for two.
---
Leftovers
If you have leftovers put them in a resealable bag and keep refrigerated because they make a wonderful hash for breakfast. Just cube up the potatoes and pork chops, melt a little butter in a medium frying pan and cook until warmed through and slightly crispy.
---
Print This Recipe
Pork Chops With Vinegar Peppers And Potatoes Recipe
Camping For Foodies Dinner Camping Recipes: This Pork Chops With Vinegar Peppers And Potatoes Recipe uses only one pot and can be cooked on a stove or over a campfire.
Ingredients
1.5-2

pounds

center cut bone-in pork chops, medium thickness

(may substitute boneless pork loin chops, cooking time will be reduced a bit)

1

pound

baby potatoes

sliced in quarters

1

large red bell pepper

seeded and cut into large dice

1

onion

thickly sliced

4

cloves

garlic

minced

12

small sweet cherry peppers packed in vinegar

seeded and sliced into thin rings (may substitute hot cherry peppers if you like really spicy food)

1/4

cup

reserved vinegar brine from peppers

1/4

cup

olive oil

divided + more for pan, if needed

Kosher salt and freshly ground black pepper

to taste

2

fresh basil leaves

torn (if desired)
Instructions
Prepare ingredients, heat source and equipment as directed. Heat large cast iron skillet or Dutch oven over medium-high heat, then add 2 tablespoons of the oil to the pot.

After the oil is hot, turn heat down to medium heat and place the potatoes in a single layer in the pot, cut side down, season with salt and pepper. Let the potatoes cook until they begin to brown, then stir them and continue cooking until they are just tender. (see * Note)

Remove the cooked potatoes from the pan and set aside, covered on a large plate.

Pat dry chops with paper towels. Season pork chops with salt and pepper. Increase to medium-high heat and add the remaining 2 tablespoons olive oil to the skillet or Dutch oven. Place pork chops into the hot oil to pan fry, let them develop a browned crust. Once the chops begin to release from the pan, they will be ready to flip, about 5 minutes. Turn the chops and brown the second side, about 3 minutes. (see ** Note)

Remove meat and transfer pork chops to plate on top of potatoes, cover to keep warm.

If the pan is dry, add a little more oil (this may not be necessary). Add onion slices and bell pepper to the pot, stirring until they are softened, scraping up the caramelized bits from the bottom of the pan.

Next, add the cherry peppers and garlic to the pot and continue cooking until the garlic is fragrant, this will only take about a minute, don't let it go further, you don't want to burn the garlic. Add the reserved vinegar brine from the pepper jar to the onion, pepper and garlic mixture.

Return chops, juices and potatoes back into the pan, cover with tight-fitting lid to simmer. Cook chops until center of thickest section of chop registers at least 145 degrees F on an instant-read thermometer for rare, or, up to 170 degrees F if you like your meat well done.

Serve hot, pour pan sauce over the top. Sprinkle with torn basil leaves, if desired.
Nutrition Information
Serving:
1
g
Calories:
520
kcal
Carbohydrates:
30
g
Protein:
40
g
Fat:
26
g
Saturated Fat:
6
g
Polyunsaturated Fat:
3
g
Monounsaturated Fat:
15
g
Trans Fat:
1
g
Cholesterol:
114
mg
Sodium:
847
mg
Potassium:
1332
mg
Fiber:
5
g
Sugar:
7
g
Vitamin A:
1717
IU
Vitamin C:
68
mg
Calcium:
54
mg
Iron:
3
mg
---
Similar Recipes
This is one of the fastest from-scratch camping dinner recipes you can make. It only needs 5 minutes to prep and 35 minutes to cook!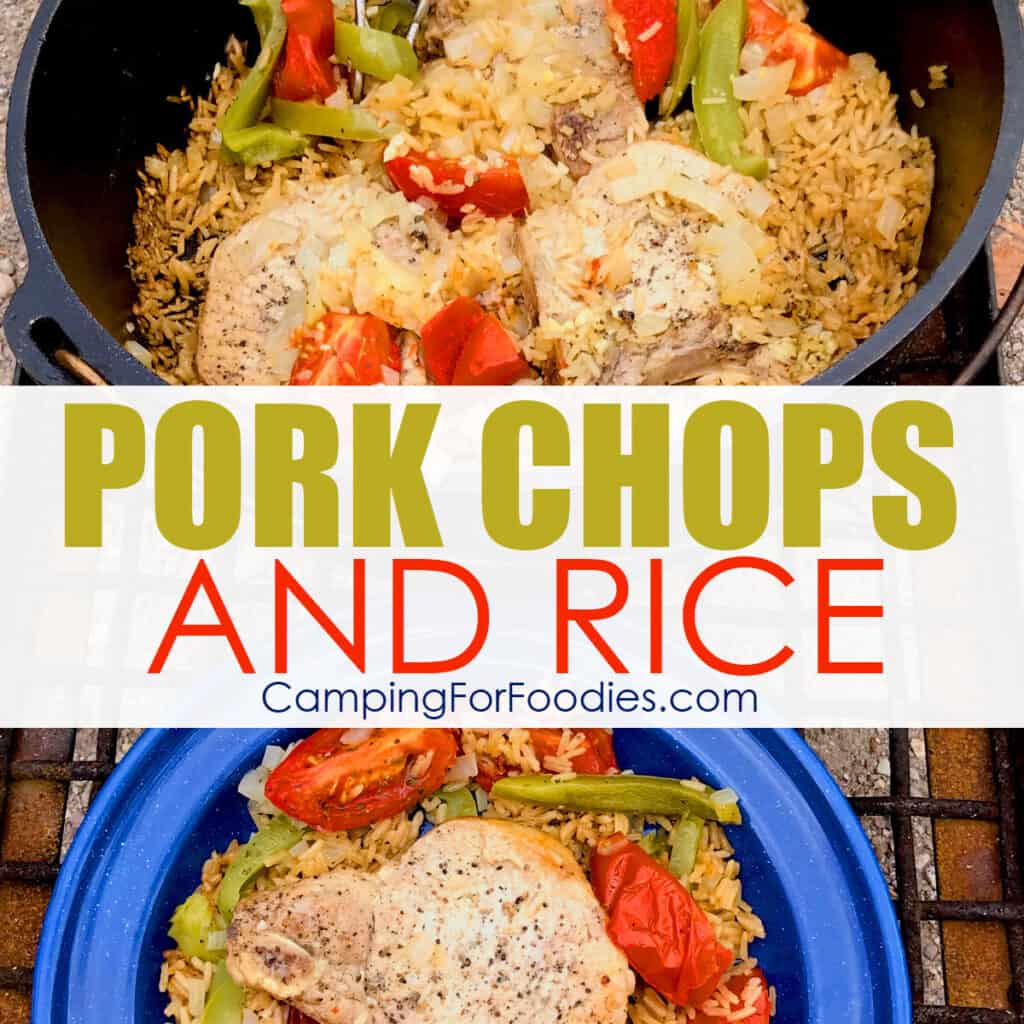 These chops have slightly sweet and salty flavors. The combination of chicken broth, cider vinegar and brown sugar are key. I like to serve a small bowl of rustic mashed potatoes on the side.
How could a recipe that requires 12 hours and 35 minutes be an easy one? Because 12 hours of that time is marinating the meat! Prep is only 5 minutes and cooking takes only 30!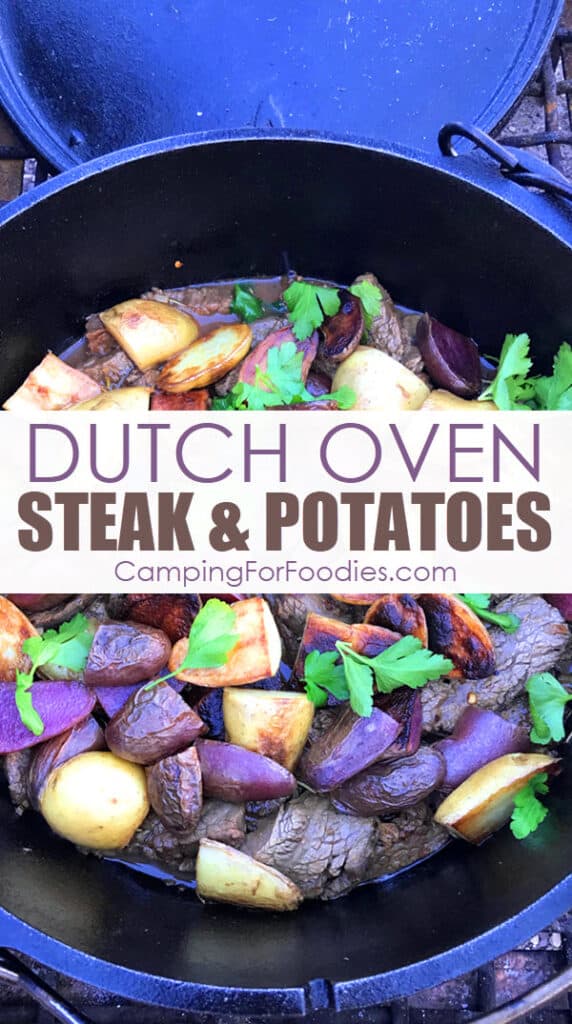 So much flavor comes from the bone-in skin-on chicken thighs in this gluten free camping food option. The meal includes potatoes, garlic, onion, fresh rosemary, lemon slices and lemon juice for a really robust flavor combination.
You don't have to serve brats on a bun, try this simple meal that combines the popular sausage with onions, peppers and potatoes.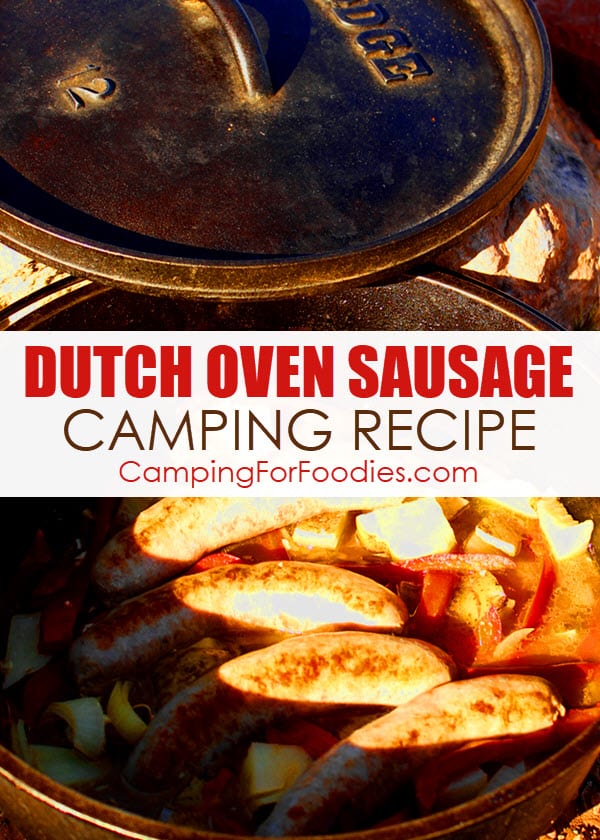 Bacon is the secret ingredient to adding so much flavor to boneless skinless chicken breasts! We've added onion, garlic, potatoes and carrots to make a full meal.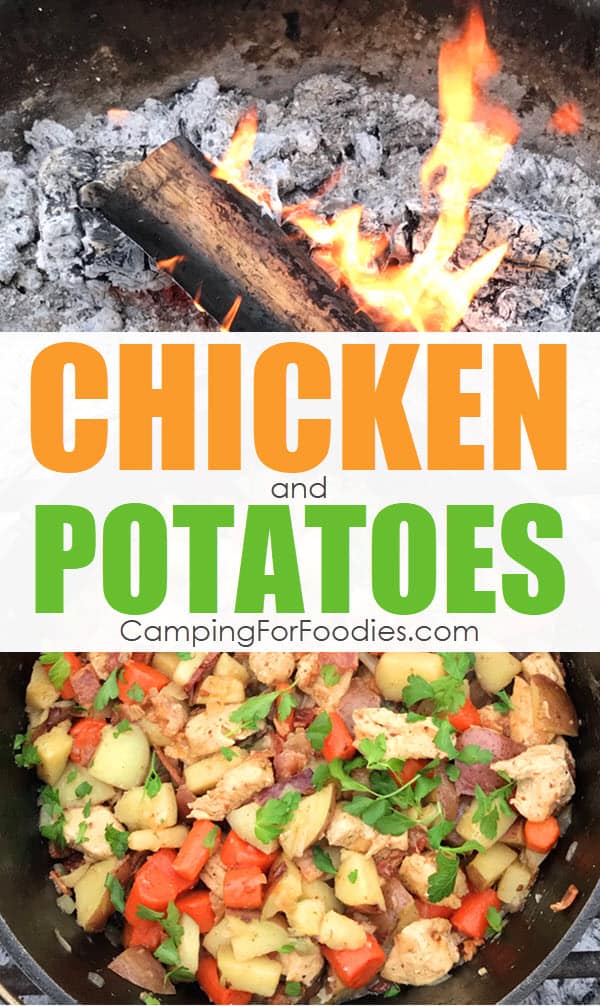 The creamy sauce in this casserole pasta recipe is homemade and worth it. It can be made in a regular baking dish or in a cast iron Dutch oven.
---
More Yummy Meal Ideas
Try some new and exciting food ideas on your next menu.