Red Velvet French Toast: Easy, simple & inexpensive homemade recipe
Psst we're compensated…see our disclosures.
Recipe Prep
When I am making easy camping meals, I try to reduce the amount of prep work. For this recipe, you'll use brioche bread. If you buy it pre-sliced, you will just need to cut the slices in half on the diagonal (like you cut a sandwich into two triangles). Or, you can cut the slices into fun shapes like hearts (one of my fun Valentine camping ideas) or stars (cute for patriotic holidays like Memorial Day, July 4th, Labor Day and Veterans Day) or Christmas trees (adorable for a camping themed Christmas.)
Just use a sharp knife to cut free-form shapes, like we did with our hearts. Alternatively, you can use a cookie cutter. Just make sure the designs are not too intricate, small pieces probably won't survive the dipping, cooking and flipping processes.
---
Cooking Methods & Equipment
If you are making this as one of our easy campfire recipes, you'll want a nice bed of hot coals for cooking. I like using a cast iron griddle that is set above the coals on a campfire grate.
Making this as one of our camp stove recipes or on an RV stove top are options too. You'll want to have your stove on a level surface. You can use cast iron cookware or a non-stick pan.
---
Easy For Camping
A typical Red Velvet French Toast recipe includes making the French toast slices then stuffing two slices with a thick vanilla bean cheesecake filling to make a sandwich. That is not easy and gets messy, especially for camp cooking. So, my recipe uses a sweet cream cheese glaze that is simply drizzled over the French toast slices.
---
Recipe Steps
Step 1. Prepare your ingredients, heat source and equipment as directed.
Step 2. Make the icing. Combine the butter, cream cheese, powdered sugar, vanilla extract and milk in a medium bowl. Then set icing aside while you make the French toast.
Camp Cooking Tip: Some people like to use 1 teaspoon vanilla bean paste but that is not always easy to find and can be quite expensive so I prefer to use vanilla extract because it is readily available and affordable.
Camp Cooking Tip: The icing can be made several days in advance and kept in a fridge or cooler until you are ready to serve. If you do this, take it out of the refrigerator about an hour before you start cooking and allow it to get to room temperature so it drizzles nicely and is not too cold on the hot French toast.
Step 3. Heat your pan. Heat a large cast iron griddle over low-medium heat using campfire coals. Alternatively, you can use a large nonstick pan or skillet with a camp stove, conventional stove or RV stove.
Step 4. Prepare the egg wash. You are going to beat the eggs in a large shallow bowl, then blend in the buttermilk, cinnamon, sugar, salt, vanilla extract, cocoa powder and red food colouring.
Camp Cooking Tip: If you don't want to carry buttermilk to the campsite for one recipe, you don't have to. Just measure out a cup of regular milk, then, add 1 tablespoon vinegar set aside for about 5 minutes. Let it form into little lumps, the chemical process is called curdling, and use in the recipe as a substitute for buttermilk.
Step 5. Prepare the griddle. Liberally coat the cooking surface with butter and let it melt.
Step 6. Dip the bread slices. Dip bread slices into egg mixture making sure it is completely saturated, then, flip to coat second side. Let the excess drip off before placing it on the hot griddle.
Camp Cooking Tip: Be careful not to tear the bread as you are handling it after it gets dipped into the egg mixture, especially if you cut the bread into delicate shapes, like hearts and stars.
Step 7. Cook till golden. You are going to fry the egg-dipped bread halves in the hot butter until it is "sort-of golden brown" … because of the red food coloring and cocoa powder, the color of the cooked French toast will have a slightly charred, black-ish color rather than a golden brown color. Flip to toast second side, total cooking time will be about 3 minutes per side.
Camp Cooking Tip: Depending on the size of your griddle or skillet, you should be able to cook 6-8 bread slices at the same time. If you need to work in batches, set the cooked pieces on a warm plate and cover to keep warm until serving.
Step 8. Lay toast halves on plate, drizzle with icing and dust with powdered sugar. Top with berries, if desired.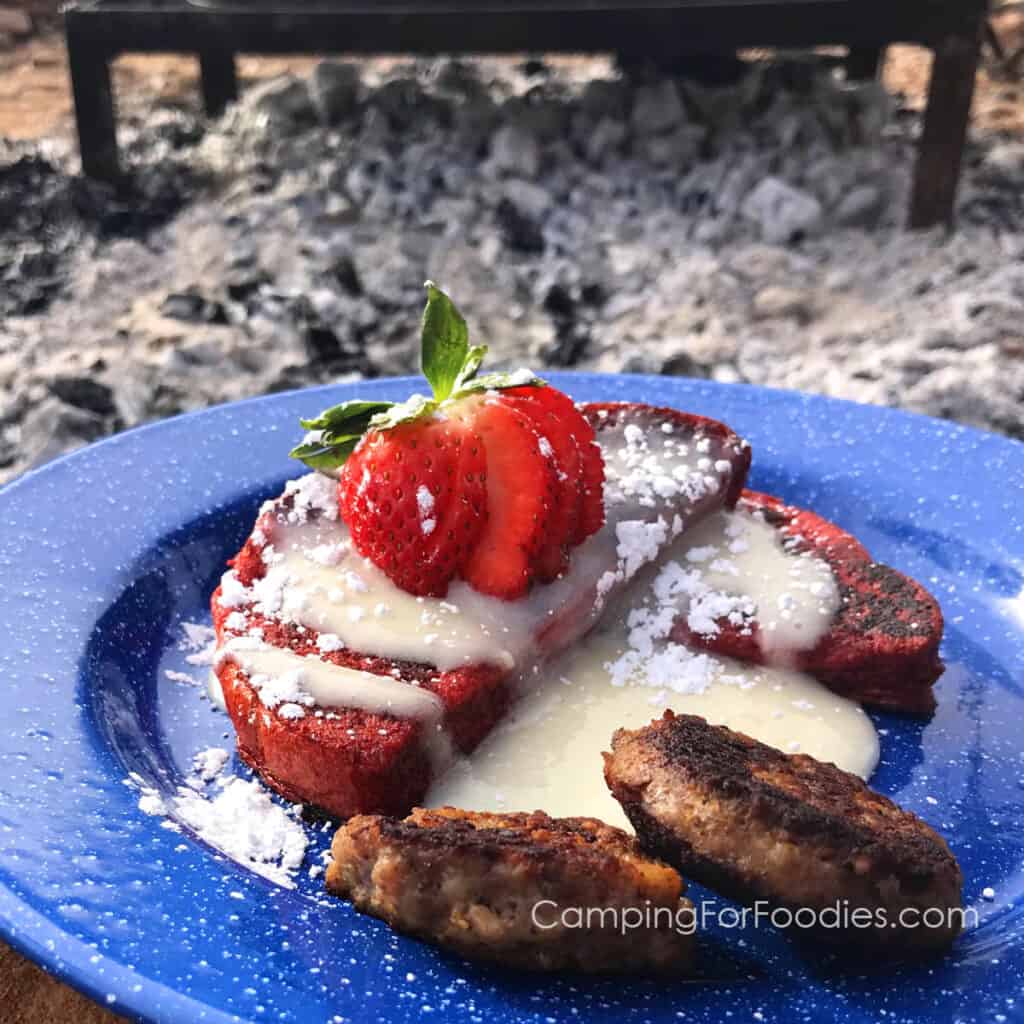 ---
What To Serve With This Recipe
You know my husband is a bacon and sausage lover but if you want to keep this as one of your favorite vegetarian camping recipes, you can serve it with a plant-based breakfast sausage patty. It is nice to serve something savory on the side to balance out the sweetness of this dish.
---
Scaling Servings
Making a big red velvet cake is not an option when making camping meals for two, that's why this French toast recipe is a great alternative. It is easily scaled down to feed one or two people.
If you need to feed a large group, you'll need to scale the recipe up and work in batches. Keep the slices warm by placing them on a sheet pan and covering with foil to keep warm.
---
Similar Recipes
Making one big batch of French toast is simple with this Dutch Oven French Toast that bakes in your camp oven. It features winter spices including cinnamon, nutmeg and cloves and it also includes a sweet powdered sugar glaze.
This Campfire French Toast has the best texture because it is made from thick slices of Texas toast.
Have fun cooking on sticks over your campfire with this Pie Iron French Toast.
No yeast and no rolling is required with these Dutch Oven Cinnamon Rolls. The secret ingredient to making them easy: ready-to-bake dinner roll dough from the freezer section of your grocery store!
Thinking you want a similar recipe to serve as one of your camping desserts?
These super easy Dutch Oven Chocolate Lava Cakes are individual servings made in cupcake liners. The gooey, chocolatey lava flows from these scrumptious cakes you'll swear came from a 5-star restaurant.
---
---
More Yummy Meal Ideas
Make every meal of your camping trip a delicious one!