Easy Campfire Pie Iron French Toast: Thick & Fluffy Texas-Style
Yummy pie iron recipes are a fun way to make your morning meal. This Pie Iron French Toast is one of the most exciting camping breakfast ideas kids enjoy making and eating. Adults love the flavor and texture of the thick Texas toast that's spiced with cinnamon and nutmeg. It's a win-win for the entire family!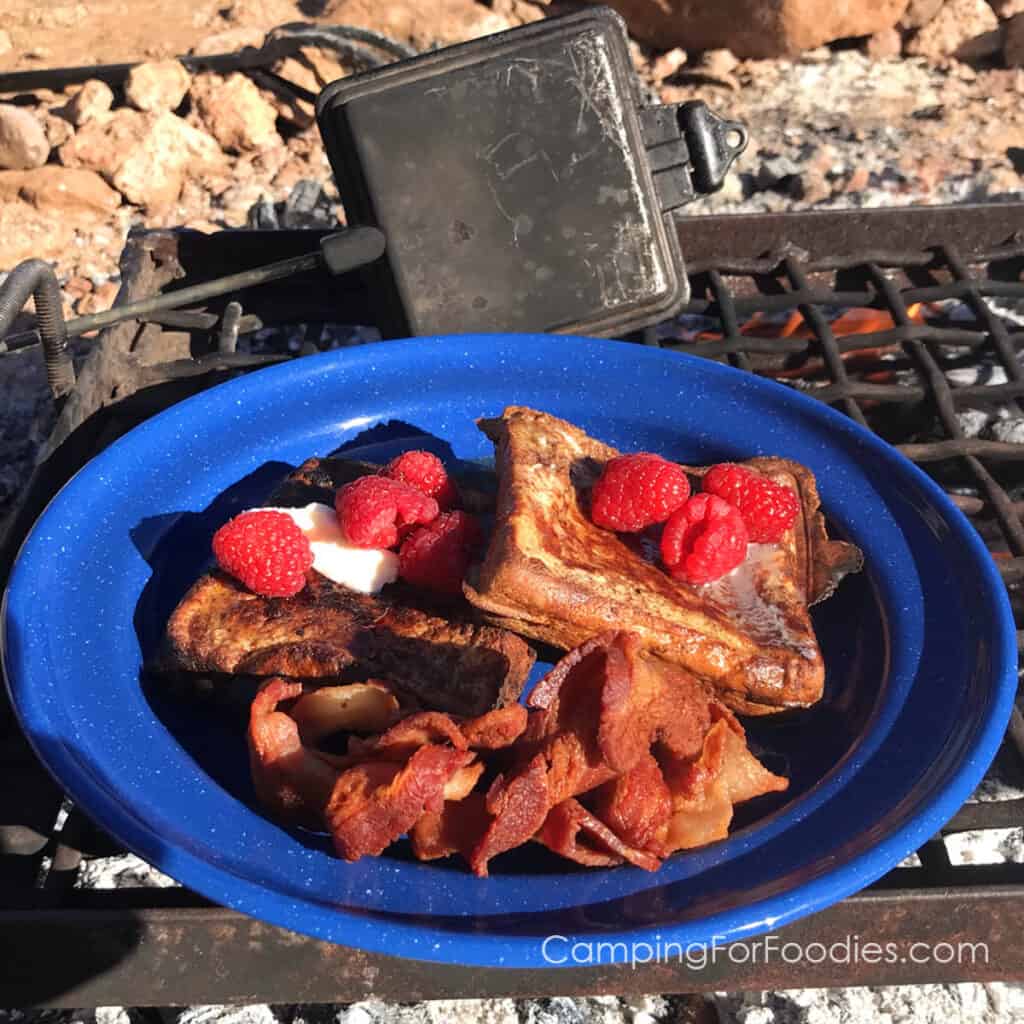 Psst we're compensated…see our disclosures.
Cooking Methods & Equipment
There are a few essentials everyone seems to have in their campfire cooking kit. One of them is a pie iron camp cooker. It is best if each person has their own iron, if you are sharing irons, you'll be eating in shifts.
This is Texas-style French toast made with one thick Texas toast bread slice that is cooked in the campfire pie iron (one at a time). The result is a thick and fluffy French toast.
This is one of our easy campfire recipes, so you'll need to prep the cooking coals by starting your morning fire early enough to have time for the wood to burn down and produce hot coals for cooking.
---
Recipe Steps
Step 1. Prepare your ingredients, heat source and equipment as directed. Set a nice bed of campfire coals on the side of your fire ring for cooking. Keep additional logs burning on the other side of the fire ring to continue to produce additional coals for cooking and to keep you warm when you're cooking winter camping recipes.
Pre-heat pie iron over hot coals.
Camp Cooking Tip: If you are using square bread, a square-shaped pie iron results in less waste compared to using a round-shaped pie iron that requires you to cut away the excess bread.
Step 2. Prepare egg mixture. Place the eggs, milk, vanilla, cinnamon, nutmeg and sugar in a shallow bowl, then, whisk together to combine.
Step 3. Prepare iron. Use non-stick spray to lightly coat the inside of the entire iron.
Step 4. Coat slices of bread in egg mixture. Texas toast is thick so you'll only use one slice of bread in the pie iron. Dip the bread into the egg mixture, then, flip it over to coat the second side. Let the excess mixture run back into the bowl.
Step 5. Cook the toast. Place the bread into the hot pie iron. The exact dimension of pie irons vary so if the bread is slightly larger than the cavity of the iron, use a fork to push the bread slice to fit inside. Close lid, latch the handles together and trim off excess bread, if necessary.
Cook over hot campfire coals about 4 minutes then check to see that the toast is getting a nice golden brown color. Then, flip the iron to cook the other side until it is nicely browned too.
Step 6. Serve hot. Open the iron and turn out the toast onto a serving platter. Top with butter immediately to let it melt a bit, then add syrup or your favorite toppings like fresh berries.
Alternative topping: If you're tired of using maple syrup on pancakes, French toast and waffles, try this Strawberry Banana Compote that combines fresh strawberries, banana slices, brown sugar and orange juice.
---
Variations
The really nice thing about French toast is the fact that you can make it sweet or savory.
Try different types of breads and toppings to create wonderful vegetarian camping recipes.
Try using challah bread and topping it with a savory herb butter like my Basil Butter Recipe. You can make different combinations of herb butters using parsley & chives or garlic & rosemary.
A nice cinnamon swirl bread tastes fantastic with a drizzle of a simple powdered sugar glaze or cinnamon honey butter.
---
Pairings
My family loves bacon or breakfast sausages on the side with sweet breakfast items. But, I also have family members who don't like anything sweet for breakfast so I need to offer savory easy camping meals too.
These Hobo Eggs are quick, fun and can be made in a skillet or pie iron. You cut a disc shape in the center of a slice of bread, drop in an egg and toast the entire thing in butter. Add a little kosher salt and pepper and you have a yummy simple meal that is like a fried egg inside a piece of grilled cheese toast (without the cheese)!
---
Similar Recipes
Try this Campfire French Toast that is also made with thick Texas toast but it's toasted on a griddle rather than cooked individually in campfire irons.
Pie iron recipes make wonderful camping meals for two because you're preparing individual servings. But, if you want to feed a larger group of people at the same time, try a casserole version like our Dutch Oven French Toast.
If you think this classic breakfast favorite is only fancy when you make a stuffed French toast, think again. This Red Velvet French Toast makes a slice of brioche bread taste like a gourmet treat that is topped with cream cheese icing.
Take a cup peanut butter and spread some on a whole wheat tortilla, then top with a sliced banana and some almonds, seeds and dried berries for a quick and simple healthy breakfast, snack or dessert. This Fruit And Nut Peanut Butter Stuffed Tortilla is perfect food to pack for day-hikes.
These Dutch Oven Cinnamon Rolls require no yeast and no rolling because they start with frozen dinner roll dough that is combined with walnuts and cinnamon then topped with frosting made with confectioner's sugar and cream cheese. These are great for breakfast or dessert.
The most classic camping dessert recipes have been enjoyed by Boy Scouts and Girl Scouts for decades. Butter one side of two pieces of bread, place buttered side in each hole of the pie maker, add a spoonful of apple pie filling, toast over campfire coals and top with ice cream for a yummy treat.
---
Print This Recipe
Pie Iron French Toast
CampingFor Foodies Breakfast Camping Recipes: This Pie Iron French Toast is a yummy and fun morning meal.
Ingredients
4

eggs

beaten

1/4

cup

milk

1/2

teaspoon

vanilla extract

1

teaspoon

ground cinnamon

1/4

teaspoon

ground nutmeg

2

tablespoons

sugar

8

slices

Texas toast bread

Non-stick cooking spray

1/2

cup

maple syrup

warmed

4

tablespoons

butter

Fresh berries

Optional for serving (blueberries, strawberries or raspberries are great choices)
Instructions
Preheat pie iron over campfire.

In a shallow bowl, whisk together the eggs, milk, vanilla, cinnamon, nutmeg and sugar.

Spray inside of pie iron with non-stick cooking spray.

Dip bread into egg mixture, flip to coat second side, letting excess egg wash drip off back into bowl. (You are only cooking one slice of thick Texas toast in the pie iron at a time.)

Place bread into the pre-heated pie iron and use a fork to push the bread slice into the iron if the slice is slightly larger than the iron. CAUTION: Don't burn yourself on the hot pie iron.

Close the latch and trim off any excess bread that doesn't fit inside the iron.

Cook both sides over hot campfire coals until they are golden brown, about 4-5 minutes per side.

Turn out onto plate, top with butter and syrup and serve hot. Add fresh berries, if desired. Camp Cooking Tip: To serve everyone at the same time, repeat cooking process and cover slices on a serving plate to keep warm.
Nutrition Information
Serving:
1
g
Calories:
589
kcal
Carbohydrates:
69
g
Protein:
12
g
Fat:
30
g
Saturated Fat:
13
g
Polyunsaturated Fat:
1
g
Monounsaturated Fat:
5
g
Trans Fat:
1
g
Cholesterol:
195
mg
Sodium:
592
mg
Potassium:
178
mg
Fiber:
2
g
Sugar:
35
g
Vitamin A:
614
IU
Vitamin C:
1
mg
Calcium:
94
mg
Iron:
13
mg
---
More Yummy Meal Ideas
Every camp meal can be simple and delicious!