How many creative ways can you think of to enjoy a camping themed Christmas? You might think it is a crazy idea to have an RV Christmas tree in your tiny home on wheels because floor space always seems to be evaporating … but it is possible … and probably easier than you think!
Psst we're compensated…see our disclosures.
How To Have A Camping Christmas Tree In Your RV: 6 Styles
When you want to enjoy the holiday season in your camper, whether you are living in an RV full time or just a weekender, you can appreciate a tree as part of your Christmas decor.
These 6 styles of indoor camper Christmas trees offer ingenious options that fit all different RV sizes.
---
Tabletop Christmas Trees
The most common option is using a small Christmas tree for RV tables and counters. Holiday tabletop trees are typically about two feet tall and they are artificial trees. These are really good options for small campers and caravans that can afford to surrender a little bit of counter space for the season.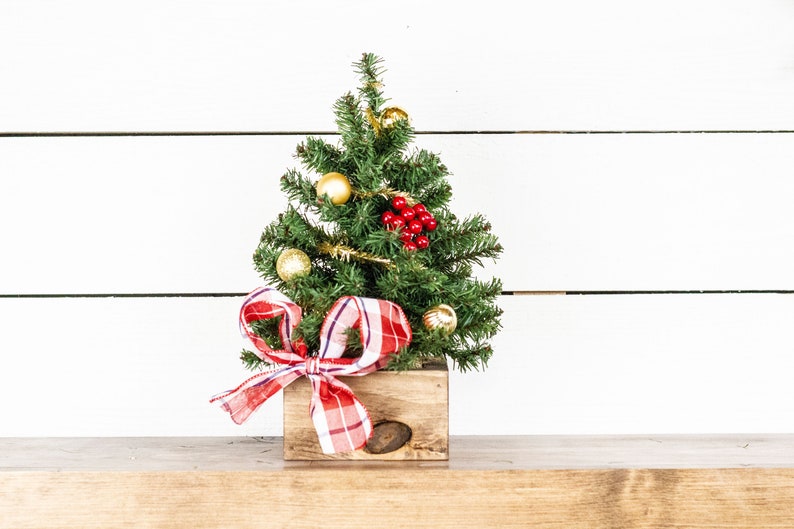 Small Tabletop Christmas Artificial Tree

Tabletop 24-Inch Christmas Tree Artificial Pine On Wood Base
More unique options include collapsible wooden trees and live rosemary small bushes that are shaped like a Christmas tree. Personally, I love the rosemary option because it doubles as a fresh herb for cooking too!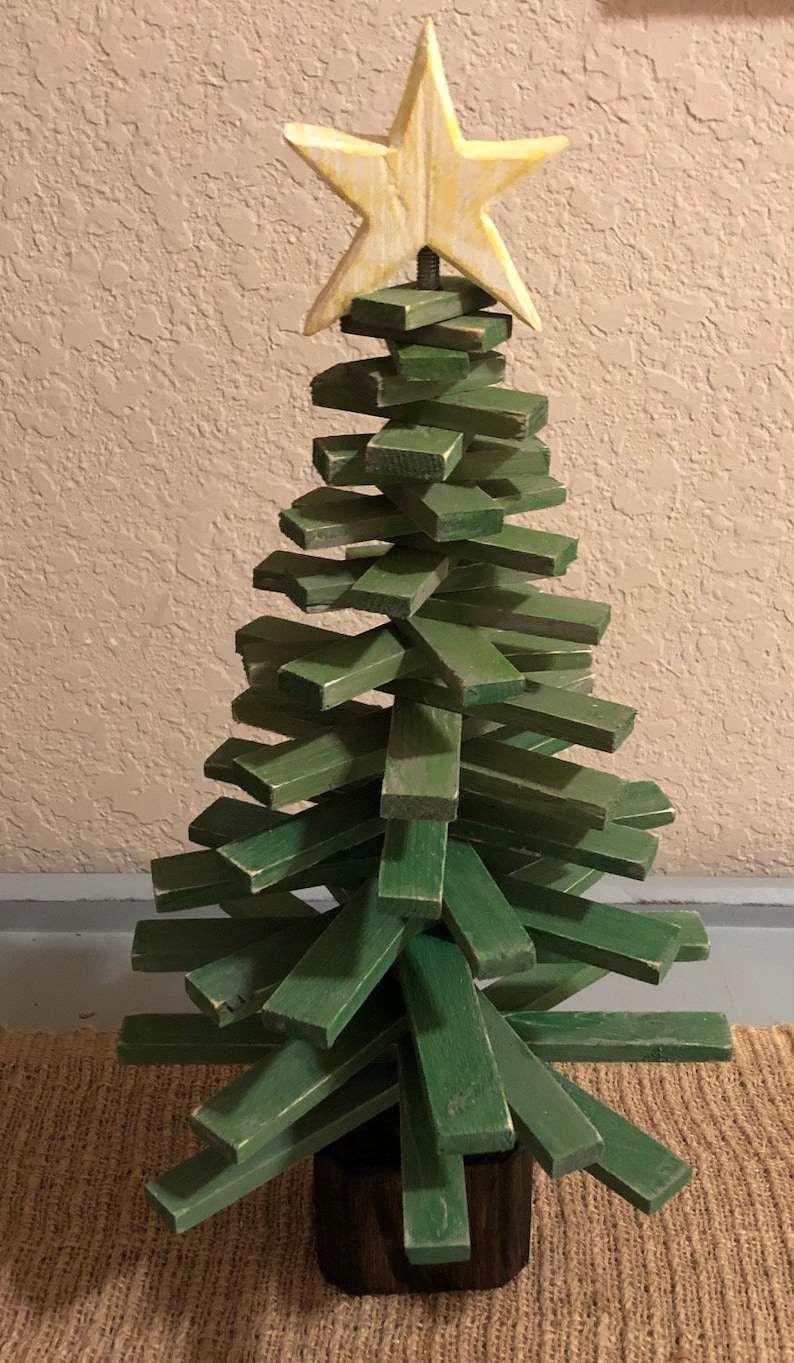 Collapsible Table Top Christmas Tree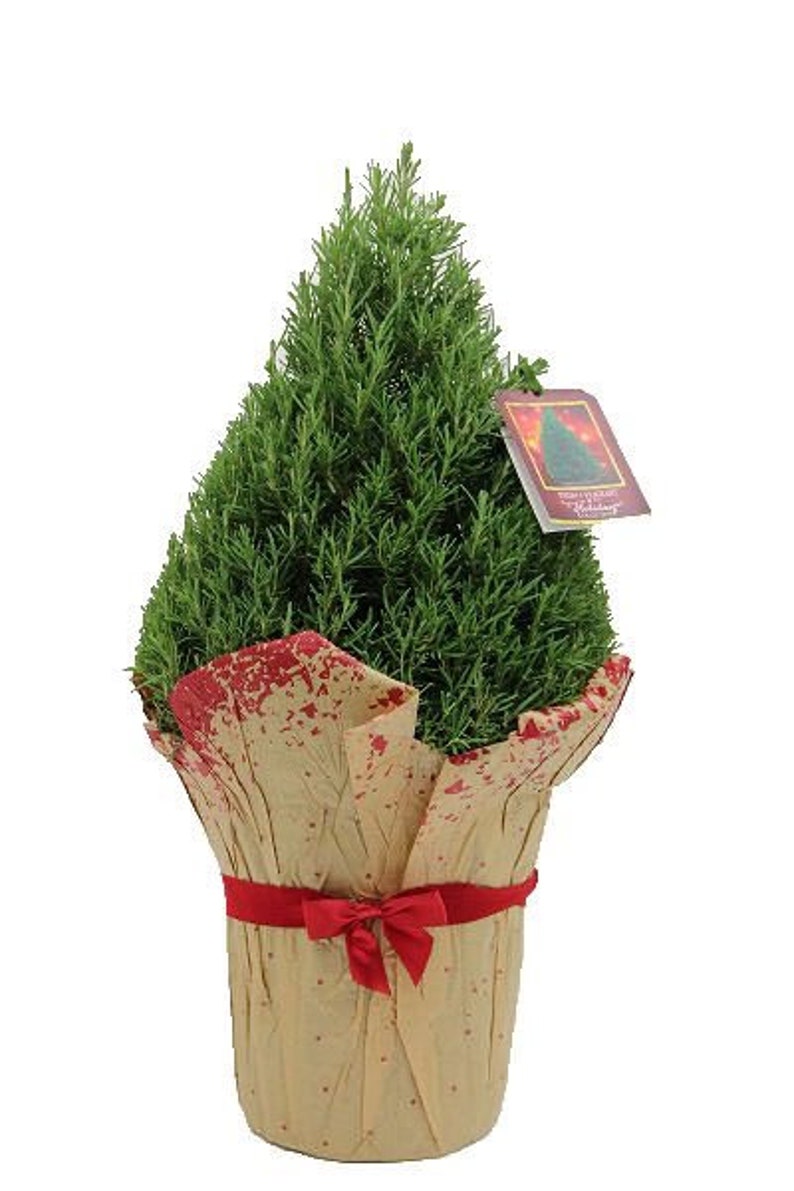 6-Inch Pot Live Rosemary Christmas Tree

---
Collapsible Christmas Trees
If you want a full sized Christmas tree for RV camping over the holiday, collapsible designs are brilliant! They come in options as small as 2 feet high and go all the way up through a 7 foot tall size tree.
Many are pre lit and pre decorated … and you just pull them up so the set-up only takes a few minutes. The amazing thing is how quickly and easily they collapse for storage in small boxes!
Holiday Peak Pull-Up Christmas Tree, Pre-Lit and Fully Decorated, Collapses for Easy Storage
Collapsible Pop Up Christmas Tree Stands 6 Feet Tall And 1.64 Feet Diameter Base
Pop-Up Tree Video
These pull-up trees are fully decorated, pre-lit trees. Check out the video to see how simple pop up Christmas trees are to use.
Pull-Up Christmas Trees, Pre-Lit And Fully Decorated
Collapses For Easy Storage
---
Christmas Pencil Trees
Do you like the idea of full sized pop up trees but don't have enough floor space? Narrow profile collapsible pencil Christmas trees are the perfect solution … they come in tons of color options too.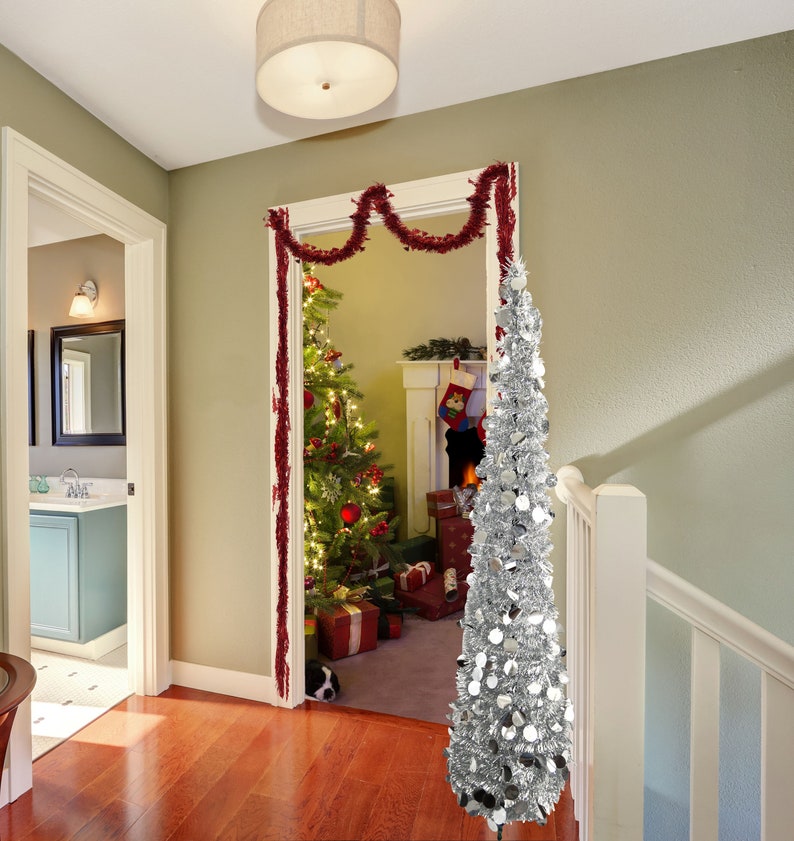 5 Foot Pop Up Christmas Tinsel Tree Collapsible

Pop Up Colorful Sequin Pencil Christmas Tinsel Tree
---
Wall-Hugging Christmas Half Trees
Another clever solution to have a tall Christmas tree for campers that have limited space is to use a half tree … yes, you heard that right! It is like the tree is sliced down the center so you only get the front side. And really … who decorates the side of the tree that is backed-up to a wall anyway?
Artificial Christmas Half Tree, Warm White LED Lights And Stand
60-inches Tall And 14-Inches Wide
---
Wall Trees For Christmas
If you can't afford to lose any floor space but you have wall areas where you can hang decorations, you can use wall stickers to add a tree that requires absolutely no space!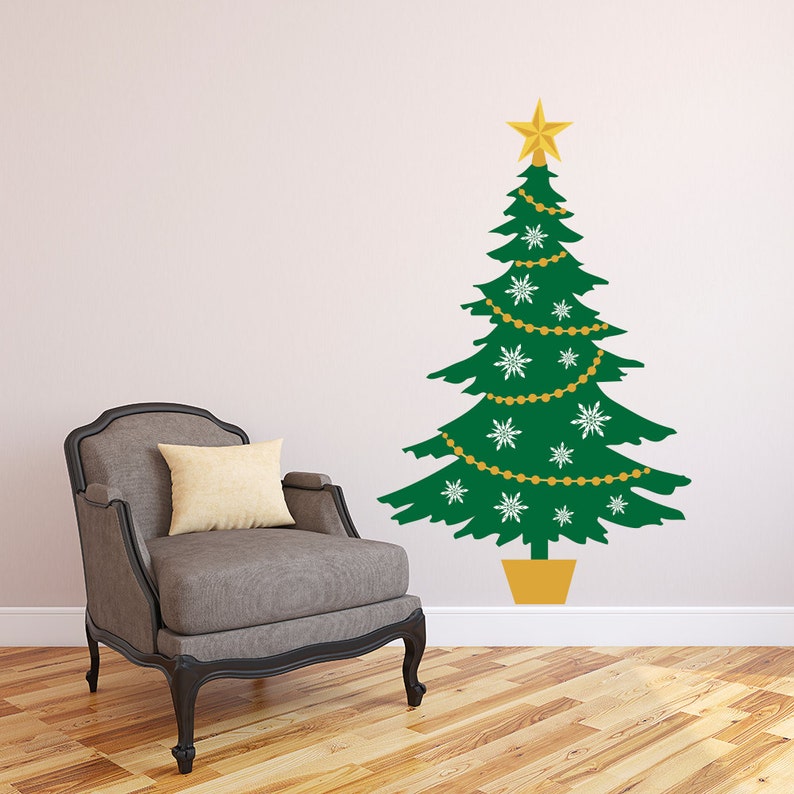 Christmas Tree Wall Sticker

Christmas Tree Wall Decals
Some 3-D wall trees add unique decorations without requiring much space at all. A wooden ladder tree provides a natural, rustic feel and a metal art tree has a more stylish touch.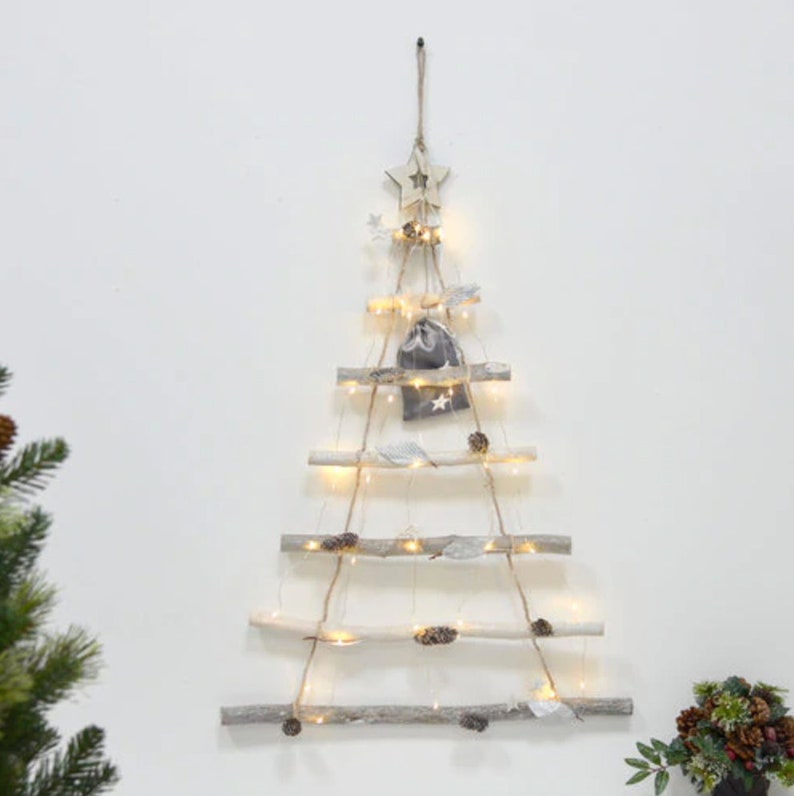 Light Up Hanging Wooden Ladder Christmas Tree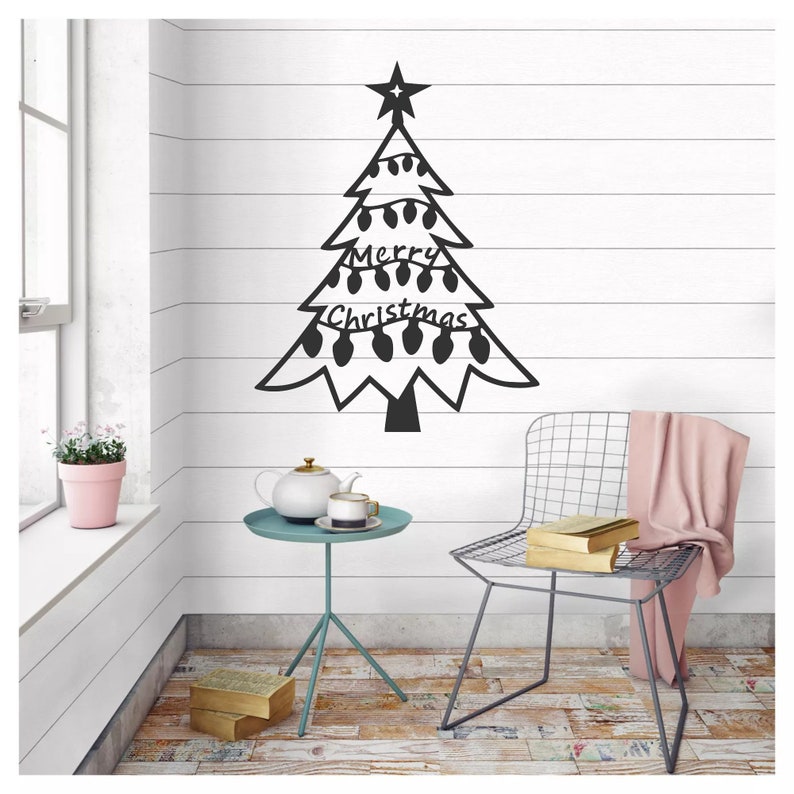 Metal Christmas Tree Wall Art

---
Christmas Window Trees
Did you ever think about RV decorated windows to display trees? There are tons of window sticker designs, some are in the shape of Christmas trees while others can be formed into that shape using other holiday symbols … like snowflakes.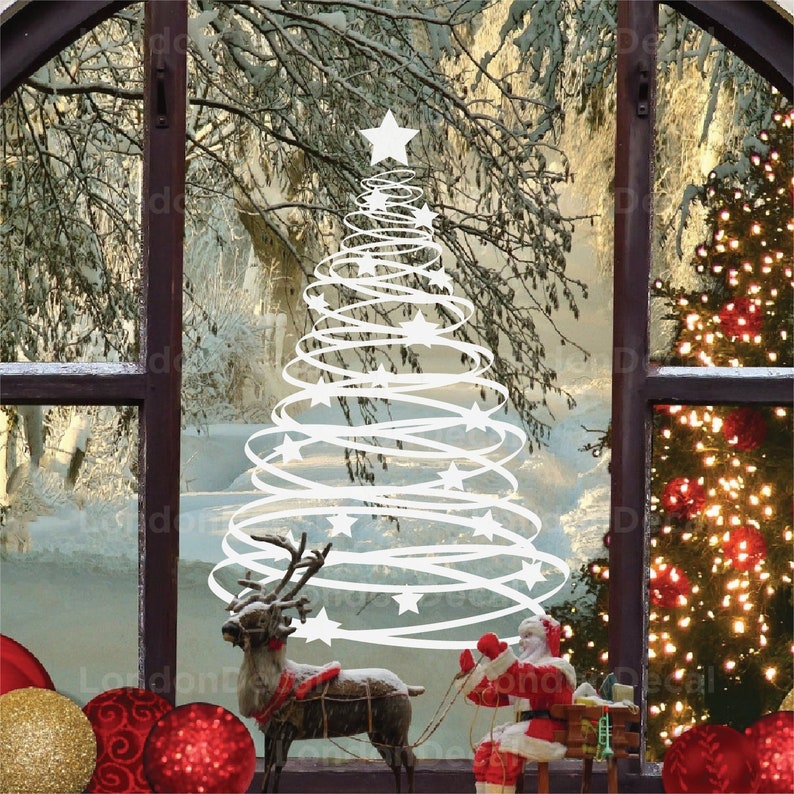 Swirly Christmas Tree Window Wall Vinyl Decal Sticker

Christmas Snowflake Window Decal Stickers, Stick Them To Window In Any Shape You Want
---
Live Outdoor Trees Decorated For Christmas
Is it possible to be a multi-tree family when you are staying in an RV for Christmas? Sure it is!
After you finish decorating inside, why not throw a couple of strands of your camping string lights on the live evergreen trees at your campsite too? It is an easy way to have an absolutely FREE Christmas decoration that you don't have to pack up and store after the holiday is over!
---
---