Wildly Whimsical & Fun Camping Ornaments For Christmas (2023)
Some of our favorite tips are about celebrating the holidays in a camping themed Christmas! Whether you are decorating for a mobile adventure, staying stationary in your RV or celebrating the holiday at home, these totally unique Christmas camping ornaments are fun to decorate and celebrate the season!
Our favorites include camp activity themes: RV trailers, tents, campfires, marshmallows, wildlife, lanterns, camp coffee, hiking, cooking, fishing and more! Check out the non-traditional ways to display them too!
Psst we're compensated…see our disclosures.
Why We Like These RV Camping Christmas Tree Ornaments
There are so many types of Christmas ornaments for campers. We have grouped them so you can easily find the perfect camping ornament!
Personalized Camping Ornaments
Who doesn't love the idea of a cute retro camper with Christmas lights and a pile of snow with the family's name on the ornament? These customized ornaments are adorable and make a great gift idea!
Annoying Each Other Since Ceramic Ornament

Personalized Christmas Camper

Wood Pop Up Camper

Happy Campers Ornament

Faux Wood Slice Personalized Christmas Ornament
Camping Buddies Personalized Ornaments

2023 Personalized Camper Trailer
Personalized Camping Family
Personalized Happy Camper Ornament

National Forest Personalized Yearly Adventures Ornament

Personalized Adventure List Family Ornaments

Personalized Christmas Ornament

---
Natural Material Camping Ornaments
These camping Christmas tree ornaments are made from natural materials like metal and wood which sets the tone of an outdoor nature-type style with your decorations. They are also relatively sturdy for packing and travel.
Wooden Happy Campers 2022 Vintage Trailer
Tin Camper Holiday Ornament
Wooden Painted Canoe With Wreath
Claydough & Metal Hot Cocoa Cup
Wood The Mountains … They Are Calling
Wood Let´s Be Adventurers Tent
---
Keepsake Camper Ornaments
A minimal display of camping Christmas ornaments can be a beautiful way to celebrate the season on a small scale. A tabletop stand is the perfect way to highlight a single keepsake ornament, or a small group of Hallmark Keepsake Christmas ornaments.
Hallmark Keepsake Christmas Ornament 2023, Happy Camper
Hallmark Keepsake Christmas Ornament 2022, Happy Campers
Hallmark Keepsake Ornament 2023, Christmas Vacation
---
Glass Camping Ornaments
The bad thing about glass camping Christmas tree ornaments is their fragile nature … not the best thing for packing and traveling. The good thing about glass old world ornaments … they are full of color, reflect the lights on your tree and sparkle like magic!
The popular outdoor activity of telling stories around a campfire is similar to talking about a recent camping trip around a sparkling beautiful glass campfire ornament hanging from a tree.
It's a personal preference to use glass ornaments or avoid them. Just for the record, the National Park signs are THE hottest glass camping Christmas ornament this year! You can get them for Acadia, Glacier, Grand Canyon, Great Smoky Mountains, Rocky Mountains, Sequoia, Yellowstone and Yosemite national parks.
Glass Marshmallow Smores Campfire Figures
Glass Old World Christmas Hikers Ornament
Glass Kiddo Lil' Cub Scout
Glass Compass
Glass Hiking Backpack With Gear Pack
Glass Hiking Boot Ornament
Glass Camping Directional Sign
Glass Canoe With Paddles
Glass Corn Hole Game
Glass Lantern
Glass Sleeping Bag
Glass S'Mores
Glass Campfire
Glass Tree Axe Hatchet
Glass Holiday Outhouse
Glass Tent
Glass Tropical Camper
Glass Camper Van Motor Home
Glass Class A Motorhome
Glass Class C Motorhome
Glass Pop Up Camper
Glass Yellowstone National Park Sign
Glass Rocky Mountain National Park Sign
Glass Acadia National Park Sign
---
Resin And Polystone Camper Ornaments
Ornaments made from sturdy materials, like resin and polystone are good for packing when it comes to traveling RV family members' ornaments. Consider the size of the tree as well as storage space for packing ornaments throughout the year.
Gone Camping Love, Santa Christmas Ornament w/Lantern & Santa Hat
Camping Tent
Happy Campers Black Bears
Camp Stove With Bacon, Eggs & Coffee Pot
Hiking Boots, Compass & Map
Retro Campers Set of 2 Quantity
Campers Have S'more Fun
S'Mores Camo Hunter
S'Mores Man Holding A Canoe
S'Mores Fishing From Boat
S'mores Ice Fisherman
S'more Fisherman With Tackle Box
---
Funny Christmas Ornaments For Campers
We love the character in these camping Christmas tree ornaments. With a touch of humor added to camping activities, finding the perfect ornament is a great way to put a smile on everyone who sees them … even the Grinch!
I

Camping Is Our Favorite Season

What Happens At The Campground Gets Talked About All Year Long

I Might Look Like I'm Listening To You But In My Head I'm Camping

Cooler-Raiding Black Bears
Deck The Camper Santa
Tent Camping Santa
Deer Inside Outhouse
Wooden Camping-Themed Ornaments Set
6 Pack Of Beer Plastic Christmas Tree Ornament
Bud Light Bottle Christmas Cheer Ornament
Christmas String Lighted Budweiser Bottle
---
Christmas Camper RV Ornaments
For some reason, people who camp in RV travel trailers really like ornaments that look like RV travel trailers! LOL RV Christmas tree ornaments come in all sorts of shapes, colors and fun RV designs from vintage classics to crazy cute cartoon-ish styles. Here are a few that are really popular!
Happy Campers Christmas Caravan
Camper With Dog & Christmas Strings Lights
Vintage Camper With Christmas Lights
---
Cousin Eddie RV Ornaments And Snow Village
One of RVers favorite movies during the holiday season is Christmas Vacation. Cousin Eddie RV Ornaments and Snow Villages are popular with so many people who love this classic Christmas comedy! We've got totally hilarious trivia questions and fun facts to test your knowledge about the Cousin Eddie RV too!
National Lampoon Christmas Vacation Cousin Eddie's RV Accessory Figurine
National Lampoon Christmas Vacation Griswold Holiday House
National Lampoon Christmas Vacation The Griswold Family Tree Accessory Figurine
National Lampoon Christmas Vacation Village Cousin Eddie in the Morning Accessory Figurine
National Lampoon Christmas Vacation Fire It Up Dad Accessory Figurine
Clark Figurine Handpainted Ceramic Accessory from The Movie, National Lampoon's Vacation's Characters
National Lampoon's Christmas Vacation Griswold Sled Shack Lit Building
Snow Village National Lampoon Christmas Vacation Bingo Accessory Figurine
National Lampoon Christmas Vacation Village Shocking Clark Accessory
Halmark National Lampoon's Christmas Vacation Cousin Eddie's RV Christmas Tree Ornament Decoration
Wagon Queen Family Truckster – National Lampoon's Christmas Vacation 2013 Hallmark Ornament
Hallmark 2012 Keepsake Ornaments QXI2884 The Moose Mug ~ National Lampoon's Christmas Vacation
Hallmark Keepsake Christmas Ornament 2018 Year Dated, National Lampoons Christmas Vacation A Fun, Old Fashioned Family Christmas With Sound and Light
Hallmark 2013
Hallmark Keepsake National Lampoon's Christmas Vacation
Hallmark Keepsake Christmas Ornament 2018 Year Dated, National Lampoons Vacation A Quest for Fun With Music
Hallmark 2014 Squirrel National Lampoon's Christmas Vacation Ornament
Hallmark Keepsake Ornament: NATIONAL LAMPOON'S CHRISTMAS VACATION Meowy Christmas with Sound
Hallmark Keepsake 2017 NATIONAL LAMPOON'S CHRISTMAS VACATION A Star-Spangled Spectacle Sound Christmas Ornament With Light
Hallmark Ornament Moose Mug National Lampoons Christmas Vacation
Ceaco Thomas Kinkade Holiday Movies National Lampoons Xmas Vacation Jigsaw Puzzles, 300 Pieces
Shitters Full Beer Glass
Christmas Moose Mug Wine Bottle Stopper
Herrschners National Lampoons Christmas Vacation – Card Scramble
Shitters Full Cousin Eddie Ornament – Christmas Vacation Ornaments – Griswold Family Collection Christmas
Tree Buddees You Serious Clark? Red Glass Christmas Ornament
National Lampoon's Christmas Vacation Kurt Adler UL 10-Light Wally World Moose Mug Light Set
Christmas Eggnog Moose Mugs – Gift Boxed Set of 2 – Acrylic Safer Than Glass 8 oz.
---
Christmas Gingerbread Camper Kit
A really fun way to celebrate the holiday is with gingerbread houses. You can do everything by hand/from scratch or use a Christmas Gingerbread Camper Kit that has pre-baked camper panels along with the icing and candy ornaments all in one box!
Gingerbread Camper Kit Christmas Kit Wilton
Camper Pre-Baked Panels
Build/Decorate It Yourself Camper
---
RV Camping Christmas Tree Skirts
If you are hanging your RV camping Christmas tree ornaments on a tree that is large enough to require a tree skirt, you can stay in the camping theme by using one of these super cute options.
Personalized Christmas Tree Skirt

Vintage Camper Tree Skirt

Merry Christmas Camping
Happy Camping
Life Is Better When You're Camping
Life Is Better When You're Camping
---
Display Options For RV Camping Christmas Tree Ornaments
Decorating Tip: Keep in mind the type and size of your tree as well as the number of ornaments it can accommodate. If you choose a small stand or tree, you may need to stick with small lightweight ornaments.
Tabletop Stands
A tabletop stand is a simple way to tuck decorations in small spaces like unused countertop corners and shelves. But, these will restrict you to fewer numbers and smaller styles of RV camping Christmas tree ornaments.
Decorative Ornament Display Stand
Metal Mini Regent Tree
Ornament Tree
---
Small Tabletop Christmas Trees
Tiny trees that can be set on top of a table, counter or in a small corner are perfect for displaying your ornaments.
24-Inch Artificial Tabletop Christmas Tree
Check out even more unique options for the perfect RV Christmas tree to fit any size rig!
---
Christmas Lighting
I like using Battery Operated String Lights when decorating inside our RV because I don't worry about power availability (we love boondocking in National Forests!) I use a clear white-colored light if I am trying to achieve a more sophisticated looking tree with classic ornaments … I use multi-colored lights with whimsical camping Christmas ornaments for a more festive feel. Get more campsite lighting ideas.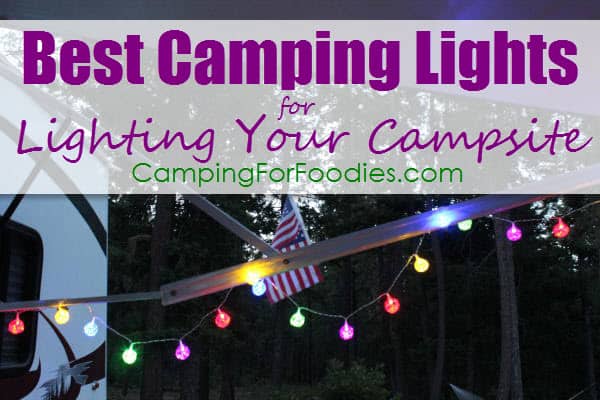 I also love decorating natural trees at our campsite (you know, the real ones still living in nature) because they are no-fuss when the camping trip is over. Just "un-decorate" the tree and … BOOM … you're done! No packing required except for the decorations which, in my case, are Solar Powered Outdoor String Lights that are designed to be used in the elements. Get more ideas for using awesome camping string lights.
---
Camper Christmas Decorations
Check out these clever RV Christmas decorations that don't make you sacrifice your valuable floor space!
If you like the whole idea of retro decorations, check out these vintage camper gifts that are fun throughout the entire year!
---
Camper Christmas Cards
If you really want to go all out with a camping themed Christmas this year, get your postage stamps ready for these adorable options. It's always a lot of fun to see Santa load his reindeer and sleigh on top of his retro trailer during the December camping season!
Camper and Santa Christmas Card – 18 Christmas Cards & 19 Envelopes – Cute Camping Trailer Christmas Card
See all of our top picks for super fun camping Christmas cards!
---
Don't Forget The Christmas Music!
That's Christmas To Me by Pentatonix is one of the best selling Christmas albums! It will get you in the mood to decorate and celebrate!
Not only is this music great for you, it makes a great gift when paired with a cute camping-themed Christmas ornament! Check out these other ideas for camping gifts for men, women, kids and couples!
---
More Christmas Tips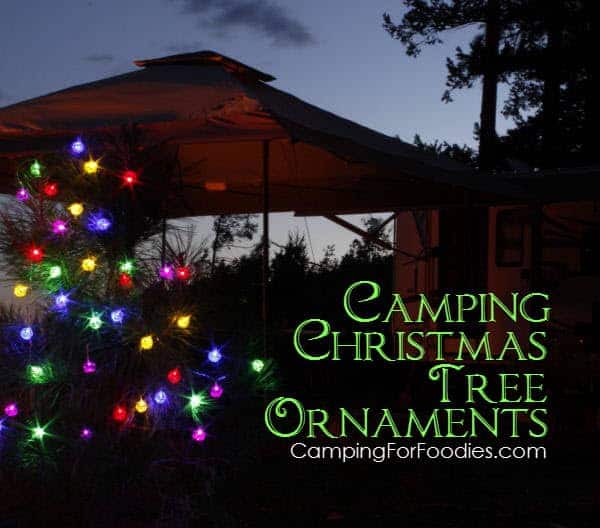 Thinking of doing some gift giving for Christmas? Check out our Christmas Gifts For Campers And RV Owners: 100+ Ideas For This Holiday Season post! We update this post daily with the best-selling camping Christmas gifts of the season!
There are so many cool little camping gifts you can give as stocking stuffers and you won't believe how many of them start under $10 (some even under $5!) For some totally awesome gift ideas you gotta check out our 100+ Camping Stocking Stuffers For RV And Tent Campers post!
Thinking you might want to do a little DIY camping gift holiday giving? Check out our Campfire Hot Cocoa post! It's warm, yummy and makes a thoughtful, inexpensive and unique Christmas gift for people who love to camp!
Wrap the perfect gift in a cute gift box and top it with an ornament tied to a ribbon. Get Fun Camping Wrapping Paper And Creative Gift Wrap Ideas here!
---