Canyon De Chelly Camping & Itinerary: A Bucket List Adventure
Our Canyon de Chelly camping experience at the Cottonwood Campground was awesome. The surrounding area landscape will not disappoint visitors. The highlights feature expansive canyon rims towering above magnificent canyon walls dotted with ancient ruins, arches, ladders and pictographs.
This is one of the best RV camping destinations to experience cliff dwellings. Our Canyon de Chelly itinerary takes place on the Navajo Nation near Chinle, Arizona.
Psst we're compensated…see our disclosures.
FREE Trip Planner
Use this FREE Camping Trip Planner to organize your entire trip.
Canyon De Chelly National Monument
The Canyon de Chelly National Monument is part of the U.S. National Park Service and has a traditional visitors center but the park itself is located on Navajo tribal trust lands so there is a cooperative management agreement between the National Park Service and the Navajo Nation.
The two administrations work collectively to protect the resources within the park including the Navajo families who still live in the canyons.
National Park Passes do not apply on Tribal land.
As you leave the Canyon de Chelly National Monument Welcome Center and drive toward the canyons, you'll cross the boundary into the area that is managed by the Navajo Parks and Recreation Department (NPRD) which includes the Cottonwood Campground. Be aware that National Park Passes and discounts are not accepted at Navajo Tribal Parks.
There is no cost to drive along the scenic roads but there is a fee for camping and tours.
---
About Cottonwood Campground
Name Of Campground: Cottonwood Campground, Tseyi' Dine' Heritage Area (TDHA)
Location in Arizona: Northeastern
Address: BIA Indian Route 7, approximately 1/2 mile South of Canyon de Chelly National Monument Welcome Center, Google map LINK to get to this location.
Lat/Longs: 39˚08'55"N 109˚32'22"W
Type Of Land: Navajo Tribal Trust Land

Managed by Navajo Parks and Recreation Department

Phone: 928-674-2106
Website: Navajo Nation Parks
Number of Sites: Approximately 90 individual campsites and 2 group tent sites.
Pad Type: Asphalt
Type Of Camping: RV, tent (this campground has walk-up only campsites that are first-come, first-served, no reservations are accepted for individual sites). Group tent camping (requires advanced reservations).
Time Zone: Mountain Time Zone. The Navajo Nation in northeast Arizona DOES observe Daylight Saving Time (unlike the Hopi Reservation, Phoenix and the rest of Arizona that does NOT observe Daylight Saving Time).
---
Access
Drive from nearest town (Chinle, Arizona) to the campsite on paved roads.
Parking at campsite is available.
Most sites are back-in but there are a couple of pull through sites.
Max length 40 feet.
Cell phone coverage is spotty throughout the area.
---
Prices & Reservations
Price to camp: Last Price Paid: $20 on 8/9/22.
Forms of payment accepted: Cash.
Reservations: Not available for individual sites but required for group sites.

Campground is open year-round but minimum sites are available between October-March.
---
Amenities
Restroom facilities are available with flush toilets and sinks but no showers
Trash
Drinking water at spigots around campground
Dump Station
Picnic tables
BBQ Grill
90+ sites each with their own parking space at the campsite
---
Natural Features
Desert with very few shade trees.
---
Elevation, Weather & Safety
The campground is approximately 5,500 feet above sea level. The average temperatures throughout the year are:
| | | |
| --- | --- | --- |
| Month | Average High | Average Low |
| January | 42° F | 17° F |
| February | 49° F | 22° F |
| March | 59° F | 28° F |
| April | 67° F | 34° F |
| May | 77° F | 42° F |
| June | 88° F | 50° F |
| July | 91° F | 58° F |
| August | 87° F | 57° F |
| September | 81° F | 48° F |
| October | 68° F | 36° F |
| November | 54° F | 25° F |
| December | 43° F | 18° F |
Average Temperatures For Canyon de Chelly in Arizona USA
Best time of year to camp: The spring and fall seasons have the most moderate temperatures and low precipitation. The summer season is hot and dry. You can expect to see snow during the winter months and should expect limited services at that time of year.
Safety: You will see signs posted throughout the park reminding you to always lock your vehicle and to secure valuables out of sight or take them with you.
---
Nearby Activities
Self-Guided Scenic Drive
Self-guided driving tour: Experience the canyons from above by taking the scenic north and south rim drives, stopping at the overlooks and hiking the trails. This is one activity that allows you to see the canyon without a Navajo guide.
South Rim Drive
Allow 2 hours
Best for sunset photos
Overlooks:
Tunnel Overlook: Get your first glimpse down to the main gorge.
Tsegi Overlook: Tsegi is Navajo for "rock canyon". View the ravine and farmland areas below.
Junction Overlook: See where Canyon del Muerto joins Canyon de Chelly and two sets of distant ruins.
White House Overlook: Take in the White House Ruins which is an 80-room settlement that sits beneath an overhang from a cliff wall. As recently as September 2022, the only public trail on the South Rim Drive, White House Ruin Trail, remains closed because of safety and law enforcement concerns.
Sliding House Overlook: View the Sliding House Ruin that looks like it is sliding down the wall because it was built on a sloping portion of the rocks.
Face Rock Overlook: Check out the ruins and tall cliffs.
Spider Rock Overlook: As you travel the rim road, you'll notice you're climbing. This is the highest elevation viewpoint at the end of the road where you'll see the twin towers of sandstone known as Spider Rock.
North Rim Drive
Allow 2 hours
Best for sunrise photos
Overlooks:
Ledge Ruin Overlook: View the site known as Ledge Ruin that was occupied by the Ancestral Puebloans between 1050 and 1275 AD.
Antelope House Overlook: Take a short hike and experience the landscape and sweeping views of the canyon below.
Mummy Cave Overlook: This location was named after two mummies were found in burial urns below the ruins. See the giant amphitheater that includes two caves.
Massacre Cave Overlook: Named after the 1805 Spanish military expedition where more than 115 Navajos were killed.
Guided Canyon Tours
Touring the canyon from within: The magnificent scenic drives from the rim give you one perspective of Canyon de Chelly but the views from the canyon floor are gorgeous from an entirely different angle.
To see the canyon from the floor you must book a guided tour with a local tour operator. Jeep tours and hiking tours are some of the most popular options but you can also view the canyon on horseback.
You can book half-day or full-day tours. Even a full day jeep tour won't allow you to see everything in these beautiful canyons so the tour operator will work with you to make sure you see the sites that are most important to you.
Some of the most requested places to see from the valley floor include:
White House Ruins
Ledge Ruins
Antelope House Ruins
Kokopelli Cave
Petroglyph Rock
First Ruins
Junction Ruins
Ceremonial Cave
Navajo Fortress Rock
All Navajo Tribal Park areas are Guided Tour only, you can find a list of approved tour operators on the Navajo National Parks website.
We took a private jeep tour with Beauty Way Jeep Tours and were thrilled with our experience. (P.S. We paid for our tour and we don't receive any compensation for this recommendation.) We booked our tour online at the last minute (the night before we wanted to go) and got an email confirmation along with a text response from the owner himself. Our guide, Benjamin, picked us up at our campground and provided a fabulous tour. He and his family have lived in the canyon for generations and Benjamin shared his personal family stories along with his knowledge of the canyons and cultural heritage.
Authentic Navajo Meal
Only one hotel exists in Canyon De Chelly, it's the historic Thunderbird Lodge. The property sits on a trading post site that was built in 1896. You can enjoy a Native American meal or continental cuisine in the cafeteria-style restaurant which is open to the public. While you're there check out the Navajo Rugs and artwork on the dining room walls. Also, don't miss the vault-like room that once served as a jail for the trading post … it's right in the middle of the dining area!
---
Nearby Attractions
While you're in the area, you may also want to see:
Monument Valley Navajo Tribal Park: see the iconic setting of so many movies.
Petrified Forest National Park: see part of Northern Arizona's Painted Desert which extends approximately 150 miles and resides between the eastern end of the Grand Canyon into Petrified Forest National Park where you'll find the world's largest concentrations of petrified wood. Another lesser-known fact is that this is the only national park site that contains a segment of the Historic Route 66 alignment, the most legendary road in the United States.
Four Corners Monument Navajo Tribal Park: stand on the ground where the borders of Arizona, New Mexico, Utah and Colorado meet in one location.
Hubbell Trading Post National Historic Site: the Navajo Nation's oldest operating trading post is located in Ganado, Arizona which is about a 40 minute drive from Canyon de Chelly.
---
Cottonwood Campground Canyon De Chelly Review
Our overall experience at this campground was great.
We did like:
Location.
Cleanliness.
Friendly and helpful staff.
Flexibility regarding no reservations but that may be a problem, especially for bigger rigs, in the busier times of year.
We didn't like:
The lack of good internet/cell phone coverage.
The lack of shade or power at the campsites (but, to be fair, that's our fault for visiting in August).
The only form of payment accepted is cash.
We would recommend this camping spot to others and we are planning to come back to this campground in the autumn when the weather is better and the leaves on the trees in the canyon are changing colors.
---
More Arizona National Site Locations
Did you know Arizona has over 30 national sites in the state? See the entire list of the amazing Arizona National Parks And Monuments!
---
Food Ideas For Camping Trips
When you are planning your next trip, don't forget to make easy meals. You may want to make quick recipes onsite or prepare make-ahead meals at home before your trip.
If you're looking for awesome ideas for yummy camping food, you're in the right place!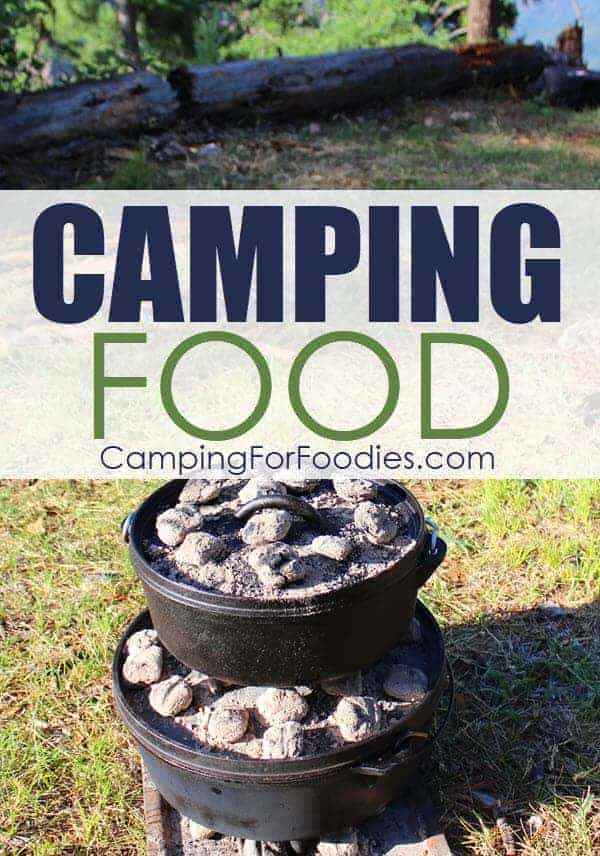 Here's our entire camping recipes list.
Get FREE camping tips and recipes emailed to you!
Our Camping Products Make Great Gifts!
Flexible Cutting Mat
Cutting Mat Set
Stainless Steel Cocktail Shaker Set