12 Tips To Avoid Crowds In National Parks So You Don't Go Crazy!
We have 12 tips to avoid crowds in National Parks so you don't go crazy on your vacation! Today we're talking about camping tips that help you to relax and camp in peace!
In 2020 the U.S. National Park Service received over 237 MILLION recreation visits! That was down from 2019's statistic of 327 million because of closures and COVID.
Nonetheless, that's a whole lot of people exploring our National Parks! Think you can't stay sane in a sea of humanity? Think again!
Psst we're compensated…see our disclosures.
---
National Parks Crowds
Here are some statistics on the most crowded and least crowded Parks within the U.S. National Park system.
2019 Top 10 Most Visited U.S. National Parks
Great Smoky Mountains National Park: 12.5 million
Grand Canyon National Park: 5.97 million
Rocky Mountain National Park: 4.7 million
Zion National Park: 4.5 million
Yosemite National Park: 4.4 million
Yellowstone National Park: 4 million
Acadia National Park: 3.4 million
Grand Teton National Park: 3.4 million
Olympic National Park: 3.2 million
Glacier National Park: 3 million
Source: NPS Office of Communications
2019 Least Crowded National Parks
Gates of the Arctic National Park & PRES: 10,518
Kobuk Valley National Park: 15,766
Lake Clark National Park & PRES: 17,157
Isle Royale National Park: 26,410
North Cascades National Park: 38,208
National Park of American Samoa: 60,006
Wrangell-St. Elias National Park & PRES: 74,518
Dry Tortugas National Park: 79,200
Katmai National Park & PRES: 84,167
Great Basin National Park: 131,802
Source: Annual Park Ranking Report for Recreation Visits
How To Avoid Crowds In National Parks
Staying away from the most visited … and instead … choosing less popular parks is really helpful when you want to go on last minute camping trips.
Think avoiding crowds is a camping safety issue? It is if you are camping with lots of people during cold and flu season!
---
Tip #1 Visit The Most Popular Parks During The Off Season.
Some parks are so popular that the only way you can really avoid the crowds is to visit them during the off-peak season.
You will find smaller crowds during the shoulder season too.
If you are trying to visit the Parks in mild-ish weather while reducing the size of the crowds, shoulder season is the best time to visit National Parks.
In off-peak and shoulder seasons, the scenery looks different … you may see snow-covered meadows and iced-over streams … and the wildlife viewing can be exceptional too.
Another way to avoid the crowds in the most visited U.S. National Parks is not visiting them on major holidays and Fee-Free Entrance Days that occur six times every year.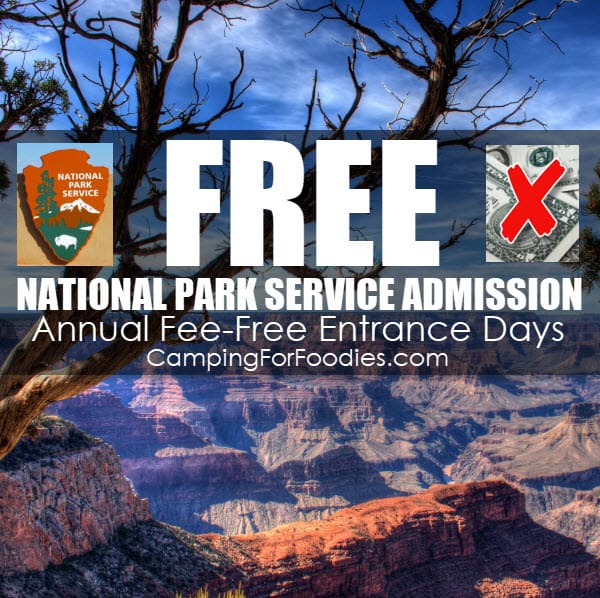 ---
Tip #2 Plan A Trip To A Less-Visited Area In A Major Park Or A Less-Popular Park.
If you don't have your heart set on a particular destination, you can avoid the crowds by visiting one of the least visited National Parks.
If you don't know which Parks have fewer visitors, you can check out the Visitor Use Statistics Portal published by the National Park Service.
You can also stay in a less congested part of the really popular Parks.
On one of our recent trips, we stayed at the North Rim of the Grand Canyon instead of the waaaaay more visited South Rim.
It was an awesome visit as you can see in our The Grand Canyon – There's No Better Place To Get Edgy post!
And, just for the record, my husband does not have the same fear of heights that I have.
---
Tip #3 Stay Inside The Park.
Nothing can ruin a trip to a National Park faster than sitting for hours in a line vehicles just waiting to get through the Park entrance gate!
Deal with the bottleneck at the entrance gate once and stay inside the Park.
Plus, the experience of waking up every morning to the sights and sounds of the Park is unparalleled.
We don't like to waste one minute when it comes to visiting our National Parks so we like to arrive at our campsite at the earliest check-in time … that means we plan our travel day and include "gate time entrance" expectations.
If you arrive at the time everyone is checking in/out, you will usually need to expect a 1-2 hour delay just to get through the entrance gate.
If you arrive well in advance of the check in/check out time, you can almost cut your time in half … the idea is to get inside the gate and find a location to legally park and explore the park while you wait for your camping location check-in time.
---
Tip #4 Avoid Construction Zones And Road Closures.
The National Park Service is really great about posting alerts on their website for avoiding congestion due to construction and road closures.
You need to visit the Current Conditions page for the specific Park you are visiting, like this one from Yosemite National Park.
---
With all of the special alerts and traffic happening at Yosemite, it is an AWESOME place to visit!
Check out our Yosemite National Park Must See Attractions VIDEO And Tips post for more information and get our top 10+ list of Yosemite National Park Must See Attractions, Tips … and … Why we love each of them!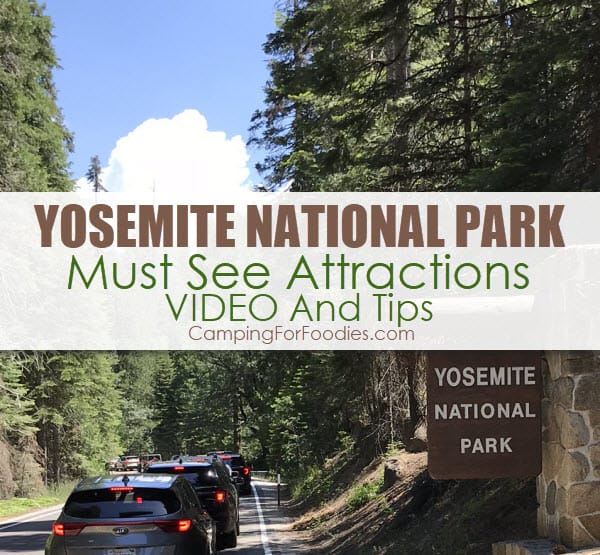 ---
Tip #5 Take A Mid-Day Nap!
If you are willing to get up early and stay up late, you will avoid the majority of the crowds that like to sleep late into the morning and others who go to bed early at night!
For our family, that means we take a nap or just hang out at our campsite during the times of day when the crowds tend to gather at different locations within the Park.
YAHTZEE National Parks
Monopoly National Parks
Americas National Parks Playing Cards
Trivial Pursuit: National Park
If you have too much energy to take a nap in the middle of the day, you may prefer to play National Park themed games like YAHTZEE: National Parks, MONOPOLY National Parks Edition, TRIVIAL PURSUIT: National Parks, or a card game with National Parks Illustrated Playing Cards.
---
Tip #6 Avoid The Tourist Favorites And Opt For The Hidden Gems.
If you plan your trip using one of those "Best Selling must see National Parks tourist type of guide books" you need to realize that thousands of other people are using those books too.
Many of those books highlight the most well-known parts of the Park but they also include the hidden gems that are just as breathtaking with fewer visitors.
Your Guide to the National Parks: The Complete Guide to all 59 National Parks
National Geographic Guide to National Parks of the United States
National Geographic Complete National Parks of the United States
If you do plan on visiting the most popular parts of the Park, do it on the slowest days of the week and hours of the day.
Local Park Rangers will be able to give you the inside scoop.
---
Tip #7 Cook For Yourself.
Cooking at the campsite, eating hike food on the trail and enjoying picnic basket meals under the towering trees are great alternatives to facing the crowds in the Park restaurants.
If you do choose to eat at the restaurants, arrive before the mealtime rush and smile as you exit passing the people standing in line waiting to be seated.
Our Camping Recipes List page has tons of recipes that are family-friendly and others that are almost-gourmet feasts!
If you decide to opt-out of the National Parks restaurant scene to avoid the crowds, make sure you handle your food properly to avoid food poisoning during your trip.
Our Camping Food Safety Tips Including How To Pack A Cooler For Camping post is packed with information to keep your family happy and healthy as you picnic your way through the Parks!
---
Tip #8 Ditch Your Car And Take The Park Shuttle.
I have seen statistics reporting 80-90% of National Park visitors never leave the roads, visitor centers, and parking areas … WHAAAAT?!?!
If you do decide to travel inside the Park using a motorized vehicle, let someone else do the driving by taking the shuttles.
The shuttle busses are crowded but not nearly as congested as the jam-packed roads and parking lots where drivers swarm like vultures waiting for a parking spot to open.
Some National Parks, like Zion, don't even allow you to drive your private vehicle within the Park during the peak season!
Think I'm kidding?
Here's what their site says, "From April to October access into the canyon is by free shuttle bus only. Private vehicles are allowed to access the canyon from November to mid March."
Check it out for yourself on the National Park Service's Frequently Asked Questions About Zion Canyon page.
---
Tip #9 Alternative Transportation.
My favorite way to avoid transportation congestion is by backpacking, hiking and biking through the Parks.
Many of the really busy Parks encourage the use of alternative modes of transportation.
Yosemite National Park is a great example, they have over 12 miles of paved bike paths in Yosemite Valley and bicycles are available for rent there too!
Our absolute favorite way to get around really busy National Parks is by bicycle! It is fast, efficient and totally fun!
You can often find bike rentals inside the Park but if you are planning on using a bike for transportation around the park (and not just a leisurely one-time ride) you need to pack lots of cash because multi-day rentals can get expensive.
We prefer to bring our own bikes and just carry them on our bike rack.
Just make sure your vehicle license plate is visible so you don't get a ticket from the Highway Police Patrol!
If you are letting kids go off and do their own thing, you want to make sure they are safe! Our Camping Safety Tips For Families post is filled with great tips for family camping trips!
---
Tip #10 Be A Directional Rebel.
One of the most popular ways to "experience a Park in 1 day" is by driving a designated scenic loop.
Most day-use visitors arrive in the mid-morning and stay until late afternoon. If you plan to drive one of the scenic loops, don't follow the crowd.
I'm not suggesting you drive into oncoming traffic!
I am suggesting driving the loop in the reverse direction (as long as it is legally permitted) and doing it outside of the busy times.
---
How To Embrace Crowds In National Parks
Yes, I know, this blog post is supposed to be all about AVOIDING crowds in National Parks, not embracing them!
The truth is, crowds happen, and completely avoiding people may be … well … unavoidable.
So, get your mindset ready to enjoy the group experience rather than fighting it.
---
Tip #11 Engage Your 5 Senses On Park Surroundings.
People and vehicles may be within hearing range but if you focus your senses on the nature you came to see, you can mentally escape the crowds encircling you.
Deliberately concentrate on what you came for … listen to the birds chirping, watch the sun rays dance across the lake, taste the edible wild berries, smell the earthy aroma of the forest, feel the rumble of a fiercely flowing waterfall and the mist as it falls gently on your face … and the crowds of people will melt away into the background.
---
Tip #12 Get Out Your Camera!
Not all crowds are created equally!
The really awesome crowds are not even human!
When a heard of bison decides to take a stroll down the main road of a Park, they can cause a traffic jam!
If you are camping in a National Park that has a wildlife population that includes bears, be sure to check out our Safety Tips While Camping In Bear Country post for safety issues you need to know!
When wildlife is actually the CAUSE of congestion, just sit back, relax and enjoy the view … safely! That is what you came!
---
FREE Printable Trip Planner
It's always helpful to plan the details of your trip before you hit the road.
Make your next trip stress-free with a little pre-planning. Get your copy of our FREE printable camping trip planner template!