Camping Safety Tips For Families
Camping Safety Tips For Families
The enjoyment of a camp trip quickly disappears when someone gets injured or lost. With our list of Camping Safety Tips For Families Who RV And Tent Camp, you'll have a fun-filled adventure that will leave everyone anticipating your next family camping trip! Psst we're compensated…see our disclosures.
---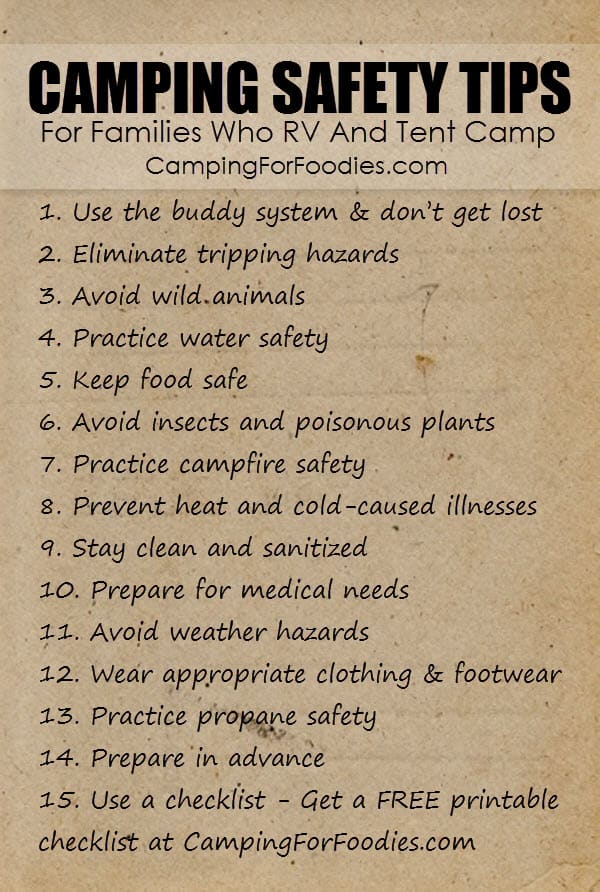 ---
Camping Safety Tips #1: Use The Buddy System And Don't Get Lost
Unfortunately, getting lost can be a common and scary occurrence when younger kids wander away from the family campsite. Thankfully, it can be prevented with a little preparation. When you first arrive, point out the identifying landmarks surrounding your camp setup. Make sure everyone understands the importance of sticking together and using the buddy system … there is safety in numbers. Also, have a designated meeting place in case family members get separated. On unfamiliar hiking trails, adults can maintain locational awareness with a handheld GPS device.
---
Motorola 23-Mile Range, 22-Channel, 2-Way Radios
Walkie-talkie radios keep family members connected even though they may be out of sight from each other. These Motorola 23-Mile Range, 2-Way Radios have 22 channels protected from interference by 121 privacy codes each. The belt clip makes it easy to wear the radio on a belt and with up to a 23-mile range, these radios give everyone a little extra comfort factor when exploring the area. They can be operated for up to 10 hours on alkaline or 8 hours on the rechargeable batteries. These radios also have 11 weather channels (7 NOAA) with alert features.
&
---
Safety Loud Whistles With Lanyards
Wearing a whistle is an easy safety proactive measure. These Safety Loud Whistles With Lanyards blast out 120+ decibels of high pitch sound that overcomes ambient noise. Just make sure the kids know it is to be used as a safety device and not as a musical instrument. These have breakaway lanyards for additional safety.
&
---
Garmin eTrex 10 Worldwide Handheld GPS Navigator
Using a GPS while hiking keeps you on track and aware of the path home even if the trail is overgrown and difficult to follow. This Garmin eTrex 10 Worldwide Handheld GPS Navigator is a WAAS-enabled GPS receiver with HotFix and GLONASS support for fast positioning and provides a reliable signal. It comes with a preloaded worldwide basemap and features a 2.2-inch monochrome display. It can run up to 20 hours on two AA batteries.
&
---
Camping Safety Tips #2: Eliminate Tripping Hazards
Some of the most common injuries on camping trips are caused by tripping over natural and man-made obstacles. Natural rocks, rugged terrain, uneven pavement, slippery wet surfaces, tent and canopy lines top the list of hazards. Lighting and flagging potential tripping hazards will help to avoid unnecessary injuries.
---
Flagging tape has multiple purposes on camping trips. It is great for marking your trail on hikes that have overgrown, hard-to-follow paths … sort of like breadcrumbs leading you home. At the campsite, using a brightly colored tape to flag tripping hazards that extend above the ground is another great use for it. This Yellow Flagging Tape is a non-adhesive tape that is also available in other colors.
&
---
Tarp and tent stakes can be especially difficult to see at night. These Glow-In-The-Dark Tent Stakes have T-tops that are phosphorescent and made from plastic resin. They absorb light during the day … then glow for 3-5 hours after dark. The steel pegs are 10.5″ and 8mm-diameter with a zinc galvanized finish to resist rust and corrosion.
&
---
Glow-In-The-Dark Paracord Parachute Cord
Using glowing cord is a great way to see the cord after dark. This Glow-In-The-Dark Paracord Parachute Cord gets "charged" by exposure to the sun or other strong light. The longer the exposure time … the more light it absorbs … the longer the glow lasts. It comes in various colors and lengths too.
&
---
Keeping your camping area well lit is the best way to prevent tripping at night. This Luci Inflatable Solar Light is super bright and totally solar powered. You blow it up like a beach ball and hang it from just about anything because it is so lightweight. Make sure it is in direct sunlight during the day and your evening will be bright! It can be used like a lantern, flashlight and emergency light.
&
---
Outdoor Battery Powered LED Lantern
With 300 lumens, the water resistant Outdoor Battery Powered LED Lantern is nice and bright! It runs on 3 D batteries which will provide run times of up to: 3 days on full brightness, 6 days on half brightness and 10 days on flashing mode.
&
For more lighting tips see our Best Camping Lights For Lighting Your Campsite post!
---
Camping Safety Tips #3: Avoid Wild Animals
We all love our pets and can forget animals in the wild are, ummm … wild! So, avoid wild animals and don't forget to protect your inquisitive family pets too. Park rangers and campground hosts can usually provide information about the local wildlife. Properly store your food so you are not attracting wildlife into your campsite. Make sure the kids know they should not feed the wild animals or get too close to them; help them enjoy them from a safe distance with binoculars and cameras.
---
Older family members can use adult-sized binoculars but kids will appreciate a kid-friendly set. With 8X magnification, this Kid's Binoculars Set is the real thing but designed especially for kids! The rubber surrounded eyepieces protect the face and eye area when in use. The extra coating provides better protection of the lenses and the overall rubber coating absorbs shock if the set is dropped.
&
---
Budding photographers will love capturing wildlife from a distance and flowers up-close through the lens of a camera! This VTech Kidizoom Camera actually takes real digital photos but was designed with kids in mind to withstand drops and tumbles. It is a 2.0 mega pixels camera with 4x digital zoom, has a video recorder and voice recorder, photo collage templates as well as static and animated photo effects. It has built-in memory but also has a micro SD card slot for memory expansion.
&
---
Camping Safety Tips #4: Practice Water Safety
Fishing, boating and swimming are popular camping activities. Prepare for water safety in advance of your trip with age/size appropriate flotation devices. Make sure the kids know they should not drink the water when swimming too. This Stohlquist Infant/Toddler Life Jacket is designed to fit infants and toddlers; it has a quick release buckle over the entry zipper for added security as well as an adjustable crotch strap. This Stohlquist Adult Fishing Floatation Device is designed specifically for fishing; it has tool pouches, accessory pockets and "fold-down work surfaces" for the fishing enthusiast.
&
---
Stohlquist Infant/Toddler Life Jacket
Adult Fishing Floatation Device
&
---
Camping Safety Tips #5: Keep Food Safe
Most people camp during the summer when outside air temperatures are warm. Keeping perishable food at safe temperatures can be a challenge when it comes to ample cooler and/or refrigerator space for the entire camping trip. Pre-cool your coolers and refrigerators BEFORE loading food into them. Here are some additional solutions for keeping cold foods safe.
&
---
Reusable Freezer Packs can be layered in your cooler to keep food cold without causing the problem of water-saturated food from melting ice. These packs are BPA-free and non-toxic. The compact design and dimensions of 2.1″ x 4.1″ x .8″ allow you flexibility in arranging your cooler. Fully freeze the packs in your home freezer before placing them in your cooler.
&
---
Coleman 100 Quart Wheeled Cooler
Using a cooler with wheels is safe for your food as well as your back! The Coleman 100 Quart Wheeled Cooler is great for weekend camping trips; the Xtreme® 5 Technology maintains ice in temperatures up to 90°F for up to 5 days. It has two types of handles so you can either carry it or pull it and when the lid is closed, you can use it as a "side table" with cup holders!
&
---
Coleman 40 Quart PowerChill Thermoelectric Cooler
For longer periods of time, this Coleman 40 Quart PowerChill Thermoelectric Cooler is a great option. You use it like a small refrigerator or an iceless traditional cooler. It cools the contents to 40° below the surrounding temperature by using 12-volt power from your vehicle outlet (like the cigarette lighter). Additional power options allow you to connect the cooler directly to a 12-volt battery using this Car Cigarette Lighter Socket Adapter or you can even plug it into a 110-volt standard home outlet with this optional Coleman Thermoelectric Cooler 120-Volt Adapter.
&
---
Expensive but it's crazy good! A friend of ours went on a week-long hunting trip and still had ice at the end of his trip! The Yeti Tundra Cooler keeps contents cold for a REALLY LONG TIME without power! It uses a "ColdLock Gasket" that forms a super tight seal keeping cold in and locking heat out. The insulation is pressure-injected giving this cooler off-the-charts ice retention. Yeti's are designed for rugged outdoor adventures and are extremely durable. The optional Badger Single Axle Wheels kit fits Yeti Tundra 35-160.
&
---
Camco Fridge Airator With On/Off Switch
Camping in an RV usually makes keeping food at safe temperatures easier than working out of a cooler. Although, some RV refrigerators are not super efficient especially when they are fully packed without good airflow. This Camco Fridge Airator is a high volume air circulator designed to evenly cool your RV refrigerator. It also absorbs odors through its replaceable charcoal pack. It has an on/off switch to save power when it is not in use and runs on batteries.
&
---
Camping Safety Tips #6: Avoid Insects And Poisonous Plants
The famous quote from Benjamin Franklin, "An ounce of prevention is worth a pound of cure", is the answer to dealing with insects and poisonous plants on camping trips. Each family member should know what the local poisonous plants look like so they can avoid them if they encounter them. Poison oak, ivy, and sumac are the most common but research your particular area; local campground hosts are good resources regarding local conditions. Ultimately, you want to identify and avoid poisonous plants and deter insects.
&
---
Keeping insects away from the campsite area is a good first defense in avoiding problems from insects.The Cutter Citro Guard Candle repels mosquitoes and other flying insects for up to 40 hours. The 3-wick candle is made with real citronella oil, has a wind-resistant design and a wide base to prevent tipping.
&
---
Campsites with heavy mosquito populations can be helped by using repellent coils. These quick working Coghlan's Mosquito Coils last up to 8 hours depending on wind conditions … the greater the breeze, the faster they burn … reducing the length of protection time. If you are camping with smaller kids be aware that these coils have a "fun shape" which may look toy-like so be sure to explain the purpose and dangers of the coils so the kids don't touch them.
&
---
Repel Natural Insect Repellent
Protecting your campsite area from insects is a first defense; protecting your body is a second defense. This Repel Natural Insect Repellent has a cool, refreshing and strong scent that is pleasant to humans but not to insects. It repels mosquitoes and deer ticks for up to 6-hours and contains oil of lemon eucalyptus which is DEET-free.
&
---
Repellent bracelet bands have become a really popular way to combat mosquitoes without using a spray. They can also be used in addition to a spray for maximum protection. These colorful DEET-free Mosquito Repellent Bracelets each provide up to 320 hours of protection and can be worn around wrists and ankles. The bracelets are expandable and designed to fit kids and adults.
&
---
Camping Safety Tips #7: Practice Campfire Safety
Everyone seems to love roasting marshmallows around a crackling campfire. But, without proper precautions, campfires can cause safety issues; here are a few things to consider:
Use safe starters to light your campfire … never use gasoline or other flammable fuel.
Stay a safe distance from your campfire … especially small kids.
Wear protective gear when cooking with your campfire.
Keep your campfire small and contained.
Have a fire extinguisher ready in case your campfire accidentally gets too big.
Remove tripping hazards near your campfire.
Fully extinguish your campfire before going to bed or leaving your campsite.
&
---
Rutland Safe Lite Fire Starter Squares
Rutland Safe Lite Fire Starter Squares make it easy to start a campfire when you don't have kindling. They even work when wet! If you are planning to cook over your campfire, these starter squares won't flavor food and won't flare up. They were designed to meet the strictest air quality codes and are made from recycled wood chips and wax which are non-toxic.
&
---
Marshmallow Roasting Telescoping Stick Set
Kids of all ages love roasting marshmallows! Maintaining a safe distance from the campfire is easy with telescoping sticks. This Marshmallow Roasting Telescoping Stick Set includes 5 forks and a canvas travel bag. When fully extended the forks measure 34″ and retract to 10″ for travel and storage.
&
---
US Forge Lined Leather Welding Gloves
When cooking with your campfire, adult supervision is the name of the game. Kids should be carefully supervised and limited to age-appropriate tasks. Adults should handle hot cooking accessories, like Dutch ovens and grill grates, with heat-tolerant gear. These US Forge Lined Leather Welding Gloves are designed to provide protection from the extreme heat of welding making them more than sufficient around a campfire. They are durable, pliable and have a comfortable lining.
&
---
Coleman Rugged Folding Camp Shovel
Never leave your campfire unattended! As Smokey the Bear says … Only you can prevent wildfires. Be sure to fully extinguish your fire before going to bed or leaving your campsite. Douse it with water and stir it with a shovel until it is no longer smoldering. In the absence of water, bury the fire by stirring dirt or sand into the embers. Continue the process until the entire area is cool to the touch. This Coleman Rugged Folding Camp Shovel is actually a multi-tool that can be used as a shovel, saw (serrated edge to saw through roots) and axe (sharpened edge to chop). When fully extended, the shovel measures 23″ and folds to 10″ for storage and transport.
&
---
Kidde Pro 210 Fire Extinguisher
We carry several multipurpose extinguishers on all of our camping trips. Place your fire extinguisher in an easy-to-access location at your campsite. Your entire family should know where it is and how to use it. This Kidde Pro 210 Fire Extinguisher fights all types of fire (trash, wood, paper, liquids, electrical equipment). It is fully rechargeable and the pressure gauge allows you to do an immediate pressure status check.
&
---
Camping Safety Tips #8: Prevent Heat And Cold-Caused Illnesses
When camping in warm-hot conditions, protect your family from dehydration and sunburns. When camping in cold conditions protect your family from hypothermia. Here we're focusing on summer camping but cold weather camping has special challenges which we provide lots of tips for in these other blog posts:
&
---
Aqua-Tainer 7-Gallon Rigid Water Container
Make sure your camping destination has an ample supply of drinking water. You may need to carry your own (or extra) supply if you don't have access to drinkable water … like when boondocking off-the-grid in remote camping areas in National Forests. We carry more water than we expect to need in several jugs. This Aqua-Tainer 7-Gallon Rigid Water Container has a screw-on vent and a hideaway spigot for on-demand water dispensing. Their molded contour grip makes them easy to carry.
&
Hiking is a family-friendly camping activity but can potentially cause dehydration … Drinking plenty of water before, during and after the hike prevents it. Providing each hiker with a constant supply of water keeps everyone safe. This CamelBak Kids Mini Hydration Pack is designed just for kids. The breathable back panel makes it lightweight and the sternum strap features a built-in safety whistle. For adults, the TETON 2-Liter Hydration Backpack only weighs 2 pounds when empty and has a low-profile athletic cut. It has multiple pockets to carry extra gear and the 2-liter hydration bladder has triple-heat sealed edges and a 2″ opening for easy filling and cleaning.
&
---
CamelBak Kids Mini Hydration Pack
TETON 2-Liter Hydration Backpack
&
---
Sun Bum SPF 70 Continuous Spray Sunscreen
Wearing sunscreen is a non-negotiable issue for our family. We love our Arizona sun-filled days but we need to protect from harmful rays. This Sun Bum SPF 70 Continuous Spray Sunscreen is a moisturizing sunscreen that protects from harmful UVA/UVB rays while enriching your skin with Vitamin E. It is water-resistant so sweating on your hike is no problem! You can go swimming with it too!
&
---
Camping Safety Tips #9: Stay Clean And Sanitized
Illness from inadequate hand washing on camping trips is easily avoided by using alcohol-based hand sanitizers as well as providing a conveniently located hand washing station.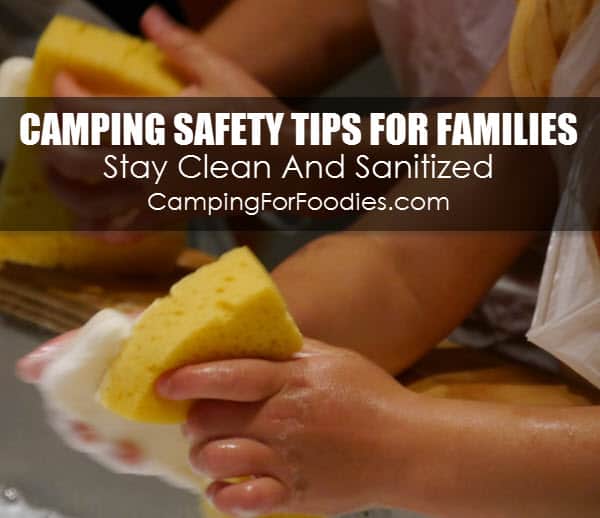 &
---
Advanced (Hands-Free Pump) Hand Wash System
Make it convenient for your family to wash their hands throughout the day. This Advanced (Hands-Free Pump) Hand Wash System is a unique set-up that allows you to pump the water with your foot (that's the hands-free part) so your hands are free to suds up and rinse! Having the built-in holder for a bottle of soap ensures your family is actually getting clean rather than just "rinsing the dirt away" … Yes, I've seen big and little kids alike do that maneuver … Ugh!
&
---
Sanitizing wipes are the bomb! These Wet Ones Antibacterial Wipes kill 99.99% of germs, are hypoallergenic and enriched with skin-conditioning aloe. Because they are portable and convenient, they get used! These single packs are easily carried in a backpack or pocket … That's a good thing!
&
---
Purell Travel Sized Hand Sanitizer
Tucking little Purell Travel Sized Hand Sanitizers around the campsite means there is no excuse for germs! These Jelly Wrap carriers make it convenient to attach a bottle to backpacks and other gear too!
&
---
Camping Safety Tips #10: Prepare For Medical Needs
You don't want to be out in the wilderness to find you are out of adhesive bandages! BEFORE your trip, restock expired medicines/ointments as well as used/missing items in your first aid kits.
---
Having a first aid kit designed to handle minor medical emergencies is a good thing to keep in your vehicle and at your campsite. This Small 100-Piece First Aid Kit is equipped with various styles of bandages, prep pads, cleansing wipes, closure strips, cold compress, emergency blanket, first aid tape, tweezers, blister relief pad, scissors, gloves and more!
&
---
Camping Safety Tips #11: Avoid Weather Hazards
Weather can be unpredictable. Before your trip, check the weather forecast for the area where you will be camping … then use a weather alert radio to stay informed of any hazards throughout your trip. Follow these preventive measures:
Don't set up camp near standing dead trees that may blow over and injure your family in a storm.
Take protection from lightning by avoiding metallic objects and high ground especially isolated tall trees. If you are staying in a campground or RV park with traditional building structures, those will probably be the safest location in a lightning storm; otherwise, your vehicle will most likely provide you the best protection. The National Weather Service has more lightning safety tips.
Take cover in a protected area during windy storms and avoid natural flying debris like tree limbs, as well as man-made items like overhead tents and awnings.
Rocks and paved surfaces can get slick during rainstorms, take precaution and don't slip.
Plan for safe indoor activities in case bad weather changes your normal outdoor plans.
&
---
American Red Cross Weather Alert Radio With Pre-Charged Rechargeable Batteries
Using a weather alert radio keeps you informed about hazards. The American Red Cross Weather Alert Radio With Pre-Charged Rechargeable Batteries receives AM/FM and weather band alerts. It has an LED flashlight and emergency beacon too. You have power options including: (1) rechargeable AAA batteries, (2) hand crank, and (3) solar power. This unit can also charge your smartphone via USB!
&
---
When unexpected bad weather changes your outdoor plans, relocate to safety and comfort … move the party inside but stay with the camping theme with fun games like this Fishing Camp Board Game! The game is fun for kids and adults and is centered around knowledge about fishing gear and fish species. With 100 fun facts, this game is fun and educational.
&
---
Trivial Pursuit Family Edition Game
Trivial Pursuit is a fun rainy-day game that can easily be played in small spaces, like tents and RVs. This Trivial Pursuit Family Edition Game is great because it can be played individually or in teams and has different questions for kids and adults.
&
---
Camping Safety Tips #12: Wear Appropriate Clothing And Footwear
Have you ever seen someone hike in flip flops? We have … and, it is NOT a pretty sight! Make sure you pack proper clothing and footwear for your planned activities. Consider sun protection clothing. The Ultraviolet Protection Factor (UPF) is a rating that represents the amount of UVA and UVB radiation that passes through fabrics and reaches your skin. Learn more from the Skin Cancer Foundation.
&
---
Unless you are bald, you can't apply sunblock to your head but it still needs to be protected from harmful sun exposure. So, just make a sun hat part of your camping attire. They come in tons of sizes and styles for kids, men and women so have fun with it!
&
Kid's UPF 50+ Bucket Hat
Columbia Men's Sun Hat
Women's UPF 50+ Sun Hat
&
---
If you don't want to apply sunscreen, you should consider wearing long sleeved sun protection shirts. They come in lots of camping-friendly styles for kids, men, and women.
&
Boy's UPF 50 Sun Protection Shirt
Men's UPF 50 Sun Protection Shirt
Women's UPF 50+ Protection Shirt
&
---
A good set of hiking boots can prevent twisted ankles and blisters! We recommend waterproof hiking boots that have good arch and ankle support. Merrell has popular styles for kids, men and women.
&
Merrell Kid's Capra Waterproof Hiking Boots
Merrell Men's Moab Waterproof Hiking Boots
Merrell Women's Moab Waterproof Hiking Boots
&  Check our winter camping clothing post if you will be camping in cold weather – add link
---
Camping Safety Tips #13: Practice Propane Safety
Carbon monoxide (CO) poisoning is something to take very seriously. It can kill! The most common sources of carbon monoxide emissions at the campsite come from propane heaters and cooking equipment. Additionally, gas-powered equipment, like generators or even your vehicle, can produce dangerous carbon monoxide.
---
First Alert Battery Powered Carbon Monoxide Alarm
Because carbon monoxide has no color, taste or odor, it is almost impossible to detect this poisonous gas without a device. This First Alert Battery Powered Carbon Monoxide Alarm uses an electrochemical carbon monoxide sensor to monitor the surrounding air and when triggered, produces a loud 85-decibel alarm. This unit is powered by a 9 volt battery which is included.
&
---
Camping Safety Tips #14: Prepare In Advance
Before you go, there are a few odds and ends to address.
Get vaccinated.  Cuts and puncture wounds leave open doors for bacteria infections. So, your doctor may recommend tetanus shots and other vaccinations prior to your camping trip.
Tell someone where you will be camping and hiking. Sign in and out of the log located at the trailhead.
Know the location of the nearest hospital in case you have to rush there for an emergency.
---
Camping Safety Tips #15: Use A Checklist
Using a checklist helps you stay organized and stress-free. We have a FREE printable camping checklist that will help you to be prepared for your awesome camping adventures.
For more camping tips on safety and security, check out these posts:
---
Here are a few other posts you may be interested in…
---
No time to look for recipes, create a menu and write a grocery list? No Problem! Get our 3-Day Dutch Oven Camp Menu Plan here!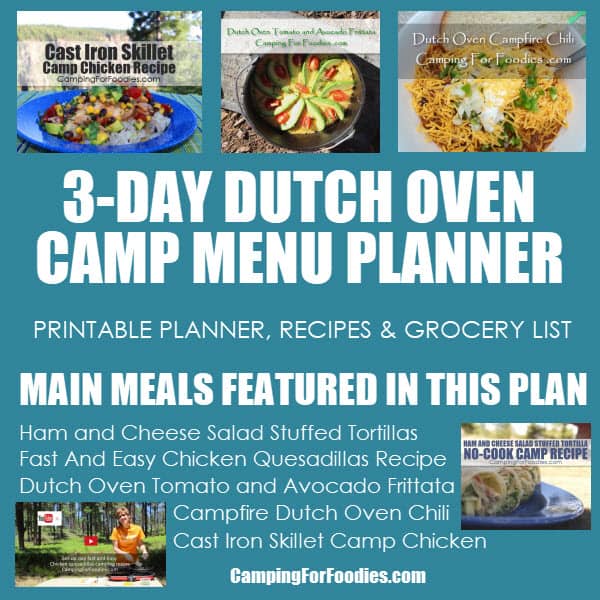 ---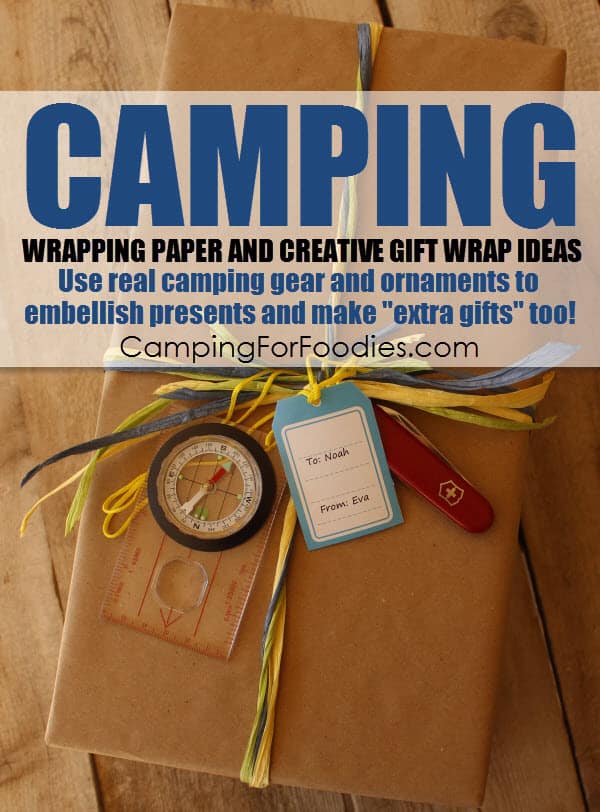 Get Fun Camping Wrapping Paper And Creative Gift Wrap Ideas here!
&
---
If you need camping recipes and menu ideas, you can find them here at the Camping For Foodies Camping Recipes list.
Don't miss a thing…sign up for Camping For Foodies email updates!
Your purchase of our products will help support World Vision ® Building a better world for children.
---