Camping Food Safety Tips Including How To Pack A Cooler For Camping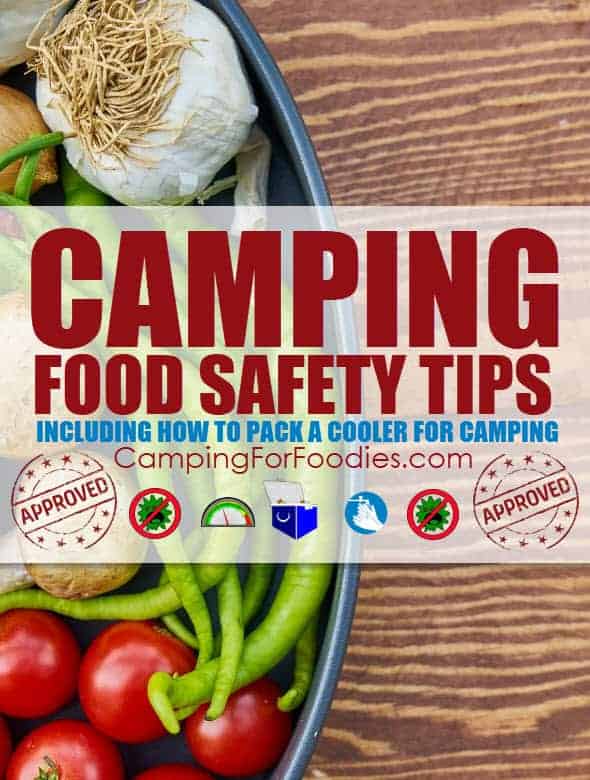 Camping Food Safety Tips Including How To Pack A Cooler For Camping
Cooking food to the proper hot temperature is easy but storing it in the safe cold temperature zone can be a little more challenging. People ask me, "What is the best way to keep food cold while camping?" My answer … It depends! We've got camping food safety tips for any food storage situation and brilliant hacks so you know how to pack a cooler for camping trips and keep everyone safe too! Psst we're compensated…see our disclosures.
---
Camping Food Safety Tips For Your Camping Style
The two biggest factors in keeping your food at the proper temperature while camping include the type of camping you do and the equipment you use. How you safely store food while camping depends on how you answer the following questions:
Are you car camping or RVing with a reliable fridge and freezer?
Are you using an electrically powered cooler or refrigerator? If so, what electricity access is available at your campsite?
Will you be using an ice-cooled cooler as your primary cold storage equipment? Will you have easy access to purchase additional ice for your cooler during your camping trip?
How many people are you feeding? How much temperature-sensitive food do you need to store?
Are you responsible for packing and storing all of the food and beverages for your camping trip or will other campers be helping you? Who has equipment for cold food storage?
How long is your trip?
What is the expected ambient temperature at your camping location?
Is your campsite in full sun or in shade?
---
Freezer/Refrigerator Thermometer
Use a thermometer to periodically check the temperature to ensure a safe cold-holding temperature is being maintained no matter what type of equipment you are using for cold food storage. It should be at or below 40° F (4° C) for refrigerated foods and 0° F (-18° C) for frozen foods.
&
---
Pre-Cool/Freeze Food
42-Piece Food Storage Container Set
Use the power and efficiency of your home refrigerator/freezer to thoroughly cool/freeze your food inside the containers you are taking on your trip. I like to measure my recipe ingredients at home and only transport what I will be using to the campsite. Why lug a big jar of mayo if I am only going to use 1/2 cup in a recipe? I measure my ingredients and put them in the smallest possible food storage tight-locking lid container that I place in my home fridge the night before I pack them in my camping cooler or refrigerator. I also freeze foods that I defrost at the campsite (like meats or reheat meals like chili.) Placing these frozen items in my cooler or refrigerator helps keep the temperature down but it also requires timing considerations when defrosting. I learned that lesson the hard way when my chicken breasts were not defrosted in time to make dinner so we ended up eating cheese and crackers that night. LOL 😉
&
---
Pre-Cool Food Storage Equipment
Make sure they are cold-soaked before packing food into your coolers, refrigerators and freezers. For ice-cooled coolers, fill with ice the night before your camping trip and keep them in a cool place (like inside an air conditioned house rather than a hot garage.) For powered coolers, refrigerators and freezers turn them on the day before your trip and let them get down to temperature before adding food items.
---
Load Your Cold Food For Your Trip
Fridge Airator With On/Off Switch
If you are camping in an RV and have a reliable refrigerator/freezer … you are golden, just keep the air flowing with a fan and keep the food separated to allow the air to flow around it. Make sure you have access to ample power at your campsite (electricity and/or propane) to run your refrigerator for the length of your trip.
&
---
If you are using an electrically powered cooler for cold food storage, make sure you have access to the proper power throughout your trip. A 12 volt cooler can be plugged into a vehicle's 12v cigarette lighter but has limited space so you may want to put meats and critical temperature foods in it … while storing other non-critical foods (like fruits and veggies) in a regular cooler.
&
---
If you are using an ice-cooled cooler for food storage, line the bottom of your cooler with ice or freezer packs. Consider this: the smaller the ice cubes, the faster they melt. The larger the ice blocks, the longer they last but the more room they require leaving less space for food. Ice packs made with an ice substitute last longer than ice made with water and they don't create the need to drain the water from the cooler like regular ice does. Soggy food is totally disgusting and in my humble opinion, usually inedible … eww!
&
---
Load Beverages In A Separate Cooler
Opening and closing a cooler is the fastest way to heat up it up. Beverages are in demand throughout the day while food is usually only accessed at mealtime. So, keep your drinks in their own cooler and don't drain the water from it as the ice melts unless you are replacing it with more ice because empty space fills with warm air making ice melt even faster.
---
Open Coolers Only When Necessary
Keeping cooler lids closed helps keep the cold in … and, the heat out. Know what you need from the cooler before opening it, get your food or drink out and close the lid as rapidly as possible. This can be a bit of a challenge at night so consider using a cooler light to help you find the necessary items quickly in the dark.
&
---
Keep Coolers Shaded
Coolers hate direct sunlight like Superman hates kryptonite! Help your cooling devices stay cool by keeping them in the shade. Remember, while you're out hiking, the sun is moving so anticipate the sunny spots at the campsite and avoid storing your cooler in them. We like to store our coolers under the picnic table beneath our pop-up canopy.
&
---
Pack In Layers
There are two theories on the order to pack a cooler for camping food safety: FILO and RMAB
Camping Cooler Packing Theory 1: FILO
Some people like to keep meals together placing the meals they will eat at the end of the trip at the bottom of the cooler and work backwards. In other words, FILO … first in, last out. On a personal note, my husband and I had a catering business for years and would have failed a health safety inspection if we ever stored raw meat above vegetables so I can't bring myself to use this method. I can't even begin to think about raw chicken liquid dripping into my leafy green lettuce no matter how tight the container lid happens to fit … um, not happening!
---
Camping Cooler Packing Theory 2: RMAB

Cooler Wire Basket
Some people, like me, pack their coolers with raw meats at the bottom and build up the contents of the cooler ending with the least temperature-exacting foods (like vegetables) towards the top. In other words, RMAB … raw meats at bottom. I like to put foods that won't be cooked in a cooler basket to avoid cross contamination.
&
---
Dry Ice Option
When we are camping in our tent and storing frozen food (including ice cream) in a cooler, we use dry ice to keep it at the proper temperature. Here are a few things to consider about dry ice:
Dry ice does not melt, it evaporates because it is carbon dioxide in solid form.
CO2 gas can build up when dry ice is stored in small air-tight spaces (like well-sealed coolers) so allow a bit of airflow when using dry ice. If the cooler lid will be opened/closed periodically, the gasses will escape but if the cooler lid remains closed, opening the cooler drain plug/valve will provide needed ventilation.
Dry ice is much colder than regular ice made from water which means it is NOT good for storing in coolers with fragile refrigerated foods but it is good for storing frozen foods.
You should never touch dry ice with bare hands because it is so cold (−109.3 °F/−78.5 °C) it will burn/freeze exposed skin (you know, frostbite kind of burn.) Ouch!!! 🙁
The life of dry ice can be extended by wrapping it inside an insulating material like newspaper.
---
Wash Your Hands And Utensils
Food safety is not solely about keeping food stored at the proper hot and cold temperatures. It can get contaminated by dirty hands, surfaces and cooking gear. Make sure you have access to soap, water and sanitizer to keep the cooking environment germ-free.
---
Cooking And Hot Holding Camping Food Safety Tips


Instant Read Thermometer
Remember at the beginning of this post I mentioned that cooking food to the proper hot temperature is easy? Well, the only way to know your food is hot enough is to use a thermometer which, personally speaking, I am super happy my husband finally embraced when he is doing the grilling because I hated eating over-charred food that he wanted to "leave on just a little longer to be sure it is really done" if you know what I mean! LOL 😉 It is also important to check the temperature of your cooked foods if you are not sitting down to eat as soon as the food is done cooking. This might happen if the camp cook has meal timing issues. Ha Ha!!!
&
---
Here are a few other posts you may be interested in…
---
No time to look for recipes, create a menu and write a grocery list? No Problem! Get our 3-Day Dutch Oven Camp Menu Plan here!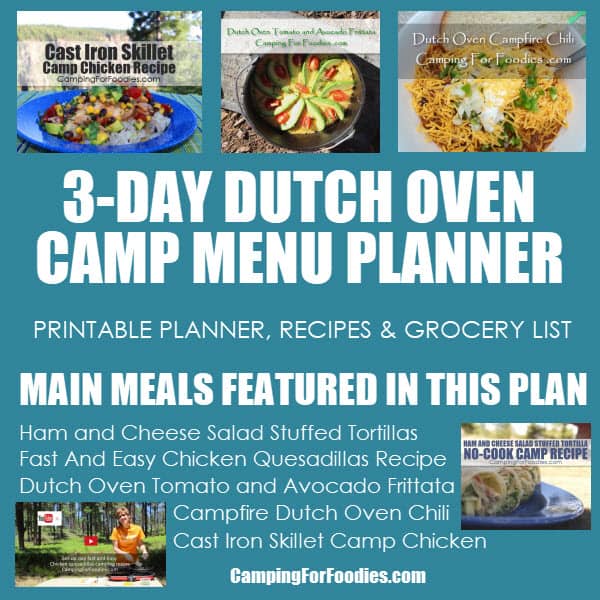 If you need camping recipes and menu ideas, you can find them here at the Camping For Foodies Camping Recipes list.
Don't miss a thing…sign up for Camping For Foodies email updates!
Your purchase of our products will help support World Vision ® Building a better world for children.