Awesome Hot Cheesy Spinach Artichoke Dip Campfire Dutch Oven Appetizer Recipe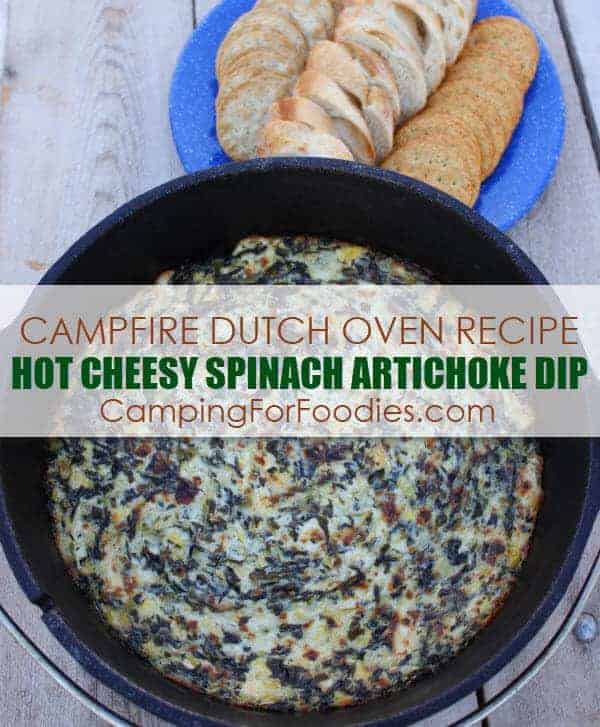 Hot Cheesy Spinach Artichoke Dip Campfire Dutch Oven Appetizer Recipe
Caution: This camping appetizer may ruin dinner appetites! It is so yummy, it's hard to stop eating it! This awesome hot spinach artichoke dip campfire Dutch oven recipe is one of our family's favorite appetizers. Grab some crusty bread and scoop up this cheesy goodness! Cooking outdoors doesn't mean you have to skip the fun stuff when you have our easy camping recipes! Here's how you make it, serves 6-8. Psst we're compensated…see our disclosures.
---
Easy Find Lid Food Storage Containers
Camp Cooking Tip: The easiest way to make this yummy appetizer at the campsite is to mix all of the ingredients at home and transport the dip to the campsite in a leak-proof container. Then, you just spread it into your camping Dutch oven when you are ready to bake it. On the other hand, it is simple enough to just assemble everything at your camping site so it really just depends on your personal preference. 🙂
&
---
Make This Hot Cheesy Spinach Artichoke Dip Campfire Dutch Oven Appetizer Recipe
Mix these ingredients
NOTE: If you are preparing this dip at home and just baking it at the campsite, after the ingredients are mixed, refrigerate them in a sealable container for transport. Then, allow the dip to get to room temperature before baking at the campsite or allow additional time for the dip to be heated through.
1 (10 ounce) package frozen chopped spinach, drained (Make sure you completely thaw the spinach and squeeze out all of the moisture too.) 😉
1 (14 ounce) can artichoke hearts, drained and chopped
3 cloves garlic, minced
1/2 cup mayonnaise
2 (8 ounce) packages cream cheese, softened
1 cup grated Parmesan cheese
Bake it
Spread the mixed ingredients in a 10-inch Dutch oven to bake at 375 degrees until heated through and slightly browned. Weather conditions will determine total baking time but it should be done in approximately 40 minutes. You will probably notice the dip bubbling and hot but it will have a pale color so, at that time, take some coals from the under your Dutch oven and move them to the lid to get the pretty browned top you want.
Don't know how many coals to use? No worries, check out our Dutch Oven Temperature Chart post for that info and other helpful tips!
Camp Cooking Tip: You can use a 12-inch Dutch oven for baking this cheesy spinach artichoke dip but you may have to adjust the baking time a bit. I don't recommend using a Deep Dutch oven (the kind for soups and stews) if you want to have an appetizing looking browned top. The heat is just too far from the food when trying to brown anything in a Dutch oven designed for simmering and stewing your culinary campfire creations!
Serve it
Crusty French baguette, sliced … for scooping of course.

Note: I also serve this cheesy spinach artichoke dip with crackers instead of bread. That is especially important if I'm making this recipe later in our camping trip because a good loaf of crusty bread gets beyond the "good kind of crusty" after a couple of days! Doing an emergency dentist visit in the middle of a camping trip because of a broken tooth is not in the plan! LOL 😉
---
Make sure you clean and condition your cast iron cookware well! And, if you like cool camping kitchen gear, check out these flexible cutting mats (they make great gifts too!)
Lodge Durable Pan Scrapers
Cast-Iron Conditioner
Flexible Cutting Mats
&
---
No time to look for recipes, create a menu and write a grocery list? No Problem! Get our 3-Day Dutch Oven Camp Menu Plan here!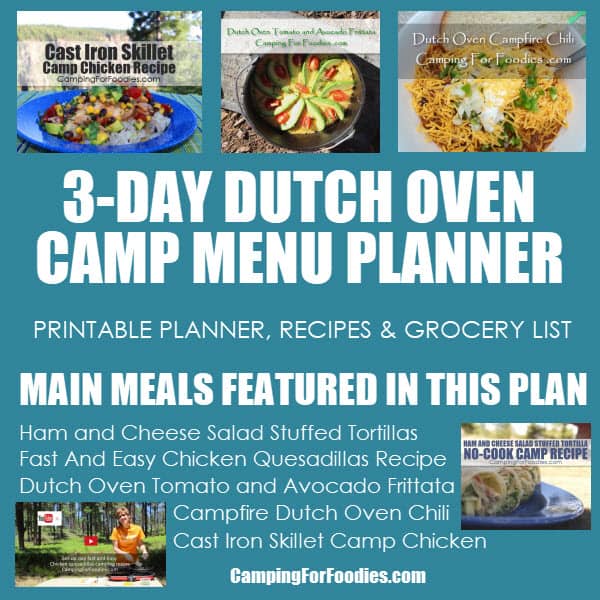 If you need camping recipes and menu ideas, you can find them here at the Camping For Foodies Camping Recipes list.
Don't miss a thing…sign up for Camping For Foodies email updates!
Your purchase of our products will help support World Vision ® Building a better world for children.