Dutch Oven Temperature Chart
Using a Dutch oven temperature chart as a guide to achieve desired cooking temperatures is half the battle when cooking in the great outdoors! It's part art and part science … so, let's start the charcoal and get cooking! Psst we're compensated…see our disclosures.
Dutch Oven Temperature Chart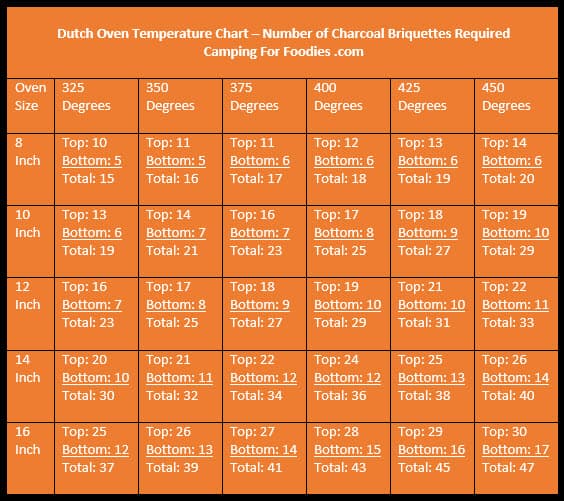 Use this Dutch oven temperature chart as a guide only because weather, elevation and cooking methods all play big roles in outdoor Dutch oven cooking. This is where the "art" part comes into play … you will need to adjust the number of charcoal briquettes for your particular situation. Consider these factors…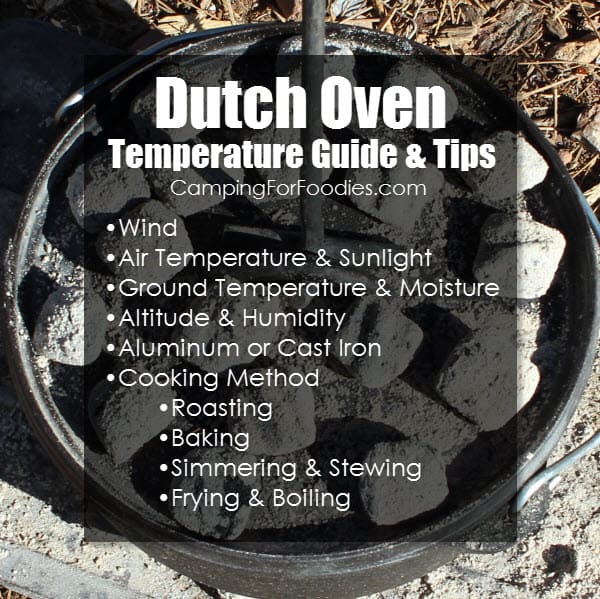 Wind And Dutch Oven Cooking Temperatures
Because it adds oxygen to the cooking environment, wind causes coals to burn faster and hotter. It can also blow heat away from the oven so you need to use some sort of wind block around your Dutch oven when cooking in windy conditions. You can create a shield with rocks, logs or even aluminum foil; it is even easier to use a Folding Camp Stove Windscreen or Camp Dutch Oven Cooking Table.

HIGHROCK Lightweight Compact Folding Camp Stove Windscreen
Using a tool like this HIGHROCK Lightweight Compact Folding Camp Stove Windscreen helps reduce the negative impact of the wind while cooking in your Dutch oven. It has 9 panels that fold neatly in its storage case. It is made from aluminum keeping it lightweight for transporting.
&
&
Lodge A5-7 Camp Dutch Oven Cooking Table
The Lodge A5-7 Camp Dutch Oven Cooking Table is nice because it allows you to stand while cooking and can accommodate two ovens at the same time. The 3-sided attachable 12-inch-high windscreen protects your Dutch ovens while cooking in windy conditions. The legs fold for easy transportation and it has adjustable leveling feet.
&
&
Ground Temperature, Moisture And Dutch Oven Cooking Temperatures
If you are cooking with your Dutch oven sitting directly on the ground, remember that moist cold ground steals heat and can extinguish your charcoal. I use an inexpensive cookie sheet or a disposable aluminum pan as a barrier between my charcoal and the ground to provide a dry surface for the coals.
RL Treats Aluminum Oven Liners Pack of 12
Disposable aluminum pans are lightweight and can be thrown away at the end of your camp weekend.
&
&
Air Temperature, Sunlight And Dutch Oven Cooking Temperatures
Heat is robbed from your Dutch oven by colder air temperatures, higher humidity levels and higher elevations. On the flip side, direct sunlight can make a black cast iron Dutch oven heat up quickly. Warm temperatures and direct sunlight may create conditions requiring less charcoal briquettes for your cooking. Because we live and camp in Arizona with over 300 days of sunshine each year, we like cooking under the shade of our Camping Coleman Instant Canopy so we don't have to worry about direct sun overheating our Dutch oven while we are cooking with it.

Coleman 13 x 13 Instant Canopy
We use our canopy for protection from rain and sun when cooking with our Dutch ovens. You can set it up quickly and it comes with a wheeled carry bag for transportation. The framed canopy has a vented top which allows air to easily escape during windy conditions.
&
&
Altitude, Humidity And Dutch Oven Cooking Temperatures
At higher elevations the air is thinner causing the need for more coals while cooking with your Dutch oven. High humidity can cause issues when you are getting your charcoal briquettes lit too. Both scenarios may require you use more charcoal to reach and maintain a desired temperature. We use our Chimney Starter for lighting our charcoal briquettes quickly without lighter fluid.

Weber 7416 Rapidfire Chimney Starter
Lighting charcoal briquettes is a breeze with our Rapidfire Chimney Starter! We just place the number of briquettes we need in the starter, place some wadded up newspaper under it and light the paper. The airflow created in the starter's design gets your coals red hot in minutes. It's almost magic!
&
&
Aluminum, Cast Iron And Dutch Oven Cooking Temperatures
The material your Dutch oven is made from makes a difference in heat requirements for cooking.

GSI Outdoors 10-Inch Aluminum Dutch Oven (Small, 2-Quart)
Aluminum Camp Dutch Ovens are popular with people concerned about the weight of their equipment. They weigh about 66% less than cast iron. Aluminum ovens are rust-free, easy to clean and heat quickly. They require approximately 25% less coals than cooking with Cast Iron Camp Dutch Ovens.
&
&
Cast Iron Camp Dutch Ovens heat more slowly but retain heat longer than aluminum. They are the more traditional choice for camp cookware and they evenly distribute heat to cook food evenly.
&
&
Cooking Method And Dutch Oven Temperature Chart Briquette Numbers
&
Our Dutch Oven Temperature Chart is a general guideline indicating the number of charcoal briquettes required to produce a certain temperature for different sizes of Dutch ovens. The cooking method of your particular recipe will more specifically determine the placement of the briquettes.
Roasting – Divide the heat. 1:1 ratio with even coals on top and bottom
Baking – Divide the heat. 3:1 ratio with most coals on top
Simmering & Stewing – Divide the heat. 4:1 ratio with most coals on bottom
Frying & Boiling – Concentrate the heat. All coals on bottom
Food Doneness And Dutch Oven Cooking
Because Dutch oven cooking is a little more art than science, it is important to verify your food is up to temperature before you sit down to dig in … especially the internal temperature of meat! A food thermometer is an easy-to-use tool to check the temperature of your food; there are inexpensive Dial Kitchen Pocket Thermometers, more advanced Digital Kitchen Pocket Thermometers and even more sophisticated Non-Contact Infrared Kitchen Thermometers.
&
Taylor Precision Products Classic Instant Read Pocket Thermometer
Sainlogic Instant Read Digital Thermometer
AVANTEK Laser Infrared Cooking Thermometer
&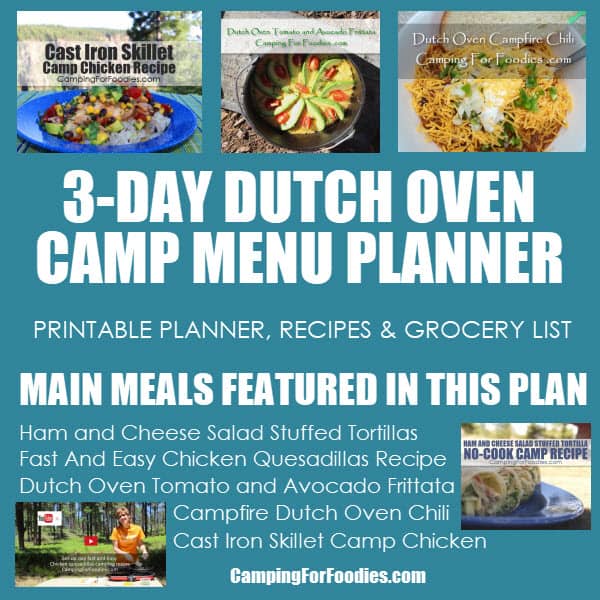 No time to look for recipes, create a menu and write a grocery list? No Problem! Get our 3-Day Dutch Oven Camp Menu Plan here!
Get More Dutch Oven Tips And Recipes! Check out a few more of our Dutch oven posts…
 Grocery Tote
 Funny Apron
 Cutting Mat
 Mat Set
 Shaker Set
&
If you need camping recipes and menu ideas, you can find them here at the Camping For Foodies Camping Recipes list.
Don't miss a thing…sign up for Camping For Foodies email updates!
Your purchase of our products will help support World Vision ® Building a better world for children.