Best Female Urination Device
There is one aspect of camping that is much more difficult for women than it is for men.
Girlfriend, you need camping tips when there is no bathroom in sight!
The problem is that guys are used to peeing outside but it is a whole different story for the girls!
Don't worry ladies, best camping gear includes a solution called a portable urinal and we'll show you how to choose the best female urination device for your camping style.
We'll discuss what they are, where and how to use them plus the pros and cons of our favorite styles. 
Psst we're compensated…see our disclosures.
What Is A Camping Female Urination Device?
The type of female urination device (FUD for short) that is used while camping may also be called a pee funnel.
The main purpose of the device is to funnel urine away from a woman while she takes a pee standing up rather than squatting.
---
Different Styles Of Female Outdoor Urinals
Outdoor female urinals can be disposable or reusable as well as soft or rigid.
Reusable FUDs are typically made from flexible silicone or hard plastic.
Disposable female urination devices are usually made from cardboard.
---
Where To Use A Portable Female Urinal
Portable urinals are not new … originally they were designed for the medical industry allowing people to pee while on bed rest.
The concept and design of these devices has evolved making their use more widespread in many other applications.
The most common place for a woman to use a portable urinal is in the outdoors while camping, backpacking, kayaking, hiking and climbing … each activity poses different challenges when choosing the best female outdoor urinal.
But, FUDs are also popular with women who want to pee while standing to avoid contact with toilets in dirty public restrooms like concert venues, stadiums, outhouses and vault toilets.
Another option for using a transportable urinal works for men and women while sitting in a vehicle … especially on long road trips.
Lack of good personal hygiene is one of the reasons women hate camping, but the good news is that every challenge can be overcome with the right tips and gadgets!
These things make great gifts for active women as well as those gals who are a bit more reluctant to outdoor environments.
---
How To Use Camping Urinals For Females
Choose a location with your back to the wind keeping in mind the potential for backsplash.
Position your feet with a wide stance to avoid peeing on your shoes.
Hold your clothing out of the way with one hand. Depending on your clothing and activity, you can either pull your underwear down or to the side.
Use your other hand to hold the FUD firmly against your body to form a "seal".
Consider how much you have to go because the FUD will only be able to handle a certain amount of volume so to avoid spill-out you may need to control your speed.
Aim, lean slightly forward and pee.
Toilet paper is optional. You can use a few squares or drip dry. Some gals choose to wear a thin panty liner to absorb the moisture if they don't want to carry a roll of toilet tissue but also don't want to drip dry. Some FUDs are actually designed with a rounded edge that can be used to "wipe" instead of toilet paper.
Pour out any residual pee, wipe the FUD with a disposable sanitary cloth and pack it away.
---
How To Clean Camping Female Urination Devices
Reusable FUDs can be washed with warm soapy water. If you are in the wilderness without an ample supply of water, just use a disposable sanitary cloth to wipe it clean. Some devices are actually dishwasher safe too!
---
Choosing The Best Female Urination Device
Whether you decide on a pee funnel or a female urine bottle for camping, here are some questions you'll want to consider when determining the top urination device to meet your specific requirements.
What clothing and gear are you wearing? You'll need a device that has the ability to work around restrictive clothing and gear. This is especially important for activities that use harnesses like rock climbing.
What is your body position during the activity? Will you be constrained in a cockpit while kayaking? Contorted while looking for the next step as you climb up a rock wall? Just hanging out at the campsite?
What is the level of privacy while carrying and using your FUD? If you will be in densely populated areas of National Parks your needs for discretion will be much higher than if you are using enclosed vault toilets.
How much space is available to pack your device? For car and RV campers who have ample space to pack their gear, space is not an issue but backpackers, climbers and long-distance hikers need as much functionality as possible that is lightweight in the smallest amount of space.
How rigid or flexible should it be? Hard plastic is more durable but less comfortable and packable. Disposable cardboard and softer silicone styles of FUDs are more comfortable and packable but more susceptible to rips and tears. Do you want it to be rigid enough for one-handed operation?
How long or short is the spout and does it have an extender hose? The longer the spout, the greater the distance, the shorter the spout, the more likely you will end up with wet shoes. Some FUDs have an extension tube to address this issue.
Does it have a carrying case? Some devices have protective rigid carrying cases, some have soft fabric bags and others have none at all.
Is it a funnel shaped or non-funnel design? The wider funnels are more spill-proof but they are more difficult to get around underwear and pack for storage and transportation.
Does it have a plastic funnel or a plastic trough? An enclosed funnel is better at preventing splashing but the open trough design can be easier to use.
Does it have a portable urinal attachment to securely hold the urine or is it a stand and spray style? If you only plan to use your FUD outdoors, you'll probably opt for the stand and spray style but if you also want to use it inside a tent or while in a vehicle, you'll want a travel pee bottle device that has an attachment to securely hold the pee until you can empty it appropriately.
---
Reusable Camping Urinals For Females
pStyle Female Urination Device
pStyle Female Urination Device
The pStyle Female Urination Device is one of the most popular FUDs.
The plastic is rigid making it easy to position and maneuver through clothing.
It also has a rounded back edge for wiping … eliminating the need for toilet paper.
It is a bit larger than other FUDs measuring approximately 1.75 x 1.75 x 7.5 inches.
In spite of the larger size being a challenge for storage and transportation, it is well designed and does a great job.
The hard plastic may be unforgiving and crack if put under too much pressure.
Because of the open top design, you may get some splashback if you don't lean forward a bit and restrict your flow when urinating.
---
GoGirl Female Urination Device
GoGirl Female Urination Device
The GoGirl Female Urination Device is a wildly popular FUD for many reasons.
It is flexible and folds to fit into small spaces because it is made from medical-grade silicone, is 100% latex free and is moisture and germ resistant.
The reservoir and spout are small so this unit has the potential for overflow if you are not careful.
---
Freshette Feminine Urinary Director
Freshette Feminine Urinary Director
The Freshette Feminine Urinary Director is another well-liked FUD.
It is approximately 8 x 2 x 3.5 inches making it one of the largest devices on our list.
If you want reliability, this unit is for you!
It has 6″ retractable tubing making for high marks when it comes to direction and distance accuracy … and … dry shoes. This feature also makes this unit convenient for storage and transportation.
On the other hand, the two-piece design makes this style a little more difficult to clean and dry.
---
Disposable Portable Female Urinal Devices
SaniGirl Disposable Female Urination Device Sanitary Pee Funnels
SaniGirl Disposable Female Urination Device Sanitary Pee Funnels
The SaniGirl Disposable Female Urination Device Sanitary Pee Funnels are great for trying out the whole idea of using a pee funnel to stand up while relieving yourself.
These 100% recyclable single-use funnels are made using a high quality paperboard that has a waterproof coating. They easily fit in a backpack, pocket or purse.
---
Travel Pee Bottles
Travel Pee Bottle With Female Adapter
Travel Pee Bottle With Female Adapter
This Travel Pee Bottle With Female Adapter is designed to be a unisex portable urinal for use inside places like tents and vehicles.
The urinal is made out of a compression resistance solid plastic and includes a handle making it easy to position.
After using it, just cap it off until you get to a location where you can empty it out.
---
Travel Urinal Bags
Disposable Travel Urinal Bags
These Disposable Travel Urinal Bags are another option for women to pee standing up … it instantly gels after absorption of liquid making it leak-proof without the need to close it!
The bag is reusable until it is full and then you just throw it away like any other piece of trash.
---
Using A Portable Potty At The Campsite
If you really want to make it easy to use a portable potty right at the campsite, a 5 gallon bucket with a set is a modest set-up and portable models with removable holding tanks are almost like being at home!
Portable Toilet Bucket With Seat And Lid
Portable Travel Toilet-Designed For Camping
---
If using a female urination device is as rough as you want to get at the campsite, you might want to check out how to pamper yourself with a few DIY glamping ideas!
---
No time to look for recipes, create a menu and write a grocery list? No Problem! Get our 3-Day Dutch Oven Camp Menu Plan here!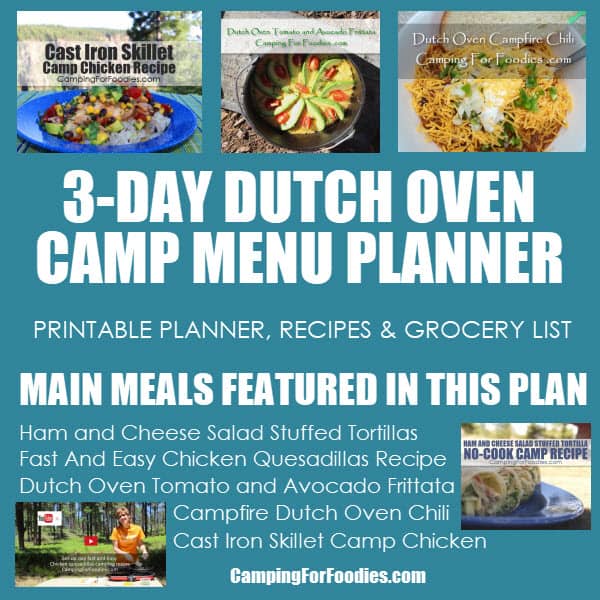 Our Cool Camping Products Make Great Gifts!
Cutting Mat
Mat Set
Shaker Set
Hammock
If you need camping recipes and menu ideas, you can find them here at the Camping For Foodies Camping Recipes list.
Don't miss a thing…sign up for Camping For Foodies email updates!
Your purchase of our products will help support World Vision ® Building a better world for children.