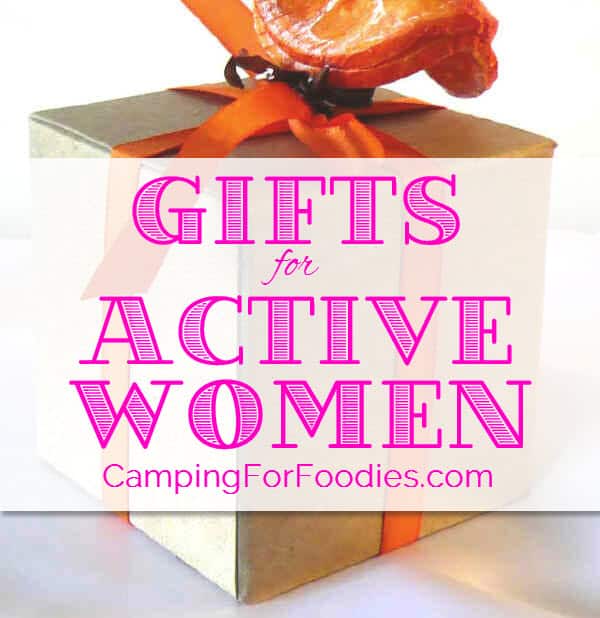 Gifts For Active Women
We've found some awesome unique, fun gifts active women will absolutely love for this roundup of our favorite gifts for active women! Whether you are giving a gift for Mother's Day, her birthday, anniversary, Christmas or just because … the hiking, fishing and camping enthusiasts receiving these gifts will totally adore them. Yes, Hubby, I would like one of each please! Psst we're compensated…see our disclosures.
---
Gifts For Women Who Camp
---
Camping women really don't care what their hair looks like when they are relaxing in the wilderness! Nobody will ever know how bad her hair looks under this adorable Camping Hair Don't Care Hat! It makes a cute and slightly sassy gift! 😉
&
---
Cooler weather camping is waaaaaaay more fun when you can keep your body temperature comfortable. This Camp Casual Travel Map Throw has a fun retro fabric on the front and a velvety soft fabric on back. It's machine washable which is important because the cleanest women on the planet tend to get just a little dirty on camping trips. It's a unique gift that is so much fun to give!
&
---
Waterproof 16000mAh Solar Charger
Keeping electronics charged while camping has some challenges. This Waterproof 16000mAh Solar Charger makes a great gift for women who want to stay connected while in the wilderness. This little device will keep devices charged but it won't be able to do anything with the "Can you hear me now?" question … which is actually part of the reason we all love camping … right? Because sometimes you deliberately just want to be out of range so they can't hear you! LOL 😉
&
---
Keeping a phone charged is great but for women who are active and moving around the campsite … no purses and camp clothes without pockets, makes it tough to carry a phone. A Phone Armband makes a great gift for women who don't want the hassle of carrying it but still want their phone readily available during camping trips.
&
---
Bluetooth Stereo Speakers Headband
Music-loving women who camp will love receiving this lightweight Bluetooth Stereo Speakers Headband as a gift! It eliminates the need for those annoying cables and quickly pairs with Bluetooth enabled music devices, including Apple and Android phones, that are up to 33 feet away! They come in tons of cute colors too!
&
---
Checker Board Eclipse Camping Table
Game-playing camping women will LOVE receiving this Checker Board Eclipse Camping Table as a gift! They will be able to keep the game going without missing a beat to get up for a snack or refreshing drink because of this totally cool 2-level-topped table! There is even a zipper pocket to hold the checker game pieces that are included with the table!
&
---
RV Truck And Camper Salt And Pepper Shakers
Life is better when flavored with a little salt and pepper! This RV Truck And Camper Salt And Pepper Shaker Set is a fun and colorful way to add  S & P to your camp meals! It is made of ceramic and measures approximately  6×2 inches which is the perfect size when it comes to Christmas stocking stuffer gifts!
&
---
The Best Memories Are Made While Camping Picture Frame
Truly awesome memories are made during camp trips … photos showcased in The Best Memories Are Made While Camping Picture Frame carry on that truth! The self-standing frame measures 7.5×6 inches and holds a 6×4 inch photo. The frame itself makes a great gift but it is even better to personalize it with a favorite camping photo already inserted into it!
&
---
Photos are not the only way to capture camp trip memories … Journals work great too! This Camping, The Camper's Journal has writing prompts including: location, date weather, people, activities and room to capture additional thoughts. It is a spiral bound, hard cover, 200 page journal. This makes a great gift for women who like sharing camping tips and locations with other friends who camp!
&
---
Just Another Coffee Drinker With A Camping Problem Mug
Camp coffee tastes better than coffee made anywhere else! Maybe that's why this Just Another Coffee Drinker With A Camping Problem Mug really hits home! This 11 oz ceramic coffee mug is also dishwasher and microwave safe! Because I am a coffee-lover myself, I think everyone else should be too! 😉 Soooo, I like giving coffee-themed gifts that use a cute camping mug as a base then add some Sugar Crystal Stir Sticks and a cute bow.
&
---
Camping For Foodies Sleek Brushed Stainless Steel 5-piece Martini and Cocktail
This Sleek Brushed Stainless Steel 5-piece Cocktail Shaker Gift Set Displaying The Message: Camp, Hike, Cook, Drink, Eat, Repeat made our roundup list of Gifts For Active Women: Gifts For Women Who Camp because thirsty campers can always use a freshly squeezed and shaken lemonade (and sometimes a spiked one). The decorative box makes this an extra special gift!
&
---
Camping For Foodies Flexible Cutting Mats with Retro RV Camper Theme
Everyone wants to pitch in with meal prep duty at the campsite with these colorful cutting mats! This Flexible Cutting Mat Set With Retro RV Camper Theme Design made our gift list because the cutting mats are lightweight, come in three sizes and have a totally fun design. They can be easily hung on hooks for transportation and storage too!
&
---
You always need tote bags to carry stuff on camping trips! This colorful retro RV camper trailer canvas tote bag is made of cotton and has a zipper too! Women who camp will love the design on this bag but they will also love the sturdiness of the canvas and the length of the straps. It was designed by camping women for camping women, and it makes a great gift! Camp on, girlfriends 🙂
&
---
Camping For Foodies Retro Camper Trailer, Camp, Hike, Cook, Drink, Eat,
This Women's Retro Camper T-Shirt is a tri-blend super soft Dolman style tee that has a distinctly fashionable look in an easy fit with comfortable drape and the message: Camp, Hike Cook, Drink, Eat, Repeat. It's fits cozy enough to be pajamas but it's too cute to wear to bed!
&
---
This "I'm Unplugging" Hammock With Attached Accessory And Carrying Bag made our roundup list of gifts for women who camp because camping is a great way to unplug and it is awesome to kick back in this hammock and have easy access to your favorite book, drink and sunglasses right next to you in the attached accessory bag! Check out the video to see it in action!
&nbsp
---
Campfire Funny Apron With Pouch Pockets
Camping women who cook and have a sense of humor will love this Campfire Funny Apron! Can't we all relate to the saying: "Every camper knows…If your shoes are smokin' back away from the campfire." It's not only funny, it's functional too with three pouch pockets, a thermometer-pen pocket and soil-release finish fabric.
&
---
Gifts For Women Who Hike
---
Paracord Bracelet Survival Gear Kit
Emergency gear does not have to look drab and boring! This brightly colored Paracord Bracelet Survival Gear Kit has all the functionality you want … compass, fire starter, emergency knife and whistle … they also have quick release buckles and come in bright pink and basic black! The 2-pack means you don't have to choose which color you like best! Yes, please, I'll take them both! 😉
&
---
Keep Calm And Hike On Sports Water Bottle
Staying hydrated while hiking is important. This water bottle is functional and fun! The Keep Calm And Hike On Sports Water Bottle is made of aluminum and has a 20oz capacity. It features 2 twist-on caps: the first is an easy-flow drinking spout and second is a standard cap. A carabineer clip is also included!
&
---
There are many ways to keep the memories from a beautiful hike; photos are especially great! This totally cute Take A Hike Photo Frame has raised accents of a walking stick, backpack and boots. The frame stands vertically and can accommodate a 4″ x 6″ picture.
&
---
Serious hikers know it is important to always carry plenty of water on hikes. It is so convenient to have the water available with a Hydration Backpack and it's really nice to have the weight of the water evenly distributed with comfy straps and pockets for phones and keys! These things are so awesome and they make affordable gifts when it comes to hiking gear.
&
---
Garmin eTrex 30x 010-01508-10 Handheld Navigator
Hiking on familiar trails that are well marked does not require special equipment for navigation but for women who like to explore new hikes in unknown terrain, the Garmin eTrex 30x 010-01508-10 Handheld Navigator makes a great gift. These things are celebrated for their ease-of-use, durability and capability to withstand dust, dirt, humidity and water. Let's hit the trail, ladies! 🙂
&
---
UV Resistence Bandana Scarf Set
Wearing sunscreen while hiking is important and it is also a good idea to wear some sort of head protection. For women who don't like to wear a wide-brimmed sun hat, UV Resistence Bandana Scarfs make great gifts. These can be worn around the head to protect the head and ears from the sun and a second bandana can be worn around the neck for extra protection too. This set comes in fun bright colors but there are more options like cammo, boho and florals!
&
---
Karen Foster Design Scrapbooking Paper, 25 Sheets, Take A Hike Collage,
This Take A Hike Collage Scrapbooking Paper made our roundup list of Gifts For Active Women: Gifts For Women Who Hike because it is a fun way to celebrate the sport of hiking through a creative arts and crafts project with hike-themed scrapbooking paper. We just love the 'Not all that wander are lost' and 'Leave no trace' spirit expressed in this paper!
&nbsp
---
Hiking, A Hiker's Journal – Kraft Hard Cover (prompts on every
This Hiker's Journal made our roundup list of Gifts For Active Women: Gifts For Women Who Hike because hiking is a great activity to clear your mind and reflect on life. Many women have "ah ha" moments while unplugging and hiking in the wilderness; having a journal to capture those incredible thoughts is a great way to keep track of those insightful events.
&nbsp
---
Women who hike with their dogs know it is a challenge to avoid wasting water when giving dogs a drink on hiking trails. They tend to waste lots of water if they drink from a stream of water begin slowly poured out of a bottle. Carrying a bulky water bowl does not work either. But, these Collapsible Dog Bowls are the perfect solution, can be clipped to the outside of a backpack and they make great gifts for the owner as well as the dog!
&nbsp
---
Coffee, tea or any other hot beverage is better in a Peace Love Hiking Mug! This mug comes in a variety of colors too. For a more substantial gift, add a small bag of coffee or some a yummy Hot Chocolate Sticks!
&
Peace Love Hiking Mug
Hot Chocolate On A Stick
&nbsp
---
All Natural 100% Soy Take A Hike Candle
Seriously, how often have you seen hiking candles?!?! My answer was "never" until I found this Take A Hike Candle which makes the perfect gift for women who like to hike! It is a charmingly rustic look with the mason jar and it is 100% Soy, All Natural!
&nbsp
---
Gifts For Women Who Fish
---
Some of the best fishing happens early in the morning and I don't know a fisher-woman who wants to start casting before enjoying a nice strong cup of java! I say, have one cup while loading the gear and grab another one to go in this Fishing Wrap Tumbler! It makes a fun gift for women but to be totally honest, men love this one too!
&
---
Whether she is pan-frying the catch of the day or throwing it back and cooking her latest catch from the grocery store, when it comes time for cooking, women who fish will love using these Fish Oven Mitts! They measure 6×16.5 inches so they cover hands and wrists. They are cute enough to display when not in use and make great gifts!
&
---
Fishing Lure Spinnerbait Kit With Portable Carry Bag
Do you know how many is too many when it comes to lures? You can't have too many lures! This Fishing Lure Spinnerbait Kit contains 16 lures with sharp treble hooks and brightly colored strike-attractor sleeves and it's all contained in a handy portable carry bag. This gift is guaranteed to put a smile on the face of any fishing woman who receives it!
&
---
Some women embrace fishing technology while others say using fishing gadgets is "cheating" so you have to be the judge before considering this gift. If you are dealing with a high-tech fishing woman, you need to get this Portable Fish Finder for her!!! It works on any kind of water … lake, river, sea … and from docks and boats! It detects and displays water depth, approximate fish location, short and tall weeds, sand and rocks on seabed. It's not quite like shooting fish in a barrel, but it's getting close! LOL 😉
&
---
Fishing Pole With Fish Charm Pendant Necklace
Jewelry can be very personal and every woman has her own unique style … but, a classic safe bet is sterling silver pieces. This Fishing Pole With Fish Charm Pendant Necklace is so simple and stylish, I can't imagine any fishing woman who wouldn't adore it. The small fishing pole charm pendant hangs on a 18″ sterling silver chain necklace and it is handmade by KEVIN N ANNA in California … you've gotta love that!
&
---
Hallmark Keepsake 2017 Merry Fishmas Santa Fishing Christmas Ornament
Themed Christmas trees are so popular with hobbyists. One of my female friends who loves to fish just about fell over when she saw this Hallmark Keepsake Santa Fishing Christmas Ornament and decided she needed to buy one for every fish catching friend on her gift list! Personally, I love the candy cane fishing hook and the worm with the Santa cap! Adorable! 🙂
&
---
Move over Monopoly, the fish are in town! This totally popular Fishin'-Opoly game is still a buy, sell and trade kind of game but it's with fish! If a player lands on snag and gets all hung up … they sit out of the game for three turns. There are instructions for traditional play or a condensed one hour version. I wonder if there is anything uncool about being the worm? LOL 😉
&
---
Monogrammed Personalized Hook Fishing Lure
Whaaaaat? A personalized fishing lure? Yes! And, it makes a really unique gift! This Monogrammed Personalized Hook Fishing Lure's engraved message can be totally customized. It is made from lightweight stainless steel and measures 2 1/2″ (top to bottom). When you're ready to fish with it, just attach a weight to the lure and cast away!
&
---
Rivers Edge Products Antique Lure Playing Cards In Gift Tin
This Gift Tin With Antique Lure Playing Cards made our roundup list of Gifts For Active Women: Gifts For Women Who Fish because the cards feature unique fishing lures from the 1800's to 1940!  The set includes 2 decks of playing cards and 5 dice plus the gift tin is felt-lined and has an embossed lid.
&
---
Fire Buggz Fishing Pole Campfire Roatser (Blue)
This Fishing Pole Campfire Roaster made our roundup list of Gifts For Active Women: Gifts For Women Who Fish because you can "fish" while you roast your marshmallows or hot dogs over the campfire! Plus, you "jig" it and it flips the marshmallows!
&
---
This Nautical Theme Note Pad Set made our roundup list of Gifts For Active Women: Gifts For Women Who Fish because they are cute, creative and fun! These are all great but I think my favorite one of the set is the "Leave All Your Worries Ashore" pad because that message really captures the true meaning of fishing and camping!
&
---
Get More Camping Gift Ideas From These Posts!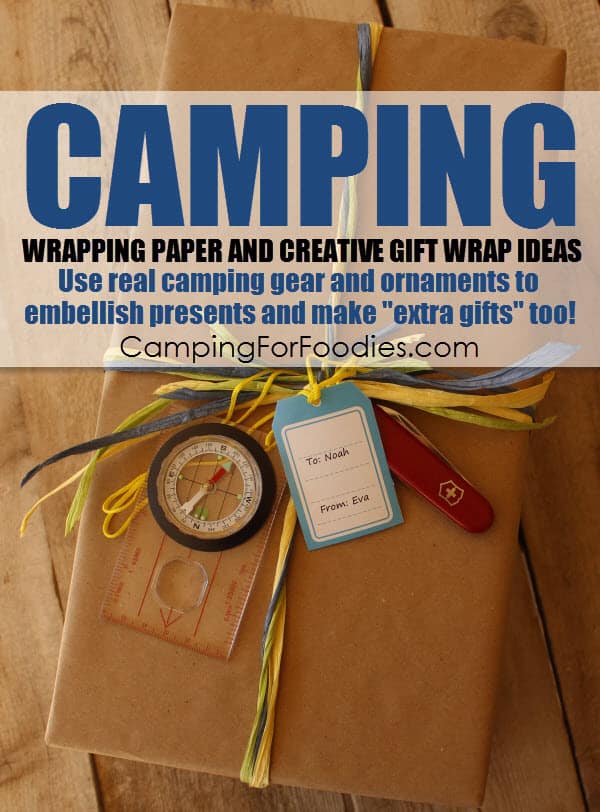 Get Fun Camping Wrapping Paper And Creative Gift Wrap Ideas here!
&
---
No time to look for recipes, create a menu and write a grocery list? No Problem! Get our 3-Day Dutch Oven Camp Menu Plan here!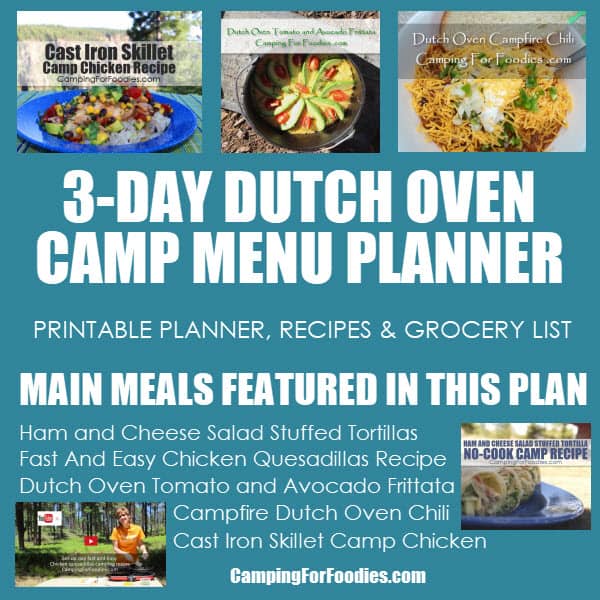 ---
If you need camping recipes and menu ideas, you can find them here at the Camping For Foodies Camping Recipes list.
Don't miss a thing…sign up for Camping For Foodies email updates!
Your purchase of our products will help support World Vision ® Building a better world for children.