Cute Glamping Accessories And DIY Glam Camping Ideas And Tips
DIY Glam Camping Ideas Start With Fun Glamping Accessories
Go from camping to glam camping instantly by adding cute glamping accessories to your normal camping gear. DIY glamping (Do It Yourself glamorous camping) is trendy, easy and fun. Our simple tips and ideas add pretty touches to your camp adventures. The point is to reflect your personal taste with a few stylish touches. You can go easy or all out … it's totally up to you, just have loads of fun on your glamping adventure! Psst we're compensated…see our disclosures.
You can glamp in a tent or RV … It's all about creating a cozy setting with elegant and whimsical little touches that make glamping special. Instead of chowing down on plain old camp food, create easy and slightly-gourmet food and drinks to match the glam camping experience. Unique bar and kitchen accessories are fun additions to your glam camping gear. Here are a few ideas…
Bar And Kitchen Glamping Accessories
Camp-Themed Cocktail Shaker Gift Set
Whether you are shaking a freshly-squeezed lemonade or an afternoon cocktail, this Camp-Themed Cocktail Shaker displaying the message: Camp, Hike, Cook, Drink, Eat, Repeat, is a fun accessory for your glamping bar. We have lots of Camping Cocktail Drink Recipes too! P.S. One of my personal favorites is the secret recipe I got from Kona Grill: Strawberry Basil Lemonade! 🙂 YUM!!!
&
Festive Happy Camper Cocktail Napkins are a fast, inexpensive and fun way to add to your glamping theme. They are colorful, whimsical and totally adorable! This is one of my favorite quick glamping accessories and they make totally cute little gifts for your friends who would rather glamp than camp! 🙂
&
Who wouldn't want a blended coffee mocha or frozen margarita while out in the wilderness??? This Tailgater Blender plugs into a vehicle's cigarette lighter and has a 14-foot cord. I'll take my blended mocha with a shot of fresh whipped cream, please!
&
Happy Camper Wine Bottle Stopper
If wine is your preference, using a cute Happy Camper Wine Bottle Stopper is a cute glam camping accessory that adds to the glamping bar.
&
Welcome To The Trailer Wine Bottle Insulator
Keeping beverages chilled while camping can be a challenge. If white wine is on the menu for your glamping experience, it is fun to use a cute Welcome To The Trailer Wine Bottle Insulator to keep your wine at the right temperature.
&
Picnic Stix Wine Glass and Bottle Holders
Playing a leisurely yard game like Bocce Ball during your glamping happy hour doesn't mean you have to forgo a glass of wine. Using Picnic Stix Wine Glass and Bottle Holders is a savvy alternative to a standard table or setting your wine on the ground.
&
GSI Outdoors Java Press Coffee Maker
No matter how you make it, camp coffee is better than any other coffee on the planet … it has to be the outdoor setting! When glamping, consider using a simple French press Java Press Coffee Maker for a perfect cup of joe.
&
Yes, you can use a regular camp coffee mug but WHY would you when you are glamping? A quirky camp-inspired Cute Retro Trailer Coffee Mug is a much better choice when glam camping!
&
If you are letting your inner chef take control of your camp meals, you may want to use a fun Camp-Themed Cutting Mat Set in your glamping kitchen! And, if you need delightful palate-pleasing menu ideas, check out our Camping Recipes List for tons of options!
&
Retro Camper Desert Pot Holders
Normally, I like using heavy duty heat resistant gloves when cooking over the campfire. But for "cooler" cooking, whimsical Retro Camper Desert Pot Holders are the perfect option when cooking in a glamping camp kitchen.
&
Mood lighting is essential for glamping after the sun goes down. There is nothing worse than a super-bright utility type of light when you are glam camping. You should have a bright work-type light available in the event you need to do some sort of task at night … but, for the most part, keep your lighting low with candles, soft string lights and lanterns. Here are a few ideas…
Lighting Glamping Accessories
Natural Lemongrass Citronella Mosquito Repellent Candles
Candle light is so soft and pretty and if you use Natural Lemongrass Citronella Candles you can ward off mosquitoes too!
&
String lights are commonly used when camping. When glamping, look for Solar String Lights that have a soft warm glow. It is a plus if the lights are operated with solar power so you don't need to worry about electrical plugs or batteries!
&
I just LOVE our Luci Inflatable Solar Lights! They can be hung from almost anywhere … plus, they are lightweight and compact which is great for transportation and storage. They come in a variety of colors which helps create a special glamping mood.
&
Decorating your campsite area and inside your tent or RV is totally a glamping thing. There is no practical or utilitarian use for decorations … they are just cute and fun! Don't you just love the idea of glamping gear that is hanging around "just because" it feels pretty and makes you smile?!? Here are a few ideas…
Decoration Glamping Accessories
Flags Decoration Bunting Banners
You can easily add a splash of color around your entire campsite with Flags Decoration Bunting Banners. They look adorable hanging from trees, awnings and tents.
&
Let's Travel RV Camper Throw Pillow Case
Using decorative cases for throw pillows allows you to change a color scheme instantaneously. You can use them inside tents, RV trailers as well as on your outdoor furniture. Look for Cute Throw Pillow Case covers that make you smile!
&
Putting a flag up to mark your temporary home is a popular thing to do. When you are glamping, choose a Fun Camping Flag that fits your glam camp style.
&
It's all about the setting! I would be the first person to tell you to put away electronic devices and get back to nature when it comes to camping. But, glamping is an entirely different experience. Watching a fun "chick flick" under the stars with a slight evening breeze while lounging in a comfy chair is an awesome DIY glam camping experience! Here are a few ideas…
Entertainment Glamping Accessories
The Audrey Hepburn DVD Collection
One of the most classic chick flick's is Breakfast at Tiffany's which is just one of the movies in The Audrey Hepburn DVD Collection set! If your DIY glamping trip is long enough, you may need an entire series!
&
Outdoor/Indoor Movie Night Portable Projector
Drive-in movies are a thing of the past but that doesn't mean you can't watch your favorite flick under the stars on your next glamping trip! Outdoor/Indoor Movie Night Portable Projectors are designed for tons of fun … and whatever you watch … don't forget the popcorn!
&
Camp Chef Portable Outdoor Movie Screen
Some people display the image from a portable movie projector directly on the side of an RV, others string up sheets using bungee cords. But, the best viewing happens if you use a Portable Outdoor Movie Screen that sets up and packs away easily.
&
Anker SoundCore Bluetooth Speaker
Ahhhhhhhhhhh, music … it is one of the biggest influences on setting a tone for any environment … and that includes glam camping! Using a Bluetooth Speaker let's you take the music with you throughout your glamping experience. I recommend having a variety of music so you can set any mood you desire as you relax during your trip.
&
Comfy, cute, stylish and colorful is the name of the game when it comes to glam camping furniture. It also needs to pack easily because you are not going to rent a U-Haul or hire moving men just to help you get set up on your DIY glamping trip! Here are a few ideas…
Furniture Glamping Accessories
I don't know about you but when I'm relaxing I want my friends and family to give me a little space. That is no problem when I'm kicking back in my I'm Unplugging Hammock which is THE COOLEST HAMMOCK EVER! I love having my magazines, glasses and drinks easily within reach after I wake up from my mid-day nap! This thing folds up into itself for easy carrying too!
&
 I'm Unplugging Hammock It's The Coolest Hammock Ever Accessory Bag Holds Drinks, Glasses etc. Folds Into It's Own Carrying Bag
&
Portable Folding Wooden Picnic Table With Bench Seats
There are so many location options when it comes to DIY glamping. If you are in a campsite with tables, you are good to go … if not, you need to consider taking something with you. This Portable Folding Wooden Picnic Table has bench seats … is cute (necessary when glam camping LOL) …. and, it folds up easily for transportation and storage.
&
Having a fun Fun Portable Chair that is comfy, easy to pack and cute is important. Choose a color that fits your style and adorn it with a fun throw pillow.
&
Like I said earlier, you can glamp in a tent or RV. If you are in a tent, getting off the ground and creating a comfortable sleeping atmosphere is huge when glamping. You can add pretty sheets, pillows and blankets but you should start with a solid base like an Airbed Cot.
&
Yes, you can really go over-the-top glamping with a special tent! Check this one out…
Tent Glamping Accessories
Dream House Heavy Duty Glamping Tent
Creating a DIY glaming adventure in a normal tent is totally doable but if you want to take it to the next level, you'll want to use a Glamping Tent. I have to admit, I have never done this but I certainly would never discourage any glampers that are more motivated than me.
&
Adorable bags and clothes are an absolute must when glamping! Add glamping-themed tees, bags and pajamas to your DIY glam camping trips. Here are a few ideas…
Clothing And Bags Glamping Accessories
Yes, you need a Cute Camping Tote Bag for your glamping experience! I stuff mine full of books, magazines, bottles of water and snacks … then … I sneak away for a quiet afternoon of relaxing and reflection. Quiet time is high on my list of priorities on my camping and glamping trips!
&
Totally cute tees are a fun way to dress-the-part on glamping trips! My 3 favorites are these: Retro Trailer Women's Tee, Retro Trailer Junior's Tee and Pull Out All The Stops Junior's Tee.
&
Retro Trailer Women's Tri-Blend Tee
Retro Trailer Slim-Fit Junior's Cut Tee
Motivational Slim-Fit Junior's Cut Tee
&
 Glamping PJ Bottoms
These Glamping PJ Bottoms are sooooooooo cute! My guess is that you will want to wear them everywhere!
&
More Glamping Ideas And Tips
This whole glamping thing … where did it come from? If you have not discovered the book Glamping With MaryJane: Glamour + Camping, you might want to check it out. It's all about glamorous camping and includes stuff about trailers, backyard glamping, housekeeping, entertainment and more! It even spotlights women who settled in the West and their 3 G's of grit, grace and glam!
&
Glamping Food And Drink Ideas
Make your food and drink menu reflect the glamorous part of glam camping! Here are some ideas for that…
No time to look for recipes, create a menu and write a grocery list? No Problem! Get our 3-Day Dutch Oven Camp Menu Plan here!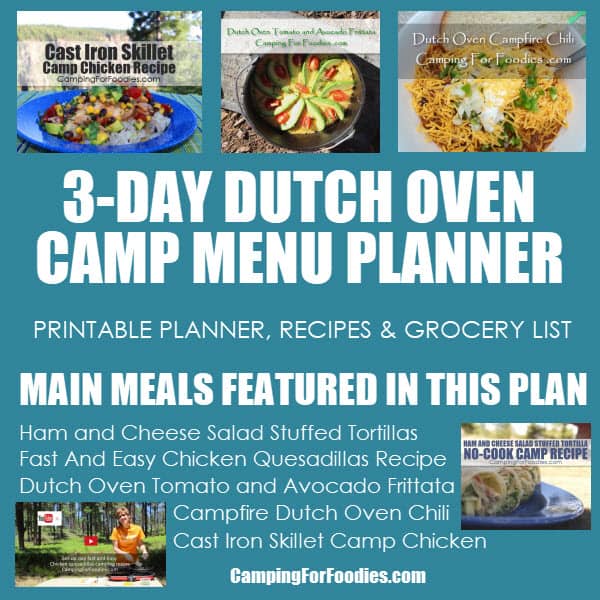 DIY Glamping Video
You can see my VIDEO: How To Turn Camping In To Glamping to see how I created my glamped-up dining room!
---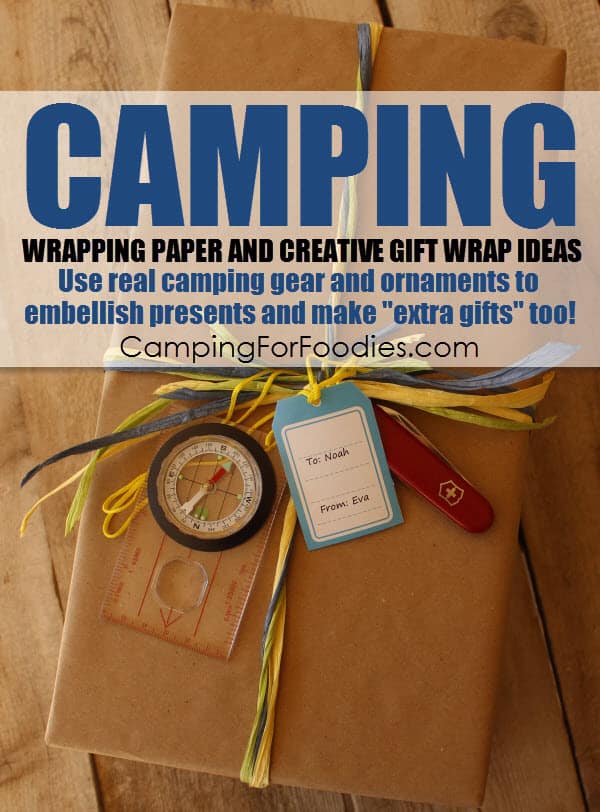 If you are giving cute glamping accessories as gifts, you'll want the gift wrap to look adorable too! Check out our Fun Camping Wrapping Paper And Creative Gift Wrap Ideas post for inspiration!
&
---
Need Camping Gift Ideas? We've Got Tons Of Them In These Posts!
If you need camping recipes and menu ideas, you can find them here at the Camping For Foodies Camping Recipes list.
Don't miss a thing…sign up for Camping For Foodies email updates!
Your purchase of our products will help support World Vision ® Building a better world for children.