Best Quiet Generators For Camping: 2023 Top RV & Tent Inverter & Conventional Generators
By Pete | My Husband's Corner
The best camping gear can also help you keep the peace at campsites. If you are tent camping, you may only need to produce a small amount of power and want the convenience of a small portable generator that can be carried like a piece of luggage.
If you are RV camping, you will have greater power needs requiring a larger RV generator but you still want it to be quiet and efficient.
The best quiet generators for camping are not the same for everyone … but they do provide a level of camping safety everyone can experience.
Here are considerations to help you determine the generator that best fits your camping needs.
Psst we're compensated…see our disclosures.
Our Choice
Over the years, we've had lots of experience with Westinghouse, Briggs & Stratton's and Honda generator brands. So, when we were shopping for a new quiet RV generator, we knew low noise levels were important, but, not our only buying decision.
Easy portability was a major factor for us as we're doing much longer road trips in the great outdoors. That means, we are carrying more clothing, bedding, food, drinks, supplies etc.
Every inch counts in our storage compartments when we're boondocking for long periods of time. We decided we couldn't afford to devote a lot of storage space to a large generator. We also were unwilling to purchase something that could meet our power requirements but that had a high decibel rating.
We also wanted the ability to:
Monitor output via Bluetooth to our tablets
Turn the unit off remotely
Track hours for maintenance intervals
Receive notifications regarding upcoming maintenance
We ended up purchasing a Honda 2200-Watt 120-Volt Super Quiet Portable Inverter Generator that has the Honda My Generator App + Bluetooth Capability.
We'll explain what we considered and how we made our purchasing decision.
Honda EU2200i 2200-Watt 120-Volt Super Quiet Portable Inverter Generator with CO-Minder – 49-State
---
Questions To Determine The Best Generator For Your Camp Trips
Check your specific gear for exact wattage figures. Here are questions to ask yourself…
How much power do I actually need?
Will all the equipment be running simultaneously?
By how much will startup/surge wattage be greater than running wattage?
Is the generator going to be a primary or backup source of power?
Will I be using this as an RV generator that will be plugged into my RV's breaker panel via the shore power cord thus supplying power to low-load passive equipment often overlooked such as battery chargers, radios, refrigerators, etc.?
---
Startup vs Running Wattage
The first consideration is the amount of "wattage" required for your electrical needs.
Some motorized equipment requires more power to start than it does to run.
Startup/surge wattage can be up to three times the running wattage and can last for a few seconds.
You need to do some calculations to determine the size of generator you will need for your camping trips.
---
RV Wattage Chart
Calculate your requirements before you determine the best unit for your family.
Even though many RV tips and hacks can help you reduce your power demands, you need to know how much power you need if all of your gear is running at the same time. You want a realistic number of your highest level of consumption … in other word … the worst case scenario.
This chart shows average power requirements of standard RV appliances and camping gear, you should check your owner's manuals for wattages for your specific equipment.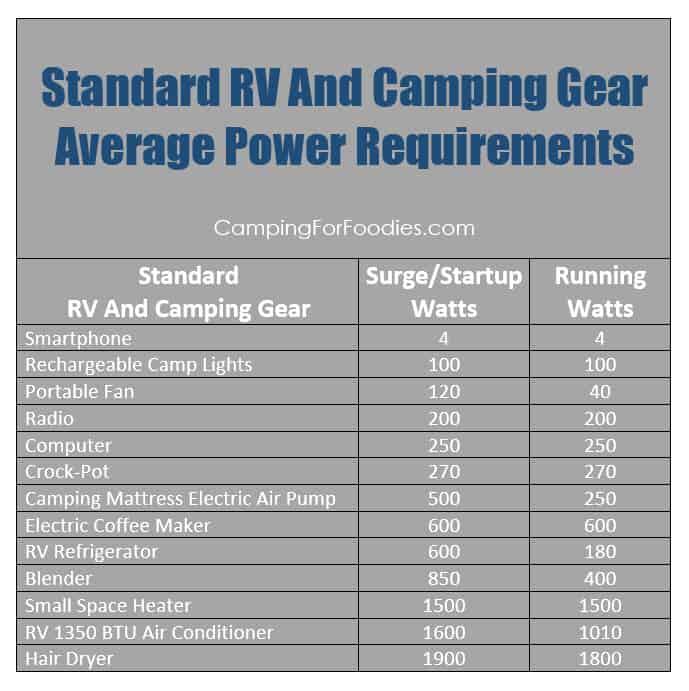 ---
Portable Generator Calculator
Once you figure out your wattages, you'll need to do a calculation to see how much power the generator needs to produce to meet all of your needs. Here is the formula:
Determine the startup wattage of the highest draw appliance
+ Total running wattage for all operating appliances
= Total wattage required for your camping generator.
Once you have that figure, you'll want to select a generator with at least 10-20% more running wattage than your calculated needs.
---
Factors Affecting Generator Output
Generators are designed and tested in specific conditions which may be different than your real-world camping environments. Here are a few thing to consider…
Engine performance/generator output decreases at higher elevations and temperatures resulting in reduced total wattage available.
Long and light gauge power cords may drop wattage. Maximize the efficiency of your generator and the components you are running with it by using proper sized cords.
Some generators are capable of parallel operation (we call it piggybacking) to almost double its power output.
---
Parallel Operation For Camping Generators
For those times when you need more power than your generator is capable of producing, parallel operation might be a good option. A parallel kit is a great option.
Some manufacturers, especially with their smaller generators, offer parallel kits that allow you to connect two similar model generators together in order to increase power output.
WEN 56421 30-Amp 3600-Watt Parallel Connection Kit for Inverter Generators
---
Pros And Cons Of Parallel Camping Generator Operations
PRO: Piggybacking allows you to double your output only when needed. In other words, you don't have to run a large generator when your power needs are low.
PRO: It's easier to manage two smaller units than a larger one when it comes to transportation and storage. Small generators are typically quieter too.
CON: The drawback to piggybacking … it is more expensive to purchase two smaller generators than a larger one.
CON: Paralleling cable kits are not interchangeable, they are brand and model specific. Make sure you get the right kit.
WEN 56421 30-Amp 3600-Watt Parallel Connection Kit for Inverter Generators
---
Conventional Generator vs Inverter For Camping
There are two types of generators: (1) conventional, (2) inverter.
When a power demand is placed on a conventional generator, it runs at full RPM regardless of the electrical load; they tend to be less expensive (per watt) to purchase. But, they have a higher fuel consumption because it is running "top speed" no matter how large or small the demand on it. There is no such thing as "eco mode" on conventional generators.
In contrast, inverter generators have an economy mode which means they will run only at the RPM necessary to meet the demand of the equipment you have plugged into them. This makes them quieter and more fuel efficient to operate.
Only inverter generators provide "clean power output", a smooth and stable flow of AC power without surges which is important to protect sensitive electronic equipment from power spike damage.
The price difference is substantial too … for similar power outputs you will pay about double for a quiet inverter generator as opposed to a conventional generator.
---
Why Use Power Inverters With Conventional Generators?
If you are operating a conventional generator and are concerned about power spikes to your sensitive electronics, you can plug them directly into this BESTEK 1000W Power Inverter.
It provides up to 1000 watts of more stable power by converting 12-volt DC power into 110-volt AC power.
BESTEK Power Inverter 1000 Watt DC 12 Volt, Power Converter 1000w DC to AC Converter for Car
We recently installed a 2000 watt inverter in our 5th wheel. We have a VIDEO and tips if you want to learn how to install a power inverter in a camper yourself and do this DIY project.
---
Generators For Campers With Different Power Needs
Lower Consumption: 1200 Running/1500 Starting Watts
Middle Consumption: 2300 Running/3000 Starting Watts
Higher Consumption: 3100 Running/3400 Starting Watts
Extreme Consumption: 7600 Running/9000 Starting Watts
We'll discuss portable generators for camping in each consumption range.
---
Camping Generator For Lower Consumption Requirements
This model is an economical option if your needs are in the lower power range.
It's also relatively lightweight at 58 pounds.
You can expect around 9 hours at half load from the 1. 5 gallon unleaded gasoline fuel tank
It is also EPA and CARB compliant.
It produces approximately 69dB at half load.
1200 Running Watts/1500 Starting Watts.
Mech Marvels 1500 Watt Portable Power Generator, Carb Compliant MM2350
---
Camping Generator For Middle Consumption Requirements
This model is powerful enough to run a standard RV air conditioner.
It has wheels, a luggage-style telescoping handle and only weighs 60 pounds … making it super easy to transport.
It holds 1.06 gallons of fuel and can run up to 4.5 hours at 50% load.
It produces approximately 60 dB when operating.
2300 Running Watts/3000 Starting Watts.
Generac 7129 GP3000i Inverter Generator
---
Camping Generator For Higher Consumption Requirements
This model runs on GAS or PROPANE straight out of the box!
This unit is a bit heavier but still comfortably portable weighing in at 96 pounds.
It can run up to 7.5 hours on its 1.6 gallon gasoline tank and up to 14.5 hours on propane.
It is "RV ready" meaning it has a 120-volt 30-amp RV style plug.
This conventional generator is quiet for its size and power output.
It produces approximately 59 decibels when operating.
To top it off, it has a push-button electric starter!
3100 Running Watts/3400 Starting Watts.
Champion 3400-Watt Dual Fuel RV Ready Portable Inverter Generator with Electric Start
If propane is your preferred fuel source, we have found one of the most economical places to purchase it is using the Costco propane refill service at select locations. They can fill almost all portable propane tank sizes except the small camping 1 pound propane cylinders.
Camping propane has many more uses beyond generators so it can be a great fuel solution for multiple applications.
We have reviewed the best propane camping gear for meeting your lighting, cooking and heating needs.
---
Camping Generator For Extreme Consumption Requirements
This model can handle your really big power loads and runs on GAS or PROPANE straight out of the box!
At 256 pounds, it is heavy but can be easily moved around because it has a wheel kit and a flip-up handle that can be stowed when you are not using it.
The 6.7 gallon gas tank provides approximately 11 hours of run time at 50% load on gasoline and up to 9 hours on propane.
It has a convenient remote control electric starter.
It produces approximately 68dBA at 25% load.
7600 Running Watts/9000 Starting Watts.
DuroMax XP9000iH 9000-Watt 459cc Dual Fuel Digital Inverter Hybrid Portable Generator
---
Small And Quiet Camping Generators
For most campers and RVers, the size of the generator and the amount of noise level it produces are major considerations when purchasing the best generator for their camping needs.
Some campgrounds and RV parks have noise restrictions for generator use.
Here are questions to ask yourself…
Does the campground have dBA noise decibel limits for generators?
Does the generator need to be stored in a specific size compartment when not in use?
Does the generator need to be carried like luggage by one person? Or can it be rolled on its own wheels and lifted by two people?
Should I have one large generator or two smaller generators?
---
Best Generators For Tent Camping & Light RV Loads
The Honda EU2200i and the YAMAHA EF2200iS are considered to be the leaders when it comes to the best small quiet generators for camping. The WEN 56200i ranks close behind.
Honda 662220 EU2200i 2200 Watt Portable Inverter Generator
YAMAHA EF2200iS, 2200 Watts, Gas Powered Portable Inverter
WEN 56200i 2000-Watt Gas Powered Portable Inverter Generator, CARB Compliant
Comparison Of Generators For Tent Camping & Light RV Loads
Important Specifications Of Small Generators For Camping
Here are additional specs for each of these units.
This model is a super quiet camping generator producing only 48-57 decibels of sound (depending on load) which is quieter than a regular conversation.
It operates 4-almost 9 hours on its .95 gallon capacity fuel tank.
It measures 20″ x 11.4″ x 16.7″ and weighs 47 pounds.
This unit is rated at 1800 Running Watts/2200 Starting Watts.
This model can be operated in parallel with parallel cables which will result in approximately twice the power.
This model is a really quiet camping generator producing only 51.5-61 decibels of sound (depending on load) which is quieter than a regular conversation.
It operates up to 10.5 hours on its 1.1 gallon capacity fuel tank.
It measures 17.9″ x 11″ x 19.3″ and weighs 44.1 pounds.
It has a 3 year limited warranty.
This unit is rated at 1600 Running Watts/2000 Starting Watts.
This model can be operated in parallel with parallel cables which will result in approximately twice the power.
This model is an extremely quiet camping generator producing only 51 decibels of sound at 25% load which is quieter than a regular conversation.
It operates over 6 hours at half-load on its 1 gallon capacity fuel tank.
It measures 18″ x 11″ x 18″ and weighs 48 pounds.
It has a 2 year limited warranty.
This unit is rated at 1600 Running Watts/2000 Starting Watts.
This model can be operated in parallel with this parallel connection kit which will result in approximately twice the power. It also has a 5V USB port.
It is considered to be the quietest generator for camping in the lower consumption category.
---
Silent Generators For Camping
Anytime you run and engine, you produce noise. Even the quietest generators that are "whisper quiet" are not silent. So there is really no such thing as a "silent generator" … when people use this term they are actually referring to batteries that store power and are often recharged by solar devices that are indeed silent.
---
Best Solar Generator For Camping
Producing enough power to meet high demands is easier if you use motorized generators rather than solar panels … but it is possible to accomplish the task with the right solar equipment system.
---
The Jackery Solar Generator 1500 is actually a combination of two units:
Explorer 1500
SolarSaga 100W Solar Panels
This package rivals traditional generators that produce enough power for campers who are on the lower-end of the demand range … which is really impressive for a solar system. The Jackery 1500 has a 1488Wh capacity & 1800 high running wattage.
With that much capacity, the Jackery 1500 can provide enough power to operate many models of electric stoves, microwaves, air-conditioners and refrigerators.
The other nice thing about this system is the speed to charge it. You can go from 0 to 80% power with only about 4 hours of solar charging.
Jackery Solar Generator 1500, 1800W Generator Explorer 1500 and SolarSaga 100W with 3x110V/1800W AC Outlets, Solar Mobile Lithium Battery Pack for Outdoor RV/Van Camping, Overlanding, Emergency
---
Yeti used to call this unit their Goal Zero 23000 Yeti 400 Solar Generator which is not really a generator but we are including it here because it is a small and noiseless AC power supply.
They have renamed it the Goal Zero Yeti 400 Portable Power Station, 400Wh Battery Powered Generator Alternative which is a much more accurate name.
Some people refer to is as a silent generator for camping, but, it is actually a battery power pack with a built-in inverter that can be charged by a Goal Zero Boulder 30 Solar Panel, AC outlet or car 12 volt outlet.
Because it has no engine, it produces 0 decibel level and is safe to use indoors.
It measures 8″ x 10.2″ x 8″ and weighs 29 pounds.
This unit is rated at 300 watts pure sine AC power.
Goal Zero Yeti 400 Portable Power Station, 400Wh Battery Powered Generator Alternative with 12V, AC and USB Outputs
---
Make Loud Generators Seem More Quiet
If your generator is as quiet as a sewing machine … Great!
If not, you can do a few things to minimize the noise.
You can protect the noise-sensitive area by directing the exhaust away from it or shielding it behind a barrier like a parked car, folding table or piece of plywood.
You can also relocate the generator farther away by using extension cords.
Make sure you use heavy gauge cords so you don't lose too much power in the process; also, use cords with appropriate receptacles and plugs.
---
Safety Considerations For Camping Generators
Make sure your camping generator is properly grounded to avoid shock hazards.
Also, use generators in properly ventilated outdoor areas to avoid carbon monoxide poisoning.
---
Miscellaneous Considerations For Camping Genarators
Is a pull start ok? Is an electric starter necessary? Do I want remote starting capability?
How much run time do I want from a single tank of gas?
How important are generator warranties and availability of approved service facilities?
How much emphasis should I put on price to purchase? Cost to operate?
Do I want/need a CARB, California Air Resource Board compliant camping generator?
---
Personal Experiences With Quiet Generators For Camping
Unlike being around a construction site, no one wants to be plagued with the sound of a roaring generator while in the tranquil outdoors.
It is always a good idea to be a good camping neighbor and exercise proper camp etiquette.
We have seen some pretty heated disputes break out among campers over the issue of noisy generators.
Always remember, silence is golden, but if you need power that only a generator can provide, quiet is always better … keep the peace.
---
Generators & RV Batteries
It is a good idea to make power decisions with the big picture in mind. Generators and batteries go hand-in-hand.
Check out our How To Choose, Use And Maintain The Best RV Battery post for helpful information and to get the big picture on your electrical needs being met with the proper equipment.
---
Using Camping Generators Along With RV Solar Panels
You may consider multiple power sources for your trips. Especially if you don't want to run a generator when your demands are low enough to have solar do the job.
We live in Arizona and camp in locations that are usually sunny. We have portable solar panels for RV camping trips that don't require excessive power (which is the case for most of our trips).
It is very rare that our solar panels can't keep up with our demand but on trips when we have multiple days of cloudy conditions, we need to transition to generator power until our panels can charge our batteries back up to functioning levels again.
There are also instances when it is too hot in our camper and we need to run our generator to operate our air conditioner … for humans as well as our cats. LOL
So, for us personally, we would not be without a generator but we really only use it as our backup power source when we have a power outage with our primary sources.
---
Generating Power When Boondocking
If you are considering a generator for camping, it is probably because you are thinking of starting to do some (or do some more) boondocking where you need to be self-sufficient with your electrical needs.
That is how we camp nearly all of the time … and we LOVE it!
Learn more in our Boondocking: How And Where To Go Dispersed Camping post.
---