How To Choose, Use And Maintain The Best RV Battery
By Pete | My Husband's Corner
Some RV tips and hacks deal with a specific system in the trailer … like the electrical system and how you power it.
The best camping gear is very personal because every RVer has their own style of camping and different demands on their equipment.
The best RV battery for you depends … are you a regular boondocker or do you like hanging out at RV parks and campgrounds with full hookups? 
Let's keep this potentially complex topic simple with our tips on how to choose, use and maintain your deep cycle RV battery.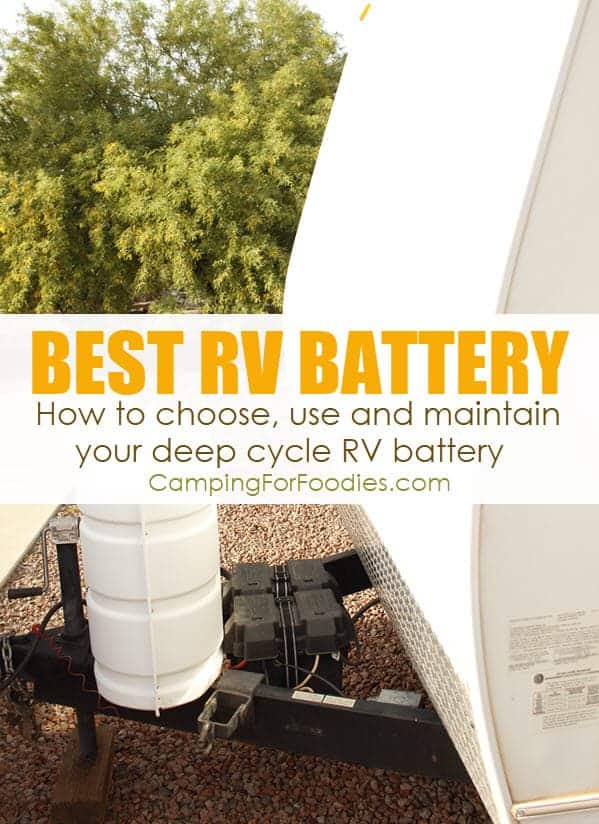 Psst we're compensated…see our disclosures.
The Best RV Battery Is Different For Everyone
Let's start with some terminology before deciding which is the best RV battery to keep your electric needs supplied and your camping safety a top priority.
&
---
RV Battery Terminology
There are 4 major types of RV batteries. They fall into these categories:
AGM RV Batteries
RV Gel Batteries
Lithium RV Batteries
Flooded Lead Acid RV Batteries (12 volt and 6 volt)
---
AGM RV Battery
&
---
RV Gel Batteries
&
---
Lithium Ion RV Battery vs. Lithium RV Battery
&
The Lithium RV Battery price is the most expensive but has great cost/benefit, here's why:
RV lithium batteries are sealed resulting in no dangerous vapors and requiring no maintenance.
The usable amps are much higher than a lead-acid style battery which means you can draw a lithium RV battery down to a lower level without damaging the battery.
These high-performance batteries can tolerate many more cycles without losing any capacity or lifespan which is generally up to 10 years. A typical RV lithium battery is rated at 5,000 cycles compare to a typical lead-acid RV battery which is rated at only 400 cycles.
A lithium battery for an RV weighs much less than an equally rated lead-acid RV battery.
They perform well in a wide range of temperatures, particularly at high temps.
The lithium RV battery has protection against short circuits and overcharge/undercharge conditions.
Even though the lithium RV battery price is more expensive than any other style of RV battery, when you consider the fact that they provide over 10 times the number of cycles and have a much longer lifespan, lithium batteries are actually economical to operate per cycle in your RV.
&
---
Flooded Lead Acid RV Batteries (12 volt and 6 volt)
---
RV Battery Groups
RV battery group ratings refer to the physical size of the battery case which generally corresponds to the amp hour rating of a particular battery.
The lower the group number, the lower the amp hours.
A group 24 deep cycle RV battery provides 70-85 Amp hours. Here are the category breakdowns:
Group 24 RV battery (70-85 Amp hours)
Group 27 RV battery (85-105 Amp hours)
Group 31 RV battery (95-125 Amp hours)
&
---
RV Solar Battery
&
---
RV Marine Battery
The term RV marine battery refers to a typical deep cycle battery that is used in boats and RVs.
They are designed to tolerate deep discharge and many charging/discharging cycles.
&
---
Motorhome Batteries
When it comes to motorhome batteries, the same rules apply … except that higher demands require larger battery banks that usually consist of the flooded 12 or 6 volt RV battery class.
&
---
Common Questions About RV Batteries
---
What are RV Battery Inverters, Converters And Chargers?
RV Battery Inverters

Transforms DC → AC
Makes wall plugs useful
Permanent/wired-in installation may be factory installed or aftermarket modification

RV Battery Converters

Transforms AC → DC
Recharges a battery
Permanent/wired-in installation may be factory installed or aftermarket modification

RV Battery Chargers

Transforms AC → DC
Recharges a battery
Temporary portable unit
&
---
What is an RV battery and what are travel trailer batteries used for?
Travel trailer batteries are used to run all the DC components in the trailer like water pump, lights etc.
If you have a factory installed inverter system (or an aftermarket installed modification) your travel trailer battery system will also power the AC electrical system through the RV's wall outlets.
If you don't have the luxury of a built-in inverter system, the next best way to get AC power is with a Small Portable Inverter that either plugs into the RV's 15A cigarette lighter socket (if installed) or directly connects to your RV battery terminals.
These small portable inverters are restricted to lower-power demand items.
When we say lower-power demand, we mean LOWER … you won't be running a hair dryer or space heater with this thing … you can only run equipment like a fan or laptop computer.
---
&
---
Pure Sine Wave Inverters vs. Modified Sine Wave Inverters
1000W PURE Sine Wave Inverter
1000W MODIFIED Sine Wave Inverter
&
There are two types of inverter systems: pure sine wave and modified sine wave.
The type of inverter you need is determined by the equipment it will operate.
Appliances with AC motors and delicate medical equipment must be operated using pure sine wave inverters.
Examples include: some CPAP machines and oxygen concentrators.
Some equipment will operate using a modified sine wave inverter BUT it could be less efficient and may shorten the lifespan of the components.
Some examples include: microwave ovens may produce less heat, TVs and computers may have rolling lines in screens and surge protectors may overheat.
There is a substantial cost difference between a pure sine wave inverter and a modified sine wave inverter.
If your equipment can safely and efficiently operate with a less expensive modified sine wave inverter … Great!
But, if you will be operating sensitive equipment, you may want to invest in the more expensive pure sine wave inverter because it may cost you less in the long run. 
When you use these types of inverters, your RV batteries must be fully charged because they are designed to turn off below approximately 11 volts depending on the brand and condition of the unit.
If your RV battery gets too low, most inverters will start beeping to indicate low input volts and the inverter will soon stop providing AC power.
&
---
&
---
&
---
How do I connect my travel trailer battery to my trailer's electrical system?
How to connect travel trailer battery in 4 easy steps.
Step 2: The RV will usually have two cable leads with eyelets/lugs … one will be red which is positive, the other will be black or possibly white which is negative.
Step 3: How to connect the RV battery safely begins with proper polarity.
Connect the positive RV cable lead → to the positive RV battery terminal.
You do this by placing the RV cable eyelet over the threaded RV battery terminal and then tightening the wingnut to hold the cable securely to the RV battery terminal.
(Note: it is important to connect the red positive power lead before connecting the black or white negative ground lead. In other words, don't do step 4 prior to doing step 3.) 
Step 4: Now … connect the negative RV cable lead to the negative RV battery terminal by using the same method (described in step 3.)

Blade Car Fuses Assortment Kit Standard And Mini
If you mistakenly cross connect the positive and negative leads … you will surely know it.
This will cause sparks not soon to be forgotten.
You will probably find blown fuses on your RV's electrical panel.
This is one good reason to have an Assortment Of Various Sized Electrical Fuses … just in case.
Yes, we speak from experience here … ugh!
&
---
Should I disconnect my travel trailer batteries?
&
---
Why is my RV battery draining?
Any type of battery will self-discharge over time.
BUT, if your RV battery is draining beyond this normal slow self-discharge rate, it is because something is drawing power.
Some components in your RV's system are hardwired directly to the battery and do not have an on/off switch.
Even if you have every electric accessory in your RV turned off, if your battery is draining that means there is something drawing power that will eventually draw down your battery.
Here is how you can tell if that is happening: verify every electrical item in your RV is switched off … when you connect the RV lead to the battery … notice if any spark occurs when the connection is made.
If there is a spark, something is drawing a load.
That means you have hard-wired electric components that are drawing a parasitic load … this is not unusual with components like LP gas detectors, hot water heater circuit boards and monitor systems etc.
To remedy unwanted battery draining, you need to totally disconnect your RV battery from your travel trailer as described above.
Because RV batteries self-discharge over time, you'll need to fully charge the battery before your next camping trip if it is really low.
If it just needs to be topped off, it will get recharged when your RV is connected to your tow vehicle while driving to your camping destination.
&
---
What charges a travel trailer battery and does RV battery charge when plugged in?
How to keep travel trailer battery charged is simple.
&
---
&
---
Methods of keeping your RV battery charged
&
---
What is the lifespan of a travel trailer battery?
How long a flooded lead-acid RV travel trailer battery will last depends on two main factors: the climate you live in and how well you maintain it.
Extremely cold climates are tough on RV batteries because cold weather can slow down the internal chemical process inside the battery that generates electricity.
Extremely hot climates are even worse on RV batteries because extreme heat can increase the amount of sulfates on the internal plates thus reducing the battery's life.
If you consistently overcharge or undercharge your RV battery, you will shorten its lifespan.
Typically you will get about 3 – 5 years and 400 cycles out of a good flooded lead-acid RV battery with proper care and maintenance … but, if you are using a lithium RV battery it has a lifespan of generally up to 10 years and approximately 5,000 cycles. 
---
Here are more RV battery maintenance tips and how to check travel trailer battery:
If you are using a flooded lead-acid RV battery, keep the water levels up … especially in the summertime.
Check your RV battery periodically by removing the caps to see the water level … it should cover the plates in the battery.
If the level is low, you'll need to add distilled water to a level that covers the plates.
If your RV battery state of charge is low, and you leave it at that level, it will reduce the lifespan of the battery.
You want to recharge a low battery as quickly as possible.
Recharging a discharged battery as soon as possible will extend the lifespan of your deep cycle RV battery.
If your battery voltage is reading below 12 volts … your battery is half dead … in other words, it is less than 50% state of charge.
Technically, if you leave an RV battery at a low state of charge … sulfate crystals build up on the charging plates … that reduces the battery capacity and its ability to accept a full charge … eventually, the battery will fail and need to be replaced.
&
---
&
---
A voltmeter is one of the tools we recommend having in your RV toolbox.
&
---
&
---
Being prepared for an after-dark setup is one reason you want to make sure your RV battery is in tip-top shape!
Check out our RVing Tips For Beginners: Enjoying The Maiden Journey post for more helpful information.
&
---
How long will RV battery last boondocking?
---
If you need boondocking tips, check out our Boondocking: How And Where To Go Dispersed Camping post … no matter what time of year you are camping in the wild!
&
---
Will my RV battery run my refrigerator?
The relationship between your refrigerator and your RV battery
In most cases, an RV battery will not run a standard RV refrigerator but there are some exceptions. Here are a few things to consider:
Residential-style refrigerators are found in larger RVs and only operate by 120 volt AC power source from a standard wall outlet.
For RVs with high-capacity battery banks, you may be able to draw power off of the inverter at a high enough volume to run a refrigerator but those are rare when it comes to normal RV systems. These are typically found in larger motorhomes.
&
---
&
---
What is an RV battery isolator?
&
---
Why is my RV battery boiling?
Your RV battery is boiling because it is overcharging.
When a battery is overcharged, it heats up and can boil over … this boiling occurs because it is actually steaming off the water in the battery.
The byproduct of this overcharging condition is hydrogen gas which is dangerous and may cause an explosion.
&
---
Why would my RV battery explode?
Most RV batteries are the deep cycle flooded lead acid type which contains electrolyte. Explosive hydrogen gas is a byproduct of normal RV battery charging.
There are 2 reasons your RV battery may explode:
The first is excessive pressure in the battery case itself. Even though hydrogen gas is a byproduct of normal charging, it does not create a dangerous environment because it vents out easily from the top of the battery. BUT … during overcharging, if the battery is not vented properly, the gas pressure builds up reaching dangerous levels, exceeds the venting capability of the RV battery case and pops like a balloon spewing corrosive acid all over.
The second is hydrogen gas igniting. This explosive condition can occur anywhere the vented hydrogen is trapped even in the battery compartment if an ignition source is present. That is what happened during the Hindenburg disaster that occurred on May 6, 1937.
&
---
Which is better for my travel trailer: RV inverter generator or generator?
An inverter generator provides a more stable power source for the RV than a normal generator and will not damage sensitive equipment such as computers.
Check out our Best Quiet Generators For Camping post for more information as well as our power requirement calculator to help you determine what camping generator is best for your needs.
&
&
---
No time to look for recipes, create a menu and write a grocery list? No Problem! Get our 3-Day Dutch Oven Camp Menu Plan here!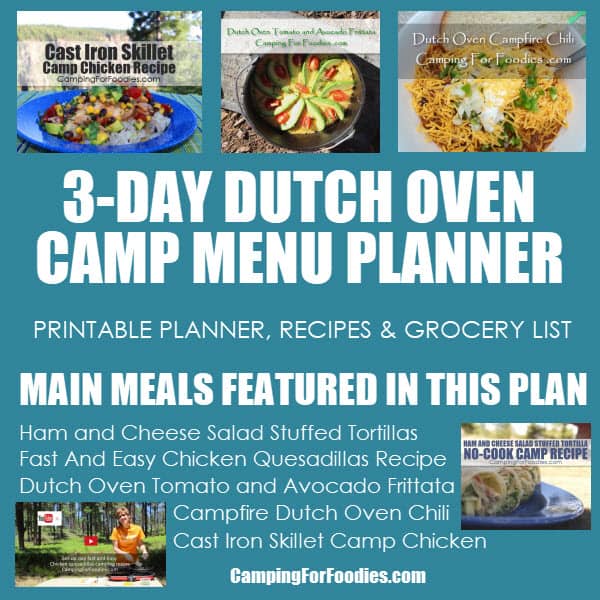 ---
Our Cool Camping Products Make Great Gifts!
Cutting Mat
Mat Set
Shaker Set
Hammock
&
---
If you need camping recipes and menu ideas, you can find them here at the Camping For Foodies Camping Recipes list.
Don't miss a thing…sign up for Camping For Foodies email updates!
Your purchase of our products will help support World Vision ® Building a better world for children.