Best Propane Camping Gear
The best camping gear can run on all different types of power … one being propane. This is the best propane camping gear for lighting, cooking, heating and making your camping trips fun, safe and comfortable.
There are so many awesome uses of camping propane, you have to wonder if you could ever camp without it!
Psst we're compensated…see our disclosures.
Best Propane Camping Gear Reviewed
No piece of camping equipment is perfect!
Here are the PROS and CONS of the most popular camping gear that uses propane as its fuel source.
---
Camp Lighting Propane Gear
Coleman Northstar Propane Lantern
PROS:
It will operate for up to 4.3 hours on high and 9.25 hours on low with a single 1lb propane bottle.
It has a dimmer switch and produces 1540 lumens on the brightest setting which is one of the brightest campsite lights you'll find.
This lantern features an InstaStart ignition which eliminates the need for matches when lighting.
It is convenient to transport measuring approximately 12.9 x 8.5 x 6.5 inches and weighing approximately 2.1 pounds.
CONS:
This light uses mantels which can be slightly difficult to change.
The top of the lantern gets hot so exercise extra caution especially when camping with children.
Although the high-temperature globe has a metal guard, is it still vulnerable to breaking if not handled properly … especially during packing and transportation.
---
The Coleman Northstar is a great lantern but there are other options you may want to consider.
See our reviews of the top models to help you determine the best propane lantern for you!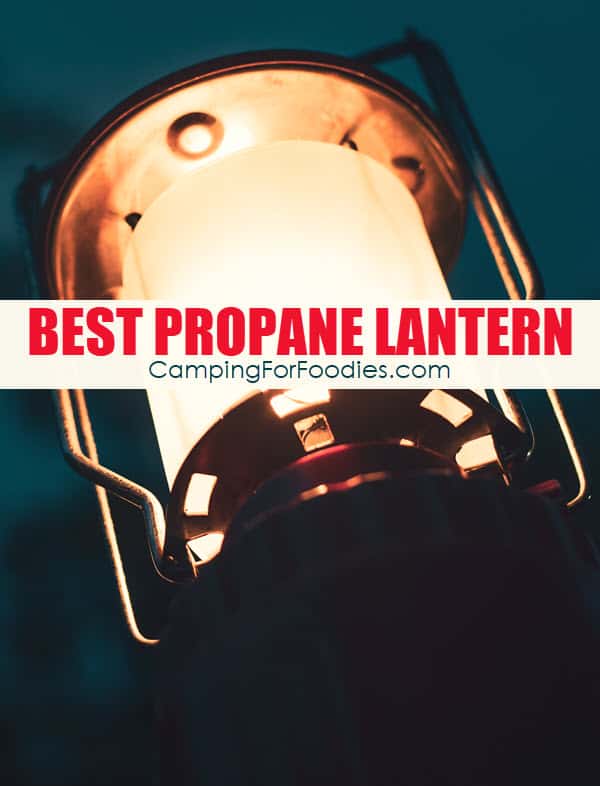 ---
1lb Propane Heater
Mr. Heater F215100 MH4B Little Buddy 3800-BTU Indoor Safe Propane Heater
PROS:
It will operate for approximately 5.6 hours on a 1-pound disposable propane cylinder.
It is safe to use indoors and will heat a space up to 95 square feet which is perfect when you are trying to figure out how to stay warm in a tent.
There is a built in safety switch so the heater will automatically shut off if the low-oxygen sensor or accidental tip-over switch is triggered.
On/off and ignition buttons make it easy to operate.
CONS:
The ignition button does not always work on the first attempt.
It does not always stay lit.
There is no control for the amount of heat the unit produces, it is either on or off.
---
MR Heater Propane Camping Heater
Mr. Heater MH12B Hunting Buddy Portable Propane Space Heater
PROS:
It runs off of a 1lb. camping propane cylinder but it also has the ability to connect to a 20lb. propane tank with an optional hose and filter.
Built-in safety features include an automatic low oxygen shut-off system (ODS) and accidental tip-over safety shut-off.
The 6,000-12,000 BTUs are great for heating indoor spaces up to 300 sq. ft. so they are perfect for larger tents and winter RV camping.
You just push and rotate the knob for easy lighting.
CONS:
The heater may shut off if it is operating at altitudes over 7,000 FT above sea level.
It does not always stay lit.
---
Camco RV Catalytic Heater
Camco 57351 Olympian Wave-8 8000 BTU LP Gas Catalytic Heater
PROS:
It operates on low pressure gas, and can be wall mounted or used as a portable unit which is great for RV camping in the winter when the RV's installed heater can't keep up with extreme outside air temperatures.
It is capable of heating up to 230 square feet.
This heater can be adjustable from 4200 – 8000 BTU/hr.
It has a safety shut-off valve to help prevent accidental non-ignition fuel discharge.
It easily starts with a built-in electric sparker.
CONS:
When mounting the legs to the heater, some units have a hole pattern that does not align properly requiring additional holes to be drilled in the heater to mount the legs.
If the heater shuts off due to safety reasons, it may be difficult to restart it.
---
Propane Camping Firepit
Heininger 5995 58,000 BTU Portable Propane Outdoor Fire Pit
PROS:
It is portable measuring approximately 19.2 x 19.2 x 11.5 inches and weighing approximately 22 pounds which is an easier alternative rather than carrying large loads of firewood.
It comes with a 10 ft hose which attaches to a standard 20 propane tank which will last over 7 hours when operated on the low setting.
This firepit is approved to operate during most campfire bans.
It is clean burning without smoke and ashes.
CONS:
It does not produce the heat you get from a real campfire so if you're looking for warmth … you're probably going to be disappointed on that note.
Dirt may cause the burner to get blocked and not light or only emit a small flame.
Even though this is a popular brand, after researching and testing models that fit the needs of our family, we decided a 19-inch Outland firebowl was the best camping propane fire pit for us.
---
Propane Camping Water Heaters
Hike Crew Portable Propane Water Heater & Shower Pump – Compact Outdoor Cleaning & Showering System w/LCD & Auto Safety Shutoff for Instant Hot Water While Camping, Hiking – Carry Case Included
PROS:
Runs on standard 1 pound propane camping bottles but also has the ability to use a 20 lb propane tank by hooking up a propane adapter (that is purchased separately.)
Water temperature is easily adjusted with the control knob.
The hand faucet/spigot and shower head attachment make this unit perfect for washing hands, doing dishes and taking showers.
Automatic safety features will turn off the heating element when the water reaches 125°F as well as tilt protection via a fuse.
The size is convenient for camping with approximate measurements of 9.65" x 12.2" x 11.8" and weighing approximately 13.2 lbs.
CONS:
Even though the water is heated with propane, the pump and starter require electric in the form of an AC/DC adapter to an outlet or a 12V cigarette lighter.
The unit does not actually hold water so you need another vessel … like a 5 gallon bucket or something similar … to hold the water and submerge the included pump to feed water through the water heater itself.
---
Camplux 5L 1.32 GPM Outdoor Portable Propane Tankless Water Heater
PROS:
It easily connects to a 20 lb portable propane tank with a standard fitting using the included propane hose and regulator.
This unit can be hooked up to a regular garden hose that has at least 3.0 PSI.
It heats water to a maximum temperature raise of 114.8°F.
It produces hot water at a rate of 1.32 gallons per minute.
CONS:
It is not recommend for elevations above 2000 ft.
Even though the water is heated with propane, the starter requires 2 D-cell batteries for ignition.
If you don't have a water supply pressure of at least 3.0 PSI, you'll need to use a 5 gallon bucket … or something similar … to hold the water and submerge the water pump that is purchased separately to feed water through the water heater itself.
---
Propane Camping Coffee Gear
PROS:
It uses a standard propane camp stove as the heat source but can also be used over an RV's stove by removing the burner grate and placing it over the flame while sitting directly on the stovetop.
This unit can quickly brew up to 10 cups of coffee and has the ability to pause in the middle of brewing … which is a really good thing when you really need your first cup of the day, FAST … making some people say this is one of the absolute best camping coffee gadgets on the planet! LOL
It brews by dripping (not percolating) so you don't have grounds in your coffee.
The swing-out brew basket uses standard coffee filters making it easy to dispose of the grounds.
CONS:
You need to make sure the stove is level so the coffee does not overflow if you are brewing a full pot.
The glass pot is susceptible to breaking if not handled properly.
---
Propane Camping Stoves
Coleman Fold N Go Propane 2-Burner Stove
PROS:
A 16.4-ounce propane cylinder will operate this 20,000 total BTUs stove for approximately over an hour with both burners on high.
The InstaStart ignition only requires you push a button to start the stove … no matches are required.
This unit easily folds for convenient transportation and storage.
A very large pan or two 10-inch pans can be use because of the lack of windguards. If you need ideas for what to cook in those pans, check out our outstanding camp stove recipes!
CONS:
The lack of windguards makes it difficult to cook in windy conditions.
The flame control knob is very sensitive so you need to make very small adjustments to the knob in order to get the flame low enough to simmer without turning the stove off.
---
Coleman Portable Bottletop Propane Camp Stove With Adjustable Burner
PROS:
It produces 10,000 total BTUs and operates approximately 2.5 hours on high using one camping 16.4 oz. propane cylinder.
This unit is small enough to easily accommodate backpackers and car campers because the burner and base separate from propane bottle requiring minimal space for storage and transportation.
It has an adjustable burner to control the heat while cooking on a pan up to 8-inches in size.
CONS:
This stove has a tendency to tip over if it is not set on level ground.
The flame control knob must be turned using very small adjustments in order to get the flame low without turning the stove off.
The single burner only allows for cooking one thing at a time.
---
Coleman Even-Temp 3-Burner Propane Stove
PROS:
This stove will operate up to approximately .75 hours with all THREE burners on high using a 16.4 oz propane cylinder.
It has a push-button starter so no matches are required.
This unit has three burners which can accommodate three 8 inch pans, two 12 inch pans or a single 20″ x 10″ cast iron grill/griddle pan. (Personally, this is my favorite feature of this stove! You can see how roomy it is with a large skillet and saucepan in my Peanut Butter Chocolate Chip Camp Stove Pancakes recipe post.)
It has windguard panels that can be folded down to accommodate larger pans and can also be used as side tables … which is really great for holding spatulas and other utensils while cooking.
CONS:
The flame control knobs must be turned using very small adjustments when you are trying to reduce the heat to low … too much adjustment will turn the stove off.
The lid must be securely closed or it accidentally pops open.
---
Gas One Premium Propane Or Butane Camp Stove
PROS:
It operates on TWO types of fuel: butane (8 oz) and propane (16.4 oz) fuel.
This unit produces 12,000 BTUs and is adjustable with the control knob which operates with more control that other camp stoves.
The piezo auto ignition system eliminates the need for matches to start this stove.
CONS:
The single burner only allows for cooking one thing at a time.
---
Camp Chef Explorer Double Burner Propane Stove
PROS:
It has 2 cast aluminum burners that produce 60,000 total BTU/hr.
This unit allows you to stand while cooking at its 32″ cooking height and easily breaks-down for transportation and storage with detachable legs.
It can handle very large pots which makes it easy to cook for large crowds.
This stove has a large cooking area measuring approximately 448 sq. inches. One of my favorite RV tips and hacks to keep RV kitchens clean is to cook outside! LOL
CONS:
Small – medium sized pots get lost on this stove that has a burner pattern size designed to fit larger cooking equipment.
This large stove is overkill for normal family camping weighing in at approximately 36 lbs.
---
Propane Camping Ovens
Camp Chef Outdoor Propane Camp Stove/Oven
PROS:
It operates using a 1 pound camping propane cylinder but can be adapted for use with a 20LB propane tank. If you are not sure what tank will be best for you, we have tips on choosing the right portable propane tank sizes to fit your needs.
It is a combination stove and oven with 7,500 BTUs per stove burner and 3,000 BTUs with the oven.
The top oven heats up to 400°F.
This unit has a folding lid which provides a substantial 3-sided windscreen.
CONS:
The igniter reliability may be intermittent so even though it is a "matchless" unit, you may need to use matches in some instances.
The oven temperature is not always constant even heating.
---
Propane Camping Grills
Coleman NXT Lite Tabletop Propane Grill
PROS:
It operates using a 1 pound camping propane tank and produces 8,500 BTUs which is great if you want a nicely charred steak that is not overcooked and dried out in the center!
This unit has 168 sq. inches of grilling surface that can be transitioned easily into a griddle or stove by swapping out the cooking surface with a Coleman NXT Griddle and a Coleman NXT Grill Pan Support Grate, respectively, which are both sold separately.
The InstaStart button ignites this grill without the need for matches.
This grill is relatively easy to clean because it has a porcelain-coated steel surface and removable grease tray.
CONS:
This grill tends to run on the hot side even at the lowest setting so you might need to monitor it more frequently when you are cooking food that takes a bit longer to cook, like big cuts of meat and poultry … otherwise you might end up with food that is burnt on the outside and not fully cooked internally.
---
Coleman Camp Propane Grill/Stove
PROS:
It is a combination piece of propane camping gear that features a grill and a stove so it is great for grilling burgers and heating up a pot of beans at the same time.
This unit produces 20,000 total BTUs using a standard 1lb propane camping bottle. When that cylinder runs out, here's what to do with empty 1lb propane bottles.
The grill area measures approximately 130 sq. inches and the burner can accommodate a 10-inch pan.
The wind blocking panels can fold down to provide side tables which are convenient surfaces to hold cooking utensils.
Cons:
The flame control knobs are sensitive making it easy to turn off the unit when you really just want to reduce the heat.
The grill grate is designed for grilling only and should not be used as a "second" stove-type burner.
The grease trap under the grill is made of plastic and may warp.
---
Coleman RoadTrip 285 Portable Stand-Up Propane Grill
PROS:
It operates using a standard 1 lb camping propane cylinder and produces 20,000 total BTUs .
This small propane tank grill is unique because it has 3 adjustable burners that allow you to cook at different temperatures at the same time … which is great when you want to quickly sear a few stakes at a high temperature while simultaneously cooking some chicken at a lower temperature.
It has 285 sq. inches of grilling surface.
This is a stand-up grill that also has quick-folding legs with wheels making it easy to set-up, tear-down and transport … almost like pulling a piece of luggage through an airport.
It features matchless lighting with a push-button ignition.
Cons:
It weighs approximately 47 pounds.
This is not the easiest portable propane grill when it comes to cleaning … the water pan that is used to catch grease from the grill must be emptied before you collapse the grill for transportation.
The lid may have a tendency to open during transportation so it is best to place a strap around it for extra security/safety.
---
Camco Olympian 5500 Stainless Steel Portable Propane RV Grill
PROS:
It has a bracket that allows this grill to be mounted to the RV but also has legs so it can be used on a table.
This unit conveniently connects to the RV's propane power supply … but … it can also be used with 1, 5 or 20 pound propane tanks with separately purchased adapters.
It produces 12,000 BTUs per hour and features a 180 square inch cooking surface.
It has a Piezo electric spark starter so you don't need matches.
Cons:
This grill is touchy when it comes to temperature control and tends to run a bit hot.
---
Small Propane Torch
Houseables 20,000 BTU Torch Propane Burner With Trigger Start
PROS:
It works with 1lb propane cylinders and produces 20,000 BTUs.
The trigger starter makes it easy to light.
It has a control valve so you can regulate the pressure of the flame.
On a personal note, my husband calls this his "he-man fire starter stick" and he uses it to start our campfires as well as our charcoal briquettes when we are cooking using charcoal with our Dutch ovens. I also like using it to melt cheese and caramelize sugar when making things like cheesy nachos and creme brulee.
Cons:
It will go through a significant amount of propane if you keep it burning to start your campfire. So, have your kindling ready and use this propane torch like a nice long match.
---
Propane Powered Camping Generators
DuroMax XP12000EH Dual Fuel 12000 Watt Electric Start Portable Generator
PROS:
It is dual fuel which means you have the flexibility to use propane or gasoline to operate this generator.
Its DuroMax 18HP, 457cc OHV engine is capable of handling heavy loads and produces 12,000 starting watts and 9,500 running watts.
This camping generator is EPA and CARB approved for use in all 50 states which is really nice for RVers who travel across the country.
Cons:
The reason this dual fuel generator produces so much power is because it is a beast … that being said, it measures 40 x 29 x 27.5 inches and weighs 236 pounds.
The tires may have a tendency to get flat spots if sitting too long.
---
Propane Transfer Hose
DOZYANT 4 Feet Propane Adapter Hose 1 lb to 20 lb Converter Replacement for QCC1 / Type1 Tank Connects 1 LB Bulk Portable Appliance to 20 lb Propane Tank
PROS:
It allows you to connect your 1 pound portable propane camping gear appliances to a 20 pound propane tank rather than using 1lb propane cylinders. NOTE: If you are operating your gear with larger tanks and want to monitor the level of gas in them, there are three easy methods for how to tell if a propane tank is empty.
It has solid brass connections that create solid connections and provide long-term durability.
Cons:
The hose can be stiff which may require re-tightening of the hose and fitting.
---
1lb Refillable Propane Tank Kit
PROS:
This refillable 1 pound propane bottle and its refill kit are certified by the DOT as lawfully refillable and transportable over state lines.
This propane camping gear allows you to refill 1 pound refillable bottles.
Cons:
This propane transfer kit is designed to work with Flame King bottles and may not work with other brands.
---
Propane Adapters
DozyAnt Universal Safest Propane Refill Adapter for Throwaway Disposable Bottle – 100% Solid Brass Regulator Valve Accessory for All 1 LB Tank Small Cylinders
PROS:
It has a safety feature that automatically cuts off the gas flow when the appropriate pressure is reached.
This piece of equipment allows you to refill disposable bottles.
It is made with 100% solid brass for secure connections and strength.
Cons:
It is possible to cross-thread when connecting this adapter to tanks.
Refilling disposable propane cylinders is not legal in all areas.
---
How To Use This Propane Camping Gear
If you are not sure how to refill 1 pound propane tanks with this propane refill adapter, we have photos, a video and detailed printable instructions that will make it easy!
---
Inexpensive Propane Refills
If you go through a lot of propane you may want to consider refilling your larger tanks at Costco.
They have a great service at some of their locations for their members.
Check out Costco Propane Refill: How To Use The Costco Propane Service to learn how to find locations near you as well as understanding the simple process to buy propane from this popular retailer.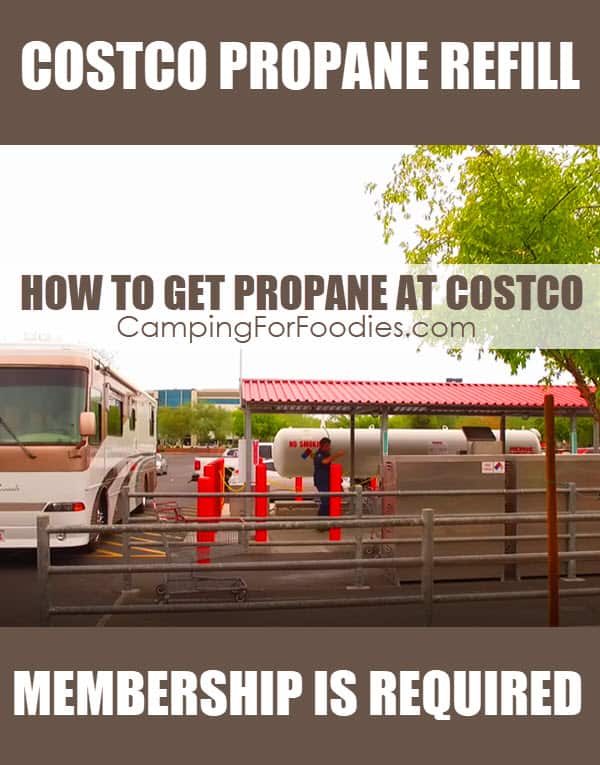 ---