Costco Propane Refill: How To Use The Costco Propane Service
If you are a camping propane user, you probably need to refill your tanks quite often. Costco is one of our favorite places to go for filling our empty tanks. Here are tips on Costco Propane Refill: How To Use The Costco Propane Service and finding the location that is nearest to you.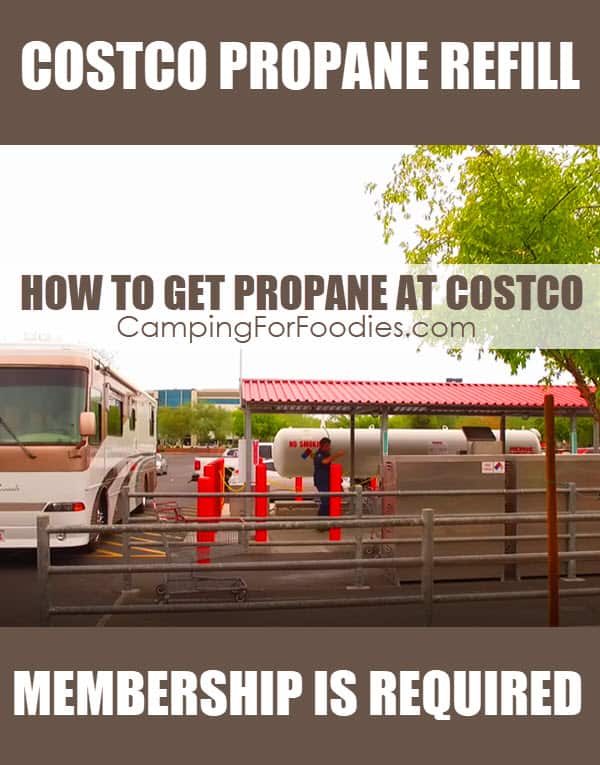 Psst we're compensated…see our disclosures.
Filling Your Camping RV Tanks At Costco Propane Refill Stations
If you ever find yourself asking … I wonder where I can refill my propane … and you want it for an inexpensive price … you may just start looking for the nearest Costco store!
---
Does Costco Refill Propane Tanks?
Some Costco locations do sell propane but you should not assume the service is available at all Costco stores.
And, just like any other purchase at Costco outlets, you do have to be a member to buy propane.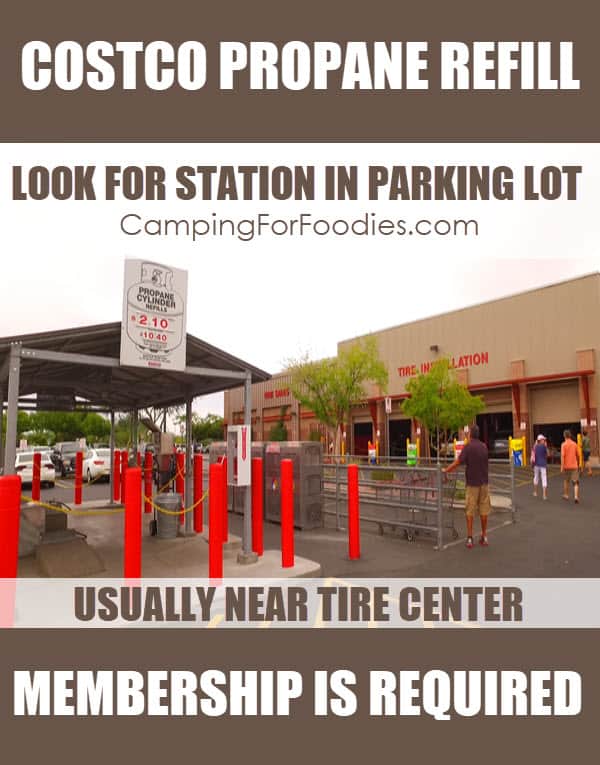 ---
Costco Membership Required For Propane Refilling
Before you find the nearest Costco warehouse location, you need to know that you must be a member to get propane there (or purchase anything else, for that matter.)
If you are not currently a member but want more information about becoming one, you can get information on their website to join Costco.
---
Expired Tanks WILL NOT Be Filled
Your brand of tank doesn't matter, you don't need new propane tanks either. But the integrity of the propane storage tank must be good AND it does need to be within the legal date for refilling, not beyond the expiration date.
If your tanks are expired or they need to be emptied for RV maintenance or transport (like on a ferry), here's how to empty propane tanks for transport or proper propane tank disposal.
Propane Costc​o attendants will not refill expired propane tanks.
Most tanks are certified for 10-12 years. You'll see a stamp on the tank's collar that indicates the length of time before the tank needs to be recertified or put out of service.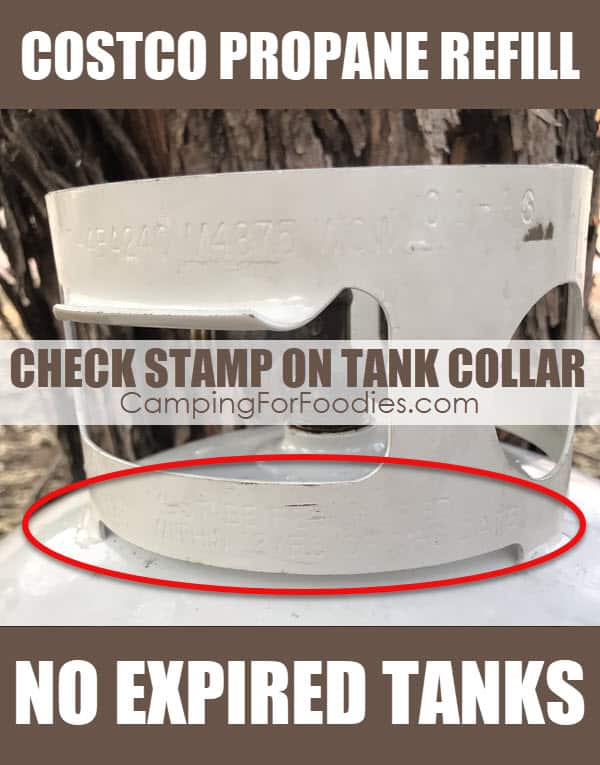 The stamp will say something like: MUST BE REQUALIFIED WITHIN 12 YRS OF MFG DATE.
You will find the manufacture date and recertification date(s) stamped on the collar but you have to know how to read the markings.
---
U.S. Propane Tank Markings & Meanings
Marking
Meaning
04 11
Date of manufacturer in month and year format. (example April 2011)
A 21
Date of recertification in quarter and year format. (example 1st quarter 2021)
A = 1st quarter: JAN, FEB, MAR
B = 2nd quarter: APR, MAY, JUN
C = 3rd quarter: JUL, AUG, SEP
D = 4th quarter: OCT, NOV, DEC
TW
Tare Weight (empty cylinder weight) in pounds
WC
Water Capacity (water storage capacity) in pounds
---
Dual Country Markings
Some tanks are certified in the United States and Canada which means there will be 2 sets of stamps.
Canadian stamps include the letters TC which indicates a cylinder was designed to meet Transport Canada specifications so it can be used and filled in Canada.
U.S. uses the imperial system. Markings will be indicated in pounds and gallons.
Canada uses the metric system. Markings will be indicated in grams and liters.
---
Canadian Manufacture Date Stamps
A Canadian manufacture date stamp will indicate the month and year of manufacture and will look like this: 04 11 or like this 04 △ 11 to indicate April 2011.
---
Canadian Recertification Stamps
Example: 04 PD7 21 E
04: Month of requalification (example April)
PD7: Requalifiers registered mark (identifier assigned to all requalifiers by Transport Canada)
21: Year of requalification (example 2021)
E: Procedure Symbol (example E = External Visual Inspection)
---
Where To Fill Costco Propane Tank
Because the Costco propane service is only available at select locations, you will want to check for availability at the store of your choice.
Here are the steps to find a local Costco store that sells propane:
Go to Costco's website to use the store locator. https://www.costco.com
Click on "Find a Warehouse" and enter a "city, state or zip code" for a general location you are wanting to buy propane.
Use the map or list feature to find a store location that is on your travel route.
Click on the store to get more details.
Under the "Warehouse Services" section, you will want to check the information on the "Gas Station" as well as the "Tire Service Center" … if that particular location has both, they may also have propane services. NOTE: If you are interested in filling up your vehicle with gasoline or diesel, learn how to buy gas at Costco even if you don't have a membership.
In the "Store Details" you are looking for "Departments and Specialty Items" section of the website, from there you are looking for "Propane". NOTE: We have found many Costco locations that DO offer propane for sale but the store's website listing does NOT indicate that … so … even if your preferred store does not show propane availability on the website … it is worth a phone call to verify.
If propane is listed as one of the specialty items available at that location, you are in luck. You will want to call the store to verify the website information is up-to-date and accurate.
---
Costco Propane Refill Hours
When you get propane at Costco, it is probably being serviced by employees in the tire center so the hours are usually similar.
You'll want to verify the particular hours of the store with a quick phone call.
---
How To Get Propane At Costco
The Costco propane refill procedure is quite simple, here are the steps:
Find the Costco Propane Service Station in the parking lot of the store (it will probably be near the tire shop).
Take your empty tank to the station.
Push the button to notify the attendant you are there. Look for a sign that says "Call Attendant, Push Button" or something similar.
The attendant will meet you at the station and verify your propane tank is not expired. NOTE: Costco does not take expired tanks so check your date before you head to the store.
The attendant will fill your tank while you wait then he/she will give you a receipt.
Your tank will stay at the station until you pay for the propane and come back at a later time to pick it up.
---
How Do You Pay For Propane At Costco?
The really convenient thing about purchasing propane at Costco is the ability to shop and get other services done all at one place.
So the question … where do you pay for propane at Costco … depends on what else you are doing at the store.
We usually combine our propane refills with stocking up on items we are buying in the warehouse, like our pharmacy prescription orders and our favorite name brand and Kirkland Signature merchandise like our regular Costco camping food items … in that case we pay for our propane at checkout with our other supplies. They really do have some of the best camping snacks on the planet!
If we are just getting propane, we pay for it with the Tire Service Center cashier.
---
How Much Is Propane Refill At Costco?
You've gotta love camping tips that save you cash! I would never call anything at Costco "cheap" because the quality of their products is excellent … I'd rather say the propane cost is an excellent value.
As you can see in our video, we paid $2.10/gallon on July 19, 2020 in Arizona. On our most recent fill-up in metro Phoenix we paid $2.49/gallon which was on August 28, 2023.
Just like Costco gas stations' gasoline and diesel fuel prices, propane prices vary by location.
---
Does Costco Sell Propane Tanks?
If you have been shopping at Costco for any length of time, you know that all items are not always available in the warehouse.
When they are not offered in stores, you can usually find additional availability of 20, 30 and 40 pound propane tanks as well as larger tanks up to 100 pounders online at Costco's website. https://www.costco.com/
With the exception of pre-filled 1 pound disposable propane cylinders for camping, typically these tanks are NOT filled with propane but they are pre-purged, empty and vacuum ready for filling.
Most of their new tanks are steel cylinders with a pressure gauge and powder coated finish as well as being DOT certified.
We have found their products to be the best value and are comfortable with their online shopping experience because of their risk-free satisfaction guarantee and Costco's return policy. Any issues, we just contact customer service or go to our local store's membership counter and are always helped in a prompt and professional manner.
I have seen 1 lb propane tanks in Costco stores on a seasonal basis when they have camping gear in stock.
---
Can You Exchange Tanks There?
We have never found a warehouse location that exchanges propane tanks but that does not mean they don't exist. If you are aware of a Costco propane exchange location, please let us know.
Personally, we don't like doing exchanges because they are much more expensive than doing refills.
But, if you're in a pinch, we have an entire post dedicated to find propane refill near me … and that includes locations of different businesses including LP gas companies that sell propane fuel direct to the public.
It also has information on nationwide retailers that do flat rate propane exchanges like Home Depot and Ace Hardware stores and, Blue Rhino locations in places like convenience and grocery stores, etc.
Tank exchanges don't offer the best prices but they are great options if the only thing you want to fill is a standard bbq propane tank you use for grilling. A 20 lb tank is common for backyard bbq grills. These small propane tanks hold approximately 17 pounds of propane gas. This is the size tank we use on what we think is the best camping propane fire pit.
If you have a typical RV 30- or 40-pound tank, you won't be able to just exchange tanks at one of these facilities.
24-hour swap options are convenient but do have drawbacks. You don't get credit for the gallons of propane that are remaining in the tank you are exchanging. But, you never have to worry about the propane guy being off-duty … the whole process is automated through the kiosks where you drop your empty propane tank into the machine and take a full tank.
---
VIDEO How To Get Your Propane Tank Refilled At Costco
Here's a step-by-step VIDEO to show you how to find Costco stores that offer the service, how to get your tanks filled at those locations and how to pay for your propane purchase.
---
Do You Really Need More Propane?
If we don't really need propane, we try to wait for a Costco refilling station because their prices are so affordable. So, we monitor our propane levels to make sure we have enough gas to get us to the next store.
We have 3 simple methods for how to tell if a propane tank is empty.
In addition to the tanks on your RV, you may have one of those hybrid dual-fuel quiet generators for camping that can operate on gasoline or propane so don't forget to fill those too.
---
Filling Small Camping Propane Bottles
Of course Costco can't refill your tiny tanks but you can refill camping 1lb propane tanks if you know how to use a refill adapter.
---
Propane Gear For Camping
Keeping your propane tanks full makes it possible to continue using the best propane camping gear on every one of your trips!
---
Using Propane For Cooking
You are probably using propane to cook some of your meals. If you are interested in some new, interesting and simple camp recipes, we've got tons of them!