Blueberry Lemon Dutch Oven Muffins
Blueberry Lemon Dutch Oven Muffins
The classic combination of blueberries with a hint of lemon is one of my summertime favorites. I use it in refreshing drinks, syrups and baked goods. These Blueberry Lemon Dutch Oven Muffins make a yummy breakfast or dessert. A word of warning, the glaze is a little sticky and just might make Emily Post roll over in her grave as you lick this sweet and tangy goodness from your fingers! Psst we're compensated…see our disclosures.
---
Heat Resistant Gloves
Camp Grill
Rapidfire Chimney Starter
&
---
How To Make These Easy Blueberry Lemon Dutch Oven Muffins
Preheat Dutch Oven
Preheat a 10 Inch Cast Iron Dutch Oven to 400 degrees (see our Dutch Oven Temperature Chart for the number of briquettes required.)
Mix the dry ingredients in a larger bowl:
1 ½ cups all-purpose flour
½ cup white sugar
2 teaspoons baking powder
¼ teaspoon salt
Zest of ½ lemon
Mix the wet ingredients in a separate bowl:
½ cup Greek yogurt
3 Tablespoons vegetable oil
1 lemon, juice of a fresh lemon
1 egg, beaten
Now, add the wet ingredients to the dry ingredients gently mixing until blended.
Now add these:
¼ cup club soda
1 (6oz.) package fresh blueberries, washed
Spoon the batter into 12 Foil Cupcake Liners. Place filled cupcake liners into a pre-heated 10-inch Dutch oven being careful not to burn yourself on the hot oven.
&
Camp Cooking Tip: Foil Cupcake Liners hold their shape better than paper ones when cooking individual muffins in a Dutch oven. It is the Dutch oven itself that holds the liners in place but they will still form odd shapes as they bake.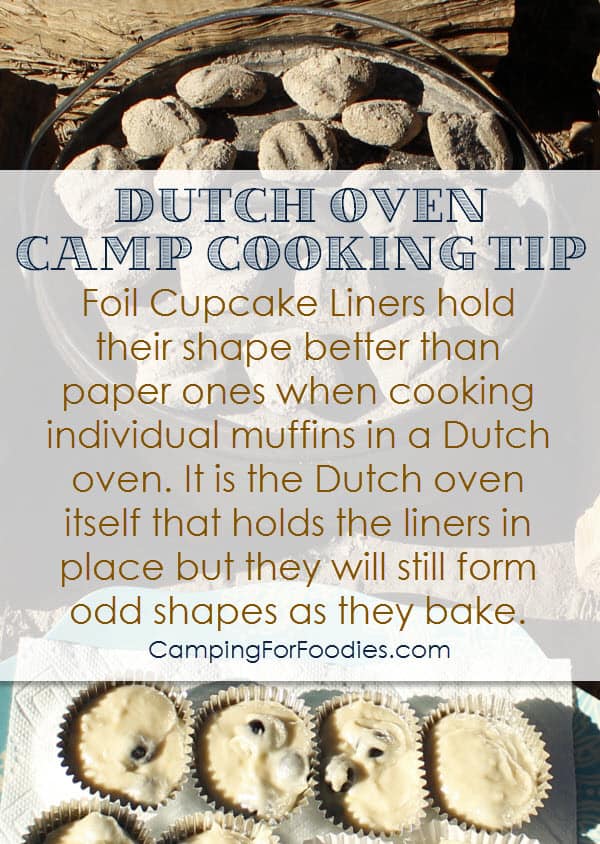 Camp Cooking Tip: If you want your muffins to be uniform in shape, you need to use a Cast Iron Muffin Pan instead of cupcake liners. Verify the size of Dutch oven required to fit the muffin pan. For example, a muffin pan measuring 12 ¾ inches wide will require a 14-inch Dutch oven (NOT a 12-inch Dutch oven.)
&
Bake these yummy Blueberry Lemon Dutch Oven Muffins
Bake 30-45 minutes depending on outside weather conditions and altitude. Camp Cooking Tip: Use a Dutch oven Cast Iron Dutch Oven Lid Lifter to rotate the oven several times throughout the cooking process to evenly bake these Blueberry Lemon Dutch Oven Muffins. Rotate the top and bottom in opposite directions about ¼ turn each time. Get more Dutch Oven Camp Cooking Tips in this post.
Lodge Camp Dutch Oven Lid Lifter
Camp Chef Heat Resistant Gloves
Lodge Camp Dutch Oven Lid Stand
&
Make the glaze
While the muffins are baking, make the glaze in a small bowl by mixing these ingredients:
1/3 cup powdered sugar
Zest and juice of ½ lemon
¼ teaspoon vanilla extract
Camp Cooking Tip: If muffins are done but not browned, move some of the charcoal briquettes from the bottom of the oven to the top of the oven and continue baking until the muffins are golden.
Glaze Them
Let these Blueberry Lemon Dutch Oven Muffins cool slightly and then use a spoon to drizzle the glaze over them.
Lodge Durable Pan Scrapers
Disposable Dutch Oven Liners
Lodge Camp Dutch Oven Tote Bag
&
Emily Post's Etiquette, Manners For Today
Emily would not be happy to see you licking your fingers while eating these Blueberry Lemon Dutch Oven Muffins but who cares?!? One of the best things about camping is kicking back and knowing you are breaking the rules! Nevertheless, the Emily Post's Etiquette, Manners For Today book is a fun read to know all of the rules you are deliberately breaking while experiencing the wild in the great outdoors!
&
Don't forget to use Tablecloth Clamps in case it gets windy!
Coghlans Vinyl Tablecloth
Coleman Tablecloth Clamps
Camping Tableware Set
&
---
No time to look for recipes, create a menu and write a grocery list? No Problem! Get our 3-Day Dutch Oven Camp Menu Plan here!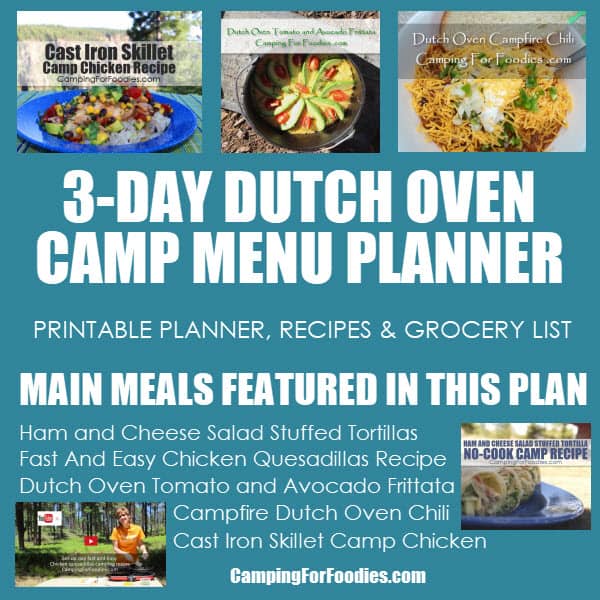 ---
We've got great camp cooking tips in these other posts:
 Funny Apron
 Cutting Mat
 Mat Set
 Shaker Set
 Fun Hammock
&
If you need camping recipes and menu ideas, you can find them here at the Camping For Foodies Camping Recipes list.
Don't miss a thing…sign up for Camping For Foodies email updates!
Your purchase of our products will help support World Vision ® Building a better world for children.