Valley Of The Gods Camping – BLM Dispersed Free Camping Near Monument Valley Utah
This BLM camping Utah oasis is an easy drive from Monument Valley where John Wayne made so many famous movies. When you camp in this area, you might feel like you stepped on to a western movie set!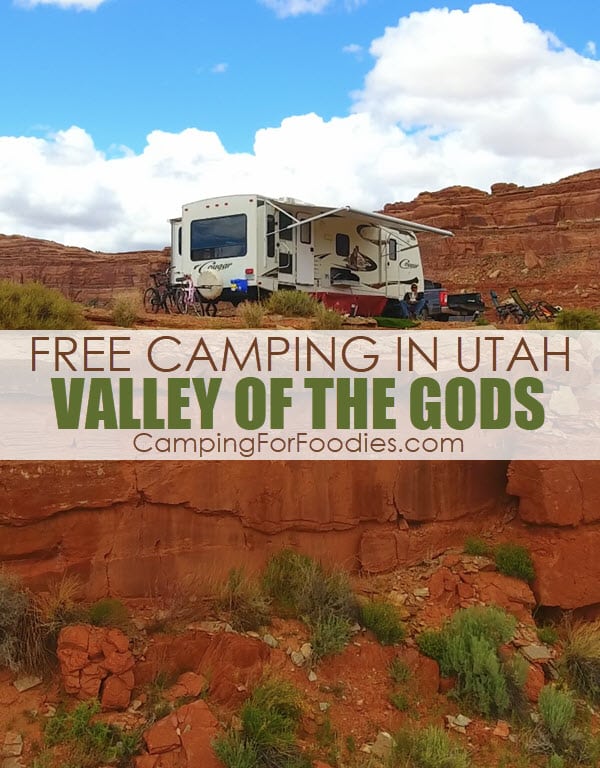 Psst we're compensated…see our disclosures.
Hit the "STAY" button in the bottom right corner to watch the entire video. If you want to re-watch it again, just refresh your browser.
Valley Of The Gods Camping
It CAN'T Be Real!
Even though this area is so beautiful, it feels fake … rest assured, it is very real!
The Valley of the Gods is also known as a Miniature Monument Valley because of the stunning Cedar Mesa sandstone monoliths, gigantic pinnacles and wide open spaces … and CAMPING THERE IS MAGICAL!
Our Utah Road & Recreation Atlas was my main trip planning tool for our Valley of the Gods camping vacation.
---
How To Experience Valley Of The Gods
The best way to experience the Valley of the Gods is by taking your time driving the 17 mile loop (which is also known as San Juan County Road #242).
The graded gravel and clay surface road has a few sharp turns, and crosses several washes which are easily drivable in high clearance vehicles but also can be cautiously driven in a regular passenger car when the land is dry.
If the washes are running, you may need a 4-wheel drive vehicle for this journey.
Just like any dirt roads, the Valley of the Gods loop road conditions are impacted by local weather. You can find the latest information by contacting the BLM Monticello Field Office.
You'll also want to explore Valley of the Gods by foot! Even though there are no real hiking trails, there are plenty of places you will want to discover by walking.
---
Cautions During Valley Of The Gods Camping
Because of the wide open spaces, you may find it quite windy when camping at Valley of the Gods so be sure to secure your gear in preparation for some substantial wind gusts. You might want to keep the wind in mind as you do your planning for the type of camping food you want to put on your menu and how you will be cooking it.
There is sooooooo much beautiful scenery to see while driving, be aware of distracted drivers and visitors who commonly pull off roads to take photos … especially when you are in the area of Forrest Gump Point (more on that later).
Be aware of the weather and be prepared for rain, muddy road conditions and running washes. Our trip was relatively dry but there was some rain in the area before our arrival creating puddles in low-lying areas.
---
Things To Do While Camping At Valley Of The Gods
Taking advantage of the FREE camping in Valley of the Gods allows you to spend a few bucks on some of the fun activities in the surrounding area:
1. Monument Valley Tribal Park
We highly recommend you spend an entire day exploring Monument Valley.
Some people think Monument Valley is one of our U.S. National Parks and expect their 'America the Beautiful Pass' to get them through the entrance gate … BUT IT WON'T!
Monument Valley is actually on the Navajo Nation's tribal land.
The Monument Valley Park is operated by the Navajo Nation Parks & Rec office which regulates activities in the park.
You can experience the Monument Valley Park by doing a self-driving tour along the designated route, guided tours, backcountry hiking and camping or enjoy the restaurant, gift shop and small museum displays.
Don't miss Mitten Buttes and Merrick Butte … they are world famous for good reason!
John Wayne was instrumental in making this place known around the planet because he created so many western movies here!
Directions: U.S. Route 163 is the main road between Valley of the Gods and Monument Valley Tribal Park and will take about 1 hour to travel there by vehicle. It is approximately 40 miles one way. You will travel through the little town of Mexican Hat and over a bridge to cross the San Juan River to get to Monument Valley Tribal Park. You'll also want to keep an eye out for the rock formation that looks like a Mexican hat!
---
2. Forrest Gump Point (also known as Forrest Gump Road, Highway and Hill)
If you saw the Forrest Gump movie you may remember the scene where Forrest finally stops running.
Well, that famous landscape is located on U.S. Route 163 approximately 20 miles southwest of Valley of the Gods.
Directions: If you want to see the point, you'll leave your VOG camp spot and head south on U.S. 163, passing through the town of Mexican Hat and then drive for about 9 more miles till you hit Forrest Gump Point where there is a pull off at mile marker 13.
The iconic setting can be best seen as you are looking toward the south.
CAUTION: There are many people who run out to the center of the highway to take a picture here … be careful as you drive through this area!
---
3. Goosenecks State Park
While you are in the area, be sure to take a trip to Goosenecks State Park. The park is small but impressive.
While you are there standing on the edge, you'll see a deep canyon below that features the San Juan River as it meanders over six miles on its way to Lake Powell.
Directions: U.S. Route 163 and Utah State Route 316 are the main roads between Valley of the Gods and Goosenecks State Park and will take about 35 minutes to travel there by vehicle. It is approximately 14 miles one way.
---
We used the Roadtrippers app to plan a lot of our day trips when we were in this area because we were totally unfamiliar and never camped here before.
It is one of the best camping apps for pre-planning a long distance trip that has lots of tourist-y activities.
---
Valley Of The Gods Elevation And Weather
There are valleys, mesas and pinnacles so there is no single elevation that accurately represents Valley of the Gods but generally speaking the elevation is approximately 4,650 feet above sea level.
The average high and low temperatures throughout the year make us say that spring and fall are the best times to visit.
Our trip occurred in late May over the Memorial Day Holiday and the daytime temperatures were a bit warm but bearable for us Phoenicians … visitors from colder climates may have a different opinion. LOL
January 43°F High / 19°F Low
February 51°F High / 24°F Low
March 61°F High / 30°F Low
April 69°F High / 37°F Low
May 80°F High / 47°F Low
June 92°F High / 56°F Low
July 96°F High / 65°F Low
August 93°F High / 63°F Low
September 85°F High / 52°F Low
October 72°F High / 39°F Low
November 56°F High / 27°F Low
December 44°F High / 19°F Low
---
Cellular Coverage While Camping At Valley Of The Gods
At the time of our Valley of the Gods camping trip, our cell service provider was Verizon.
We only had 3G intermittent coverage while we were in the area.
---
Cost To Camp At Valley Of The Gods/Permits Required
Free camping in Utah's Valley of the Gods is available when you camp on BLM land.
The normal 14-day limit does apply and at the time of our visit, no special permits were required.
---
Amenities At Valley Of The Gods Camp Spots
Our travel route took us through northeastern Arizona and then on into Valley of the Gods.
We used our camping checklist and fully stocked our food and water supply in Flagstaff Arizona and then topped our gas tank in Kayenta.
Depending on your direction of travel, there will be shopping and services within a reasonable travel distance from Valley of the Gods.
As is the case with most free camping locations, you need to be fully self-contained and prepared for boondocking at Valley of the Gods in this public land that is managed by the Bureau of Land Management.
There are no facilities, gas stations or services so you'll want to top off your gas tank and stock up on any other supplies you need before you enter this remote camping destination.
---
Road Conditions For Valley Of The Gods Camping
We do most of our camping at remote sites located within National Forests that have less-than-desirable road conditions.
Our trip from Phoenix kept us on pavement all the way to the intersection of U.S. 163 and Valley of the Gods Road.
There is a short bit of pavement at the beginning of the Valley of the Gods Road, then it turns to gravel/clay.
It is generally a good 2-lane road but there are areas where it is tight to pass an oncoming vehicle and one driver will need to pull over to allow the other to safely pass.
Be aware of flash flooding in the washes and muddy conditions after a rain.
---
Directions To Valley Of The Gods Camping Area
Valley of the Gods is located at LATITUDE / LONGITUDE 37.264526, -109.931702
You will find FREE BLM dispersed campsites all along Valley of the Gods Road which is located off of U.S. Highway 163 (about 15 miles west of the town of Bluff, Utah or 7 miles north/east of Mexican Hat, Utah. You will see a sign for Valley of the Gods Road but there is no turn lane so keep an eye out and don't be afraid to slow down as you get close. If you pass the turn, you'll be traveling a good distance on U.S. Highway 163 with a fair amount of traffic before you can turn around. (Trust me on this one LOL! I was doing the driving too … yikes!)
---
Map From Flagstaff, AZ To Valley Of The Gods, UT
Our trip started in Phoenix so I'm including a map with a starting point of Flagstaff in northern Arizona, through Monument Valley and on to Valley of the Gods.
---
Similar Camping Destinations
If you enjoy camping in beautiful landscapes filled with red rock formations, you will also love camping at these other places…
Dispersed Sedona AZ Camping
Sedona Arizona is known across the world as one of the top places to see red rock formations. This is our favorite fall/spring camping location because of the stunning views and it is just a few hours from our home in Phoenix. Get tips on finding these free camping sites near Sedona Arizona and see the surprise visit we got from a hot air balloon that landed next to our campsite.
---
Canyon De Chelly Camping Arizona
We stayed at the Cottonwood Campground on our Canyon de Chelly camping trip. Some of the best scenery on our itinerary was the backdrop for awesome cliff dwellings on the Navajo Nation's land located in northeast Arizona.
---
Onion Creek Moab Utah
You can camp in a low-cost Bureau of Land Management campground just a short distance away from the awesome Onion Creek Road that is a breathtaking scenic drive through fantastic red rock formations that almost dance against the crystal clear blue sky. You won't be disappointed if you visit Onion Creek Moab Utah.
---
Goose Island Campground Moab Utah
When we camped at Goose Island, it felt a lot like camping in Sedona. The rock walls are spectacular … they are actually the boundary to Arches National Park. The two places are separated by the Colorado River. See our VIDEO and get our review of the low-cost Goose Island Campground Moab Utah that is operated by the Bureau of Land Management.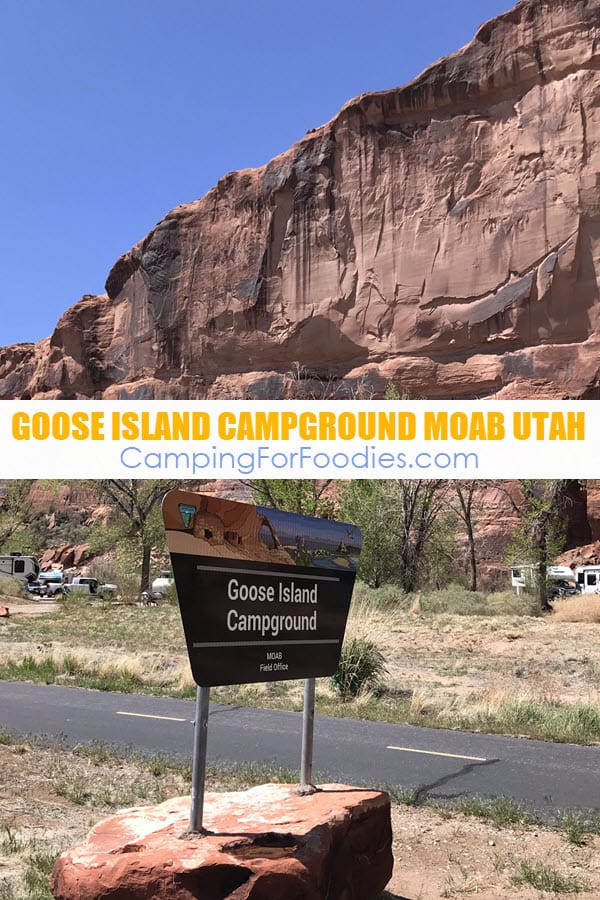 ---
FREE Camping Trip Planner
Make your next trip stress-free with a little pre-planning. Get your copy of our FREE printable camping trip planner template!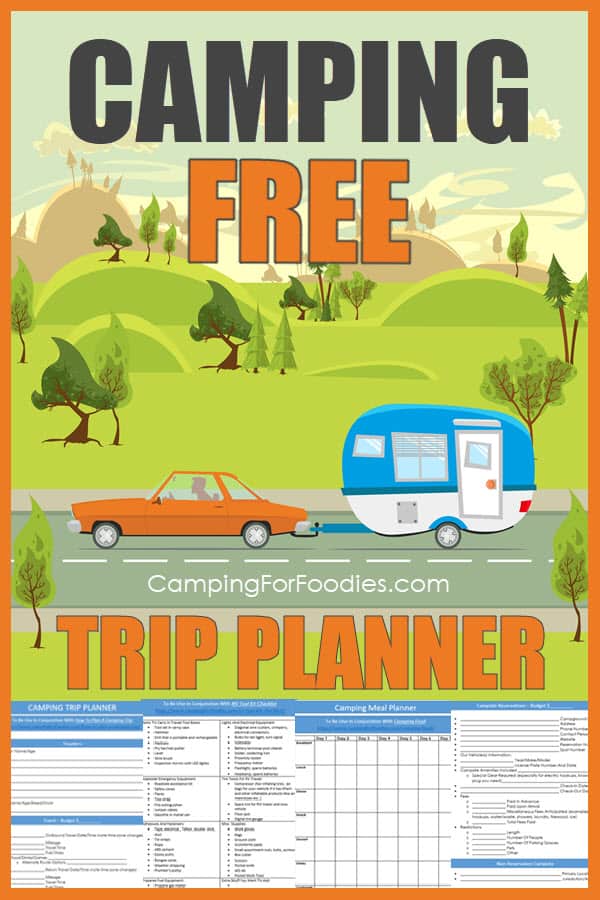 ---
Camping Food Ideas & Recipes For Your Trip
The nearest grocery store may not be as convenient as you would hope when you are camped in remote locations. So, create your meal plan and shop before you arrive at this pristine wilderness location.