Cleaning And Seasoning Cast Iron Dutch Oven Cookware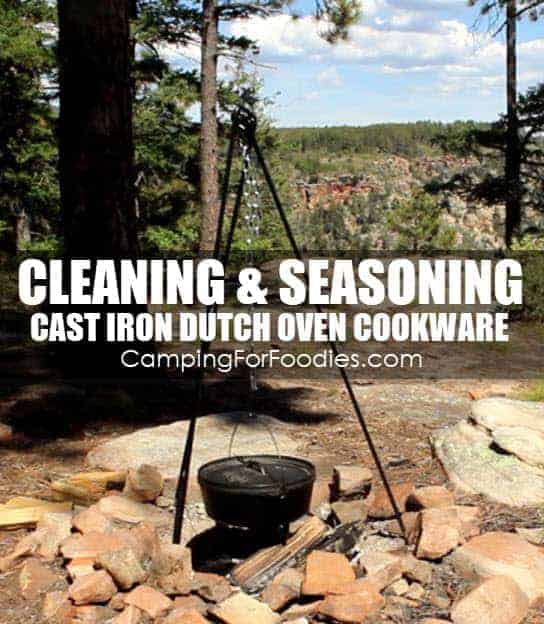 Cleaning And Seasoning Cast Iron Dutch Oven Cookware
Cast iron Dutch oven cookware is the most popular equipment for camp kitchens because of the ruggedness and durability of the material. It can handle the harsh cooking conditions of a blazing campfire like no other equipment can. Good quality pieces can be a little pricey but with easy routine cleaning and seasoning, cast iron Dutch oven cookware will last for generations! Check out these 4 Little Things To Keep Your Cast Iron Camp Cookware In Tip-Top Shape! Psst we're compensated…see our disclosures.
---
4 Easy Steps For Cleaning And Seasoning Cast Iron Dutch Oven Cookware
Most cast iron cookware is already seasoned by the manufacturer but you need to re-season your equipment after each use to maintain its finish. Always remember, cleaning comes first … seasoning comes second. Here are the basic steps for routine maintenance of your cast iron Dutch oven cookware.
Water-Wash
Dry
Season
Store
Simple Tips To Achieve Best Results For Each Cleaning And Seasoning Step
---
STEP 1: WATER-WASH
After each use, remove all food residue from your cast iron cookware by wiping it with a clean paper towel. Wash it with hot water only, DON'T USE SOAP because it will remove the seasoning. If you have stubborn food stuck to your cookware, you can scrub it off with a chainmail scrubber, stiff-bristle brush, scraper, sponge or use salt as an abrasion tool. If scrubbing won't remove the food, fill your cookware with water then bring it to a boil to loosen food and grease; pour out the water and let the cookware cool slightly then wipe it clean with a paper towel being careful not to burn yourself.
---
The Ringer – The Original Stainless Steel Cast Iron Cleaner, Patented XL 8×6 inch Design
Using a Stainless Steel Cast Iron Chainmail Cleaner is a relatively new and super popular tool for removing stuck-on food from cast iron Dutch oven cookware. One of the coolest things about this type of cleaner is the fact that it does not trap bacteria like brushes and sponges do AND you can throw it in the dishwasher too!
&
---
This Cast Iron Brush And Scraper is no ordinary kitchen cleaning brush! It is specially designed for cleaning cast iron with brush bristles that are firmer than regular kitchen brushes and it has a flat top edge that can be used as a scraper to remove stuck-on food.
&
---
Lodge SCRAPERPK Durable Pan Scrapers, Red and Black, 2-Pack
Durable Pan Scrapers are great tools for cleaning cast iron Dutch oven cookware. Each of the scraper's four corners have a unique shape so you can clean the different nooks and crannies of different shaped pans. These are especially helpful when cleaning cast iron grills and panini pans with those oh-so-hard-to-clean skinny little ridges!
&
---
STEP 2: DRY
As soon as you have finished water-washing your cast iron cookware, dry it immediately to avoid rust. Unfortunately, any amount of moisture will quickly lead to rust especially in humid climates. After water-washing and drying, we place our cast iron cooking equipment upside-down near the campfire for quick and thorough drying. We flip the pieces to make sure all sides are dry and we follow this routine for all of our cast iron Dutch ovens, lids, skillets and griddles … we pay particular attention to flanges and grease channels of the cookware to avoid any build-up of moisture droplets.
---
STEP 3: SEASON
Apply a light coat of oil to your cookware with a paper towel and wipe off any excess before you pack it away for storage. You can use vegetable oil, which is the most common choice, but you can also use olive oil, lard or other alternatives like a 100% Plant Based Cast Iron Oil & Conditioner.
---
100% Plant Based Cast Iron Cookware Oil And Conditioner, Will Not Go Rancid Or Sticky
Some people use their cast iron Dutch oven cookware all the time … other people not as often. If you are a frequent user of your cookware you can use a variety of oil types and you won't have the problem of having your oil go rancid before your next use. But, if you use your equipment less frequently, you may want to use a 100% Plant Based Cast Iron Oil And Conditioner made from highly refined coconut oil that won't go stale and does not need to be refrigerated either.
&
---

STEP 4: STORE
If your cast iron cookware could talk, it would tell you it hates moisture! Why? It causes rust! This is a problem everywhere but the rust forms quicker in damp climates than it does in arid locations. So, you want to store your cooking equipment in a dry place. For cast iron Dutch ovens or skillets with lids, place a paper towel between the pieces to avoid them sticking together while stored. We keep our cast iron camp cooking equipment in bags specifically designed for each piece keeping them clean between trips … plus, the carrying handles make transportation easy too.
---
We have a tote bag for each of our ovens and we LOVE them! They keep everything clean when we are storing our cast iron cookware and the handles make it really easy to transport our ovens too! Most bags will accommodate a standard or deep oven but you can't fit a 12-inch oven into a 10-inch bag so make sure you get the correct size. 😉 Typically, most manufacturers have Dutch Oven Tote Bags that come in sizes to fit 8-inch, 10-inch, 12-inch and 14-inch Dutch ovens.
&
---
A Side Note On Cleaning And Seasoning Cast Iron Dutch Oven Cookware
The more you use your cast iron cookware, the better it gets. Each time you cook with it and then clean and season it properly, the more it builds up layers of seasoning creating an almost non-stick surface. So, you want to cook directly in your cast iron cookware as much as possible. That being said, every so often you may want to avoid the clean-up and use a foil liner.
---
Disposable Foil Dutch Oven Liners
Using a Disposable Foil Dutch Oven Liner allows you to avoid cleaning your Dutch oven but it won't help build seasoning layers on your cast iron cookware. So, regular use of a liner is not a great idea but occasional use is fine and can be especially convenient for baked goods like cakes.
&
See, it is super simple to keep your cast iron Dutch oven cookware in tip-top condition for your next camping trip and for each generation of happy campers to inherit these awesome pieces of camp cooking gear!
---
No time to look for recipes, create a menu and write a grocery list? No Problem! Get our 3-Day Dutch Oven Camp Menu Plan here!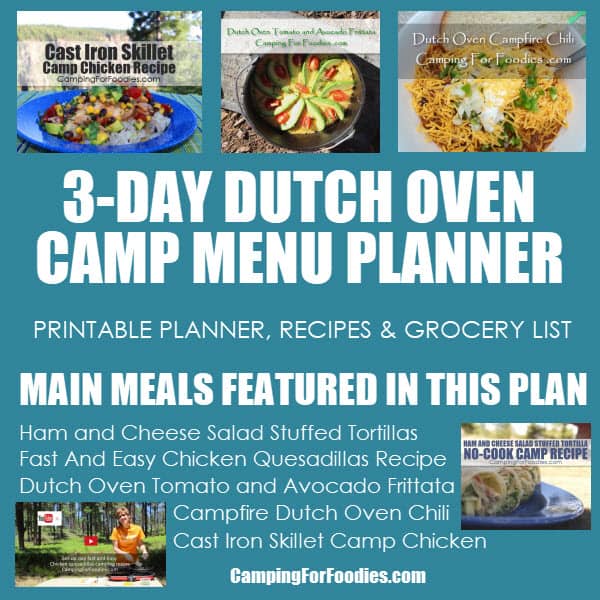 ---
Our Cool Camping Products Make Great Gifts!
Tote
Cutting Mat
Mat Set
Shaker Set
Apron
Hammock
Women's Tee
&
---
If you need camping recipes and menu ideas, you can find them here at the Camping For Foodies Camping Recipes list.
Don't miss a thing…sign up for Camping For Foodies email updates!
Your purchase of our products will help support World Vision ® Building a better world for children.