Stainless Steel Dutch Oven vs Cast Iron vs Aluminum, What's best?
Today we're getting into details regarding the different materials used and the performance outcomes between the three popular types: Stainless Steel Dutch Oven vs Cast Iron vs Aluminum.
The differences between a good Dutch oven you use in your home or RV, and, a camp Dutch oven for outdoor use is something we talk about when considering the best Dutch oven for camping.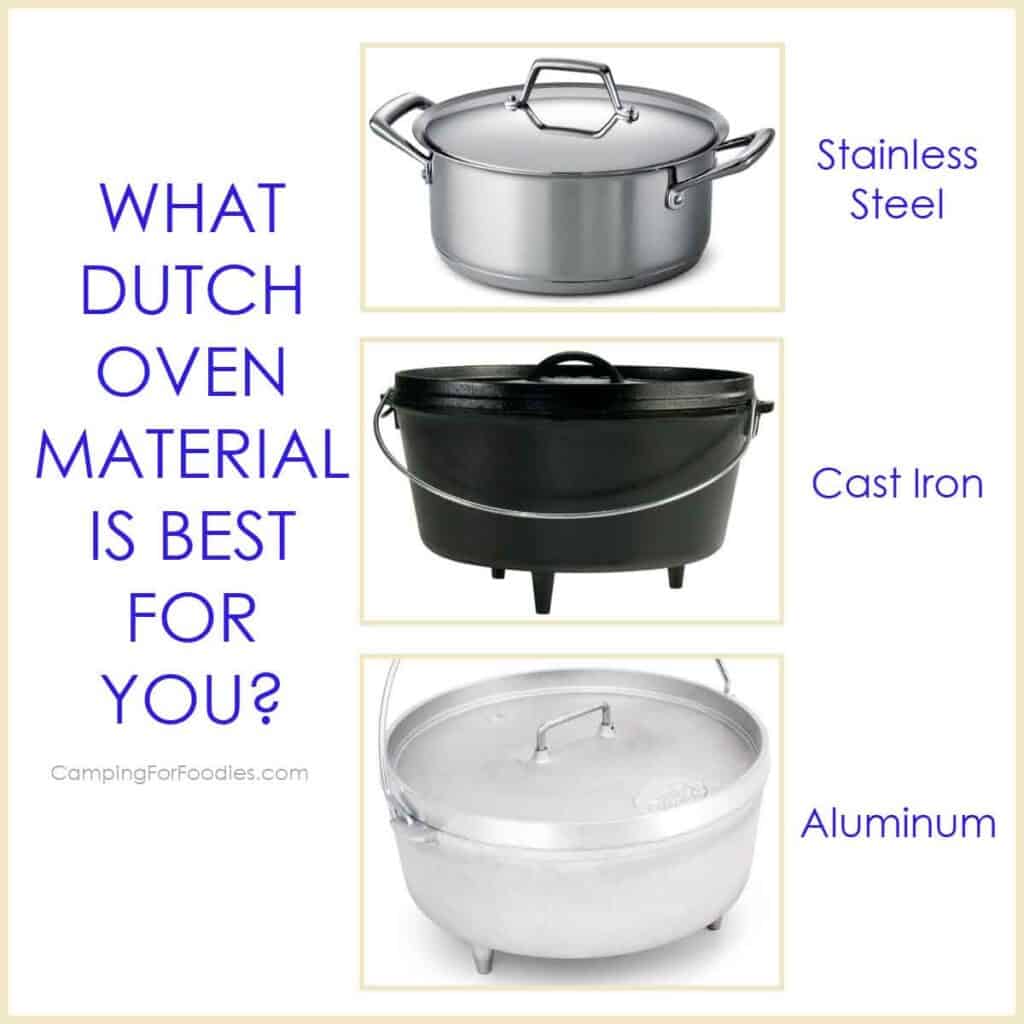 Psst we're compensated…see our disclosures.
---
Three Types Of Stainless Steel Cookware
Single Ply vs Bottom Clad vs Fully Clad Stainless Steel Cookware Sets
A good reason to like stainless steel equipment is that the material does not react with acidic food and it's not prone to rusting. The only problem is that it isn't a good conductor of heat. That deficiency is overcome by adding other materials during the manufacturing process.
Single ply stainless cooking equipment is the lowest price point because it's the cheapest to manufacture. It contains a single ply of material so it's only made using stainless steel. Not only does this type of pot heat poorly, it also has hot spots when cooking and it easily warps.
Bottom clad equipment is a better choice because it has an added layer of material in the bottom of the pot which usually consists of an aluminum or copper core. This added layer helps to disperse the heat more evenly below the pan and helps to reduce hot spots.
Fully clad equipment is the most expensive because in addition to the bottom of the pan, the walls also contain the added aluminum or copper material. This is the best choice when you are using the pot like a casserole dish to bake things that can't be stirred during the cooking process like my Dutch Oven Chicken Pot Pie.
---
Two Types Of Cast Iron Cookware
Raw & Enameled Cast Iron
Plain cast iron is just regular cast iron without an enamel coating. It has a black interior and exterior which requires proper cleaning and care. For a long time, this has been considered a sweet spot for many camp chefs who like cooking over the open flame of campfires and don't want to deal with the black soot that causes discoloration with other materials. It's also the best material for even heat distribution which is awesome in windy conditions. This makes a huge difference when baking things like my delicious Dutch Oven Monkey Bread Recipe.
An enameled pan has a coating over the raw cast iron material. These are considered must-have items in many gourmet kitchens. They are often left on counters for display, almost like a piece of art. There are plenty of options including round and oval Dutch ovens and they come in lots of really pretty colors. They often see everyday use because of their versatility.
---
Two Types Of Aluminum Cookware
Raw & Anodized Aluminum
The main difference between raw and anodized aluminum types of cookware is the surface. Raw is untreated while anodized goes through an anodizing process.
"Anodizing is accomplished by immersing the aluminum into an acid electrolyte bath and passing an electric current through the medium," according to the Aluminum Anodizers Council.
The anodizing process on metal utensils results in an oxide layer that is fully integrated with the underlying aluminum material (it's not just a layer applied on the surface) making this a type of Dutch oven that is scratch-resistant and not prone to chipping, peeling or flaking. The interior surface is similar to ceramic Dutch ovens with a nearly nonstick finish.
Classic aluminum camp cookware is made with raw aluminum but the latest styles are made from anodized aluminum.
---
Cooking Performance
Stainless Steel
Food sticks easily to stainless steel pots which is actually a good thing when you want to make flavor-packed pan sauces.
The brown bits (also known as fond) that stick to the bottom of a pan are very flavorful. When you deglaze the pan with broth or wine, you can scrape up those brown bits and use the liquid in soups, sauces, gravies and braises. You can also do this with raw or enameled cast iron cookware but not with non-stick pans.
You won't have good luck with stainless when cooking things like eggs unless you use a good amount of oil in the pan.
Cast Iron
Raw cast iron is known for its ability to build up a "seasoning layer" which is not as prone to food sticking as compared to stainless. Be careful though because that seasoning layer can be destroyed if you use soap, cook a lot of acidic food or let water stand in the pot. You'll get good results building up your seasoning layer when deep frying things like my Easy Campfire Donuts.
As for an enamel-coated Dutch oven, it will never be as non-stick as a well-seasoned raw cast iron pot.
Aluminum
When it comes to food not sticking, aluminum cooking equipment is the best choice of the materials we're discussing today.
---
Heating & Cooling Properties
Conductivity is a major consideration in kitchen gear. The speed at which your pot heats and cools is important when camping.
If the pot takes a long time to heat up you'll use more fuel to get it hot enough to cook.
If it takes a long time to cool down you'll have to wait longer to pack it.
If it cools quickly it won't cook evenly in windy conditions.
If it doesn't retain heat more fuel will be required when preparing low and slow cooked meals.
Stainless Steel
Stainless steel can tolerate more heat than aluminum but not as much as cast iron.
It also retains heat better than aluminum but not as well as cast iron. So, it will cool quicker than cast iron but not as quickly as aluminum.
Because it does not retain heat as well as cast iron, it doesn't perform as well when slow cooking or searing meat.
Cast Iron
Cast iron versions can handle the highest temperatures of the three materials.
Cast iron heats slower and takes more time to cool down.
Because of its exceptional heat retention, it's great when camping in cold and windy conditions. You don't have to worry as much about the side of the pot facing the wind cooling much faster than the protected side.
It also doesn't require as much fuel when making slow-cooked stews and pot roast braises because it retains heat so well.
Due to its high-heat tolerance and long heat retention, it's the perfect material to use for hot and fast cooking methods like searing your favorite steak. When you place the meat in the pan, it will maintain that high temperature and will give you that nice crisp outer texture without drying the inside so it stays tender and juicy.
Aluminum
Aluminum is the fastest to heat and quickest to cool which is great for campers who are in a hurry to eat, then, pack their gear right after the meal.
This material is the least heat-tolerant of the three, it's best to use this equipment over a propane or electric stove where the heat is easily managed with a button or a knob.
It is not recommended for use over a campfire but if you do it anyway, make sure the coals are not super hot and there are few of them.
---
Maintenance & Cleaning
No matter what material, you should not put a hot pan in water, especially cold water. The shock of the temperature change can make the pot warp or crack.
Stainless Steel
No special maintenance required. Most brands are dishwasher safe, check the manufacturer's instructions for proper care.
Cast Iron
Bare cast iron requires maintenance. You should never use soap, just use a paper towel to wipe excess food from the pot. It it needs something stronger, use a soft bristle brush with water to remove food residue and dry completely. Then, apply a thin coat of cast iron oil or vegetable oil and wipe off excess oil prior to packing away for storage. Get more details on how to clean and season cast iron cookware and check the manufacturer's specific instructions for proper care.
Aluminum
Most aluminum cookware can be cleaned with a little soap and water and should not be placed in a dishwasher. Check the manufacturer's instructions for proper care.
---
Weight
Unless you are parked and staying stationary in an RV, you probably care about the weight of your gear.
Stainless Steel
Stainless steel is in the mid-range when it comes to weight. It's heavier than aluminum but lighter than cast iron.
Cast Iron
Cast iron is the heaviest of the three materials which seems like it would not be good for camping but with the weight comes strength and durability which makes it good for use in harsh environments.
Aluminum
Aluminum is the lightest weight of the materials we are comparing today. It's a great choice for car camping and backpacking.
---
Durability
There is a big difference when it comes to the heat source used for cooking and durability tests. Using a piece of cookware on a stove, in an oven or over the open flame of a campfire is dramatically different.
The materials of the side handles and knob or handle on the lid make some styles stovetop-friendly but not campfire-safe or oven-safe because the material is unable to be used over certain temperatures (the exact temperature depends on the specific style and material).
Wear and longevity are other durability factors to consider.
Stainless Steel
Stainless steel is durable but it warps easier than cast iron because it's a lighter material. You must let the pan cool before cleaning and avoid sudden temperature changes to prevent warping.
Most stainless steel Dutch ovens can handle high temperatures found in ovens and over campfires if the lid has a stainless steel knob and the sides have stainless handles. Check with the manufacturer for specific limitations.
One of the best things about stainless steel is its rust resistant qualities.
Cast Iron
Bare cast iron equipment is the best choice for cooking over hot campfires but it does have other drawbacks.
Bare cast iron is not compatible with cooking acidic food that contains ingredients like tomatoes (think red tomato sauce for spaghetti and lasagna here). The acid removes the seasoning layer and exposes the "reactive" material. When raw cast iron is exposed, it can cause a metallic taste in foods and produce conditions that will cause the pot to rust.
Bare cast iron can rust if not properly cleaned and seasoned, but, an enameled Dutch oven is not susceptible to rust because the enameled coating protects the raw cast iron underneath.
Cast iron, particularly enamel coated pots, can crack if heated when empty. You should always be prepared to cook as soon as your pan reaches the proper cooking temperature. Don't set an empty cast-iron pan over a burner or in an oven and just let it go.
Aluminum
Aluminum is not as durable as cast iron pots or stainless steel pans. So, you should be prepared to replace that equipment when it wears out.
Aluminum can't handle really high heat so you need to be careful when using it in a camping environment. It's best using it over a controlled flame, like with a camp stove. If using with charcoal briquettes or over a campfire, it is recommended to stay below 350 F degrees unless the manufacturer stipulates otherwise.
---
Brands & Pricing
Costs vary greatly based on the materials and brands.
Stainless Steel
Of the three materials, stainless steel Dutch ovens are the most expensive because of the manufacturing process and materials involved. Of the stainless steel grades, single ply is the cheapest, bottom-clad is the mid range and fully-clad cookware is the most expensive.
Cast Iron
Cast iron is typically less expensive than stainless steel but more expensive than aluminum.
Bare/raw cast iron pans are less expensive than porcelain enamel coated cast-iron dutch ovens.
An enameled cast iron Dutch oven doesn't require maintenance like its raw sibling. Enamel-coated cast iron pans are great for home use and for use in RV kitchens. Raw cast iron equipment is best for outdoor use with charcoal and campfires.
Aluminum
Aluminum is the least expensive material and typically the lowest price for Dutch ovens. Standard aluminum is cheaper than cookware that uses anodized aluminum.
For Indoor Home And RV Use
There are so many options to choose from when shopping for cookware. The premium brands offer lifetime warranties while the lower-end brands provide affordable options to budget-conscious cooks.
Le Creuset Dutch ovens are a home cook's dream. These enameled cast iron pieces are made in France. They come in gorgeous color choices and are available in lots of sizes including round and oval shapes. Prices range from approximately $200-$600.
Staub Dutch Ovens are made in France. These enameled cast iron pieces come in lots of beautiful colors and are available in different sizes including round and oval shapes. Prices range from approximately $100-$500.
Kana makes a popular Milo Dutch oven which is an enameled cast iron piece. These are available in even more color choices than the Le Creuset pot but it's design is not as attractive. Prices range from approximately $100-$200.
Lodge makes cookware for indoor and outdoor use in their American-based manufacturing facilities. Their enameled cast iron pieces are available in different sizes including round and oval shapes and come in tons of color choices. Prices range from approximately $100-$200.
Emile Henry brand is made in France. These are actually clay pots that have a ceramic finish and are available in various sizes and shapes. The color range is not as extensive as Le Creuset's options. Prices range from approximately $100-$300.
For Outdoor Use
Lodge is one of the most popular brands and considered to have some of the best camping gear. Their raw cast iron Dutch ovens come in a variety of sizes, different types of handles, and, with and without legs. They also have commemorative designs with themes like "wanderlist", "scouts", "buffalo" and more. Prices range from approximately $50-$130.
Camp Chef is another popular brand you'll see in camp kitchens. Their raw cast iron Dutch ovens come in a variety of sizes as well as with a built-in thermometer notch in their lids. Prices range from approximately $50-$100.
GSI Outdoors is a brand that caters to campers who want to travel light. They are the leader in aluminum camp ovens. Prices range from approximately $50-$170.
---
Making Your Choice
With so many factors, deciding which material is the best for your needs is a very personal decision. Ask yourself the following questions:
Is weight a critical factor?
How important is easy cleaning?
Am I willing to clean and season my equipment or do I want lower maintenance?
Is even heating more important than being lightweight?
Do I want a non-stick surface?
Do I want to sear food and make sauces with brown bits?
What type of cooking/baking do I want to do with it?
Do I cook many acidic recipes?
Does it matter if the pot takes a long time to heat up and cool down?
Will I be using it to cook over campfires or inside an RV kitchen?
What is my budget?
---
More Dutch Oven Help
This post has tons of information to help you decide what size Dutch oven for camping is best for your needs.
If you do a lot of baking and use coals as your heat source, check out our Dutch oven temperature chart so you know how many coals to use with different oven sizes to achieve the proper baking temperatures.
There are so many factors that impact your cooking temperatures. Get all of our tips to maintain the proper Dutch oven temperature control for every recipe you prepare.
Get inspired to make something new by checking out our awesome Dutch oven camping recipes.
Get the best results every time you cook with our helpful camping Dutch oven tips.
After you read our tips on how to use a Dutch oven while camping, you'll know how to deal with windy conditions, how to perform different cooking techniques, which utensils to use and more.
During fire restrictions, you can still bake with your camp oven. Read my full blog post and watch the VIDEO to learn how to cook with a Dutch oven dome and heat diffuser plate on a propane stove instead of using campfire coals or charcoal briquettes as your heat source.
---
FREE Printable Menu Planner
Don't plan your next trip without getting your FREE copy of our meal planner.
Get your FREE printable camping trip & menu planner before you create your next meal plan!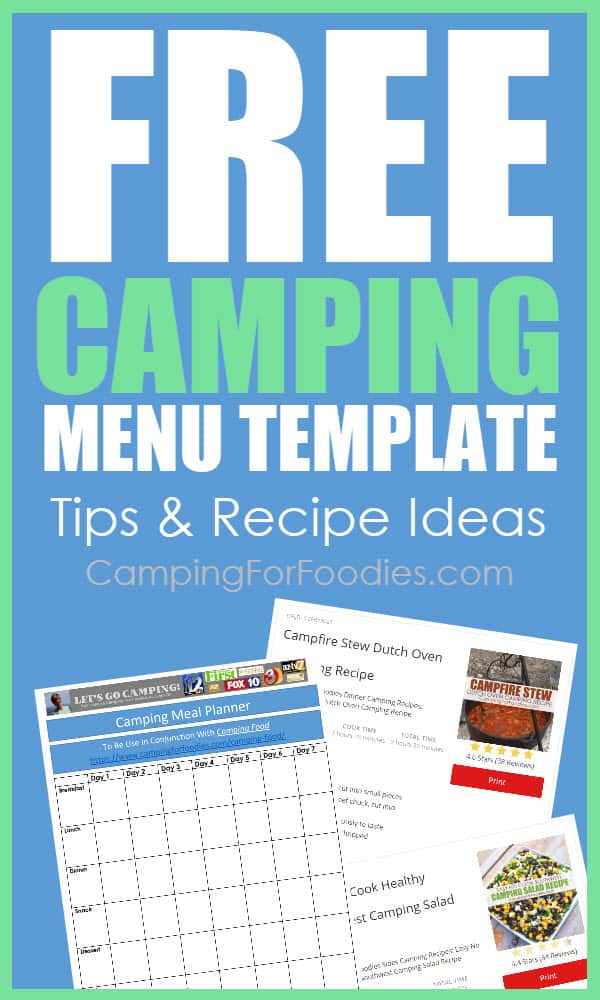 ---