Campfire Cooking Equipment You Can't Live Without
Awesome Campfire Cooking Equipment
Yes, we know it is a bold statement! But, this campfire cooking equipment is so awesome, you really will wonder how you ever cooked on campfires without it. Just when you thought campfire cooking could not be more fun, let's fire up the flames and get cooking! Psst we're compensated…see our disclosures.
Campfire Cooking Equipment: Over-Fire Grills, Rotisserie Spits and Stands
We like to get away from people when we go camping so we usually head for remote camping sites in National Forests. That means, fire rings are all you have when dispersed camping so we bring our own grill grates and stands.

If you are camping in campgrounds that have grill grates over the campfire pit, you are golden. If not, you need to fend for yourself. Using a grate like this Heavy Duty Camp Grill gives you a cooking surface that allows for direct cooking of food or you can place a pan or Dutch oven on it to cook in that type of campfire cooking equipment. This has folding legs for stability and pack-ability too.
&
&
One of the cool things about camping is the slower pace and unplugging from hectic modern society! So, it is the perfect time to do slow-roasting if you like that sort of cooking. This Camping Rotisserie Grill And Spit is a multi-purpose type of campfire cooking equipment that makes you feel like you are in the best gourmet kitchen while camping in the great outdoors!
&
&
If you don't want to cook with your Dutch oven directly in the campfire, you don't have to! This Camp Chef Dutch Oven Stand gets your oven off the ground and is large enough to hold one 14″ Dutch oven. It's another piece of campfire cooking equipment that can do double duty too … like keeping your bag of charcoal off the ground so it remains dry in the event of rain or dew.
&
&
Campfire Cooking Equipment: Griddles, Dutch Ovens And Pans
We like using equipment that is multi-purpose. Cast iron is great for durability and it is made for campfire cooking but lighter weight "nested" pots are nice to have too.

With the right campfire cooking equipment, you can keep cooking over your campfire all day long! This Heavy Duty Reversible Cast Iron Grill And Griddle will allow you to cook pancakes and eggs on the griddle side in the morning and with a quick flip, you can grill your steaks on the grill side at night!
&
&
Cast iron Dutch ovens are the cornerstone of campfire cooking equipment. We have several ovens in multiple sizes and like using our 6 Qt Camp Dutch Oven for camping meals that are smaller and they also work well when stack cooking.
&
&
We love campfire cooking equipment that does double duty! This Lodge Pre-Seasoned Cast-Iron Combo Cooker Set is not only a Dutch oven but also includes a shallow skillet that doubles as lid!
&
&
Anytime campfire cooking equipment can be "nested" to reduce the space required for packing and storage, it is a good thing. This Coleman 5-Piece Aluminum Mess Kit includes a cup, frying pan, pot with lid and deep-dish plate.
&
&
Sometimes bigger is better when it comes to campfire cooking equipment. This Big Daddy Skillet is perfect when you need to cook over a campfire and are feeding large crowds of hungry campers.
&
&
Campfire Cooking Equipment: Dutch Oven Accessories
The right accessories are great because they tend to make clean-up, transportation and storage easier. They also help to prolong the life of your campfire cooking equipment.

We love using our cast iron Dutch ovens for campfire cooking. We serve directly from the oven to the plate and clean-up is a breeze. But, if you want next-to-no clean-up, these Disposable Dutch Oven Liners make awesome campfire cooking equipment! They are also fabulous when making cakes that you want to "lift" out of the oven when they are done.
&
&nbsp
Most campfire cooking equipment will last a lifetime if you take care of it so we like to use carrying cases like this Camp Chef Griddle Carry Bag to transport and store our cast iron cookware. This one has a zipper and weather-resistant liner and comes in various sizes too.
&
&
This is a piece of campfire cooking equipment that reminds me of the old west! Cooking with a Cast Iron Cooking Tripod takes a little getting used to because the Dutch oven will swing and sway a bit when you stir your food and in the wind. The benefit to using it is the ability to raise and lower the oven by adjusting the length of the chain to increase or decrease the heat for cooking.
&
&
This Cast Iron Dutch Oven Lid Lifter is not the most compact piece of campfire cooking equipment but its ease of use and functionality overcomes that drawback. The design of this particular handle allows for easy grip and complete control when moving the lid as well as the oven.
&
&
Once you remove the lid during cooking, you need somewhere to put it while you are stirring your food in the Dutch oven and you don't want to put it on the ground because you might pick up dirt that will fall into the food when you replace the lid to continue cooking. Using a Camp Dutch Oven Lid Stand is a piece of campfire cooking equipment that will prevent that problem.
&
&
You have to admit, some pieces of campfire cooking equipment are just for fun like this Triangle Dinner Bell. Sure, you could yell "Dinner Is Ready" or you could just ring the bell! P.S. It also works like a manual alarm clock to get tired campers out of bed for early morning fishing.
&
&
Your campfire cooking equipment gear would not be complete without utensils for grilling. We love having our camping gear packed in carrying cases like this Grill Set. It allows for safe transportation of sharp items and keeps everything organized. This kit has a spatula, tongs, basting brush, corn holders, skewers, cleaning brush with replacement head. PLUS, a digital temperature fork that displays actual and desired temperatures, has an alarm alerting you when food is done and has an integrated LED light for checking food at night!
&
&
Campfire Cooking Equipment: Cooking On Sticks
Let's be honest, playing with your food while cooking on sticks is half the fun of camping!

This Fishing Pole Campfire Roaster is probably the most unique piece of campfire cooking equipment we have found! You "Jig" it to flip the marshmallows!
&
&
Some campfire cooking equipment is for safety, others for fun … this one is both! These Telescoping Marshmallow Roasting Sticks allow you to stay further away from the heat of the campfire compared to shorter sticks.
&
&
Who remembers making popcorn before the microwave arrived in homes across America? It was almost a tradition to do Jiffy Pop on the stove and now many people want less-processed food and prefer to pop plain popcorn. You can do that directly over your campfire with the right campfire cooking equipment, like this Texsport Non-Stick Popcorn Popper.
&
&
This Rome Waffle Iron campfire waffle iron allows you to enjoy a freshly cooked, slightly crispy and hot waffle at your campsite without needing the electricity for an electric waffle iron. Just pour your batter in this iron and cook over your campfire. No plugs required with this cool campfire cooking equipment!
&
&
Don't we all remember using this campfire cooking equipment to make little round pizzas over the campfire? Nothing can replace a Round Pie Iron for making camping memories and toasted bread pizzas. Let's keep up the tradition!
&
&
If you prefer the squared version, this Square Pie Iron allows you to use an entire slice of bread without having to cut off the crust. How about that: campfire cooking equipment that gives you curly hair! Or is that an old wives tale?
&
&
For many families, hot dogs are part of every camp trip. They get added flavor when cooked in a bed of onions and with the perfect campfire cooking equipment, you can make that happen! This Dog 'n Brat Cooker make it easy to cook the pair together.
&
&
Campfire Cooking Equipment: Cast Iron Cookware Clean-Up
You've heard it before, never use soap when cleaning your cast iron. Just use water, elbow grease and oil blends that are specifically made for cast iron cookware.
Keeping your cast iron campfire cooking equipment in top shape is important for maximum life. This Camp Chef Cast Iron Cleaner is a blend of all-natural oils and cleaning agents which break down sugars and other food particles. It is safe for all seasoned and enamel pieces.
&
&
We all know we should never use soap to clean our cast iron campfire cooking equipment, so, when you have food stuck in your cast iron cookware, just add some warm water and scrub until it releases. This Stainless Steel Chainmail Cast Iron Cleaner comes with a hook for hanging and is dishwasher safe too.
&
&nbsp
No time to look for recipes, create a menu and write a grocery list? No Problem! Get our 3-Day Dutch Oven Camp Menu Plan here!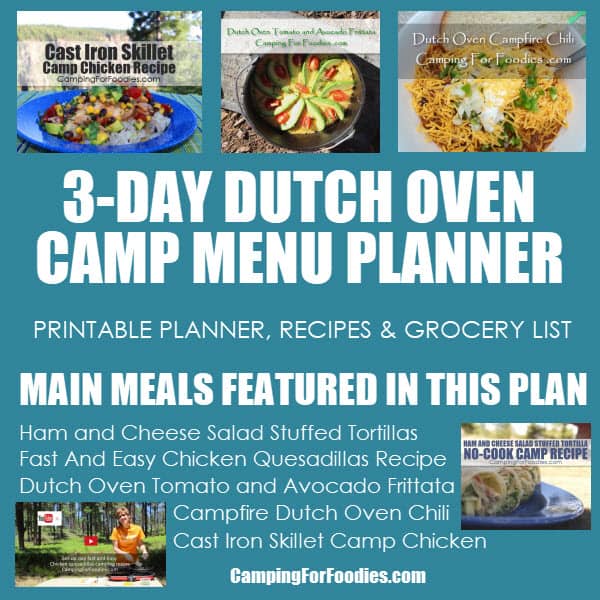 Get More Camping Gift Ideas From These Posts!
Get Fun Camping Wrapping Paper And Creative Gift Wrap Ideas here!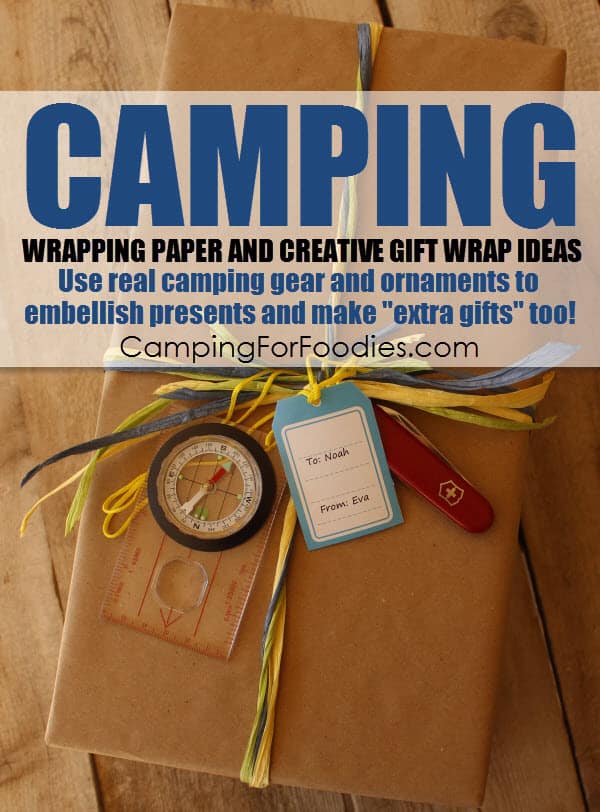 If you need camping recipes and menu ideas, you can find them here at the Camping For Foodies Camping Recipes list.
Don't miss a thing…sign up for Camping For Foodies email updates!
Your purchase of our products will help support World Vision ® Building a better world for children.