Costco Gas: How To Buy Gas At Costco Even Without A Membership

You can buy Costco gas to save cash, even if you don't have a membership! These tips will answer every question you have about how to buy gas at Costco and if it's a good deal for you!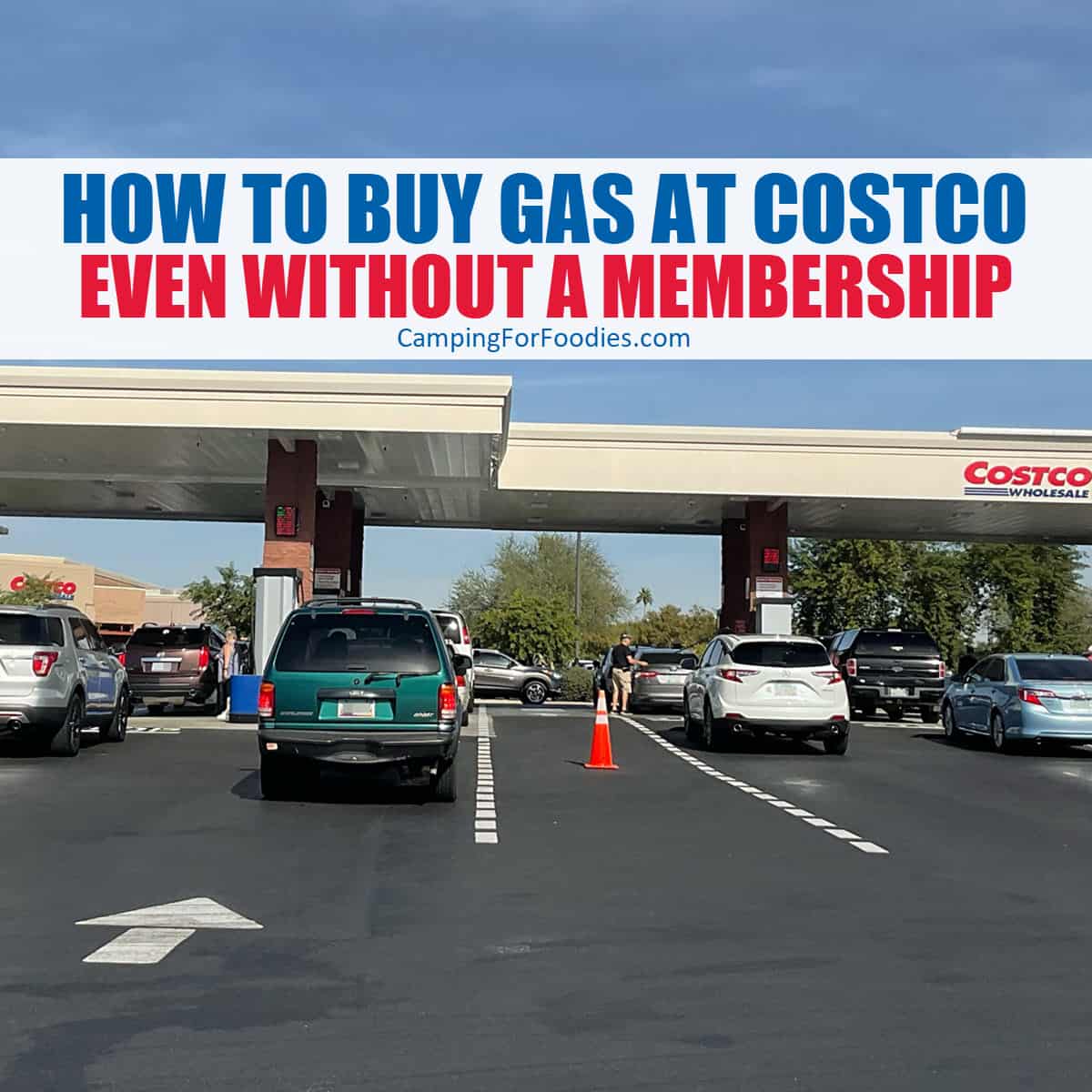 Psst we're compensated…see our disclosures.
Does Costco Have Gas?
Each store is different.
Some stores have ALL of the following
Some stores have SOME of the following
Some stores have NONE of the following
Types Of Fuel Available
Regular Unleaded
Premium Unleaded
Diesel
Propane
Today we're only talking about gas and diesel available at the gas pumps, we have an entire post with a VIDEO to show you how to get tanks refilled with Costco propane.
---
Price
For many people, buying Costco gasoline is a smart way to save extra money. But, like a lot of things in life, there is a caveat. Getting a good deal on fuel becomes less of a bargain if you have to drive great distances rather than using a regular gas station that is in your immediate area.
So, the next time you're wondering about Costco gas savings, do a little research on their competitors before you fill up. I love using GasBuddy to research current gas costs in the area of our travel route. It is one of the best camping apps for finding stations and prices when we're in unfamiliar areas … and it's FREE!
You won't find Costco gas prices on the GasBuddy app, but, you will find the "public" station prices. Costco posts their prices on their website for each store location or you can call the warehouse to get the current rate. They also post them at their stores if you happen to be physically at the store.
On the Costco website go to:
Locations
Find a warehouse (by entering a zip code)
Click on the gasoline pump icon

A window will pop-up with this information:

Store name and mileage from your location
Hours of gasoline services at that store
Price of the grades of fuel available at that location
I typically find Costco gas prices to be .30-.40 cents cheaper than regular gas stations in the area.
I never assume but often find that the lowest gas prices are found at Costco pumps. It is always nice to know for sure before filling our tanks.
On our most recent visit on 11/1/23 in metro Phoenix, we paid:
$3.79 Regular Unleaded
$3.89 Diesel
---
Quality
Low Costco gas prices are not an indication of low quality. Costco stores only sell Top Tier Gasoline.
The retailer uses various gasoline providers throughout the United States that deliver a consistent product using Kirkland Signature licensed formulas.
It would be inaccurate to call it cheap gas because Kirkland Signature Fuel meets the performance requirements of Top Tier standards and is very high quality.
Gasoline: Kirkland Signature Gasoline includes an EPA-approved deposit control additive which is designed to minimize engine deposits that can negatively affect vehicle performance and emissions.
Diesel: Kirkland Signature Diesel includes additional detergent additives designed to keep fuel injectors clean and provide added lubricity which lessens friction reducing harmful wear.
Gas Pumps: Fuel filters are used to catch particles including sediment, water, or phase-separated ethanol and water mixtures that can damage your vehicle.
Underground Storage Tanks: Regular physical inspections are performed on underground fuel storage tanks to monitor for water. Chemical samples are also taken to verify the fuel holds no contamination.
Octane Levels: Gasoline octane can vary by state, but generally speaking Costco's premium gas is 91 octane; the regular gas is 87 octane.
---
Costco Gas Station Hours
24/7 fueling is not an option here. Costco gas hours usually open about 3-4 hours before the warehouse club opens. You can avoid the long lines if you go during the off-peak hours in the early morning when Costco gas opens but the warehouse is still closed.
We prefer to pick up our Costco camping food and supplies at the same time when we get fuel so we are doing everything on the same visit. We've found that early afternoons in the middle of the week are often the best times with shorter lines.
Typical hours for fuel:
6 a.m. – 9 p.m. during the week
7 a.m. – 7 p.m. during the weekends
Typical hours for warehouse:
10 a.m. – 8:30 p.m. during the week
9:30 a.m. – 6:00 p.m. Saturdays
10:00 a.m. – 6:00 p.m. Sundays
You can find the nearest local Costco location that has fuel and see that specific store's hours by visiting the website and using the "Find a Warehouse" feature and filtering for "Gas Station".
---
Costco Credit Cards
At any given time, Costco has an agreement with one credit card company and that is the only credit card accepted when members shop at their facilities. Currently it is the Costco Anywhere Visa Card (so, you can't use your American Express, Mastercard or Discover right now.)
The great thing about using their Visa credit card is its credit card rewards program that earns points wherever you use the card on qualifying purchases. The points can be redeemed in any Costco warehouse.
---
What Are Costco Shop Cards?
Costco has their own version of a Costco gift card that is only available for purchase by Costco members. They are called the Costco Shop Card and are sometimes referred to as Costco Cash Cards or just Costco Cards.
They come in denominations of $25-$2000 and can be reloaded with more funds at any time by members. It can be used in Costco warehouses or at Costco gas stations by both members and non-members.
---
How Does Costco Gas Work?
The fuel station is open to Costco members only … sort of. The only way to buy gas at Costco without a membership is by using a Costco Shop Card (which can only be purchased by a member.)
The fuel station is self-serve and you pay at the pump. For club members it is easy, non-members find it a little more challenging.
Costco Members
Drive up to the pump (the traffic flows only one direction to facilitate fast refueling with long hoses that allow you to fill from either side of your vehicle.)
Insert your Costco membership card (the system needs to verify your membership is active.)
Insert your payment card (the system currently accepts Visa, most PIN debit cards and Costco Shop Cards. You must use a physical card to pay for fuel, mobile payment and digital wallet services from Apple Pay, Google Pay etc. are not accepted at Costco stations.)
Select your desired fuel grade, pump your fuel and get a receipt (if you'd like one) and drive off.
Non-Members
Drive up to the pump (the traffic flows only one direction to facilitate fast refueling with long hoses that allow you to fill from either side of your vehicle.)
Notify an attendant you are a non-member and need assistance (the attendant must authorize the pump for all non-members.)
Insert your Costco Shop Card (this is the only form of payment a non-member can use to purchase fuel.)
Select your desired fuel grade, pump your fuel and get a receipt (if you'd like one) and drive off.
According to Costco's Website regarding Costco Gas Stations Frequently Asked Questions:
Q: Can anyone buy fuel at a Costco Gas Station?
A: The fuel station is open to Costco members only. There is an exception: Costco Shop Card customers do not need to be Costco members.
You'll want to verify with your local store regarding rules for specific locations. As one of our readers commented: "The idea that the gas station attendant is "required" to allow non-members access is not true for most locations. There are one or two States that do not allow private gas stations. At all others service can be denied. It is a benefit of membership which would be diluted if non-members are not excluded.", Bryce, Lago Vista, Tx.
---
Is A Year's Membership Worth It For Cheaper Gas?
The best bet for buying a membership is to use it for everything Costco sells. But, if you're not interested in their other offerings, ask yourself "Over the course of a year, how much gas do I buy?"
Costco gas prices are good but they're not giving the stuff away! If you're only buying a few gallons of gas every week, the cost of the membership fee probably won't pay for itself in gas purchases alone. You'll need to be saving money on other items they sell.
Determine If It's A Good Deal For You
Do a little math, if you have a 16-gallon tank and you fill it up once a week and you save an average of 20 cents/gallon of regular gas by filling up at Costco, you'll save $3.20/week. At the end of a year, you'll save $166.40 by filling up at your local Costco gas station. But, the annual membership fees need to be deducted to give you the full answer.
Everyday Value Gold Star Membership Fee: $60/Year + Plus applicable sales tax
Costco Executive Membership Fee: $120/Year + Plus applicable sales tax
In this scenario, if you only used your membership to buy gas, you'd save a bit of money with the low price membership but it would save you very little with the executive membership.
At the end of the day, you might determine Costco is not one of the best places for you to purchase fuel. You may want to consider other alternatives. Many grocery stores have rewards programs … if you buy groceries, you get discounts on fuel at their partner gasoline providers.
For us personally, we buy much more fuel than that and we get our propane tanks refilled at the warehouse while we are shopping for food and paper products (like toilet paper, paper towels etc.) so we find the cost savings are substantial. And, we like the convenience of one-stop shopping and cheap prices on a fast lunch … oh those hot dogs and slices of pizza get us every time!
---
Camping Trip Planner Template: FREE & Printable
If you're going on a long road trip, the price of fuel is an important consideration. Filling up at Costco stations can really help your budget. But, you'll need to plan your fuel stops before you hit the road. Use our FREE Printable Camping Trip Planner Template to make that task easy and keep you organized.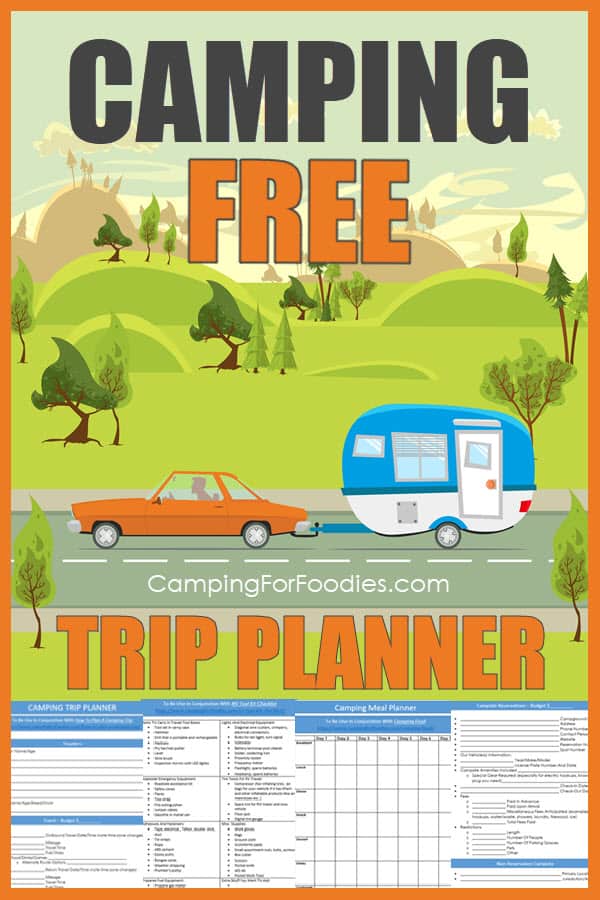 ---
Recipe Ideas For Food Items
There are so many different food items available in the warehouse. Check out all of my recipes for every meal of the day.