The Cousin Eddie RV – Most Famous RV Of All Time
When you think of camping fun, do you think of anything in particular?
For RV lovers, the Cousin Eddie RV, a broken down 1972 Ford Condor II, may actually be the star of the Christmas Vacation movie! 
Its co-star is the beloved Cousin Eddie character and the proud owner of this tenement on wheels!
This is one of our slightly less conventional camping games but one of the most loved!
Test your knowledge about the most famous RV of all time with these trivia questions, fun facts and quotes!
Psst we're compensated…see our disclosures.
The Cousin Eddie RV – Most Famous RV Of All Time
---
The Christmas Vacation move has a special place in the hearts of RVers across America!
So, we thought it would be fun to dig in to some interesting facts and trivia about the famous, or shall we say infamous, RV, its fictional owner and the movie!
---
5 Fun Facts About Cousin Eddie's RV
The "tenement on wheels" was a broken down 1972 Ford Condor II.
In its day, the Ford Condor Class A Motorhome was considered a luxury RV that was well-appointed with deluxe creature comforts.
Originally, the Ford Motor Company made the Ford Condor RVs in-house.
They were built for long haul RVing at a leisurely pace so they did not have a reputation for efficiency or speed.
In the movie, the Christmas Vacation RV was owned by Cousin Eddie, played by actor Randy Quaid, and his wife Catherine, played by actress Miriam Flynn.
---
21 Christmas Vacation RV Quotes And Movie Trivia Questions
Q. What did Clark refer to Cousin Eddie's RV as?
A. Tenement on wheels
Q. In the beginning of the movie, Cousin Eddie told Clark he traded something with his buddy to borrow the RV. What did he trade?
A. "He took my house, I took the RV"
Q. Later in the movie, Cousin Eddie admitted he lied about how he got the RV. What did he confess to Clark?
A "It's mine, we live in it. Had to sell off the house, the barn, the 10 acres. All I kept was the 50 foot plot, pigs and the worm farm"
Q. When Cousin Eddie arrived, how long did he tell Clark he was planning on staying?
A. "We're taking it with us when we leave here next month"
Q. Cousin Eddie told Clark they coasted into town on fumes. Where did he say the gas money gave out?
A. Gurnee
Q. What game was the family playing when the squirrel jumped out of the Christmas tree?
A. Monopoly
Q. Catherine told Clark that Cousin Eddie gave up eating squirrels. What reason did she give for his decision?
A. Cousin Eddie gave up eating squirrels when he found out they were high in cholesterol! We're thinking he might benefit by checking out our totally yummy and healthy camping food! 😉
Q. Cousin Eddie told Clark the metal plate was replaced in his head. Why did he say it needed to be replaced?
A. "Cause every time Catherine revved up the microwave, I'd piss my pants and forget who I was for a half-hour or so"
Q: Cousin Eddie has a dog. What is the dog's name?
A: Snots
Q. Cousin Eddie does not call before he arrives at Clark's for Christmas. What does Clark say when Cousin Eddie asked him if he is surprised to see them?
A: "If I woke up tomorrow with my head sewn to the carpet, I wouldn't be more surprised than I am right now"
Q. What is on the front grill of Cousin Eddie's RV?
A. A wreath
Q. How long has Cousin Eddie been out of work? Why?
A. 7 years because he's holding out for a management position
Q. Cousin Eddie is dumping his RV's black tank into the storm drain in front of Clark's house when the neighbor comes out for a jog. What does Cousin Eddie say to greet the neighbor?
A. "Merry Christmas! Shitter was full!"
Q. What song is playing while Cousin Eddie is dumping his RV's waste into the storm drain?
A. Instrumental rendition of Rudolph The Red Nosed Reindeer
Q: Cousin Eddie is drinking a beer while he's dumping his RV waste into Clark's storm drain. What beer is he drinking?
A: Meister Brau
Q. Clark and Eddie drink eggnog from unique glasses. What are they?
A. Marty Moose Mugs, a reference to the original Vacation movie where Marty Moose was the mascot for Wally World
Q. Eddie and Clark go shopping at Wal-Mart. What does Eddie keep adding to the shopping cart?
A. Dog food
Q. Eddie gives Clark a surprise gift for Christmas. What is the gift?
A. Clark's boss
Q. When was Christmas Vacation released?
A. December 1, 1989
Q. How much did it cost to make the Christmas Vacation movie?
A. Approximately $27 million
Q. How much money did the Christmas Vacation movie gross in the U.S. while showing in movie theaters?
A. Over $71 million dollars
Use these trivia questions to play fun camping games on your next outdoor adventure!
---
Cousin Eddie RV Ornaments
Did you know that Cousin Eddie and his RV are so popular there are tons of Cousin Eddie RV Christmas ornaments as well as snow villages to help you decorate for the holiday season?!?
You've gotta see these things if you love Christmas Vacation as much as we do!
---
Christmas Vacation Cast Of Characters
Cousin Eddie's RV – played by 1972 Ford Condor II Class A Motorhome
Cousin Eddie Johnson – played by Randy Quaid
Clark W. "Sparky" Griswold, Jr. – played by Chevy Chase
Ellen Griswold – played by Beverly D'Angelo
Audrey Griswold – played by Juliette Lewis
Russ Griswold – played by Johnny Galecki
Clark W. Griswold, Sr. – played by John Randolph
Nora Griswold – played by Diane Ladd
Art Smith – played by E.G. Marshall
Frances Smith – played by Doris Roberts
Cousin Catherine Johnson – played by Miriam Flynn
Rocky Johnson – played by Cody Burger
Ruby Sue Johnson – played by Ellen Hamilton Latzen
Uncle Lewis – played by William Hickey
Aunt Bethany – played by Mae Questel
Bill – played by Sam McMurray
Todd Chester – played by Nicholas Guest
Margo Chester – played by Julia Louis-Dreyfus
Frank Shirley – played by Brian Doyle-Murray
Helen Shirley – played by Natalia Nogulich
Mary – played by Nicolette Scorsese
SWAT Officer – played by Alexander Folk
These fun facts and quotes are great to use as campfire games the entire family will enjoy!
---
No time to look for recipes, create a menu and write a grocery list? No Problem! Get our 3-Day Dutch Oven Camp Menu Plan here!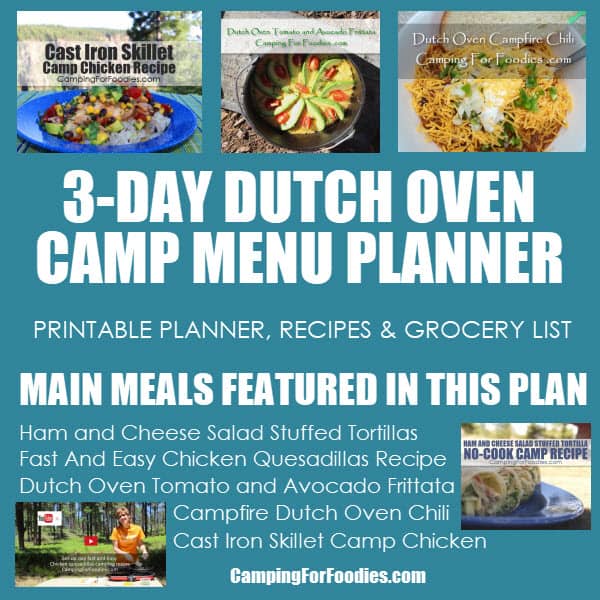 ---
Our Cool Camping Products Make Great Gifts!
Cutting Mat
Mat Set
Shaker Set
Hammock
&
---
If you need camping recipes and menu ideas, you can find them here at the Camping For Foodies Camping Recipes list.
&
Don't miss a thing…sign up for Camping For Foodies email updates!
&
Your purchase of our products will help support World Vision ® Building a better world for children.