Shrimp In Garlic Wine Sauce Over Pasta
This is one of our favorite camping dinner recipes that uses a couple of fresh ingredients that deliver big on flavor.
If you love garlicky dinners, your gonna love this simple Shrimp In Garlic Wine Sauce Over Pasta you can make using a camp stove or campfire.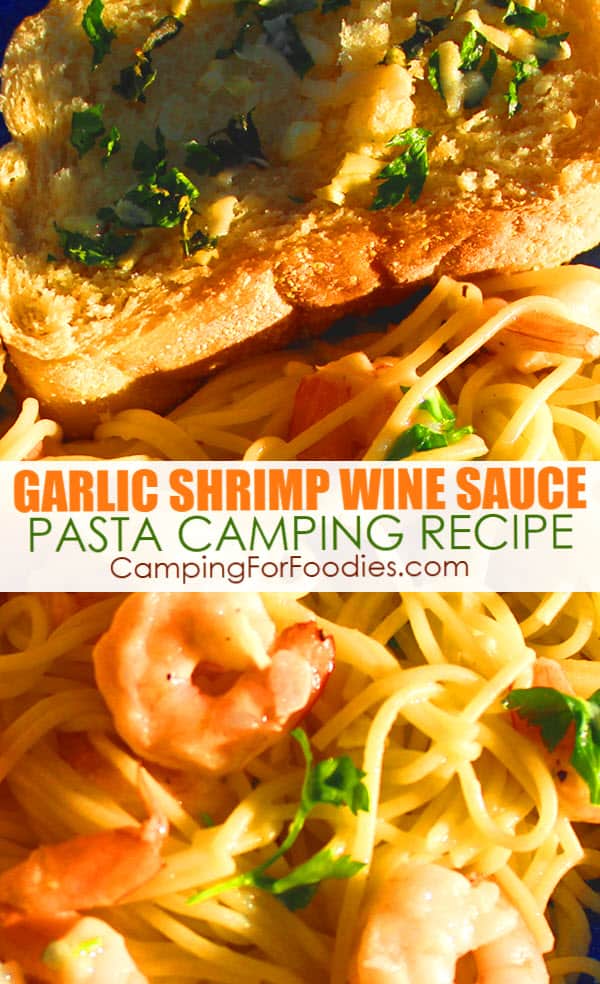 Psst we're compensated…see our disclosures.
Prep To Make Easy Shrimp Scampi Pasta
When you are making sautéed shrimp recipes you can either buy shrimp that is already peeled and deveined or you'll need to do it yourself. Using a shrimp cleaner and deveiner tool is the easiest way to accomplish this task.
Stainless Steel Shrimp Deveiner Tool
Raw Or Cooked Shrimp: Peel And Devein One Easy Action
You'll also need to mince a bit of garlic, chop some parsley and grate a little Parmesan cheese. These are easy jobs at the campsite but you can also prep-ahead by doing this at home.
---
Methods Of Cooking Shrimp Scampi And Pasta
You will be boiling the pasta in one pot while you are making the white wine garlic shrimp sauce in a separate pan.
If you prefer to do everything in one single pot, you can prepare the pasta then set it aside and keep it warm.
Then, use the same pot to prepare the shrimp sauce to toss together with the pasta when it is complete.
I like to have both pots going at the same time so I use a 2-burner camp stove or 2 pots over my campfire.
I like making this shrimp pasta as one of our camp stove recipes because the recipe is so quick and easy. If that is your choice, get your stove ready for cooking on a level surface.
If you are making this as one of our campfire recipes, you'll need to get your fire going in order to cook over some nice hot coals from hardwood.
---
Steps To Make Shrimp Scampi Wine Sauce & Pasta
Step 1. Prepare your ingredients as directed.
Step 2. Cook the pasta. You will bring a large pot of salted water to boil to cook the pasta. I like using angel hair pasta because it cooks quickly but you can use any pasta you like. Just cook it according to the package directions to achieve a firm doneness. Al dente produces a much nicer finished dish compared to overcooked, mushy pasta. When it is finished cooking, drain the pasta well.
Step 3.Make the sauce. While the pasta is cooking you are going to prepare the sauce. Melt the butter in a large skillet over medium heat. You'll add the garlic followed by the wine and then the shrimp cooking just until the shrimp turns a pink color.
Step 4. Combine the pasta and the sauce. As soon as the shrimp is done cooking, you'll toss the pasta and the sauce together.
Step 5. Top and serve. Sprinkle the pasta dish with Parmesan and parsley, then serve immediately.
---
Pairings For White Wine Garlic Shrimp Pasta
What wine pairs with shrimp in a garlic sauce?
Garlic butter sauce is a tasty pairing for a nice glass of pinot grigio. I like serving the same wine with dinner that I am cooking with, so if you have a favorite dry white wine … use it. Your personal preference is all that really matters here, just make sure you are not using a sweet white wine in this recipe.
A nice garlic bread and side salads work really well to round out this meal.
---
More Shrimp Camping Recipes
Campfire shrimp recipes are yummy options for easy camping meals that are pretty quick to prepare and cook.
You won't believe how delicious this Campfire Dutch Oven Thai Basil Shrimp tastes! The sweet and savory combination of soy, sugar, garlic and onions enhance the flavor of the shrimp but an extra special touch of freshness and spice comes from the fresh basil and jalapeno pepper.
It's so much fun to bring Cajun flavors to campsite dinner tables! These battered and fried shrimp have a crispy texture that is topped with a simple but flavor-packed remoulade sauce to make this Shrimp Po Boys Camping Recipe a camp sandwich dinner favorite.
---
Print This Pasta With Shrimp In Garlic Butter Wine Sauce Camping Recipe
Yield: 4 Servings
Pasta With Shrimp In Garlic Butter Wine Sauce Camping Recipe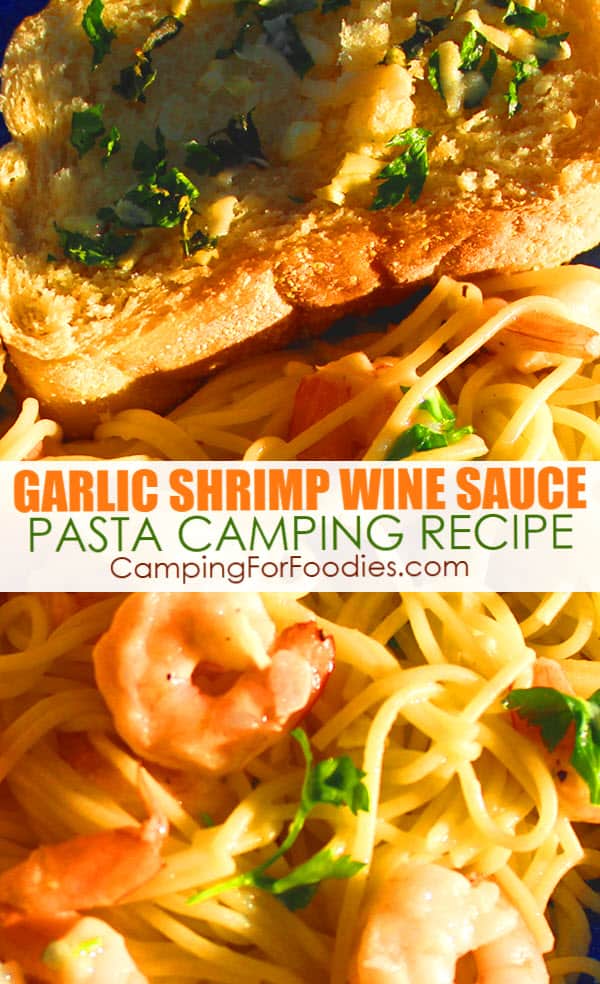 Camping For Foodies Dinner Camping Recipes: Pasta With Shrimp In Garlic Butter Wine Sauce Camping Recipe
Ingredients
Angel hair pasta (8oz. package)
1/2 cup butter
4 cloves garlic, minced
1 pound shrimp, peeled and deveined
1 cup dry white wine
1/4 teaspoon black pepper, freshly ground
3/4 cup Parmesan cheese, freshly grated
1 tablespoon fresh parsley, chopped
Water and salt (for boiling pasta)
Instructions
Prepare your ingredients and cooking equipment as directed. You can make this recipe using a camp stove, RV stove or campfire because you are just heating the pots from below.
Bring a large pot of salted water to boil and cook the pasta according to the package directions to achieve al dente, a firm doneness … avoid overcooking to a mushy consistency. Drain well. The sauce should be done at the same time as the pasta but if it is not, set it aside keeping it warm.
As soon as you get the pasta cooking, prepare the sauce by melting the butter in a large skillet over medium heat. Add the garlic, stirring until the garlic barely begins to brown, about 30 seconds. Now, add the pepper and wine and let the alcohol burn off for about 1 minute. Then, add the shrimp turning once during cooking. The shrimp will turn pink when they are done which will take between 2 - 4 minutes per side. Camp Cooking Tip: Don't overcook shrimp because they will have a rubbery texture. Watch them closely and when they begin to turn color, flip them to cook the second side. As soon as they turn pink, get them off the heat and serve them hot.
Toss the pasta and the sauce together until the pasta is evenly coated. Sprinkle with the Parmesan cheese and parsley, then serve immediately.

Recommended Products
As an Amazon Associate and member of other affiliate programs, I earn from qualifying purchases.
Nutrition Information:
Yield:
4
Serving Size:
1
Amount Per Serving:
Calories:

523
Total Fat:

30g
Saturated Fat:

18g
Trans Fat:

1g
Unsaturated Fat:

10g
Cholesterol:

316mg
Sodium:

1603mg
Carbohydrates:

18g
Fiber:

1g
Sugar:

1g
Protein:

34g
More Yummy Meal Ideas