Campfire Dutch Oven Thai Basil Shrimp
This is one of my favorite easy campfire recipes for a flavor-packed dinner! When most people think of eating shrimp at the campsite, they think of shrimp boil foil packets with andouille sausage, red potatoes, corn on the cob and some old bay seasoning … which is totally yummy … BUT … there are so many more unique shrimp recipes that can be made when cooking in a campfire Dutch oven or cast iron skillet that are begging for a little bit of the spotlight!
Our Campfire Dutch Oven Thai Basil Shrimp is so easy and the cook time is super fast … not to mention it is undisputedly delicious!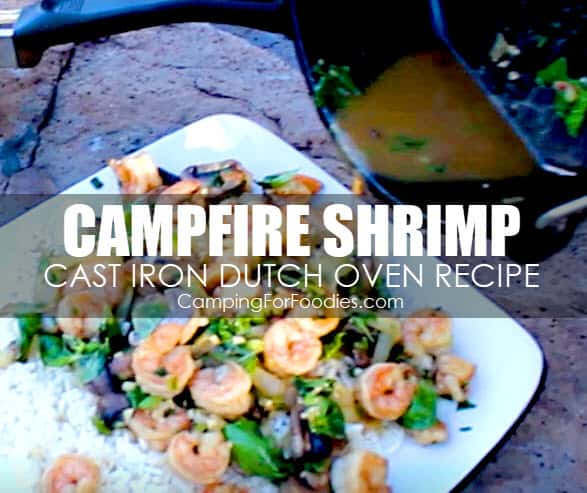 Psst we're compensated…see our disclosures.
How To Make Campfire Shrimp
The shrimp preparation is your first step in making campfire shrimp. No matter where you are cooking … at home or at the campsite… the hardest thing about making a meal with shrimp is the prep work involved with cleaning them.
I like using large shrimp in recipes where the shrimp is the star so I will often clean the shrimp at home and pack them tightly so they are ready to cook at the campsite.
Using a Shrimp Deveiner Tool makes this job fast and easy.
You can make it even easier if you buy shrimp from the grocery store that is already peeled and deveined … it will cost a bit more but it might be worth it if you don't want to deal with the whole cleaning thing … just don't buy shrimp that is pre-cooked.
---
When You Should Build A Campfire
Starting your campfire early is the best practice for campfire cooking.
You want to allow enough time for the fire to burn so you have a nice bed of coals for cooking.
Make sure you have plenty of firewood to add to the campfire throughout the cooking process and in to the evening for the rest of your campfire activities.
You can cook this recipe using two types of campfire cooking equipment … a tripod or a campfire cooking grate.
Whichever cooking gear you choose, you'll want to have control over the heat as you cook.
Personally, I think it is easiest to use a Dutch oven tripod so you can raise and lower the chain to increase or decrease the heat by changing the distance between the Dutch oven and the campfire coals.
Lodge Adjustable Camp Tripod, 40 to 60-Inch Tall
If it is too windy, I prefer cooking directly on a campfire grate so my Dutch oven is not blowing around and I can keep the fire more contained in case it gets extremely windy and I need to put it out.
Camp Chef Lumberjack Over Fire Grill
You can see I used this type of setup when I made my Easy Dutch Oven American Chinese Chop Suey which is another yummy dinner with an Asian profile.
---
Campfire Shrimp Recipe Prep
One of the things I love about cooking shrimp at the campsite is the speed at which I can get dinner on the table. The prep time takes longer than the the few minutes cook time … so, you'll want to have all of your prep totally finished before you start cooking.
I like using flexible cutting mats that are easy to curl to funnel food into the Dutch oven. You'll be doing a little bit of chopping of the onion, garlic, green onions, mushrooms, jalapeno and fresh basil. All of those can be prepped well in advance except for the fresh basil that will wilt if you cut it too early.
Whatever you do, don't substitute dried basil for the fresh stuff because that is the ingredient that puts this campfire shrimp recipe OVER THE TOP!
---
How You Know When Your Shrimp Is Cooked
Like I said, shrimp cooks FAST!
That is great when you want to spend more time hiking than you spend cooking on your camping trips.
But, that also means you have to be diligent when cooking your campfire shrimp because they can get away from you faster than an elk disappears in the woods at the first sound of a human!
Overcooked shrimp are tough and rubbery but perfectly cooked shrimp are tender and juicy.
When you are cooking, watch for the shrimp to turn from translucent to a slightly opaque flesh.
---
Sides For This Dutch Oven Campfire Shrimp Recipe
I like serving simple steamed green beans with this recipe because it is a nice vegetable side dish that is easy, cooks fast and does not compete with the amazing flavors in this shrimp.
You are not going to believe how flavorful this sauce is … that's why I serve this recipe over rice which soaks up all that goodness without letting a drop go to waste!
---
Similar Recipes
This Beef, Broccoli & Carrot Camping Stir Fry is full of amazing flavor because of the simple marinade. It's actually better if the beef marinates overnight so you may want to prep this at home then just "dump and cook" at camp.
Try this Camp Oven Chicken Curry for a unique dinner. Easy flavors are produced by using red curry paste, curry powder and coconut milk. Check out our Dutch Oven Recipes For Camping post for breakfast, appetizer, dinner, side and dessert Dutch oven recipes your entire family will adore!
This meal has no gluten, if you want more ideas for gluten free camping food, we've got them!
More Shrimp Camping Recipes
Want more camping dinners ideas for shrimp dishes? Try these!
Our Shrimp Po Boys Camping Recipe features battered and fried shrimp that are the crunchy base to this yummy sandwich that is super tasty when you add our easy remoulade sauce.
Try this Shrimp In Garlic Wine Sauce Over Pasta dinner that will be on your table in 30 minutes or less! It has a few simple but fresh ingredients that will make the garlic-lover inside of you sing out loud!
---
Print This Recipe
Asian Inspired Cast Iron Dutch Oven Campfire Shrimp Recipe
Camping For Foodies Dinner Camping Recipes: Asian Inspired Cast Iron Dutch Oven Campfire Shrimp Recipe
Ingredients
4

tablespoons

water

1

tablespoon

soy sauce

1

teaspoon

sugar

2

tablespoons

vegetable oil

1

pound

large shrimp

tails off, peeled and deveined

1

small onion

thinly sliced

4

cloves

garlic

finely chopped

3

green onions

white and greens chopped

1

(4 oz)

package sliced mushrooms

1

jalapeno pepper

seeded and finely chopped

1

cup

loosely packed fresh basil

thinly sliced (roll leafs like a cigar and cut in thin strips or ribbons aka chiffonade)

Cooked rice for serving.
Instructions
Prepare your campfire for cooking.

Clean shrimp (peel and devein, tails off).

Stir together water, soy sauce and sugar then set sauce aside.

Chop vegetables.

Pre-heat 10-inch Dutch oven over medium-high heat of campfire coals or charcoal briquettes. You can use a larger Dutch oven or cast iron skillet if that's the equipment you have.

Add vegetable oil to Dutch oven.

Add shrimp and stir. Camp cooking tip: don't let the shrimp cook very long before adding the vegetables … you don't want to overcook your shrimp before the vegetables are done.

Add all vegetables, stir till slightly softened.

Add liquid sauce and stir till heated through and shrimp is cooked through with slightly opaque flesh.

Remove from heat.

Stir in basil.

Serve over cooked rice (optional).
Nutrition Information
Serving:
1
g
Calories:
286
kcal
Carbohydrates:
21
g
Protein:
29
g
Fat:
9
g
Saturated Fat:
1
g
Polyunsaturated Fat:
7
g
Cholesterol:
239
mg
Sodium:
1304
mg
Fiber:
3
g
Sugar:
3
g
---
More Camping Recipes